At its heart, PFF is a player evaluation website, and the most interesting players to evaluate every year are rookies. Those first-year players represent the weight of hope for their respective franchises and, depending on the team, can be shouldering the entire weight of that hope.
This season more than most, the performance of those rookies early on will be interesting to watch because none of them played preseason football to get their feet wet, and some are still waiting for their NFL debuts.
So, let's take a look at some rookie studs and duds in Week 2.
Subscribe to
STUDS
Week 2 overall grade: 86.0
Given who he debuted against, Tristan Wirfs keeping his head above water in Week 1 was an achievement. But Week 2 saw a better example of what he can achieve when he isn't tasked with blocking an All-Pro defensive lineman all day. Wirfs had a far better showing against the Panthers. He was a crushing presence in the run game, where he produced multiple dominant blocks against Panthers defensive ends to give his running back space off tackle, and also held up well in pass protection.
He had one decisive loss to Brian Burns but surrendered just two hurries overall across 38 pass-blocking snaps while protecting Tom Brady. This was an extremely encouraging game from a player who did a good job given the competition in Week, 1 as well. The early indicators are that the Bucs drafted a very good player in the first round, and Wirfs is subsequently one of the rookie studs from Week 2.
Week 2 overall grade: 56.9
There was certainly some bad to go along with the good in Justin Herbert's debut, and his overall PFF grade reflects both ends of the spectrum.
SNEEEEEEEED ????

????: #KCvsLAC on CBS pic.twitter.com/9GPX2swaCf

— Kansas City Chiefs (@Chiefs) September 20, 2020
His interception late in the third quarter with the Chargers eight points ahead was a classic rookie mistake of trying to force a pass back across his body and leaving the ball in the air too long. It also led directly to a game-tying score for Kansas City and weighed heavily on his overall PFF grade for the day, but we can at the same time be excited for what Herbert did in his first NFL action.
Given the Chargers had been adamant that he was not ready to start (and somewhat bizarrely still seem to be), his ability to step in on short notice, look comfortable and even deliver some absolute dimes in the passing game was hugely impressive. Herbert threw for 300 passing yards, and though the interception marred his grade and rating, he also passed for 120 yards when under pressure.
Overall, going toe to toe with the Super Bowl champion Chiefs with very little notice makes Herbert one of the rookie studs of Week 2, even if people may be a little too quick to gloss over the negatives from his performance.
Week 2 overall grade: 68.5
Much like Herbert above, the thing that lands Joe Burrow on this list goes beyond the play-by-play tally of his performance against the Browns. His PFF grade was good, not great, but the key is the situation he was placed in. The Browns were in control of this game early on, and Burrow was left with the task of dragging his team back into contention through his arm.
He dropped back to pass 64 times including nullified plays, 12 more than any other quarterback in the league this week and seven more than anybody else this year. Despite that weight on his shoulders, he threw three touchdowns, had an adjusted completion rate of 70.0% and had three big-time throws. He also did this despite the Bengals' offensive line having the sixth-worst grade of the week and both of his guards earning sub-50.0 pass protection grades.
A win would have been nice, and you can nitpick some plays he made, but Burrow looking as good as he did given the surrounding circumstance makes him one of the rookie studs from Week 2 and a true beacon of hope for the Cincinnati franchise going forward.
Week 2 overall grade: 89.2
It's tough to put a player on this list who saw only 24 snaps of action, but at some point, you have to give a guy credit for what he does with the opportunity afforded to him.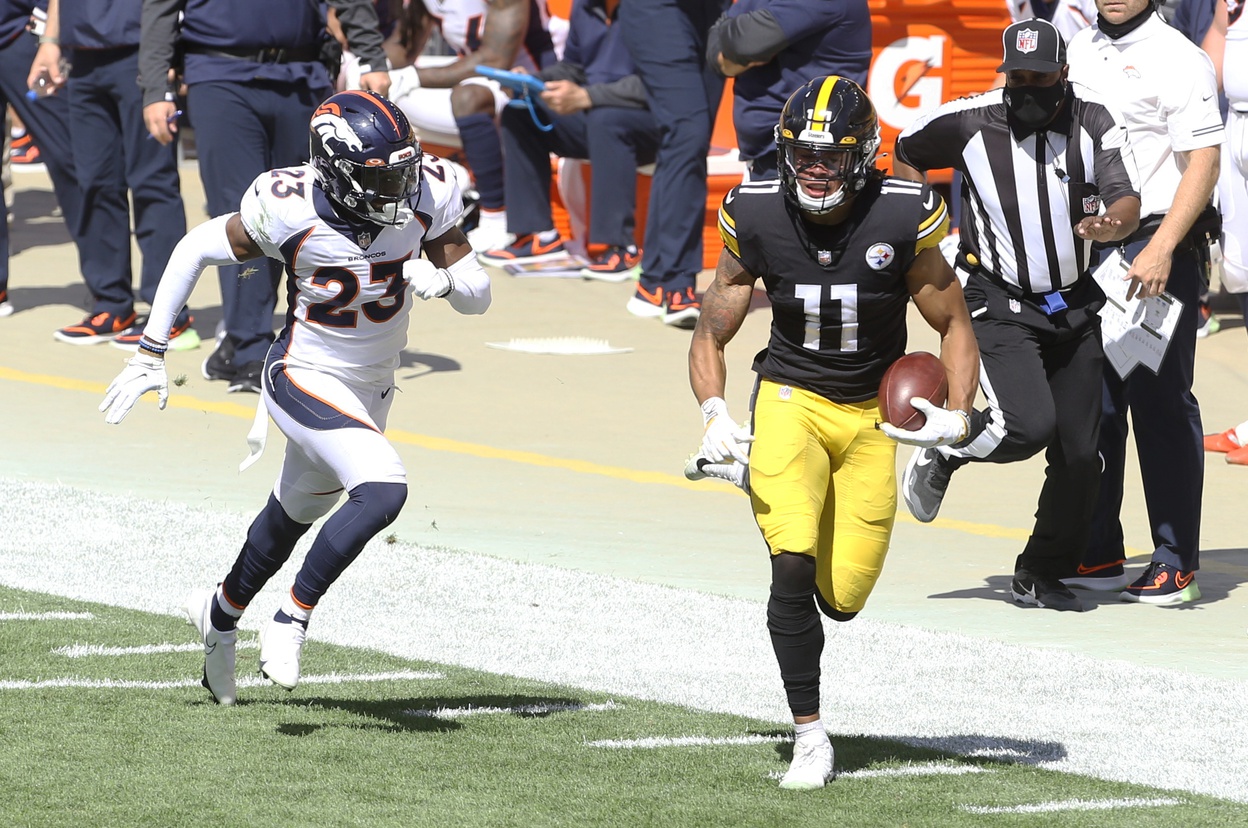 Chase Claypool is fourth on the Steelers' depth chart at receiver but has now made spectacular plays in each of his first two games in the NFL. He may quickly force his way into being a bigger part of this offense. This week, he caught all three of the passes thrown his way for 88 yards and a touchdown, with the biggest play being an 84-yard catch-and-run that featured almost 50 yards after the catch and some true speed down the sideline.
Claypool has now shown all the hallmarks of what made him an intriguing prospect — size, strength, speed and exceptional ball skills teamed with body control. And this week, it earned him one of the best receiving grades in the league. The only thing holding him back at the moment is relative lack of playing time, and that's something the Steelers will surely rectify if he continues to put in similar studly performances.
Week 2 overall grade: 79.8
Few players struggled as badly as A.J. Terrell in their Week 1 debuts. He, along with the rest of the Falcons, was lit up by Russell Wilson and the Seahawks' passing attack. While the Falcons' defense still couldn't slow down the opposition much in Week 2, Terrell at least had a significant bounce-back game on an individual level. He was thrown at three times, with Dak Prescott and the Cowboys instead attacking the combination of Darqueze Dennard and Isaiah Oliver a combined 21 times. Of those three targets, Terrell allowed just one catch for seven yards, notching a pair of defensive stops.
Terrell was also sent on a corner blitz once and registered a knockdown of Prescott on the play. It was a bumpy start for the first-round rookie on opening weekend, but Week 2 was far more encouraging.
DUDS
Week 2 overall grade: 33.0
Water is wet, the sky is blue and Derrick Brown will at least be a dominant run defender in the NFL — even if his pass-rush ceiling is an open question. These were the things we were sure of heading into the season, but through two games, Brown has confounded expectations and been a liability on an admittedly weak Panthers defense.
This week, Brown graded a little better against the run — and by that I mean there were fewer negative grades overall — but any net gain was undone by a pair of poor penalties, one for a late hit and another for illegal use of hands.
Brown's lone threat of pass-rush pressure came on the play where he used illegal hands to the face to generate the leverage to create pressure, and he was otherwise blanked as a pass rusher despite 29 such snaps. Brown has had an ugly start to his NFL career, and his Week 2 performance was one of our rookie duds of the week.
Week 2 overall grade: 29.3
Week 2 may have ended a lot better for Noah Igbinoghene if Byron Jones hadn't gone down hurt after just four snaps against the Buffalo Bills this week. The loss of Jones consigned Igbinoghene to a day of trying to match up with Stefon Diggs one on one, often in press-man coverage.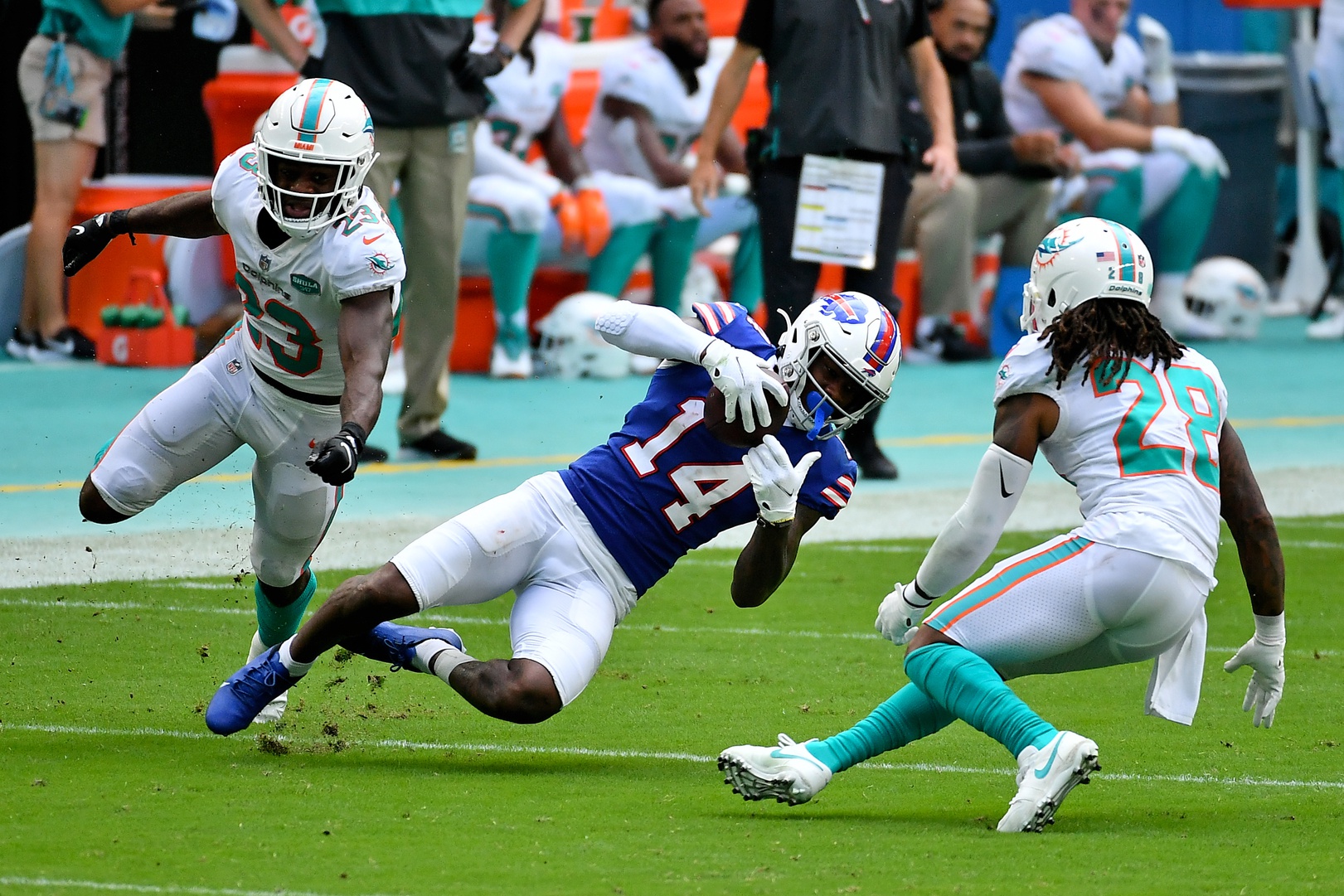 Diggs is one of the best and most savvy route-runners in the league, and so that resulted in a predictably long day at the office for the rookie cornerback. Overall, Igbinoghene surrendered seven catches from 11 targets for 145 yards and two touchdowns, almost all of the damage coming from Diggs.
This was about as tough as assignments get — not just for rookies, but for any defender in the NFL. There is no running away from the fact that Igbinoghene failed this test and was exposed badly, but you could easily argue he was put into a no-win situation with an inevitable outcome once Jones was injured.
Week 2 overall grade: 28.6
Detroit's Jeffrey Okudah also drew an assignment that likely had no winning outcome. Having missed opening weekend with a hamstring injury, Okudah got to make his NFL debut against Davante Adams and Aaron Rodgers, each playing at the peak of their powers.
Adams put Okudah in a blender on a couple of occasions, with the rookie making basic technique mistakes with his eyes as well as just losing out to a top-quality route-runner. The hurt extended beyond Adams, however, and Okudah surrendered 121 receiving yards on seven catches from 10 targets into his coverage on the day. This was a true "welcome to the NFL, rookie" moment for the Lions' top draft pick, but the good news for him is that it doesn't get any tougher from here on out.
Week 2 overall grade: 37.0
In what is something of a theme this week, the biggest dud performances from the rookie class are the ones that came against the fiercest opposition or in the toughest of circumstances. There may be no better defensive front than that of the Pittsburgh Steelers through the first two weeks of the season, and that unit took Broncos third-round rookie Lloyd Cushenberry III to task in Week 2. Overall, Cushenberry allowed six total pressures, including a sack, but that doesn't come close to telling the full tale of the struggles.
In addition to those pressures, there were three more pass protection losses that didn't get a chance to become pressure on the quarterback, and he was beaten for three tackles in the run game — one of which was for a loss on the play by Steelers defensive lineman Tyson Alualu. Overall, this was a game to forget for Cushenberry, but the Steelers' defense is taking it to teams right now.
Week 2 overall grade: 40.6
John Simpson wasn't supposed to be playing a significant part in Monday Night Football this week, but a flare-up to an Achilles issue for left guard Richie Incognito meant that the fourth-round rookie had to play the majority of the game, ending up with 69 snaps in total.
His biggest issue came in pass protection, where he ended the game with a lowly 11.8 PFF grade after surrendering five total pressures. The volume of pressure wasn't as big a problem as the type of pressure allowed, with multiple decisive and near-immediate losses causing problems for the Raiders' offense.
In addition to those pressures, there were also five clean losses in pass protection where the ball came out before it could become pressure on Derek Carr. Simpson fared better in the run game, which isn't to say well. He was beaten for three tackles, all of which were defensive stops, and was routinely struggling to make headway against the Saints' defensive linemen. Sometimes being thrust into action on short notice works out, but this was not one of those cases for Simpson.