With NFL Week 1 now behind us, it's time to look back at the best-performing rookies of the week. Not many first-year players were expected to play right away, but we saw many a strong performance on the season's opening week, from Chase Young's four-pressure day in Washington to Clyde Edwards-Helaire's dominant rushing performance on Thursday Night Football.
Here are the highest-graded rookies in the NFL through the first week of the 2020 NFL season.
[Editor's Note: PFF's advanced statistics and player grades are powered by AWS machine learning capabilities.]
Not only was Young the fifth-highest-graded pass-rusher at his position in Week 1, but he also earned the third-best pass-rush grade we have ever given to a rookie in the first game of the season.
The No. 2 overall pick rushed the passer 34 times on Sunday, recording two sacks, one hit and one hurry, and his pass-rush performance was highlighted by a strip-sack late in the first quarter with a nice spin-move recovery after a hit by running back Corey Clement.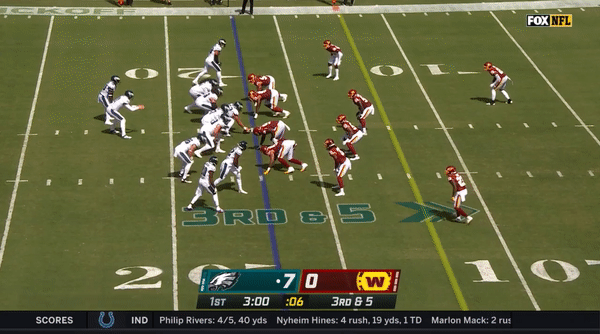 Young also brought run support and joined Joey Bosa as the only edge defenders to earn grades above 75.0 both against the run and as a pass-rusher on debut. He's as good as advertised and is set to cause problems for opposing offense lines for years to come for Washington.
Henderson may have been a top-10 pick, but the fact he played as well as he did came as a big surprise. He was one of the nation's best lockdown corners a couple of years ago at Florida but battled injury in 2019 and slipped up on a few occasions. We still loved Henderson as a prospect, but we far from expected him to be the biggest playmaker of Week 1, given the shape of the rest of the Jacksonville defense.
The No. 9 overall pick then earned an 84.2 PFF grade against Indianapolis in Week 1, the second-best grade of the week at the position. His grade when lined up on the outside was actually the best we have ever recorded by a rookie in Week 1 in the PFF era, and he allowed only two catches on six man-coverage targets (17 such coverage snaps) while making four plays made on the ball. Next week, he'll see some reps against second-year receiver A.J. Brown  — and that ought to be a good matchup to watch.
Kinlaw didn't particularly pack the stat sheet, but he did come away with a couple of big-time plays that helped him produce the third-best PFF grade at the position (81.4). His best play of the day was this dominant double-swipe move that J.R. Sweezy had no chance on, which forced the inaccurate throw from quarterback Kyler Murray. The Niners' first-round pick played 39 defensive snaps, coming away with two total pressures and one defensive stop.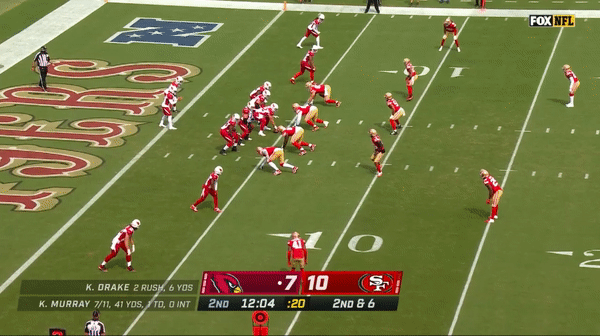 Kinlaw was actually our DT1 in this draft class, so it's no surprise that he was the top rookie interior defensive lineman of Week 1. Next week, he'll get a chance to create consistent pressure against the New York Jets' poor offensive line.
Tampa Bay got great value in Winfield at Pick No. 5 of the 2020 NFL Draft, and he verified that with his near-flawless Week 1. He showed off his playmaking ability with a nice pass breakup in the end zone in the fourth quarter and generated pressure on one of his two blitzes. Overall, Winfield produced a 77.3 PFF grade, seventh among all safeties in Week 1. He was one of the top playmakers in college football at Minnesota a year ago; it looks like he might be the same way in the NFL for the Buccaneers.
Becton was the only Jets offensive lineman who wasn't a liability on Sunday. He was a people-mover in the run game and made several impressive blocks, which helped him to a 77.4 run-blocking grade for the game.
However, it was Becton's pass protection that was perhaps the biggest surprise of the week. We were worried about how he would fare on NFL true pass sets after seeing very few of those reps at Louisville, but he ended up earning the third-highest grade on true pass sets on Sunday. All told, he allowed just two pressures from 41 pass-blocking snaps and ended the game with a 77.2 overall grade, the 11th-best grade of the week.
Elliott was one of the biggest steals of the 2020 NFL Draft, going to the Browns at Pick 88 after ranking 23rd on our big board. In Week 1, Elliott rotated in for 26 snaps — 14 coming against the run and 12 in the pass rush — and while he didn't have production reminiscent of his time at Mizzou, he did have a couple of solid wins as a pass-rusher as well as in run-support. He earned a 76.4 PFF grade for his performance, 13th among players at the position. It was far from the dominant level of play the helped him be the highest-graded interior defensive lineman in college football last year, but you saw flashes of that high motor in Week 1.
We viewed Johnson as a first-round selection in this past draft — he was 24th on our big board entering the draft — and thought Chicago hit the jackpot with him sitting there at Pick 50. And against Detroit in Week 1, he played like he should have been taken in Round 1.
Johnson lined up at outside cornerback for 43 coverage snaps in Week 1; he allowed only two catches from six targets, and his two late pass breakups were pivotal in the Bears' opening-game victory. His coverage grade on the outside ranked eighth in the NFL in Week 1, one spot behind teammate Kyle Fuller. With his sharp instincts, physicality and playmaking ability, Johnson looks like a real difference-maker in the Bears' secondary.
The Chiefs went all-in on Edwards-Helaire by taking him in the first round of the draft, and they gave him ample opportunity to live up to that status in Week 1.
The LSU product broke seven tackles on 25 carries, averaging 4.2 yards after contact per attempt. And in the first three quarters — when the Chiefs weren't running out the clock — Edwards-Helaire picked up five-plus yards after contact on five of his 14 runs.
The way he bounces in and out of cuts is a beautiful sight to see. It was a bit of a surprise that he was pretty much an afterthought as a receiver, but I don't think that'll remain for the course of the whole season given that's how he generated his value in college.
Among the few big surprises on this list is Miami fourth-rounder Solomon Kindley, who was the Dolphins' best offensive lineman on Sunday. Kindley produced a 71.3 PFF grade on the day, ninth-best among all right guards, and he allowed just one pressure on 38 pass-blocking snaps. Considering that they had the worst offensive line in the NFL by far in 2019 and that they will be introducing Tua Tagovailoa at some point in the future, Kindley turning out to be a steal would be a gift from heaven for the Dolphins.
Very few people would have expected Robinson to turn up on this list after Week 1, but here we are.
After the team cut longtime running back Leonard Fournette, Robinson became the new RB1 for the Jags and had a highlight-reel play as a receiver in his rookie debut. During the fourth quarter, Robinson had a 28-yard reception that featured a couple of broken tackles, with one being a hurdle.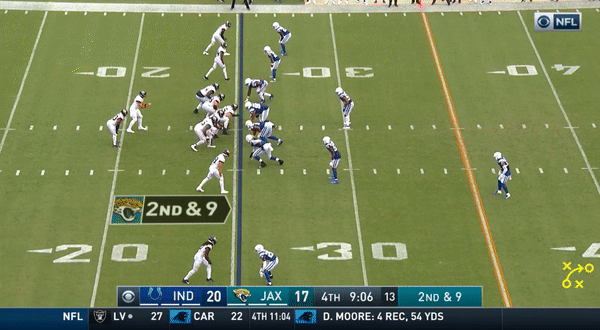 Robinson recorded 62 rushing yards on 16 carries, with 56 yards coming after contact, earning a 65.7 rushing grade that ranked 11th of 26 running backs. He didn't get much help from the line at times, as he was contacted at or behind the line of scrimmage on nine of 16 carries, but he still managed to break off a couple of 10-plus-yard gains despite that.