The 2021 rookie quarterback class was heralded as the best of the past decade, with five passers drafted in the top 15 and Trevor Lawrence considered by many the best signal-caller prospect since Andrew Luck. The group underwhelmed this past season, though.
Mac Jones was solid with an 80.4 grade, good for 11th in the NFL last season among quarterbacks with at least 150 dropbacks, but no other rookie passer graded out north of 65.0. 
This has led to some within the public analytics sphere to express reasonable concerns about the class. How confident can we be in a group that, by and large, produced subpar results in their rookie seasons? We have evidence to suggest that quarterbacks make big jumps in their second seasons, and we observe stability in several results from signal-callers' rookie seasons to the remainder of their NFL careers. But we don't know what specific empirical results remain stable during the second year jump, and which fluctuate. 
That is the purpose of this study: to figure out what empirical measures in the second season we can reliably predict from rookie year performance. We can easily answer this by looking at R-Squared values of various stats from a quarterback's rookie year to his second season. We'll only look at quarterbacks drafted since 2006, when PFF began, who had at least 150 dropbacks in their first two seasons, giving us a sample size of 47 players.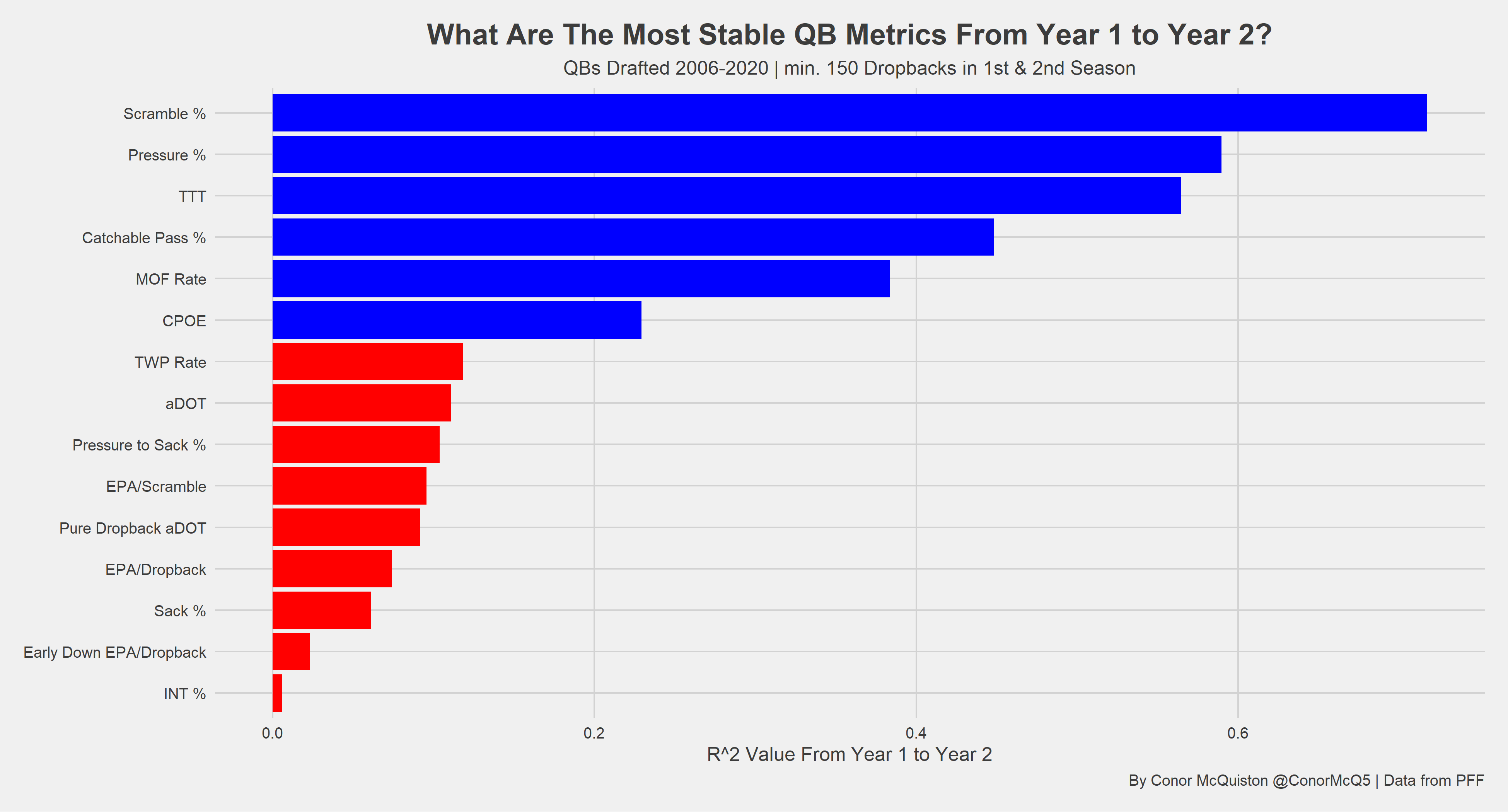 Using the relatively arbitrary point of 0.2 R-Squared, there are six stable metrics when quarterbacks make their second-year jump. Notably, neither of the efficiency metrics observed nor any of the metrics related to turnovers are stable.
Subscribe to PFF Edge to continue reading
Already have a subscription? Sign In