As the season winds down, a few quarterback trade storylines have emerged. A handful of big-name gunslingers find themselves at a crossroads with their respective franchises — and there's always a market for starting-caliber quarterbacks. 
While we aren't predicting that any of these hypothetical trades will actually happen, they're based on prior trade values and are "fits" from a financial and football perspective.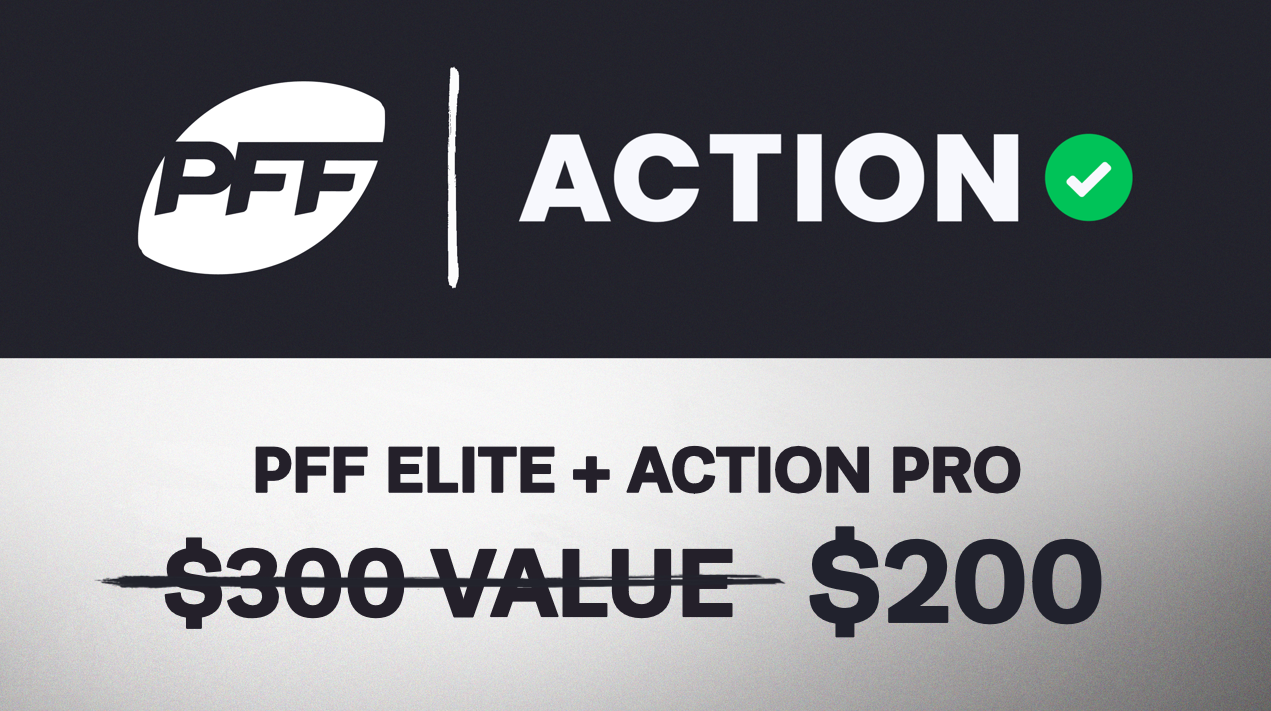 Let's start with the storyline of the weekend: Carson Wentz's displeasure with the series of events in Philadelphia. As many capologists in the national media have noted, this would be a truly unprecedented move by the Eagles. Wentz' $33.8 million dead money cap charge with a trade (before March 19th) would be the largest single-year dead money charge in NFL history, topping Brandin Cooks' record of $21.8 million by a wide margin. And this is the best case scenario for the Eagles in terms of total dead money for Wentz.
Jalen Hurts backed up a "solid" performance in his career debut against New Orleans (a huge win) with a stellar outing against the Arizona Cardinals (24/44, 338 passing yards, 3 TDs, 63 rushing yards, 1 TD). At a certain point, his play cannot be ignored. The Eagles are still decimated by injuries on offense, but Hurts is doing what franchise QBs are supposed to do: rise above it.
There isn't a great trade comparison for Wentz, as we noted that this move is unprecedented. Philadelphia signed him to an early extension after his third season, and he hasn't even played on a new year of the deal yet. This connection brings us to Jay Cutler. 
Comparable trade: Denver Broncos QB Jay Cutler → Chicago Bears for a 1st, 3rd, future 1st and QB Kyle Orton
Player
Age (2021)
EPA/Play (Win Prob. 5-95%)
Air Yards %
Big Time Throws / Turnover Worthy Plays
*ANY/A

Carson Wentz

28

.039 (35th/40)

57.7% (15th/41)

52/48 (1.08:1)

(21st/41)

5.28 (32nd/41)

Jay Cutler (2007-08)

26

.143 (5th/48)

57.8% (22nd/49)

66/53 (1.25:1)

(14th/49)

6.48 (12th/49)
*ANY/A – adjusted net yards per attempt
Cutler hadn't reached the conclusion of his rookie contract when the Broncos sent him off to Chicago, where they signed him to a massive extension. On the other hand, Wentz already received his $16.367 million signing bonus, $30 million option bonus and an $8 million roster bonus for 2020 from his extension. The Eagles made the commitment that Denver wouldn't, and now they have some buyer's remorse. 
While everyone loves to point out the Carson Wentz-Frank Reich connection from their days in Philadelphia, what if those very same Denver Broncos were the buyers this time around? John Elway has to be on at least relatively thin ice, with yet another quarterback decision not looking great in Drew Lock. Yes it's early with Lock, and Wentz himself has illustrated the volatility that can come with a young quarterback, but he still may be the best option for Denver. With a 5-9 record, the Broncos are not currently slated to pick in the top 10.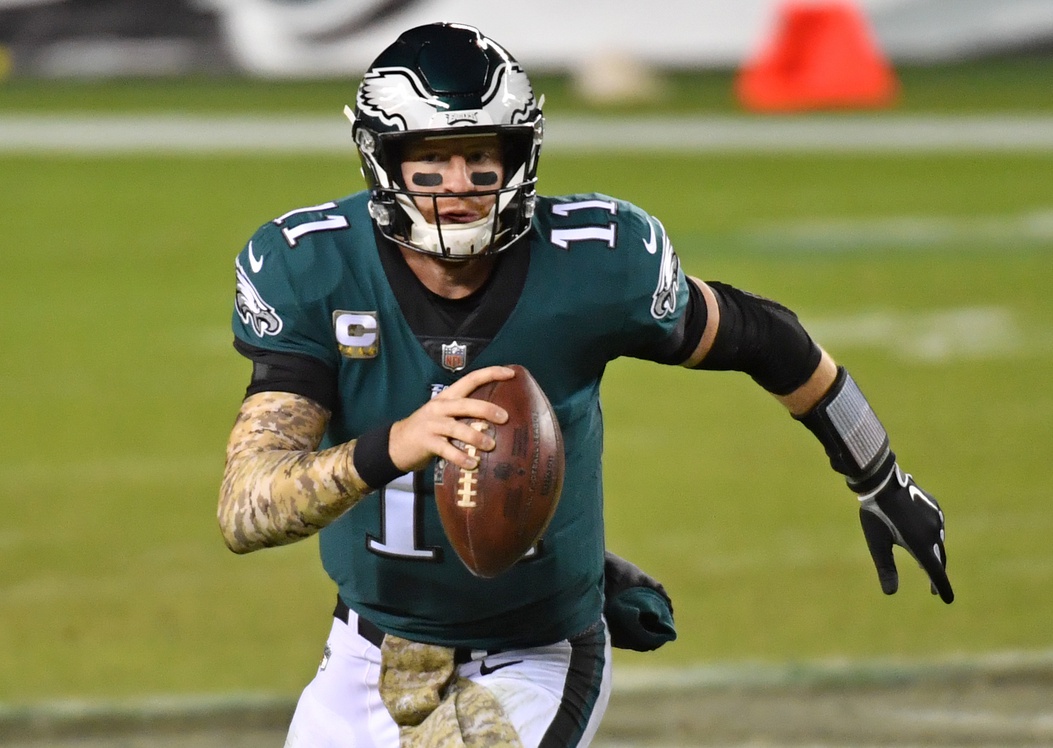 With a good defense set to regain Von Miller, a solid offensive line anchored by recently extended LT Garett Bolles, and a receiving corps of Courtland Sutton, Jerry Jeudy, Noah Fant and more, this team is set up to compete in 2021. That's not happening with Drew Lock. Perhaps Elway and Vic Fangio take a shot with their backs against the wall.
Hypothetical Trade: Carson Wentz → Denver Broncos for a 2nd, 5th and future 3rd
Rebuilding teams
Next, we'll take a look at a few veteran quarterbacks with new head coaches and general managers on the way. This is not uncharted territory for Matthew Stafford, who will have his fifth head coach and third general manager in Detroit.
Stafford showed this week exactly why a trade may be unlikely, with his reputation as one of the toughest quarterbacks in the NFL on full display. Stafford has a very high floor at quarterback, and a new regime can sell themselves on the notion that Stafford has been limited by a disastrous organizational situation. They can be the ones to finally tap Stafford's potential, and at 33 years old, there's plenty of football left. 
Safe to say, Stafford scored major points with his teammates today. pic.twitter.com/vaZGq56nlR

— Pride of Detroit (@PrideOfDetroit) December 21, 2020
Nevertheless, you never know if a new head coach and general manager would prefer a fresh start. Stafford has two years remaining on his contract, with a $20 million cap charge in 2021 and a $22.5 in 2022 for an acquiring team. These are very team-friendly terms for anyone looking to trade for Stafford.
Comparable trade: Kansas City Chiefs QB Alex Smith → Washington Football Team for CB Kendall Fuller and a 3rd
Player
Age (2021)
EPA/Play (Win Prob. 5-95%)
Air Yards %
Big Time Throws / Turnover Worthy Plays
ANY/A

Matthew Stafford

33

.119 (14th/40)

60.8% (4th/41)

49/20 (2.45:1)

(3rd/41)

7.21 (11th/41)

Alex Smith (2016-17)

33

.122 (9th/42)

49.1% (37th/41)

48/26 (1.85:1)

(6th/40)

7.03 (4th/40)
Washington is no stranger to this type of move, because the team already did it with Alex Smith. Smith's comeback has, of course, been nothing short of spectacular, but he's not a legitimate answer at quarterback going forward if Washington wants to take the next step. Ron Rivera and this defense may win the lowly NFC East in their first season, which is great in terms of building a new culture in Washington. But it would put them out of reach for any of the top quarterback prospects. They may already be on the outside looking in.
A good 2021 draft class and a healthy Stafford could make Washington an immediate contender. 
Hypothetical Trade: Matthew Stafford → Washington Football Team for a 1st, future 3rd and Dwayne Haskins.
The other veteran quarterback with a new front office on the way is Matt Ryan in Atlanta. Thomas Dimitroff had been the Falcons' general manager since 2008, providing a more stable situation for Ryan than Stafford's in Detroit. However, Dimitroff was also given an ultimatum from ownership to make the playoffs or lose his job, and unfortunately that resulted in some rash decisions before 2020. Needless to say, Atlanta is in an extremely precarious cap situation — they have over $123 million in cap space allocated to just five players in 2021 — and they may not be competitive again before Ryan hangs up his cleats. 
Ryan's contract is working against this trade much like Wentz's, but owner Arthur Blank himself has made it clear that he'd be willing to make the trade if the price is right.
Comparable trade: Cincinnati Bengals QB Carson Palmer → Oakland Raiders for a 1st and future 2nd
Carson Palmer was so fed up with his situation in Cincinnati that he "retired" to force a move. The Bengals granted his wish and shipped him off to the Oakland Raiders to work under head coach Hue Jackson. 
Statistically, the two players stack up remarkably well:
Player
Age

(2021)

EPA/Play (Win Prob. 5-95%)
Air Yards %
Big Time Throws / Turnover Worthy Plays
ANY/A

Matt Ryan

36

.094 (23rd/40)

65.4% (1st/41)

51/47 (1.09:1)

(20th/41)

6.18 (20th/41)

Carson Palmer (2009-2010)

31

.081 (19th/41)

59.5% (5th/41)

45/42 (1.07:1)

(32nd/41)

5.53 (22nd/41)
Nothing better illustrates the exceedingly difficult situations the Lions and Falcons have put their franchise quarterbacks in than both being top five in air yard percentage. Their teams are not creating "easy" throws and often trailing because of porous defenses. We see with Alex Smith that the reverse was true, as Andy Reid is of course the king of creating easy offense. We also see why Palmer was threatening to retire before this trade, because nothing was being made easy in Cincinnati.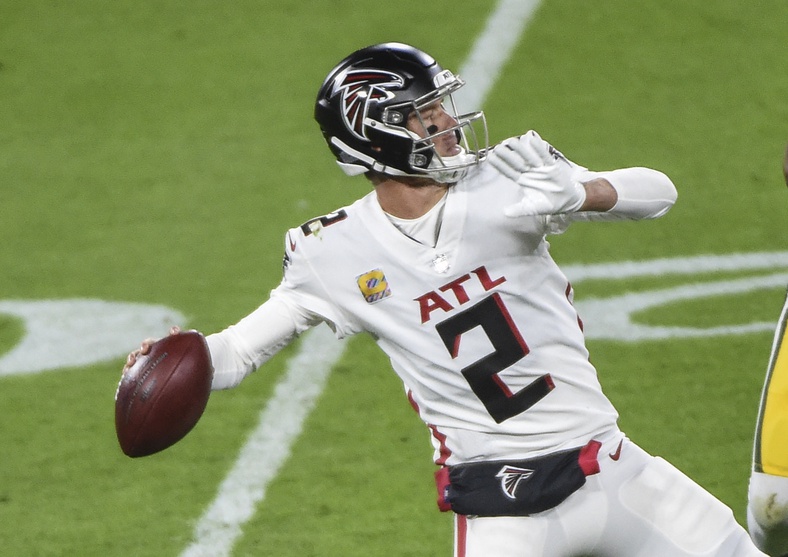 Perhaps Ryan could reunite with Kyle Shanahan in San Francisco to attempt to exorcise their demons from the Super Bowl collapse. Jimmy Garoppolo is not cutting it, and Ryan with that supporting cast on both sides of the ball could vault the 49ers right back into the conversation. The one thing working against this trade is that the 49ers' first-round draft pick climbs higher with every loss, making them less inclined to part with it.
Hypothetical Trade: Atlanta Falcons QB Matt Ryan → San Francisco 49ers for a 1st, 3rd and future 2nd
Finally, the younger veteran quarterbacks that may just need a change of scenery for the next phase of their careers. 
Garoppolo negotiated a no-trade clause into his contract with the 49ers back in 2018, which will of course come into play here. He was smart to do so, as the structure of the deal made him very tradable in the later contract years (a.k.a. now). San Francisco front-loaded his deal because it was flush with cap space at the time, and now the team could move on from Garoppolo with just $2.8 million in total dead money. 
But what if the team that drafted him — the New England Patriots — came calling? New England is officially out of the playoffs, but they still probably aren't in range to draft a top quarterback. With a lot of holes to fill all over the roster as they build back up from going all-in with Tom Brady, they could use their draft arsenal and cap space on everything but the quarterback. 
Comparable trade: Jacksonville Jaguars QB Nick Foles → Chicago Bears for a 4th round pick
Two former backup quarterbacks that got their shot and rode it all the way to a Super Bowl. Brady doesn't seem to be much of a fan of either. The narratives are endless, but the comparison goes beyond the storylines.
This trade comparison works especially well now that Garoppolo has missed a bunch of time this season, just like Foles did in 2019 after breaking his clavicle in Week 1. 
Player
Age (2021)
EPA/Play (Win Prob. 5-95%)
Air Yards %
Big Time Throws / Turnover Worthy Plays
ANY/A

Jimmy Garoppolo

30

.131 (11th/40)

43.5% (41st/41)

16/22 (.73:1)

(37th/41)

6.98 (12th/41)

Nick Foles (2018-19)

31

.090 (22nd/42)

49.1% (36th/43)

11/13 (.85:1)

(29th/43)

5.99 (26th/43)
Both guys are your classic "game managers" who rely on their playmakers to create in space. They won't win you many games, but in the right circumstances they won't lose too many, either. Worst case scenario, they're a bridge to your future and a trusted voice in the quarterback room. 
Hypothetical Trade: San Francisco 49ers QB Jimmy Garoppolo → New England Patriots for a 3rd and future 5th
Last but certainly not least, arguably the quarterback with the most to offer a new team longterm. Derek Carr has had a resurgence under HC Jon Gruden and has played the best football of his career over the last two seasons. The signing of Marcus Mariota this offseason may have lit a fire under Carr, but it also provides the Raiders with a Plan B.
There wasn't a great trade comparison here, either, but Sam Bradford does have similarities in his play. Bradford also relied on a lot of yards after the catch, and he always did well to limit his turnover-worthy plays. The conservative playing style of Carr at times seems to drive Gruden crazy, but there would probably be several teams happy to trade for his services. Once Bradford got to Minnesota, he continued to rack up the occasional big-time throw without adding many turnover-worthy plays.
Comparable trade: Philadelphia Eagles QB Sam Bradford → Minnesota Vikings for a 1st and conditional future 4th
Player
Age (2021)
EPA/Play (Win Prob. 5-95%)
Air Yards %
Big Time Throws / Turnover Worthy Plays
ANY/A

Derek Carr

30

.153 (5th/40)

48.1% (38th/41)

45/26 (1.73:1)

(9th/41)

7.32 (7th/41)

Sam Bradford (2014-15)

29

.044 (33rd/44)

46.8% (41st/44)

24/14 (1.71:1)

(4th/44)

5.85 (28th/44)
This is exactly what the Indianapolis Colts could be looking for. Carr could do exactly what Philip Rivers has done this season — stand behind an elite offensive line and get the ball out quick to playmakers — but with the added benefit of Carr's mobility.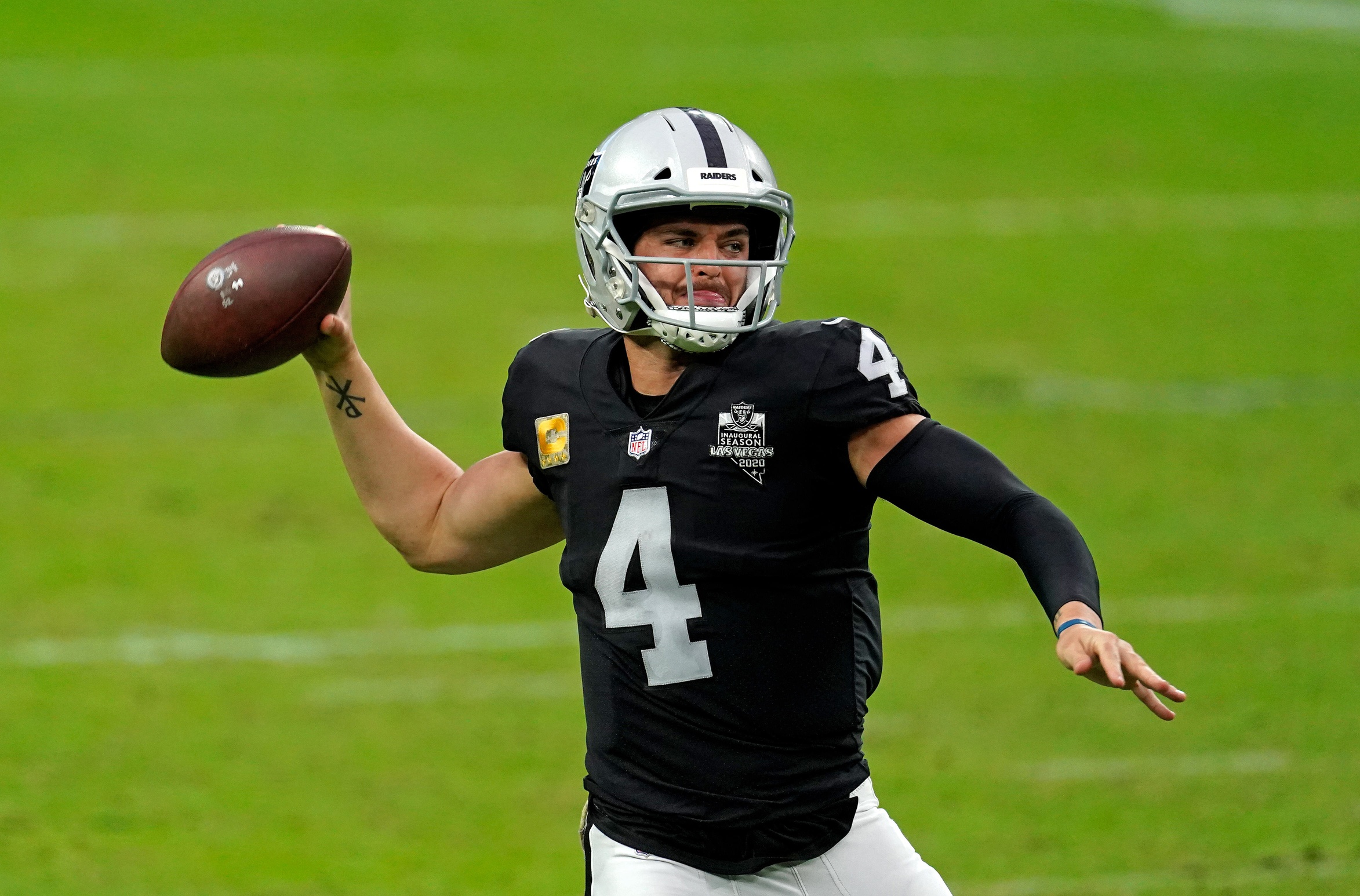 The Colts traded away the 13th overall pick in 2019 for DeForest Buckner, so perhaps they don't want to trade away first round picks in consecutive years, but they have a window here with this roster after Andrew Luck shocked the world with his retirement. Rivers has looked good the last month or so, but his ceiling is apparent. Carr could make this Colts team a legitimate contender in the AFC in 2021.
Hypothetical Trade: Las Vegas Raiders QB Derek Carr → Indianapolis Colts for a 1st, 3rd and future 2nd