The October 29th NFL trade deadline is fast approaching, so in the coming days, teams in need of roster help will begin calling around the offices inquiring about player availability. Some teams, however, are already ahead of the curve.
On Sunday, ESPN reported that the Oakland Raiders had traded former first-round cornerback Gareon Conley to the Houston Texans in exchange for a third-round pick. That move was soon followed by the Patriots' Monday night acquisition of Mohamed Sanu, who will leave the 1-6 Atlanta Falcons in exchange for a second-round draft choice.
With more roster moves to come in the next few days, here's a quick look at those recent trades through the PFF lens.
[Editor's Note: All of PFF's advanced stats and grades for every NFL player are made available in PFF's ELITE subscription. Subscribe today to gain access!]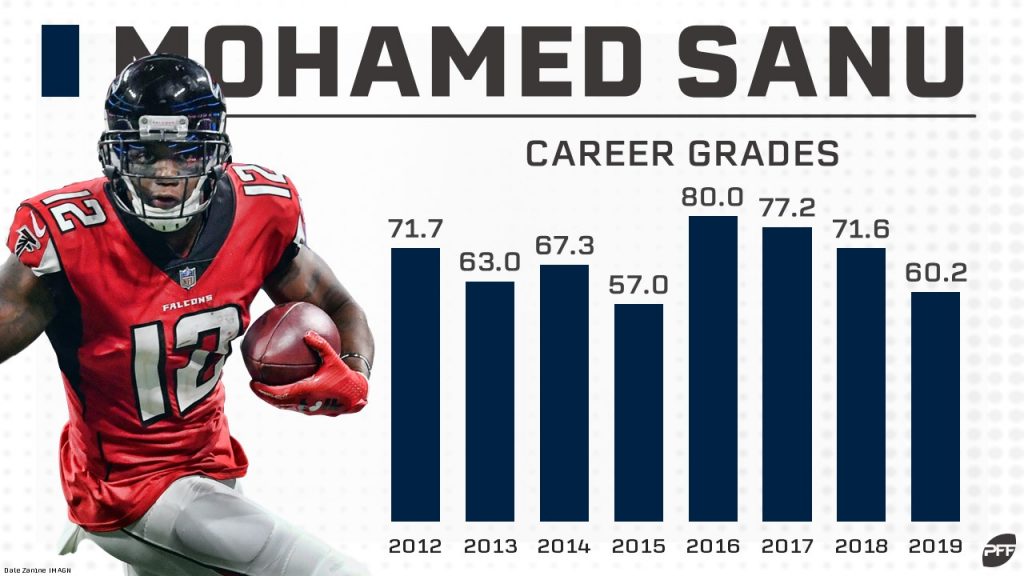 Mohamed Sanu to the New England Patriots
As a team, the New England Patriots look just as their record suggests: unbeatable. Tom Brady is well on his way to another top-five overall grade at the helm of the offense, while their defense—a unit that has allowed a passer rating of just 38.8 to opposing quarterbacks this year—is currently the only defense in the NFL with an elite team defense grade. If there was one glaring hole in this roster, though, it was at the wide receiver position, which makes this move a clear sign that the Patriots have every intention of ending the season with yet another Super Bowl victory.
From Week 1 to Week 7 this year, the Patriots' wide receiving corps combined to catch 102-of-154 targets for 1,283 yards (9th among offenses) and 53 total conversions (tied for 12th), generating 0.063 expected points added per pass play (15th) and a passer rating of 101.2 (15th). Altogether, they've dropped 10 total passes on the year already, which is the fifth-most among receiving corps, and Julian Edelman (71.2) is the only Pats player at the position who has managed to earn a receiving grade of 70.0 or higher — the remaining wideouts with significant playing time, Phillip Dorsett (69.0), Jakobi Meyers (69.2) and Josh Gordon (63.7) respectively rank 44th, 43rd and 66th in receiving grade among qualifying wide receivers this year. Simply put, they needed help.
The new addition to the group, Mohamed Sanu, has earned receiving grades over 70.0 in each of his last three full seasons (2016-18) with the Falcons. Over that span, he generated a passer rating of 111.0 that ranked 12th among the 74 receivers who saw 150 or more targets, which actually bettered the mark of Edelman (100.3) over that very same period. Perhaps more impressively, though, he dropped just eight of his 200 catchable passes from 2016 to 2018, with his 91.4 catch percentage ranking tied for 18th among that same group of 74 players.
Since joining the Falcons back in 2016, Sanu has made a name for himself in the slot. He's run 71.0% of his total routes from the inside since then, catching 164 of his 213 targets for 1,819 receiving yards and 12 scores, all good for a 116.7 passer rating when targeted that ranks seventh among the 35 wide receivers who've run at least 100 routes from the inside over that period. And while he has shown the ability to make plays in open space when working from the inside—his 19 missed tackles forced and his 826 yards after the catch from the slot are the seventh- and fifth-most, respectively, among slot receivers over the last for years—he has also done a great job of going up and hauling the tough, contested passes by coming down with 58.8% of his contested slot targets since 2016 — only Michael Thomas (73.9%) and Tyreek Hill (63.6%) have a better contested-catch rate from the slot over the past four years.
In the end, it'll go down as a good move for all involved. The Patriots get a player who will help Tom Brady do what Tom Brady does best: surgically move his team down the field by taking exactly what he's given, whether it be an underneath pass over the middle or a winnable matchup for a receiver down the field. For the Falcons, it's a great return for a player who was a potential 2020 cut candidate as they look to rebuild the roster following a disappointing start to the 2019 campaign.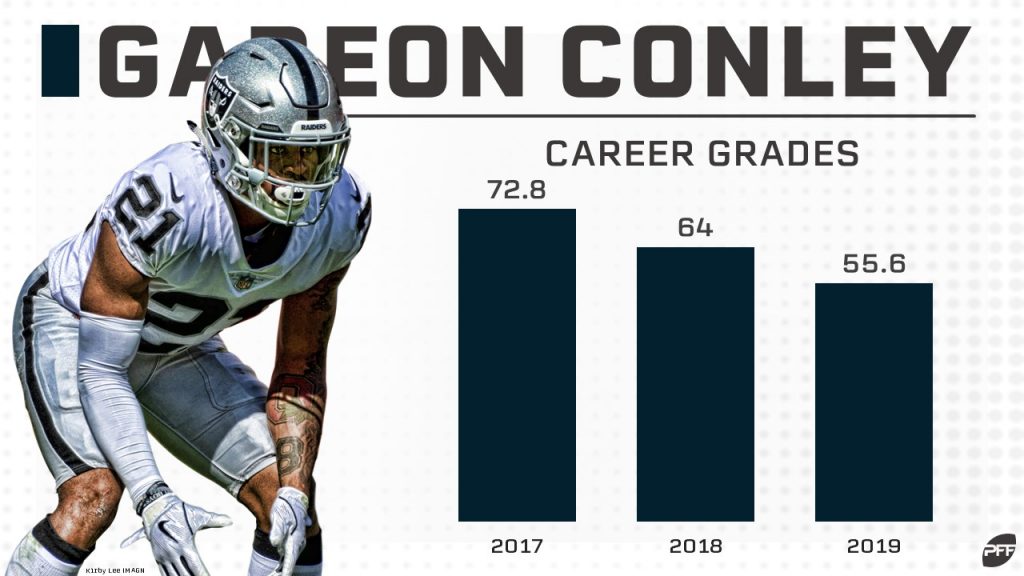 Gareon Conley to the Houston Texans
Defensively, the Houston Texans have really struggled on the back end this year, with their secondary allowing the league's most receiving yards (1,654), the most combined first downs and touchdowns (82) and the league's seventh-highest passer rating (112.1), all en route to a combined coverage grade of 35.9 — the worst mark among the NFL's 32 secondary groups. Thus far, not a single member of the Houston secondary has earned a coverage grade above 70.0, while defensive backs Phillip Gaines, Keion Crossen and Lonnie Johnson Jr. have all stumbled to sub-30.0 coverage grades through seven weeks. Long story short, The Texans needed secondary help, badly.
Now three years into his career, Conley hasn't wowed like many thought he would, but he's almost certainly going to provide an upgrade for the Houston secondary simply due to the fact that it can't get much worse. He's played 356 total snaps through seven weeks, and though he has graded below 70.0 in five of his six games, he did show the kind of impact he can have on the back end in his team's Week 4 game against Indianapolis when he allowed just two completions from five targets, coming away with an interception and an elite single-game coverage grade in the process.
There are certainly reasons to believe that Conley's acquisition would be good for all involved, not least is the coverage scheme in which he's set to play. Seven games in, the Houston Texans have played a man coverage shell on 50.3% of their snaps, which is the fourth-highest rate among teams and a 19% increase from the Raiders' use. This so happens to play right into Conley's strengths, as the former Buckeye has earned a coverage grade of 62.3 in his snaps in man coverage, forcing an incompletion on 21.7% of his targets. On his snaps in zone coverage, where he's played the majority of his snaps over the last three years, Conley has earned a 61.2 coverage grade and forced an incompletion on only 15.4% of his targets.
It's a hefty price for the Texans and Bill O'Brien to pay, and it's almost certainly a gamble given that Conley has earned just seven single-game grades north of 70.0 over his entire career, but there is no doubt that a change of scenery is just what Conley needs to finally realize his first-round pedigree.