• Bryce Young a top option to live up to the hype: The No. 1 overall pick is a favorite to win Offensive Rookie of the Year due to his situation and opportunity with the Panthers.
• Pass rushers dominate DROY, and Will Anderson Jr. is the best of the class: Three of the past four winners have been pass rushers. Anderson will have all the opportunity in the world to rack up backfield production in Houston.
Estimated Reading Time: 5 mins
---
With rookies now on their new NFL rosters, it's time to look at which players we think are in great situations to succeed right away by predicting some of the top Offensive and Defensive Rookie of the Year candidates.
These are our three early leaders in the clubhouse for each award.
More PFF draft content:
Draft Grades | Mock Draft Simulator | 2023 NFL Draft Guide
Top 200 Big Board  | Measureables & Workout Data
NCAA Premium Stats | Draft Rankings By Position | Prospect Superlatives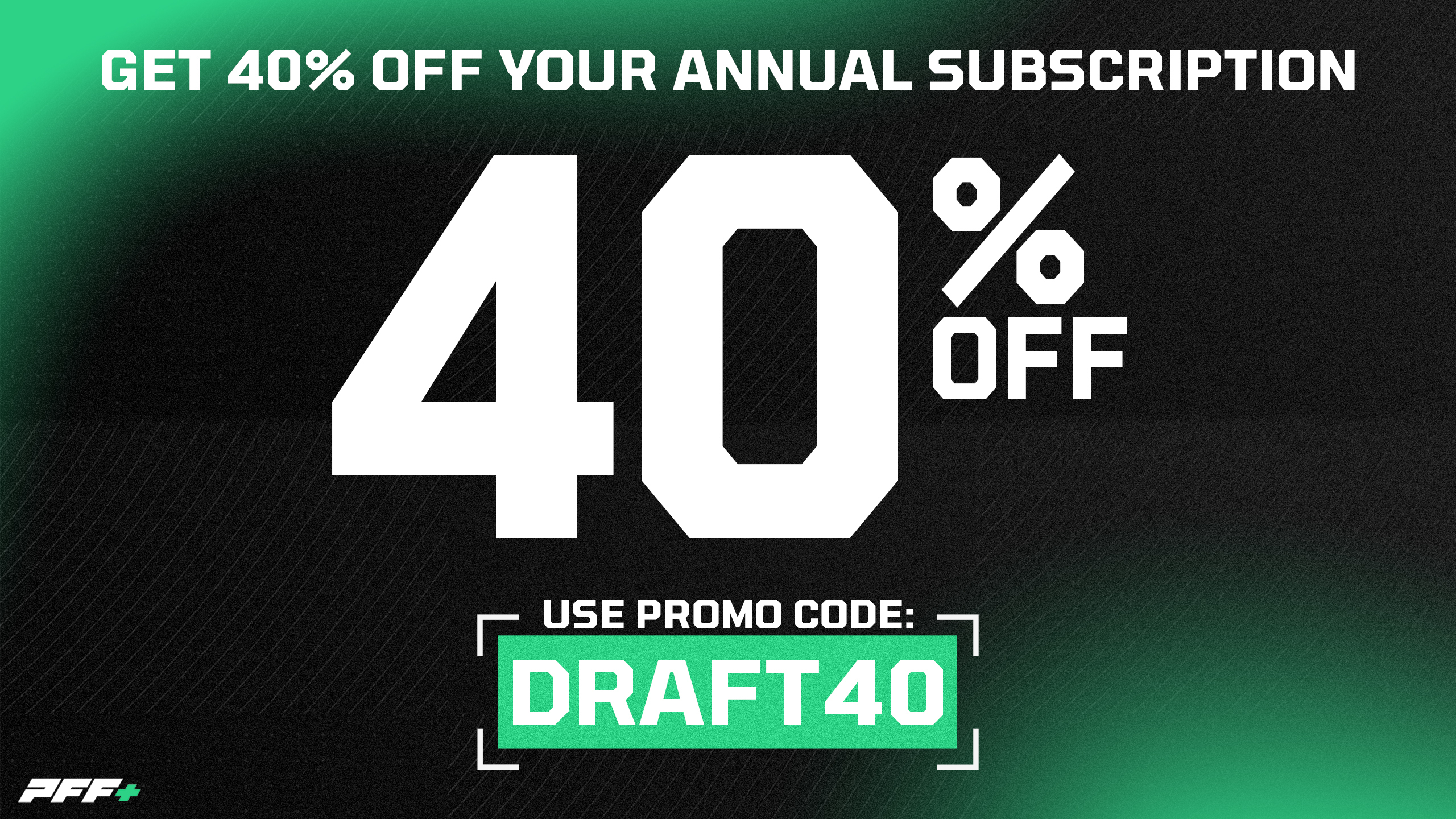 ---
OFFENSIVE ROOKIE OF THE YEAR
Odds: +450
Opportunity is the first prerequisite for being a top rookie of the year candidate, and Young should have plenty of that. As the No. 1 overall pick, the expectation is for Young to start in Week 1. The last quarterback to win the award was Justin Herbert in 2021, and he threw for more than 4,300 yards with 31 passing touchdowns and 10 interceptions (31 big-time throws, 16 turnover-worthy plays) that season. Before him, it was Kyler Murray, who passed for more than 3,700 yards with 20 touchdowns and 12 interceptions (21 big-time throws, 16 turnover-worthy plays), but also added 544 rushing yards with four rushing touchdowns.
The supporting cast will play a role in Young's candidacy, but after he earned elite passing grades in each of his past two seasons at Alabama, those numbers are achievable.
Odds: +300
The last running back to win the award was Saquon Barkley in 2018. Barkley had similar draft hype, as both he and Robinson were top-10 selections. Barkley finished the 2018 season with more than 1,300 yards rushing, 11 rushing touchdowns and a 5.0 yards-per-carry average. He also added more than 700 yards receiving with 91 catches on 121 targets with four more receiving touchdowns.
Amassing 2,000 all-purpose yards as a rookie would be an incredible accomplishment for Robinson. He has the skill set to do it, but usage might hold him back. Rookie Tyler Allgeier rushed for more than 1,000 yards last season on 210 carries. Cordarrelle Patterson added another 695 yards on 144 carries. Robinson will get a lot of that usage, but how much? Back in 2017, before Saquon Barkley was drafted by New York, Orleans Darkwa led the team in carries (171) while Wayne Gallman was second (111). Darkwa wasn't even on the team the following year, while Gallman received just 51 carries during Barkley's first campaign.
The stats required to stand out to win the award vary each year. Robinson could have much less production than Barkley did his first year yet still win it due to sheer volume. But it's a high standard for a running back to take home Offensive Rookie of the Year these days — especially against four quarterbacks who could all start.
Odds: +1600
The past two Offensive Rookie of the Year winners have been wide receivers: Garrett Wilson and Ja'Marr Chase. Wilson recorded more than 1,110 receiving yards and four receiving touchdowns on 83 catches. Chase recorded more than 1,400 yards with 11 receiving touchdowns on 81 catches. Addison getting that kind of volume would be asking a lot, but he is poised to take over the WR2 position in Minnesota, which bodes well for him being a strong candidate for the award. Addison was the Biletnikoff Award winner in 2021, so he's no stranger to standout stats. Long-time Vikings receiver Adam Thielen saw 107 targets last season, and a good chunk of that, if not all of it, will go to Addison this upcoming season.

---
DEFENSIVE ROOKIE OF THE YEAR
Odds: +350
Sacks win Defensive Rookie of the Year. Three of the past four winners have been pass rushers, and a pass rusher could have won last year's award if Sauce Gardner didn't have one of the best rookie seasons we've ever seen. But, outside of Sauce's standout season, betting on the top pass rushers in the class is a smart move. Anderson, as the No, 2 overall pick, will have all the opportunity in the world to rack up backfield production. He led college football in pressures over the past two seasons (137) and posted an 18.5% pass-rush win rate (which is fine, but not elite).
Odds: +800
Pass-rush win rate is fairly reliable as a translatable stat from college to the NFL. In his breakout season, Wilson recorded a 23.0% pass-rush win rate, which led all first-round pass rushers. His foot injury, which was a topic of conversation during the pre-draft process, might hold him back from really hitting the ground running his rookie season, so keep that in mind. But if we get a full year from him, we know opposing offensive lines will be paying a lot of attention to Maxx Crosby on the other side. That should free up Wilson to get opportunistic one-on-ones.
Odds: +1400
Hey, a cornerback won the award last year, so why not make it back to back? Forbes will have a good opportunity to start amid a fluid cornerback room in Washington. Plus, if you're going to stand out against players who get sacks, you better get takeaways, and no one did that more than Forbes during his college career. He recorded 14 interceptions and six pick-sixes during his career, the former leading the FBS and the latter being an FBS record.
If he can keep the completion percentage against him low and even grab three or four interceptions — returning one for a touchdown wouldn't hurt — he has a shot to be the best candidate by the end of the year.