It takes two to tango for a passing offense to have any success. Having an elite wide receiver but a poor quarterback (à la Chicago Bears and Washington Football Team) will get a team nowhere. And unless a squad has a truly elite quarterback who can elevate the play of those around him, a top-tier wide receiver is vital. A great quarterback-wide receiver connection is the first step in building a Super Bowl contender.
With the help of PFF's advanced database and unique play-by-play grading, here are the 10 best quarterback-wide receiver tandems in the NFL heading into Week 10.
Rodgers to Adams coming in at No. 1 is indisputable at this moment — the quarterback leads his position with a 94.8 PFF grade, while the wide receiver leads his with a 91.9 mark. Their 135.8 passer rating generated is the fourth-best in the NFL, and Adams' 53 catchable targets without a drop are the second-most.
Adams has missed a couple of games due to injury, but he has been the most productive receiver in the game when on the field. He has racked up 3.26 yards per route run in 2020, a mark that is on pace to be the best we have recorded since Steve Smith in 2008 with the Carolina Panthers.
There were some concerns with Rodgers possibly hitting his late-career decline, but he has shut that talk down through Week 9. He has earned a passing grade above 80.0 in six of his eight starts, putting up the league's highest big-time throw rate and lowest turnover-worthy play rate.
Rodgers has one of weakest receiving units in the NFL from a depth perspective, but with a receiver like Adams on the roster, it doesn't really matter. Those two alone have given this team the most efficient passing offense in the NFL this year.
It's becoming more and more clear that one of the biggest steals, if not the biggest, in the 2019 NFL Draft was Seattle landing Metcalf at the 64th overall pick. He flashed as a rookie and has become the top big-play threat in the league this season with the best deep-ball thrower in the game tossing him the rock.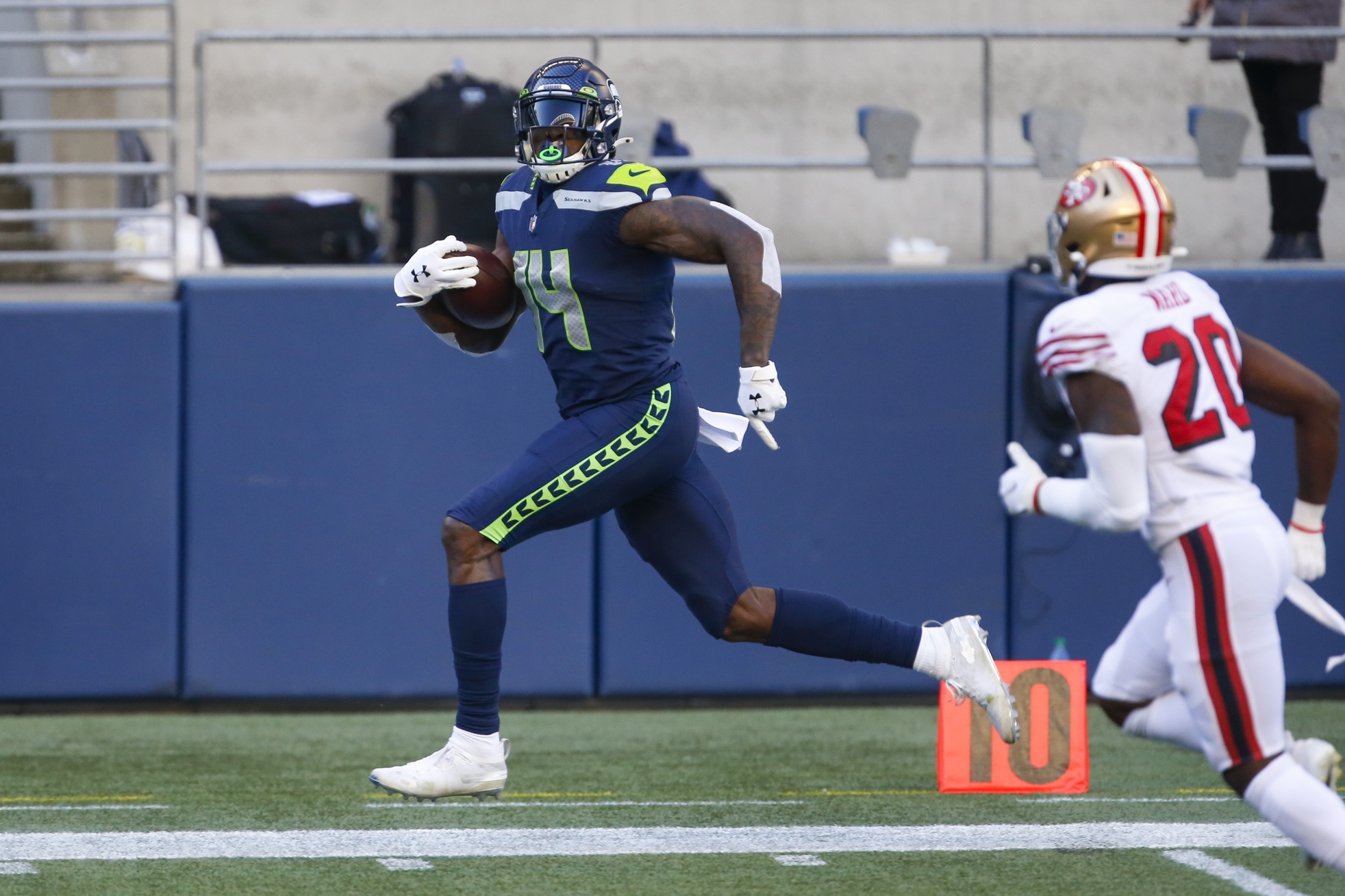 Metcalf's 372 receiving yards on 20-plus yard targets are over 50 more than any other wide receiver. He and Wilson have teamed up for 10 plays that resulted in a 30-plus yard gain, four more than any other tandem in the NFL this year. There isn't a bigger freak of nature at the position than Metcalf, and very few defensive backs have been able to contain this specimen in single coverage. In fact, Metcalf has over 100 more receiving yards against single coverage than anyone else.
Wilson entered the season as the best deep passing quarterback and is maintaining that title. He ranks first in deep passing grade and has thrown an uncatchable ball on just 25% of those passes over 20 yards downfield. Every other quarterback in the league has an uncatchable pass rate on those same throws that is over 11 percentage points higher than Wilson's mark.
Mahomes may not be a top-three graded quarterback, to the surprise of some, due to an uptick in quarterback-fault incompletions, but make no mistake — he is still very much one of the most dangerous quarterbacks in the league. Mahomes ranks fourth in passing grade and is closing in on the No. 3 spot. He has put together the second-best passer rating on throws of 10 yards or more downfield from a clean pocket, at 140.9, and a lot of those downfield shots have gone to the cheetah Tyreek Hill.
No quarterback-receiver tandem has more deep touchdowns this season than Mahomes and Hill's five. Since Mahomes took the reins in 2018, these two have connected on 38 deep balls (most by six) for 1,405 deep passing yards (most by 350) and 16 deep touchdowns (most by three).
The Falcons may be a bit of a disaster this year, but Ryan and Jones are the last people to blame. Both are among the 10 highest-graded players at their respective positions. Since Jones returned from injury back in Week 6, the Falcons have fielded the league's most efficient passing attack in terms of expected points added per play generated.
In that same span, Ryan and Jones have produced an NFL-high 12 explosive receiving plays of 15 or more yards, an 82% completion rate that ranks fifth-best and a 148.2 passer rating that slots in as the third-highest.
Those two are really the sole reasons why the Falcons have gone 3-1 over the past four weeks, with the one defeat being a narrow loss to Detroit. This team still has a long way to go before it is as competitive as it once was, but the veterans Ryan and Jones still have plenty left in the tank.
There was a hope that Murray would take that second-year leap this season and put his name in the MVP conversation. If you look at all his throws inside the pocket when in rhythm, you'll see an MVP-caliber quarterback. But if you watch outside of the pocket, whether it be a boot or a play in which he's trying to create off structure, you see a quarterback who is nowhere close to an MVP level.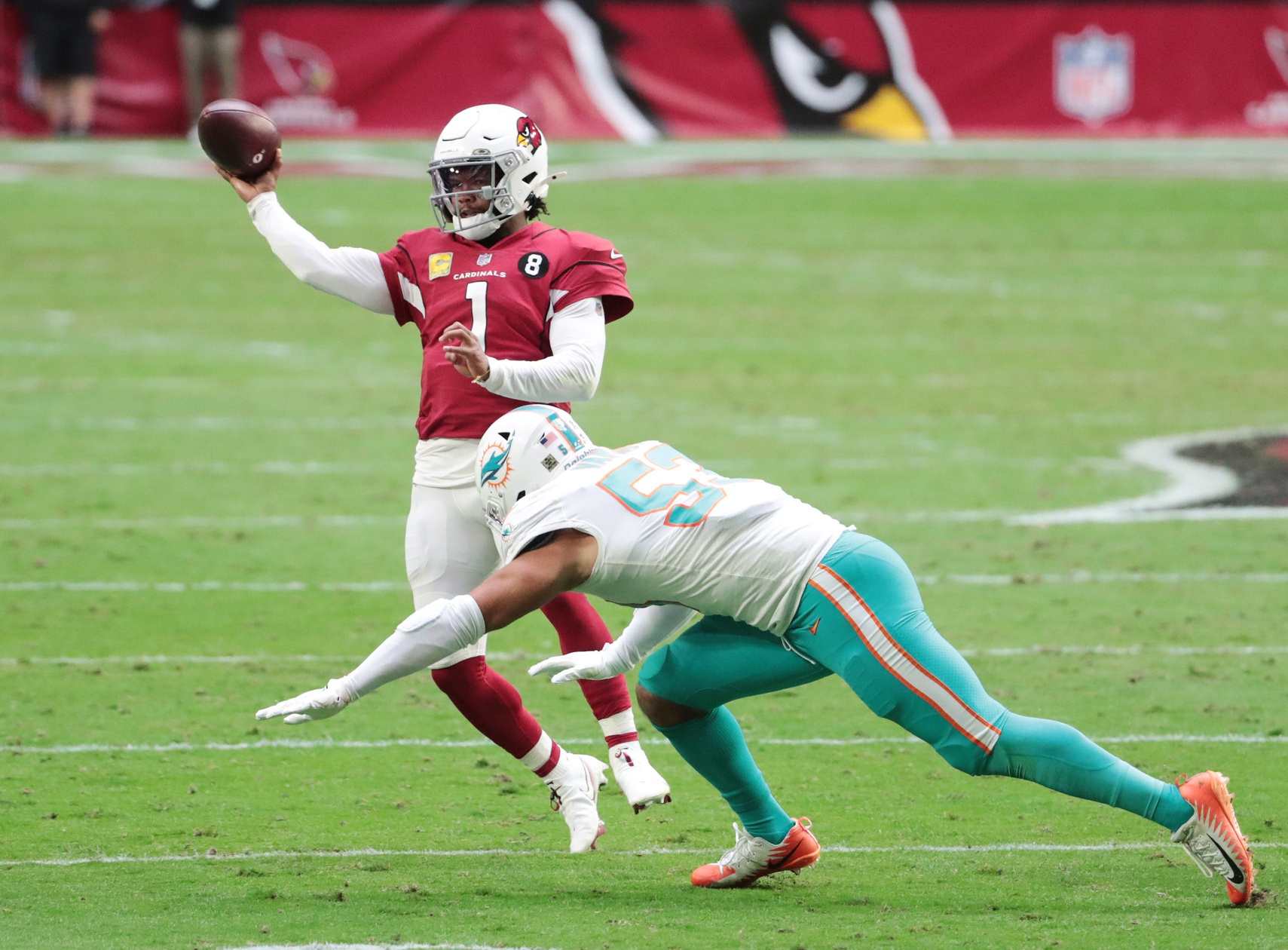 Still, we have seen more of the former than the latter, and when Murray is in the pocket and in rhythm, he has recorded the fifth-highest passing grade in the NFL. And most of the time on those plays, he is going to his star wide receiver whom the Cardinals acquired this offseason. On those plays, he and Hopkins have generated 16 explosive receiving plays of 15-plus yards — that's one shy from the league leaders. Those throws have netted a completion rate of 82% (third) and 138.4 passer rating (sixth).
Considering those throws are far more stable than the ones that are out of structure or in a pressured pocket, this Arizona offense is bound to get even better.
Brown is right there with his college teammate Metcalf as one of the biggest steals of the 2019 draft class. He has been an explosive weapon since stepping foot on an NFL field as a rookie in 2019 and has gotten even better alongside Tannehill in 2020.
Those two have connected on some big plays in their patented play-action offense, with Brown bringing in 22.6 yards per reception on play-action passes this year — the second-highest in the NFL. That's been a big reason why Tannehill ranks first in the NFL in yards per attempt with play-action, at 10.5.
Overall, the Tennessee bond has generated a 134.0 passer rating, the eighth-best in the league. It's reasonable to say Brown is doing more of the heavy lifting in this relationship with what he brings to the table in after-the-catch ability. He ranks sixth at the position in both broken tackles after the catch (seven) and yards after the catch per reception (6.7).
Tannehill still has to deliver a catchable ball, though, and he has done that across the board this season when throwing downfield, posting the sixth-best uncatchable pass rate when attempting a pass over 10 yards.
Had we done this prior to the season, Minnesota would have assuredly made this list, but it would have been a different wide receiver. Yet, instead of Cousins to Adam Thielen, the Vikings are benefitting primarily from Cousins to Jefferson.
Thielen has no doubt been excellent in 2020 — he currently sits in fourth at the position in receiving grade, at 87.7. That being said, Jefferson has been even better and is far more responsible for generating explosive plays in this offense.
The rookie wideout rings in at No. 2 in receiving grade, at 90.1, and has already had three of the eight best games we have ever recorded from a first-year player at the position. He and Cousins have teamed up for nine plays to result in a 25-plus yard gain, the second-most in the NFL.
If we were to rank only the quarterbacks, Brady would easily be in the top three. Even after a dumpster fire outing last week against the Saints, he still remains the third-highest graded quarterback in the NFL and ranks in the top three in big-time throws (26).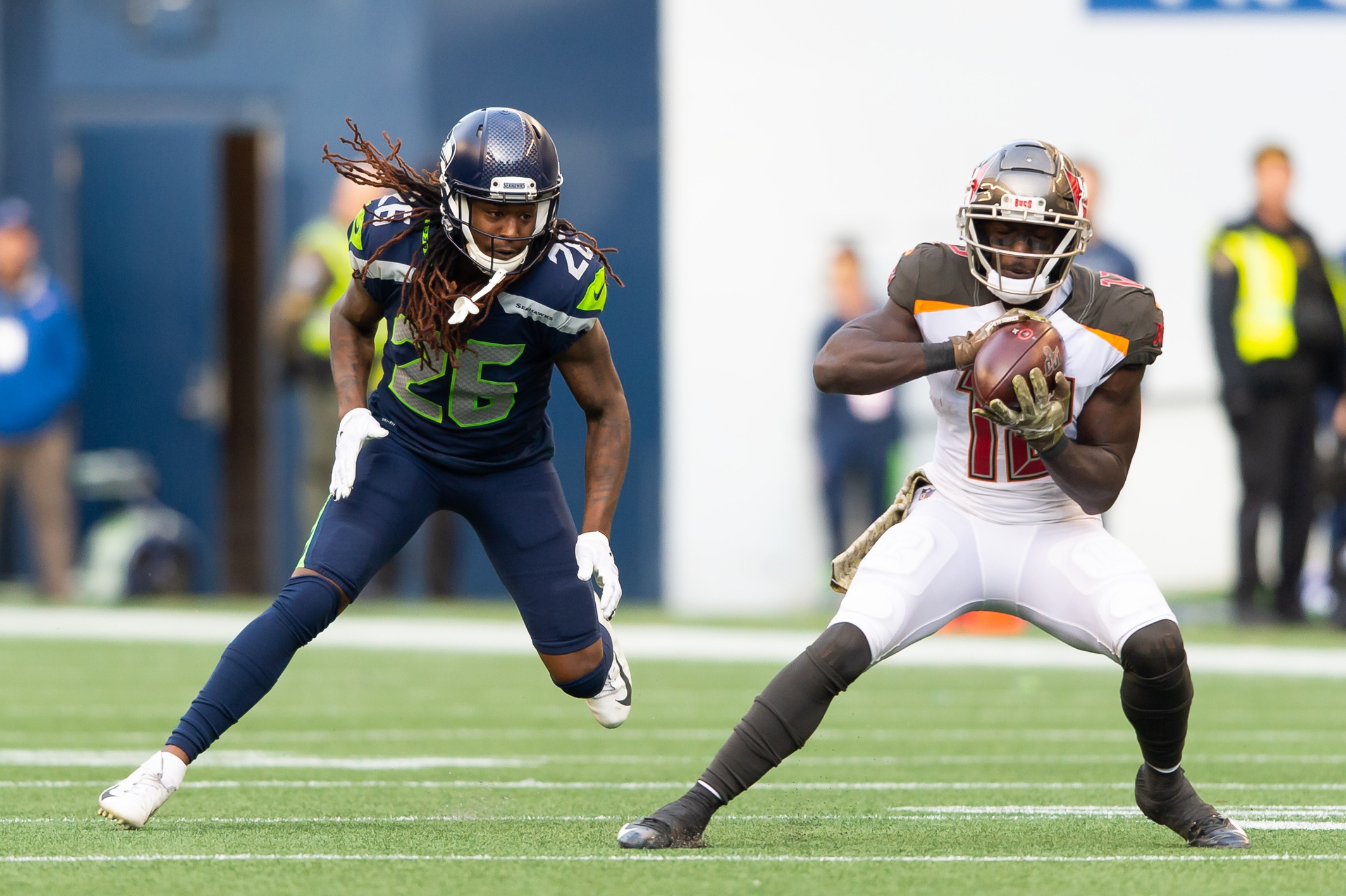 The receiving unit as a whole has struggled this year, largely due to injuries. Godwin has missed four of the Bucs' nine games this year due to injuries, and while he has yet to produce a monstrous game, both he and Brady still have connected on 82.4% of his targets. That's the third-highest mark at the position this season.
With a clean bill of health, Godwin is one of the best wide receivers in the NFL. After all, he was the NFL's most valuable player at the position in 2019, according to PFF WAR. And when he does get fully healthy, I'd expect this connection to climb a lot higher on this list.
This is perhaps the next biggest surprise on this list after Minnesota, and it's not because of Diggs — it's all due to Allen, who has done a complete 180 this season.
After posting passing grades of 58.0 and 61.4 in his first and second NFL seasons, Allen boasts an 84.9 grade in 2020, ranking fifth in the NFL. The improvement from an accuracy perspective from Allen is an anomaly. He went from second-to-last in uncatchable pass rate on throws over 10 yards downfield in 2018 and 2019 (42%) to third in 2020 (27%).
He still hasn't been pinpoint while making a fair amount of catchable yet inaccurate throws, but at least he is giving the receiver a chance to catch the ball downfield. And he and Diggs have linked up for quite a few downfield targets this season.
In his first season as a Buffalo Bill, Diggs has hauled in 27 receptions over 10 or more yards downfield from Allen — the second-most in the NFL. On 14 of those, he has generated open separation (i.e., more than a couple of steps). And on such occasions where Diggs had that kind of separation, Allen has thrown an uncatchable ball just once.
Prior to the season's start, this duo would have been at or near the top of the list, but injury has limited Thomas to just two games this year. Both of those outings came against Tampa Bay, and he was largely ineffective in each one, producing just 1.15 yards per route run combined. Yet, the damage he and Brees did in the previous four seasons is more than enough to give them a spot in the top 10 despite Thomas' injury.
From 2016 through 2019, Thomas was the second-most productive receiver on a per-route basis and caught 80.5% of his targets — the highest rate in the league by over 2 percentage points. Over the course of that same span, Brees was the most accurate passer in the NFL by percentage of accurate passes thrown — and it wasn't particularly close.
Whether we ever see that easy top-three quarterback-receiver link again is truly unknown given Brees' inconsistencies this year and the strong likelihood this is his final season. Plus, Thomas still isn't fully healthy.
Regardless if we do or don't, Brees to Thomas will always be one of the best connections PFF has ever seen.