There's almost nothing better for an NFL offense than having a dangerous pass-catching weapon who defenses have to closely monitor on a weekly basis.
That is, unless the offense has two.
While some teams can thrive with a quarterback and a lone WR1 performing at historic levels, as the Green Bay Packers' duo of Aaron Rodgers and Davante Adams did in 2020, it's hard to be in the top tier of passing offenses without fielding a strong pass-catching duo.
Today, PFF is jumping into the top 10 tandems in the NFL ahead of the 2021 NFL season to show which passing offenses have that edge.
Giving Patrick Mahomes an electric deep threat in Tyreek Hill and a dynamic tight end in Travis Kelce is almost unfair. Over the past four years, Hill has notched 56 receptions (most by 10), 2,240 yards (most by 687) and 25 touchdowns (most by 10) on targets of 20-plus yards downfield. The Cheetah has rare, uncoachable traits, including his speed and explosiveness; the amount of separation he creates on vertical routes is special.
Kelce, meanwhile, has not just been the league's most valuable tight end over the past couple of seasons, but he has been the fourth-most valuable pass-catcher, regardless of position, in that span. He is fresh off a year in which he led all tight ends in receiving grade, and he has ranked no lower than fourth in any of the past five seasons.
Tennessee's receiving unit was looking like a real problem point a few weeks ago. While the Titans will trot out one of the league's top-10 wide receivers in A.J. Brown, they saw a top-10-graded wide receiver — Corey Davis — and a top-10 graded tight end — Jonnu Smith — each depart in free agency.
But a couple of weeks ago, everything changed.
The Titans pulled off a blockbuster trade for one of the best wide receivers of the 21st century: Julio Jones. Now, they have the best wide receiver duo in the NFL, significantly boosting their odds of taking home the AFC South crown.
Over the past decade, only three wide receivers have multiple top-three finishes in single-season receiving grade. Jones leads that group with five. He has been that consistently dominant. Injuries may have prevented us from getting the full Julio experience in 2020, but he was still uber-productive, showing he still has plenty left in the tank.
Across nine starts, Jones notched an 86.3 PFF grade and 2.60 yards per route run, both of which were top-10 marks. He also turned over 35% of his targets into 15-plus-yard gains, the highest rate by six percentage points among wideouts with at least 50 targets.
He joins Brown, who is the leader of the next generation of stars at the position. After putting up an 83.0 receiving grade in Year 1 that ranked 10th among wide receivers, Brown posted a 90.1 mark in Year 2 that ranked third. He has generated 2.66 yards per route run in those two years combined, edging out Odell Beckham Jr. and Antonio Brown for the highest mark PFF has ever recorded from a wide receiver in their first two NFL seasons (minimum 700 routes).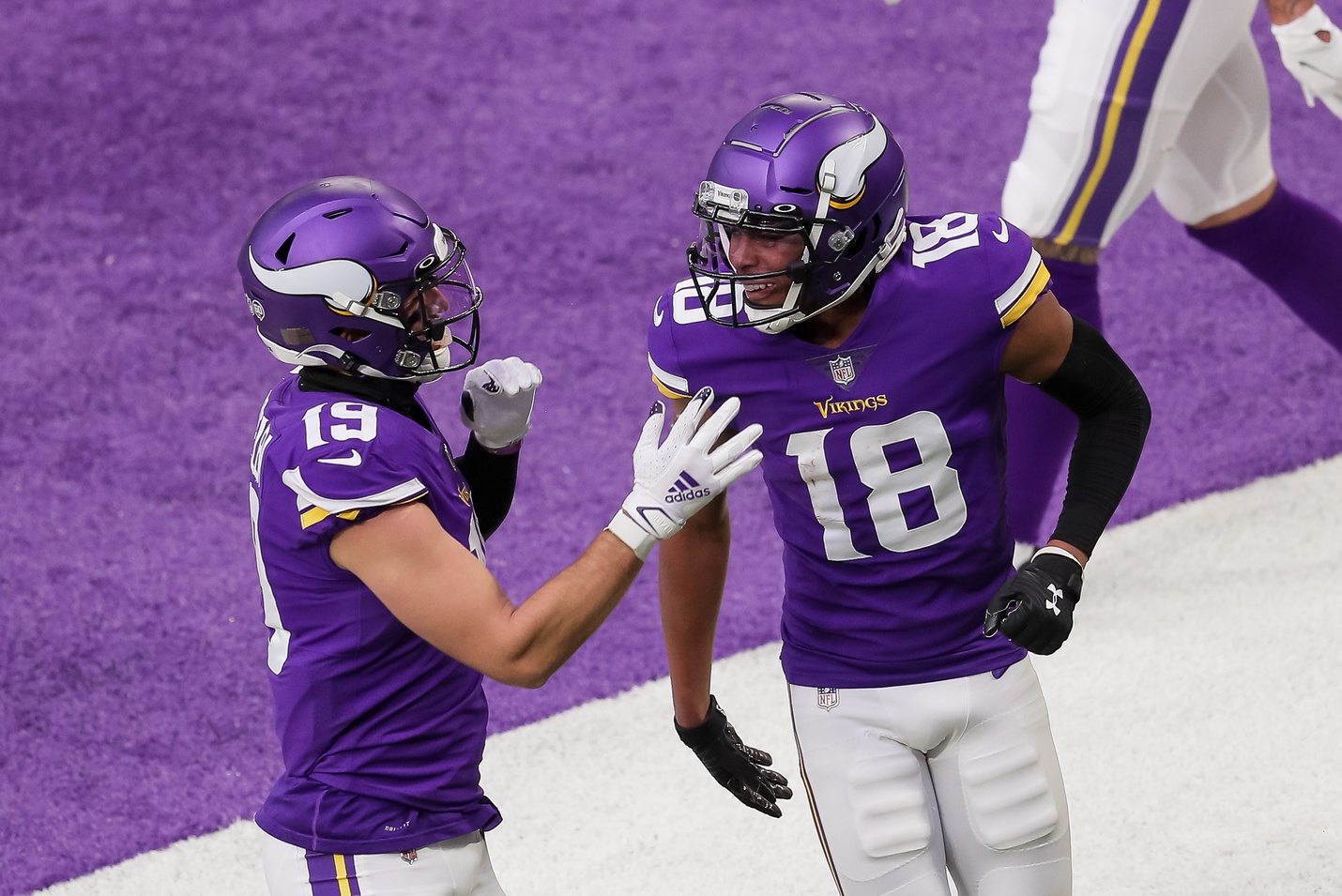 The NFL landscape thought the days of Minnesota flaunting a top receiving tandem were over when the franchise traded away Stefon Diggs in the 2020 offseason, but Jefferson has kept the tradition going after a historic rookie campaign. 
Jefferson finished the 2020 season with an elite 90.5 receiving grade that trailed only Davante Adams for the best in the NFL, and he was just shy of the rookie record set by Odell Beckham Jr. in 2014 (91.2). The most impressive aspect of Jefferson's first NFL season was his performance against single coverage. It was an area of concern when he left LSU because of his role there, but he has undoubtedly proved he can handle those situations.
Thielen is coming off a bounce-back year after an injury-hindered 2019. He came away from 2020 with an 87.4 PFF grade that ranked sixth among NFL wide receivers, marking the third time in the past four years he has finished inside the top 10.
Injuries plagued both Evans' and Godwin's 2020 seasons, but they still performed admirably and were major pieces to the Buccaneers' Super Bowl puzzle. Don't forget that these two ranked fifth and first, respectively, in PFF's Wins Above Replacement (WAR) metric in 2019 when they were mostly healthy.
Evans endured the lowest-graded season of his career in 2020, but has been one of the five highest-graded players at the position since entering the league in 2014. Now that he's fully healthy and, in head coach Bruce Arians' eyes, "probably the best shape he's been in this time of year," expect Evans to revert to his dominant form in 2021. Godwin is also coming off the lowest-graded season of his four-year career, but he has still been among the highest-graded players at the position since Tampa Bay drafted him in the third round in 2017.
The fact that Tom Brady and the Buccaneers still managed to win the Super Bowl with Godwin and Evans not being anywhere near their ceilings is a scary thought for defenses in 2021.
Buffalo's passing offense returns the reigning highest-graded outside receiver, Stefon Diggs, and the second-highest-graded slot receiver, Cole Beasley.
After five years in Minnesota of very good, but not elite, play, Diggs finally earned that accolade in his first season with the Bills in 2020. He produced a receiving grade between 77.6 and 84.0 in each of his five seasons with the Vikings, always ranking inside the top 25, but he cracked the top 10 just once.
In 2020, Diggs was one of just four receivers with a 90.0-plus receiving grade in the regular season. He remained one of the most efficient contested-catch weapons in the game, posting a 60% catch rate on such plays to bring his percentage since 2017 to 60.5% — the second-best mark in the league.
Beasley is the NFL slot receiver prototype. He ran 88.4% of his routes from the inside last season, the third-highest rate in the league. On those reps, he racked up 2.31 yards per route and 938 receiving yards while hauling in 83.9% of his targets en route to a 90.8 receiving grade. All four marks ranked inside the top three among league qualifiers.
Quarterback Russell Wilson and the duo of Metcalf and Lockett form one of the league's strongest deep passing attacks. Seattle ranks fourth in the NFL in total expected points added (EPA) generated off of 20-plus-yard throws since 2019, and the offense is bound to remain at the top this season with that trio.
It's no secret that Metcalf is so dangerous because of his rare blend of size and speed. The 6-foot-3, 229-pound rare human specimen ranks inside the top 10 in both receiving yards (752) and touchdowns (eight) from vertical routes in his first two years in the NFL ranks. In 2020 alone, he led the league in vertical route receiving yards (475). The former second-round pick is also tied for seventh since entering the NFL ranks in both contested catches (30) and broken tackles after the catch (26).
Lockett turned his career around back in 2018. Since then, he has racked up the second-most deep receiving touchdowns (13) and leads all wide receivers in percentage of catchable deep targets caught (94.1%).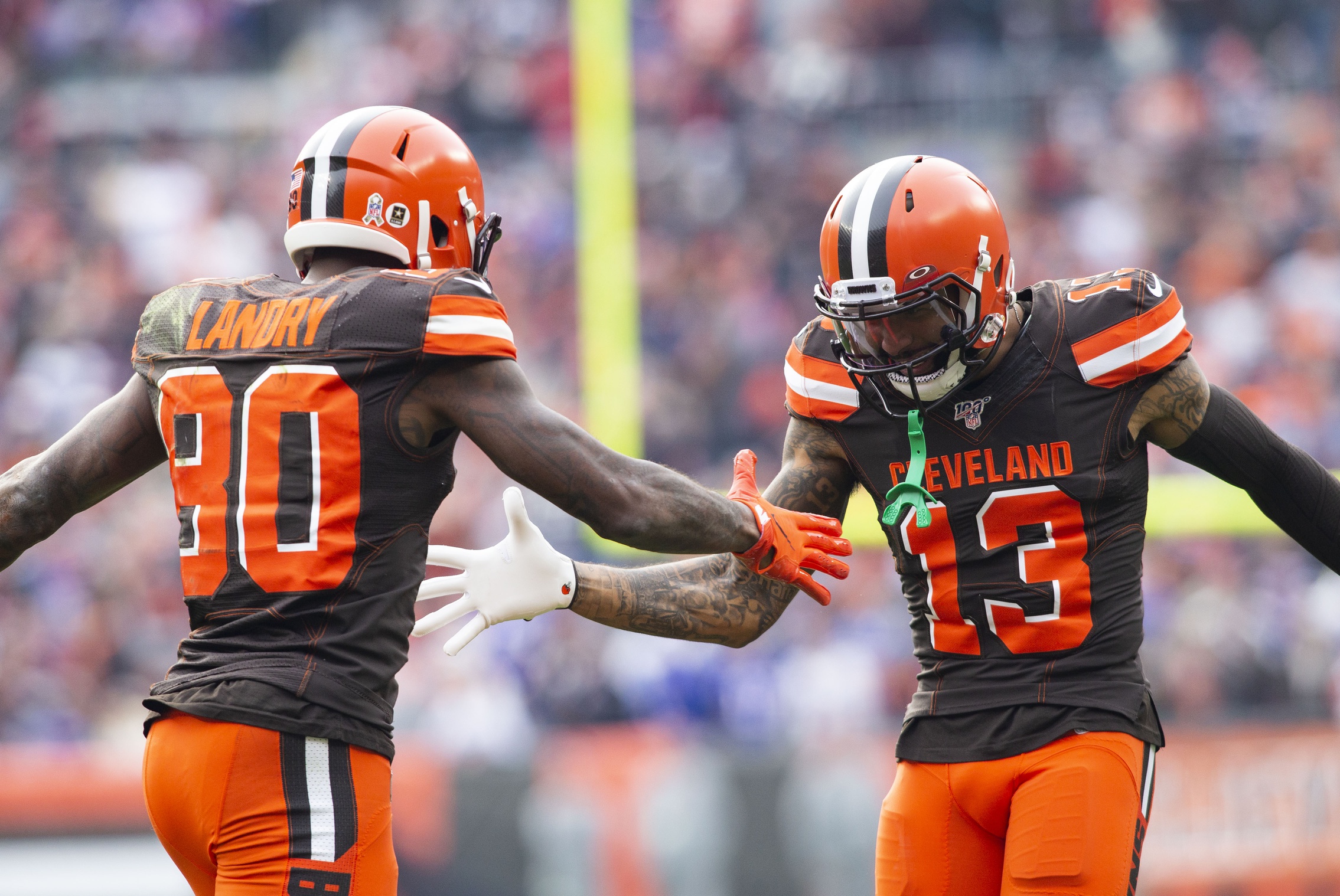 This duo is a tougher one to spot than others given the nature of OBJ's career. Beckham, who was the NFL's fifth-most valuable wide receiver from 2014 through 2018 with the Giants, has been a decidedly different player with the Browns. His first season in Cleveland in 2019 ended up being the lowest-graded campaign of his career, but it's worth noting that played through an injury and wasn't in an ideal environment from a play-calling perspective.
And he still wasn't performing like his normal self in 2020 before suffering a season-ending injury in Week 7 (73.7 receiving grade). There's no doubt that Beckham is capable of producing at an elite level in 2021 if he remains healthy.
Landry's experience in Cleveland thus far has been quite different from Beckham's. The former Miami Dolphin has notched an 80.0-plus receiving grade in each of the past two seasons, forming a two-year mark that ranks 15th among qualifying wide receivers.
Landry, once infamously known for being only a slot weapon, accomplished those feats while seeing more reps on the outside. He ran the highest rate of routes from the outside in his career in both 2019 and 2020, combining to produce the sixth-best receiving grade on those plays. He went from the 22nd percentile in grade against single coverage in 2017 and 2018 to the 90th percentile on such reps in 2019 and 2020.
Cooper was reborn after being traded to Dallas in the middle of the 2018 season. He ranks 13th among qualifying wide receivers in receiving grade since his Cowboys debut in Week 9 that season. Cooper is one of the best route-runners in the game, and it shows week after week against single coverage. His separation rate against single coverage since joining Dallas sits at the 80th percentile, and he ranks fourth in total receiving yards with at least a step of separation on those plays in that same time frame.
While Cooper is pan-frying corners and getting open on the outside, Lamb is in the slot exploiting holes in zone coverage. No wide receiver generated more 15-plus-yard plays from the slot by finding a hole in zone coverage in 2020 than him (nine). The then-rookie hauled in 21 of 27 such targets for 325 yards last season.
If this list was expanded to trios, Dallas would undoubtedly be in the top three, with Michael Gallup rounding out the group. Quarterback Dak Prescott is bound for a monstrous comeback season with those three available to him.
Had the Falcons not traded away Julio Jones, they would have placed a duo far higher on this list. Still, they earn a spot inside the top 10 with refined route-runner Calvin Ridley and rookie unicorn Kyle Pitts.
Ridley finally pieced it all together and showcased his talent on a consistent basis in 2020. His production skyrocketed across the board: From 2019 to 2020, he improved his PFF grade by 10 points to 84.9 and took his yards per route run total from 1.69 to 2.44 (seventh-best). He hauled in the third-most receptions against single coverage in which he had at least a couple of steps of separation (19) and led the league in total 15-plus-yard receptions (40).
And yes, Pitts has obviously not played a down in the NFL, but his tools and background make it hard to believe he won't live up to his lofty expectations. The 6-foot-6, 240-pound tight end has a massive catch radius and the movement skills of a wide receiver. Pitts shattered the PFF College record for best single-season receiving grade by a tight end in his age-20 season last year (96.1).
He almost made a habit of beating press-man coverage on the outside last season, generating seven gains of 15-plus yards on such reps. Since 2014, the next most a tight end has recorded in a single season is just two. That stat alone showcases just how rare Pitts is.
A broken foot derailed a portion of Kittle's 2020 season, but he still managed to generate the third-best receiving grade among all tight ends to bring his grade since 2018 to the No. 1 spot at the position. He has generated 2.92 yards per route run over that three-year span, which is over half a yard more than any other tight end in the NFL. Yes, even ahead of Kansas City's Travis Kelce.
Injuries also got in Samuel's way in 2020, but when healthy, he was exactly what we expected: an after-the-catch phenom. He has produced 9.8 yards after the catch per reception in his two NFL seasons. Not only does that lead all wide receivers, but it leads the group by a substantial margin of 2.5 yards. He has also broken 28 total tackles in regular-season play over that span, tying for the fifth-most at the position. Remember, he played only six games in 2020.
HONORABLE MENTIONS WHO COULD SNEAK INTO THE TOP 10 IN 2021:
New Rams quarterback Matthew Stafford will have a strong pass-catching duo at his disposal in Woods and Kupp, who narrowly missed a spot in the top 10 here.
Woods revitalized his career with the Rams over the past four years. He has recorded a higher receiving grade in each of his four campaigns with Los Angeles than in any of his four seasons with the Buffalo Bills. He ranks among the 15 highest-graded wide receivers since 2017 while also slotting into the top five in both yards after the catch per reception (5.6) and percentage of catchable targets caught (92.8%).
Meanwhile, Kupp has consistently placed himself among the NFL's most productive slot receivers. His 2.12 yards per route run from the inside over the past four years is the fourth-highest mark at the position. He also ranks second in broken tackles forced after the catch from the slot (27) and is tied for first in yards after the catch per reception on those same reps (6.0).
It doesn't matter whether the conversation is about any of Fuller, Waddle or DeVante Parker — quarterback Tua Tagovailoa has a damn good receiving arsenal to tap into. If Waddle eclipses his ceiling early on in South Beach and Fuller is able to stay on the field, then they'll definitely be pushing for a top 10 spot.
Fuller is a genuine speedster who has notched a 15-plus yard gain on over 26% of his targets since 2018, the eighth-highest rate in the NFL. Despite missing significant time in each of those three campaigns, Fuller came in at No. 8 in total receiving yards on vertical targets where he had separation on his coverage defender. 
Waddle is even more of a speedster and can get behind defenses with ease. His all-around athleticism helped him rack up a 15-plus-yard gain on over 36% of his targets in his three-year Alabama career, a rate that leads all FBS wide receivers by four percentage points over that period.
If anything stops this tandem from growing into a top-10 pairing in 2021, it will more than likely be the instability of Denver's quarterback room.
Sutton ran only 20 routes in 2020 before getting shut down due to injury. He broke out in a big way in his 2019 sophomore campaign, though. He improved his PFF grade by nearly 20 grading points from his 2018 rookie season to 83.1, which ranked 11th among all qualifying receivers for that year.
He often went toe to toe against press coverage, and he consistently came out on top. Sutton's 2.50 yards per route run against press on the outside in 2019 was among the five best marks in the NFL. With a clean bill of health, he is bound to climb up this list. Now, he just needs an accurate quarterback (ranks 83rd of 107 qualifiers in career catchable target rate).
Jeudy's rookie campaign was a bit underwhelming — not just because of the bad quarterback situation, but also himself. He had a bad case of the drops. He caught just 76.5% of his catchable targets on the year, the worst rate in the NFL. And of the ones he didn't catch, 17.6% went down as a drop — the fifth-worst rate among wide receivers with at least 100 targets in a single season since 2010.
At the same time, though, no receiver had a higher rate of their targets resulting in a quarterback-fault incompletion last season than Jeudy. Despite his struggles, we saw the same elite route-running chops, deep speed and quickness at the line of scrimmage against press coverage that made him such a highly touted prospect coming out of college. Drops are one of the most unstable metrics from year to year, meaning it's likely we see Jeudy positively regress in that department.
The potential is clearly there for these two.
Feel free to swap either of these two out for Tyler Boyd — the NFL's leader in 15-plus-yard slot receptions since 2018 (51). This Cincinnati trio has sky-high potential for 2021 and beyond.
Higgins is primed for a big sophomore year in the NFL after finishing as the 20th-highest-graded outside receiver as a rookie. It's also fairly reasonable to expect the new member of the group, 2021 fifth overall pick Ja'Marr Chase, to break out in his rookie campaign, given his prospect profile.
Chase ended up as PFF's highest-rated wide receiver prospect since the college department's inception in 2014, and he enjoyed a historic year with quarterback Joe Burrow at LSU in 2019. Both players played their part to perfection — Burrow netted a 141.3 passer rating when targeting his wide receiver, Chase generated 3.52 yards per route run and both graded out above 90.0. Chase played with a veteran physicality that season at just 19 years old and is going to bring that same energy to the NFL.