It is May 2017, and the NFL world is barely a month removed from the 2017 NFL Draft. No. 2 overall pick Mitchell Trubisky is the brand-new face of the Chicago Bears, the Jacksonville Jaguars just selected RB Leonard Fournette at No. 4 overall and the Kansas City Chiefs just traded the No. 27 overall pick, a third-round pick and their 2018 first-round selection to the Buffalo Bills to move up to No. 10 to select a young, promising quarterback named Patrick Mahomes.
A 39-year-old Tom Brady, already 17 full seasons and five Super Bowl rings into his NFL career, had just sat down with ESPN's Ian O'Connor and said something that was borderline unimaginable for even the most ardent fans of the game: "I always said my mid-40s, and naturally that means around 45. If I get there and I still feel like I do today, I don't see why I wouldn't want to continue."
And continued, it has.
Things have certainly changed in the four seasons since that interview, but the now-43-year-old Brady still stands almost alone in the Parthenon of NFL greatness, his work ethic legendary and his longevity unmatched. He's now six Super Bowls deep, having emerged victorious from one of his two Super Bowl bouts since then, and he's now three full days away from leading his Tampa Bay Buccaneers out onto the field for Super Bowl LV.
It will be Brady's 10th Super Bowl appearance — more than Peyton Manning (4), Aaron Rodgers (1), Drew Brees (1) and Ben Roethlisberger (3) combined — in 21 seasons, but it will also be his 45th career playoff game. Forty-five being that magic number, of course.
With the sails now set and the wind pushing onward, Brady is in pursuit of the treasure of a seventh Super Bowl ring to add to a collection that somehow still seems far from complete. To mark the occasion, here is a look back at the highs and lows of his nine previous championship games, which leans on the PFF grading and database of signature stats.
Date: February 6, 2005
Location: Alltel Stadium, Jacksonville
Score: New England Patriots 24, Philadelphia Eagles 21
PFF grade: 81.4
Tom Brady: PFF Stats for Super Bowl XXXIX
PFF overall grade
81.4
PFF passing grade
79.8
Positively graded play rate
28.6%
Negatively graded play rate
8.6%
% dropbacks under pressure
25.7%
Passer rating from a clean pocket
116.8
Passer rating under pressure
89.6
Passer rating vs. the blitz
88.0
Passer rating on first and second downs
118.3
Passer rating on deep throws
39.6
It certainly wasn't the most explosive of days for the New England passing offense, but the Patriots signal-caller still finished 23-of-33 for 236 yards, two touchdowns and zero interceptions to bring home his third Super Bowl in three tries.
Brady averaged 2.38 seconds from snap to pass, registering a 6.8-yard average depth of target as he went. In all, 62.3% of his passing yards came after the catch, which still stands as the highest rate he has ever recorded in a championship game.
The New England quarterback may have gone 0-for-3 on passes thrown 20 or more yards downfield, but he also didn't record a single turnover-worthy play on the day. His lone big-time throw came on a 21-yard strike to Deion Branch to set the Patriots up at the Eagles' 2-yard line and the immediately following touchdown pass to edge-turned-tight end Mike Vrabel.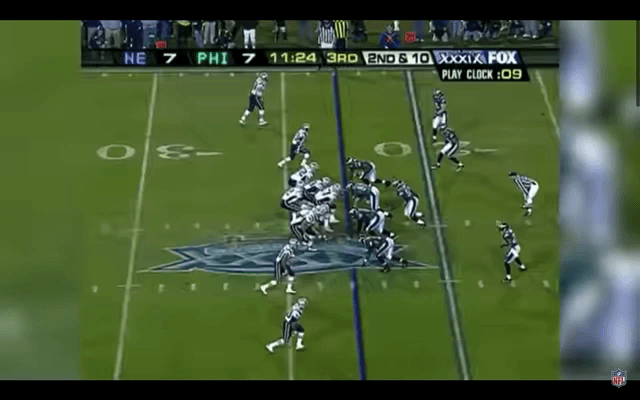 Branch earned Super Bowl MVP honors for his 11-catch, 133-yard performance. Five of his 12 total targets went for 15 or more receiving yards, while six of his 11 receptions moved the chains. He teamed up with Tom Brady to produce a 112.8 passer rating when targeted and left the game with an 85.6 PFF receiving grade, the highest grade ever earned by a Patriots receiver in a Super Bowl.
---
Subscribe to PFF Edge to continue reading
Already have a subscription? Sign In