Any time you're watching football with a group of people, there's always one person yelling something along the lines of, "You aren't going to win if you keep kicking field goals!" when a drive stalls out in the red zone. Unlike some of the things that get yelled at televisions during football games, this holds some truth—red-zone performance matters.
However, red-zone performance is very noisy at the team level, which is something PFF's Timo Riske covered earlier this week. In other words, just because a team performed well in the red zone last year, it doesn't mean that they'll repeat that performance this season.
[Editor's Note: PFF's advanced statistics and player grades are powered by AWS machine learning capabilities.]
Being able to convert drives into touchdowns when the field shrinks — along with being able to force field goal attempts when on defense — is critical to winning football games. It just happens to be hard to rely on any one team to do those things year in and year out.
This, of course, means that these lists should be taken with a grain of salt, though they do present an opportunity to pinpoint the teams that may regress in 2020.
Best red-zone offenses in 2019 by EPA per play
Least surprising: Baltimore Ravens
EPA per play outside red zone: 0.13 (1st)
The most efficient offense overall in the NFL was also the most efficient red-zone offense in the league. While you might be inclined to point to the run game as the big reason why, the Ravens' rushing attack was actually rather pedestrian inside the red zone, ranking just 17th in EPA per run play inside the 20-yard line. In comparison, they were the only team to generate a positive EPA per run play outside the red zone in 2019 (0.07). 
Rather, their success in the red zone came from the best red-zone passing attack in the NFL. The Ravens averaged 0.53 EPA per pass play inside the 20-yard line, over two-tenths of a point higher than any other offense. Whether it was dropping dimes to Mark Andrews down the seam…
… or making magic happen as a scrambler — as he did against the New England Patriots below — Lamar Jackson did enough to rank third among all quarterbacks in red-zone PFF grade. Shrinking the field doesn't make it any easier to stop the unique threat that he poses.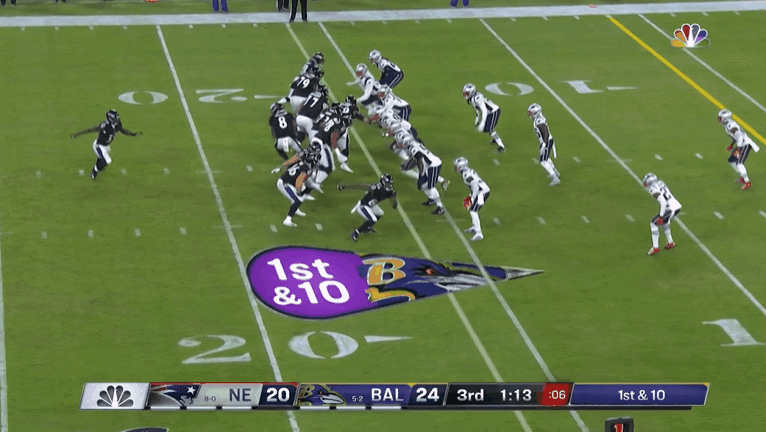 Offense that could be in store for regression: Philadelphia Eagles
EPA per play outside red zone: -0.06 (18th)
The Eagles' offense sat right around league average in EPA per play before they got inside the red zone but fell behind only the Ravens in EPA per play when they got inside the 20-yard line. Philadelphia had one of the most effective ground games in the NFL inside the red zone, as the NFL's highest-graded run-blocking offensive line truly paved the way last season. 
Additionally, Carson Wentz threw for 21 red-zone touchdowns, third in the NFL behind only Jackson and Russell Wilson, and he didn't throw a single interception. That's a recipe for red-zone success, but given their mediocrity offensively in other areas of the field, it wouldn't be surprising to see some regression in 2020.
Best red-zone defenses in 2019 by EPA per play allowed
Least surprising: Pittsburgh Steelers
EPA per play allowed outside red zone: -0.16 (3rd)
As a team, the Steelers finished the 2019 season with top-five grades in run defense, pass rush and coverage. Their -0.16 EPA allowed per play outside the red zone ranked behind only the New England Patriots and San Francisco 49ers during the regular season.
They were one of the best defenses in the league, and they were a well-rounded one at that. It was particularly difficult to run on a defensive front that featured highly graded run defenders such as Cameron Heyward, T.J. Watt, Bud Dupree and Javon Hargrave. The only team to allow a lower EPA per run play than Pittsburgh (-0.24) inside the red zone was the Chiefs (-0.33). 
Steelers free safety Minkah Fitzpatrick even got into the action with this outstanding play at the goal line against Kyler Murray, who just so happens to be one of the best athletes at quarterback in the NFL. Elite run defense, pass rush and coverage is never a bad combination for a defense. 
Defense that could be in store for regression: Kansas City Chiefs
EPA per play allowed outside red zone: 0.01 (22nd)
The reigning Super Bowl champs appear to be set up for regression in 2020. Across the regular season, they were a below-average defense outside the red zone, coming in at 22nd in EPA allowed per play.
Amazingly, they went from the worst run defense in the NFL outside the red zone (0.07 EPA allowed per run play) to the best inside the red zone. You want to be at your best as a run defense inside the 20-yard line when there are more short-yardage opportunities, but the Chiefs are unlikely to repeat that kind of success is in 2020. 
There were some improvements from Kansas City on the defensive side of the football under Steve Spagnuolo down the stretch, but this is a defense that still has some question marks at positions like cornerback and linebacker. A move back toward average seems like the likely outcome this upcoming season.