As a part of our partnership with ESPN, this is a part of a story that was originally published on ESPN+ and can be viewed in its entirety here with your ESPN+ subscription — Ranking the best Chiefs, Buccaneers players in Super Bowl 2021: Will Patrick Mahomes, Tom Brady top the list?
The Tampa Bay Buccaneers are set to host the Kansas City Chiefs for Super Bowl LV after winning three consecutive road playoff games to finally get that home game for the biggest contest of the year. Quarterbacks Patrick Mahomes and Tom Brady headline the matchup, but neither team lacks elite talent at key positions, which is a big reason these two teams find themselves with an opportunity to bring home a Lombardi trophy.
As we did last year, PFF ranked all 44 projected Super Bowl starters along with nine rotational players whom we expect to play key roles. The order is heavily influenced by 2020 PFF grades and positional ranks — which are included for each player — but it isn't solely based on that one data point, as the rankings also factor in past play and the role each player is asked to execute. We're including the grades for all 53 players, along with their overall ranking for their position.
We kick things off with the headliners, two top-five quarterbacks who will each be looking to add another Super Bowl ring to their collection.
1. Patrick Mahomes, QB, Chiefs
Grade: 92.3 | Position Rank: 4
Mahomes may not have graded out as the best quarterback in the NFL over a regular season where the Chiefs were seemingly just biding time until the playoffs began, but his 95.2 PFF grade since the start of the 2018 season ranks first at the position. In his first three years as a starter, he already has staked a claim to being the best player at the most important position in the NFL, and he has shown that no lead is safe in the postseason. His 112.3 passer rating when trailing in the playoffs is nearly 10 points higher than any other quarterback with at least 100 such dropbacks since 2010.
---
2. Tom Brady, QB, Buccaneers
Grade: 93.7 | Position Rank: 2
There were whispers about whether Brady was on the way out after a down year last season in New England, but the 43-year-old responded by making it to his 10th Super Bowl and grading out as the second-best quarterback in the NFL through the conference championship games. He was not, in fact, on the way out. Brady has shown few signs of his age in a Buccaneers offense that prioritizes the deep ball, having completed a league-high 36 passes targeted 20 or more yards downfield over the course of the regular season.
3. Travis Kelce, TE, Chiefs
Grade: 93.9 | Position Rank: 1
Kelce has had competition for the title of league's top tight end for several years, whether it be Rob Gronkowski in New England or George Kittle in San Francisco, but there was no such battle in 2020. Kelce's 79 combined first downs and touchdowns led the league regardless of position in 2020, and it nearly doubled the third-place mark at tight end, with only Darren Waller (69) truly in the same vicinity. He remained one of the game's biggest receiving threats while also posting his highest PFF run-blocking grade since his rookie season in 2014.
---
4. Tyreek Hill, WR, Chiefs
Grade: 85.9 | Position Rank: 10
The Buccaneers are very familiar with how dangerous Hill's speed is after giving up 203 yards to him alone before the second quarter started back in Week 12. Defenses know what's coming, but it doesn't matter. Since Mahomes took over as the team's starting quarterback in 2018, Hill's 19 receiving touchdowns on passes thrown 20 or more yards downfield are six more than any other player's, but that's far from the only way he can win. He and Kelce give the Chiefs the top receiving duo in the NFL.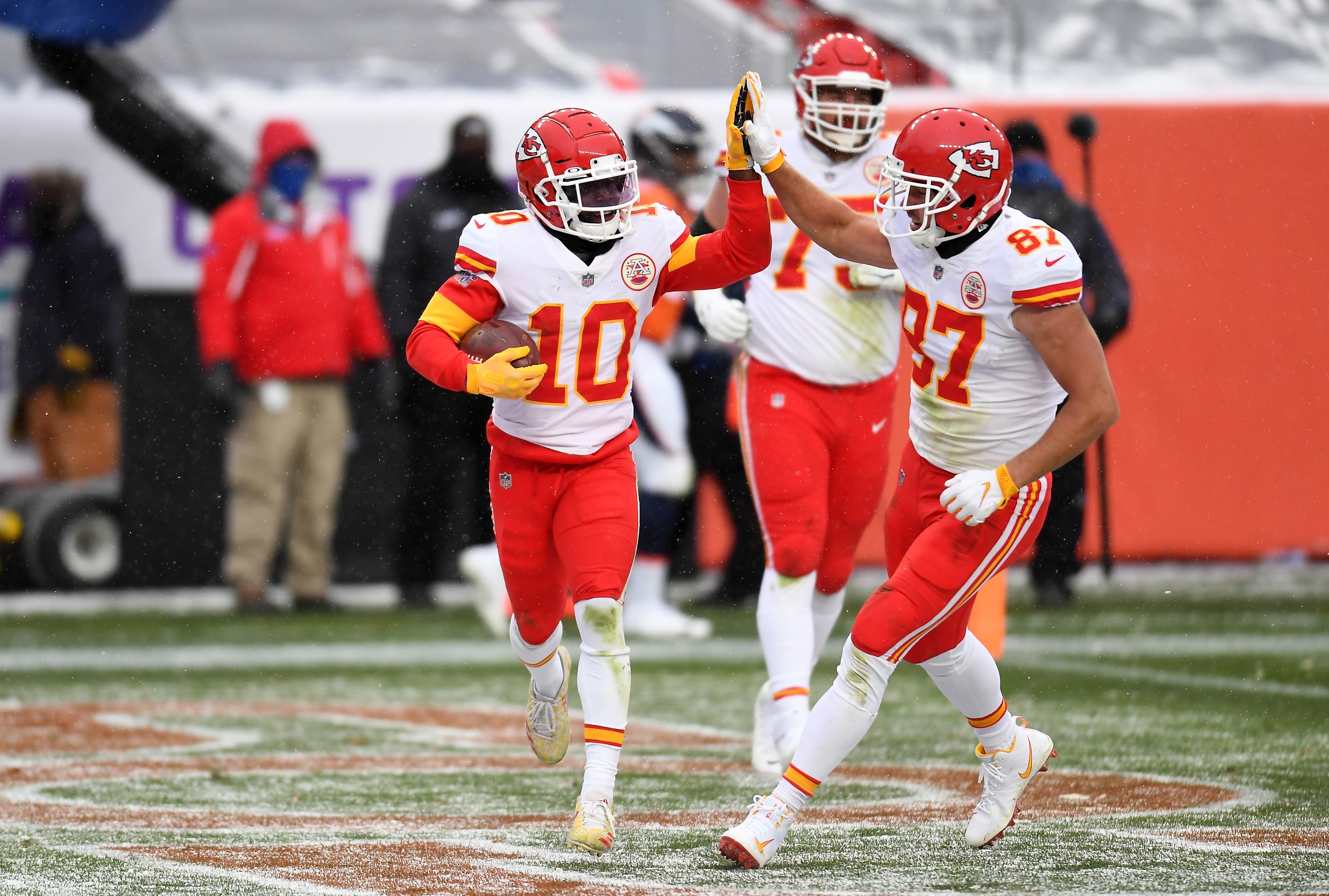 5. Chris Jones, DT, Chiefs
Grade: 90.0 | Position Rank: 3
The Chiefs aren't considered to have a dominant defense overall, but Jones is a dominant force on the interior of their defensive line. His 92.8 pass-rushing grade was the second-highest mark in the NFL, trailing only the great Aaron Donald among all defenders. His 19.7% pass rush win rate since 2018 ranks second at the position behind only Donald once again. Few players can disrupt a play like Jones can, and the Chiefs will be hoping he gets through and does that a few times against Brady and the Buccaneers.
---
6. Lavonte David, LB, Buccaneers
Grade: 78.6 | Position Rank: 5
Coming into the NFL as a member of the 2012 draft class that also produced Luke Kuechly and Bobby Wagner, David is the forgotten man in that trio. But he has been one of the best linebackers in the league throughout much of his career. In fact, he leads all linebackers since 2012 in tackles for loss or no gain (172), and only Kuechly has a higher coverage grade at the position (93.4).
---
7. Vita Vea, DT, Buccaneers
Grade: 89.5 | Position Rank: 5
The return of Vea before the NFC Championship Game was a big one for Tampa Bay because he was developing into one of the most dominant interior defenders in the league before his Week 5 injury. His athleticism and ability to push the pocket as a pass-rusher at nearly 350 pounds is a rarity in the NFL. Across the first five weeks of the season, only Vea and Aaron Donald recorded pass rush win rates of 20% or higher on at least 100 pass-rushing snaps.
---
8. Ali Marpet, LG, Buccaneers
Grade: 81.1 | Position Rank: 4
You don't often point to a guard as a difference-maker on offense, but the Bucs' struggles at left guard in three games that Marpet missed earlier this season showed how he's one of the offense's most important players. Marpet allowed just 10 pressures across 514 pass-blocking snaps during the regular season. Joe Haeg and Ryan Jensen combined to allow 11 pressures over 129 pass-blocking snaps while filling in for the injured Marpet in Weeks 9 to 11. It's safe to say Tampa Bay was glad to get one of the best guards in football back.
---
9. Tristan Wirfs, RT, Buccaneers
Grade: 82.0 | Position Rank: 2
Rookie offensive tackles aren't supposed to come into the NFL and look as good as Wirfs has in Year 1. He has shown he can hold his own against some of the top pass-rushers in the NFL, a list that includes the likes of Khalil Mack, Joey Bosa and Cameron Jordan (on multiple occasions). He has been charged with just one sack all season across 769 pass-blocking snaps. The Buccaneers landed a steal with Wirfs as the fourth offensive tackle off the board in the 2020 NFL draft.
---
10. Tyrann Mathieu, S, Chiefs
Grade: 67.4 | Position Rank: 34
This has not been one of the best years of Mathieu's career from a PFF grade standpoint, but he plays such an important and diverse role in what Kansas City does defensively. That, along with his track record of success, commands respect. There is no bigger example of the kind of impact Mathieu can have on a game with his instinctive play than his divisional round performance against the Cleveland Browns in which he allowed minus-5 receiving yards into his coverage on six targets to go along with an interception.
---
11. Chris Godwin, WR, Buccaneers
Grade: 76.5 | Position Rank: 28
Godwin hasn't quite had the same season in 2020 as he did in 2019 — a year in which he led all wide receivers in PFF grade — but he remains one of the game's best young receivers, capable of winning at all levels of the field both from the slot and out wide. The failing of his hands in the playoffs is an aberration compared to what had been a sure-handed start to Godwin's career. Godwin has already dropped more passes in 27 postseason targets this year (seven) than in 342 career targets before this year's postseason (six).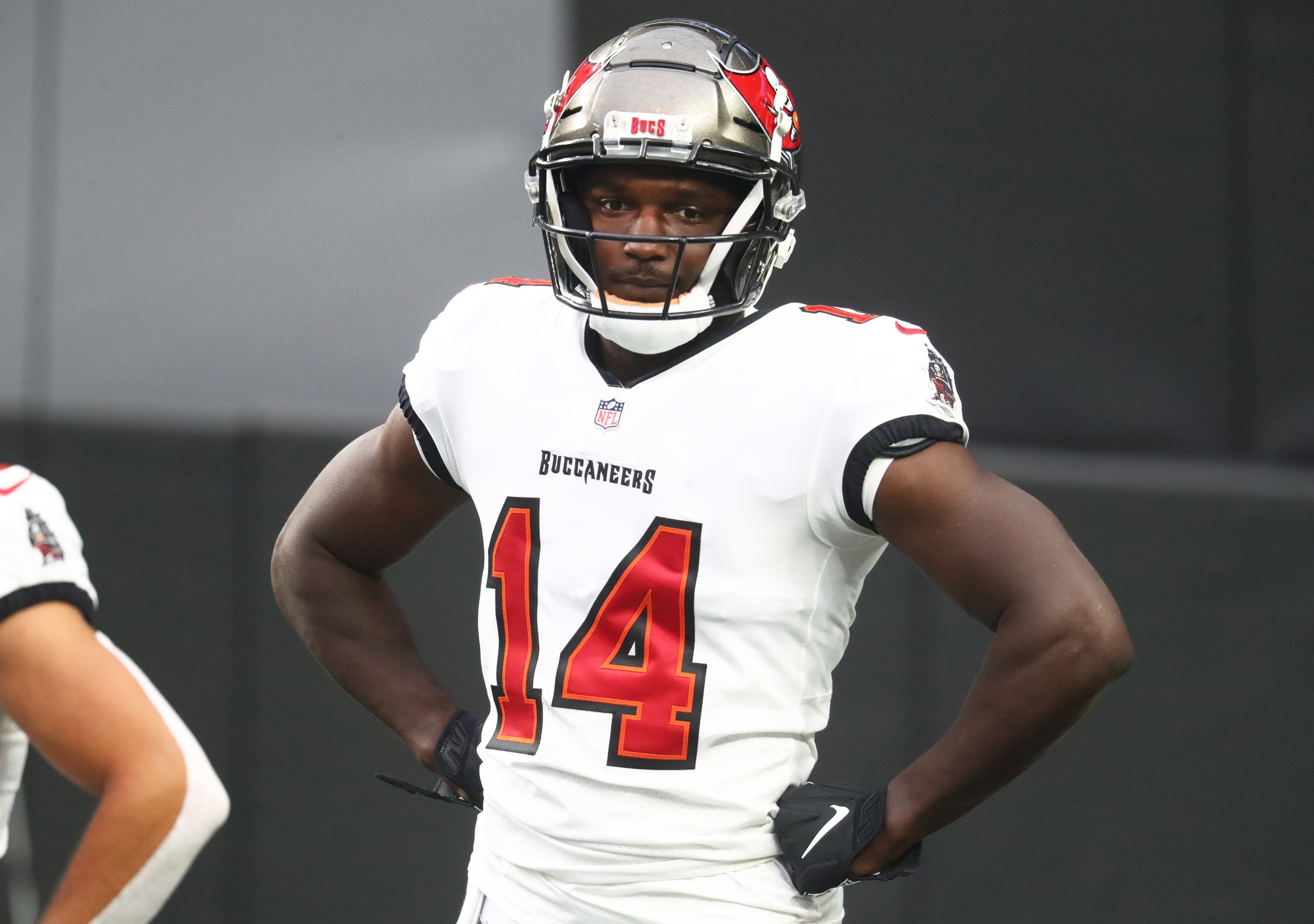 12. Mike Evans, WR, Buccaneers
Grade: 75.2 | Position Rank: 39
Evans has battled his way through various injuries this season, but he still managed to rattle off his seventh consecutive 1,000-yard season to open his career, which is an NFL record. Along with being one of the league's top deep threats, Evans' size makes him a dangerous target close to the goal line. Only Davante Adams (14) and Adam Thielen (13) had more red-zone receiving touchdowns than Evans (nine) did throughout the regular season.
---
13. Antonio Brown, WR, Buccaneers
Grade: 82.8 | Position Rank: 15
Brown's talent was never in question as he looked for another team to give him an opportunity, but there were questions about his fit in Tampa Bay both off and on the field in an offense that already had plenty of mouths to feed. Up to this point, though, the signing appears to be a successful one, with Brown profiling as one of the most efficient receivers on the team. His 1.95 receiving yards per route run are second on the team to only Godwin (1.96), and he has dropped just one pass in 68 targets since signing with Tampa Bay.
---
14. Shaquil Barrett, Edge, Buccaneers
Grade: 73.0 | Position Rank: 23
The Buccaneers took a chance on Barrett before the 2019 season after he spent years as a rotational edge rusher in a crowded Denver Broncos defense, and that chance has paid off in a big way through two seasons. Barrett's 157 quarterback pressures since the start of the 2019 season are more than any other edge defender's in the NFL, and he has fewer sacks at the position than only T.J. Watt.
---
15. Carlton Davis, CB, Buccaneers
Grade: 65.4 | Position Rank: 47
Davis has not graded as well as fellow outside cornerback Jamel Dean, but he is often tasked with the more difficult assignments in coverage, shadowing opposing teams' top wide receivers. That has come with disastrous results at times, like against Hill back when these teams first met, but he's also had success against the likes of Michael Thomas. Davis' 34 forced incompletions since the start of the 2019 season are five more than any other cornerback in the NFL.
---
16. Jamel Dean, CB, Buccaneers
Grade: 74.4 | Position Rank: 15
Like Davis, Dean has shown a propensity to make plays on the football. His 16.1% forced incompletion rate over the past two seasons ranks fifth among cornerbacks who have seen at least 100 passes thrown into their coverage, and just 32 of the 112 passes into his coverage have resulted in first downs (29%). That is the lowest rate in the league among 68 qualifying cornerbacks.
---
17. Derrick Nnadi, DT, Chiefs
Grade: 75.6 | Position Rank: 25
Nnadi's job in this Chiefs defense is to stop the run, and he's good at it. His 82.0 run-defense grade through the AFC Championship Game ranks seventh among all interior defenders. Just don't expect much contribution from him rushing the passer, as Nnadi had just nine pressures in 206 pass-rushing snaps over the regular season.
---
18. Antoine Winfield, S, Buccaneers
Grade: 66.5 | Position Rank: 36
Winfield, along with Wirfs, looks like a cornerstone piece of the Buccaneers' 2020 draft class. He flashed a well-rounded game as a rookie with contributions in coverage, in run defense and even as an occasional pass-rusher in Tampa Bay's blitz-heavy scheme. Winfield's 84.9 run-defense grade on the season ranks third among qualifying safeties, and he picked up nine pressures — a top-10 mark at the position — on just 51 pass-rushing snaps.
---
19. L'Jarius Sneed, CB, Chiefs
Grade: 71.3 | Position Rank: 22
Sneed's name didn't come off the board until the fourth round of the 2020 draft, but there is a strong case for him being the most impressive rookie cornerback this season. His 53.4 passer rating allowed on throws into his coverage during the regular season ranked third among all cornerbacks who faced at least 40 targets, behind only Denver's Bryce Callahan (46.9) and Miami's Xavien Howard (53.0). And he did that while splitting time between the slot and outside cornerback, which only makes it more impressive.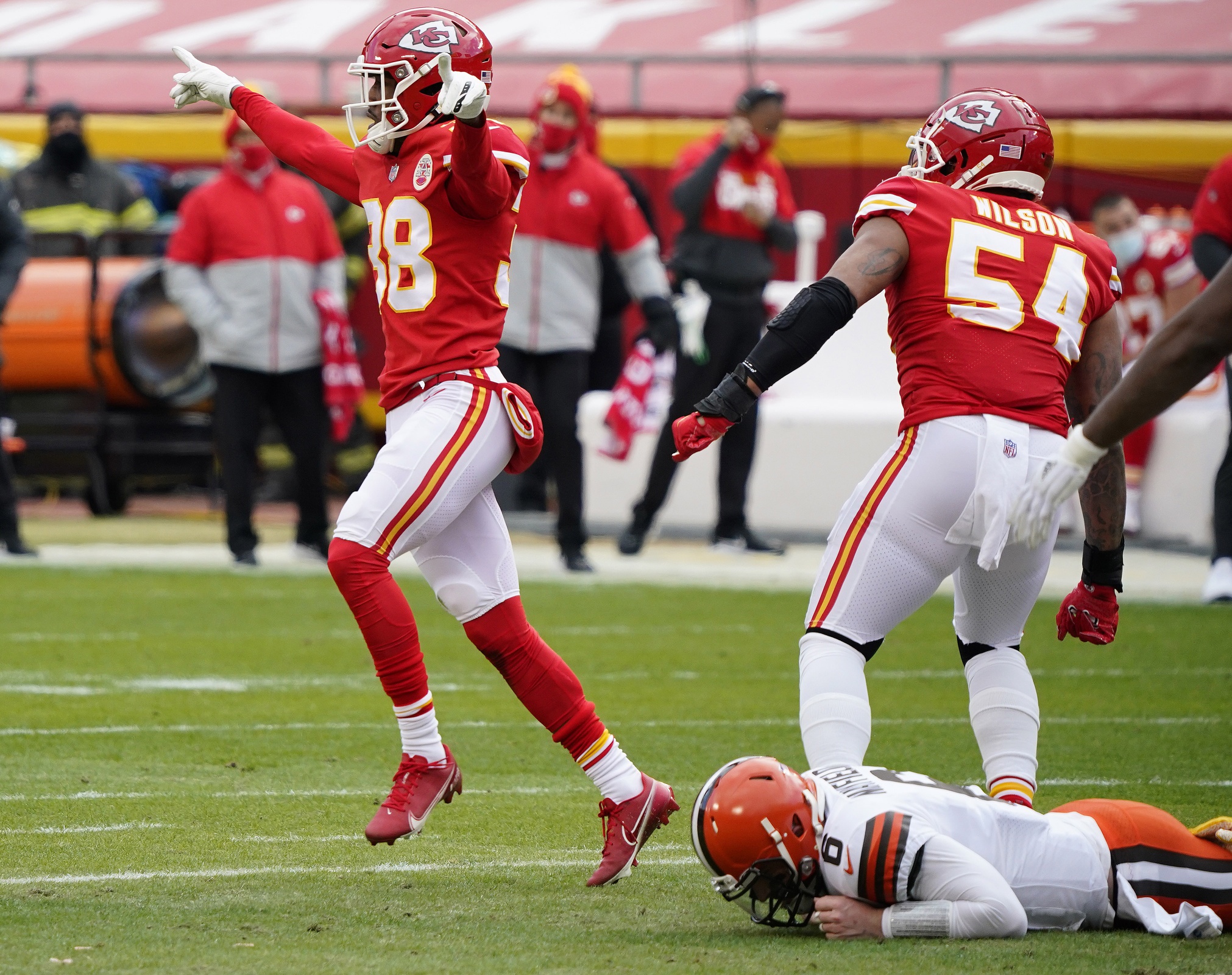 20. Ryan Jensen, C, Buccaneers
Grade: 65.7 | Position Rank: 17
Jensen had his issues at times in pass protection this year — some of which came while playing out of position at left guard for Marpet — but he had another strong showing as a run-blocker. Jensen joins Corey Linsley, Jason Kelce, Frank Ragnow, Ben Jones, Brandon Linder and Alex Mack as the only centers with 70-plus run-blocking grades in each of the past two seasons. His 77.0 run-blocking grade through the NFC Championship Game this season ranks fifth at the position.
---
21. Rashad Fenton, CB, Chiefs
Grade: 70.0 | Position Rank: 20
Fenton played well, albeit on a small sample size, as a sixth-round rookie for the Chiefs in 2019, and he has continued to build on that in a larger role this season. After starting outside at cornerback for the suspended Bashaud Breeland earlier in the year, Fenton has transitioned to primarily a slot role of late. In that early-season stretch, he showed he could hold up outside, forcing as many incompletions (five) as he allowed first downs into his coverage.
---
22. Jordan Whitehead, S, Buccaneers
Grade: 70.1 | Position Rank: 25