No stat can perfectly capture a player's performance or describe the individual impact he makes on a team. While some stats excel at describing certain facets of play better than others, all stats have nuance, and despite the recent advancement of NFL analytics, no person or stat has yet "solved" how to perfectly assess player performance.

PFF provides certain data points to help this discussion by evaluating performance on a per-play basis and assigning grades based on what every player does on every play. These data points and grades can provide a baseline to answer a host of other questions, such as how can we better measure a player's true value to his team?
To take a player's graded performance on the field and translate it to how valuable this performance was, a player-valuation model needs to incorporate a.) how well the player performed, b.) what the player did and how significant that task is to winning football games, and c.) the rate at which the player performed those tasks.
PFF's Wins Above Replacement (WAR) metric does all this through the methodology described here. In essence, WAR measures a player's (or team's) value in all facets of the game by deciphering how many more wins they are worth than replacement-level players at the same position. 
Fandom continues to grow and with it does the desire to rate teams properly. And we can use PFF WAR to look beyond just wins and losses to better quantify each team's strengths and weaknesses. 
Here is where all 32 NFL teams rank in PFF WAR ahead of Week 16. Note that the offensive WAR rank removes the quarterback from the equation.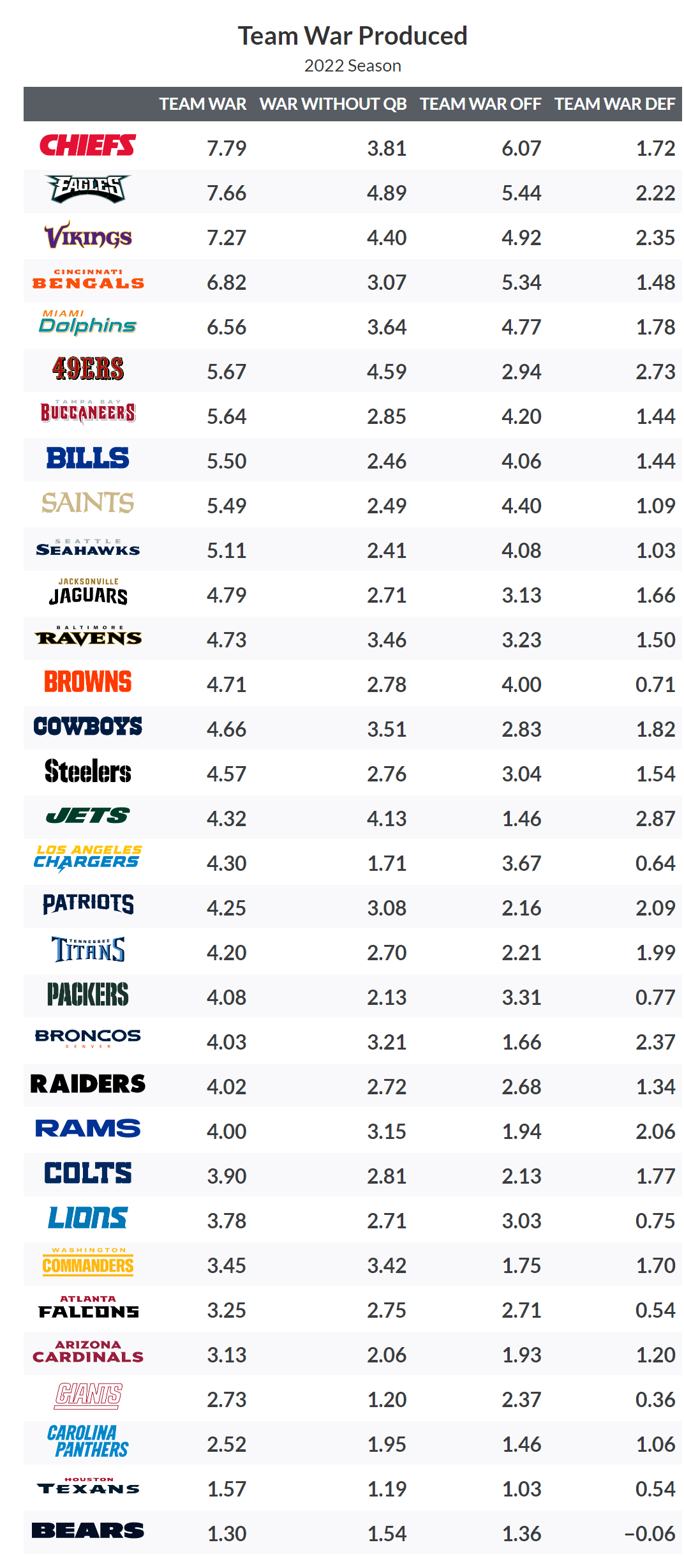 Kansas City barely squeezes into the top spot over Philadelphia, largely thanks to the fact that Mahomes has generated by far the most WAR this season. Kelce takes the top spot at the tight end position, and the Chiefs also have two offensive linemen who rank in the top 10 at their respective positions in Creed Humphrey (2nd) and Joe Thuney (7th).
Offensive WAR Rank: 1st
Defensive WAR Rank: 5th
Top Individual Player Rank: C Jason Kelce (1st)
The Eagles boast the deepest roster in the NFL, as they are the only team to rank in the top five for offense and defense, and Jalen Hurts ranks sixth among quarterbacks. Their offensive skill position players are represented well, with A.J. Brown, Miles Sanders and Dallas Goedert all ranking in the top 10 at their respective positions. 
Offensive WAR Rank: 5th
Defensive WAR Rank: 4th
Top Individual Player Rank: WR Justin Jefferson (1st)
The Vikings are a bit of an anomaly, to say the least, and they continue to be one of the most perplexing teams to evaluate. WAR doesn't seem to provide a ton of answers, as they rank a surprising fourth among defenses despite allowing one of the league's worst marks in expected points added (EPA) allowed per play.
Big plays swing things in their direction, with their edge rush duo of Danielle Hunter and Za'Darius Smith ranking in the top 10 at that positions and Patrick Peterson checking in as the fourth-best cornerback. This suggests that many of their defensive issues could be related to schematic preferences and coaching.
Offensive WAR Rank: 13th
Defensive WAR Rank: 17th
Top Individual Player Rank: QB Joe Burrow (2nd)
Burrow and Patrick Mahomes are far and away the NFL's two most valuable quarterbacks, as they have generated a half-win more than the next closest signal-caller. Safety Jessie Bates III is one of the few bright spots defensively and ranks eighth at the position. Ja'Marr Chase sits 10th among wide receivers and would be closer to the top if not for multiple missed games due to injury.