In this unique NFL offseason, we have taken the opportunity to do something we have never done before  — we went back into the NFL landscape before PFF without bringing the full weight of the PFF database along with us.
This week on the PFF NFL Podcast, we posted a podcast special: an oral history of Randy Moss' rookie season with the Minnesota Vikings in 1998. We're going to expand that here and bring some additional insight from the people we spoke to on the podcast. Enjoy!
[Editor's note: Subscribe to PFF ELITE today to gain access to PFF's Premium Stats and new Player Grades experience in addition to the 2020 NFL Draft Guide, 2020 Fantasy Rookie Scouting Report, PFF Greenline, all of PFF's premium article content and more.]
Solomon Wilcots — current PFF analyst, ESPN analyst in 1998
"I actually had worked the '97 college football season as an analyst on the pregame show for Fox and had covered the entire '97 season. I thought the best three players in that draft class where Peyton Manning, Randy Moss and Charles Woodson — in that order. As you remember, Charles Woodson had won the Heisman Trophy that year. 
And so, when we got to talking about Randy Moss, there were some things that had occurred with him prior to his 18th birthday … things that had happened in high school, where he had been arrested. There had been a brawl that he had been part of. And as a result, the University of Notre Dame, with whom he had originally signed with to go play with, that scholarship had been revoked. Lou Holtz, who had been the coach at the time, called Bobby Bowden at Florida State and said, 'Look, if I can't have him, I want you to have him.' And Bobby Bowden took him.
And all the reports out of Tallahassee was that in Randy's freshman year, both he and Peter Warrick — who weren't eligible to play their first seasons on campus — just lit it up. I mean, they'd beaten all the varsity defensive backs, the guys who were going to be playing in the pros. They're just shredding them. And then during Christmas break or during that offseason break, Randy goes home for whatever reason and tests positive I think for some kind of substance. It was a violation of his parole from that previous case — they weren't going to let the guy out of the state of West Virginia. So, now he loses a second scholarship at Florida State."
Moss ended up staying in the state of West Virginia and attended Marshall University, where he set about rewriting the record book and laying waste to the college football landscape.
---
Robert Smith — RB for the Vikings in 1998
"[During] the '97 college season in between meetings, we would go into our little green room and watch Sports Center highlights. And I just remember seeing the highlights of Randy score just all over the place, all these long touchdowns and everything. And unless it was Ohio State, I really didn't pay much attention to college football, but Randy stood out. I remember … he got drafted 21st, which was the same draft number I got drafted at. And I remember literally thinking, this isn't going to be fair. We already had Jake [Reed]; we already had Cris [Carter], myself and so many pieces in place. And now Randy was going to be a part of it. I couldn't wait to see it."
---
Pete Bercich — LB for the Vikings in 1998

"I don't think anyone who watched him on film at Marshall had any questions as to his physical ability. I mean, his Marshall tape, his Marshall statistics, they were absolutely insane. Obviously, his big question mark was how much of the off-field issues were going to be a thing in the NFL. They'd already cost him what? A Florida State scholarship, a Notre Dame scholarship. And then he ends up at Marshall."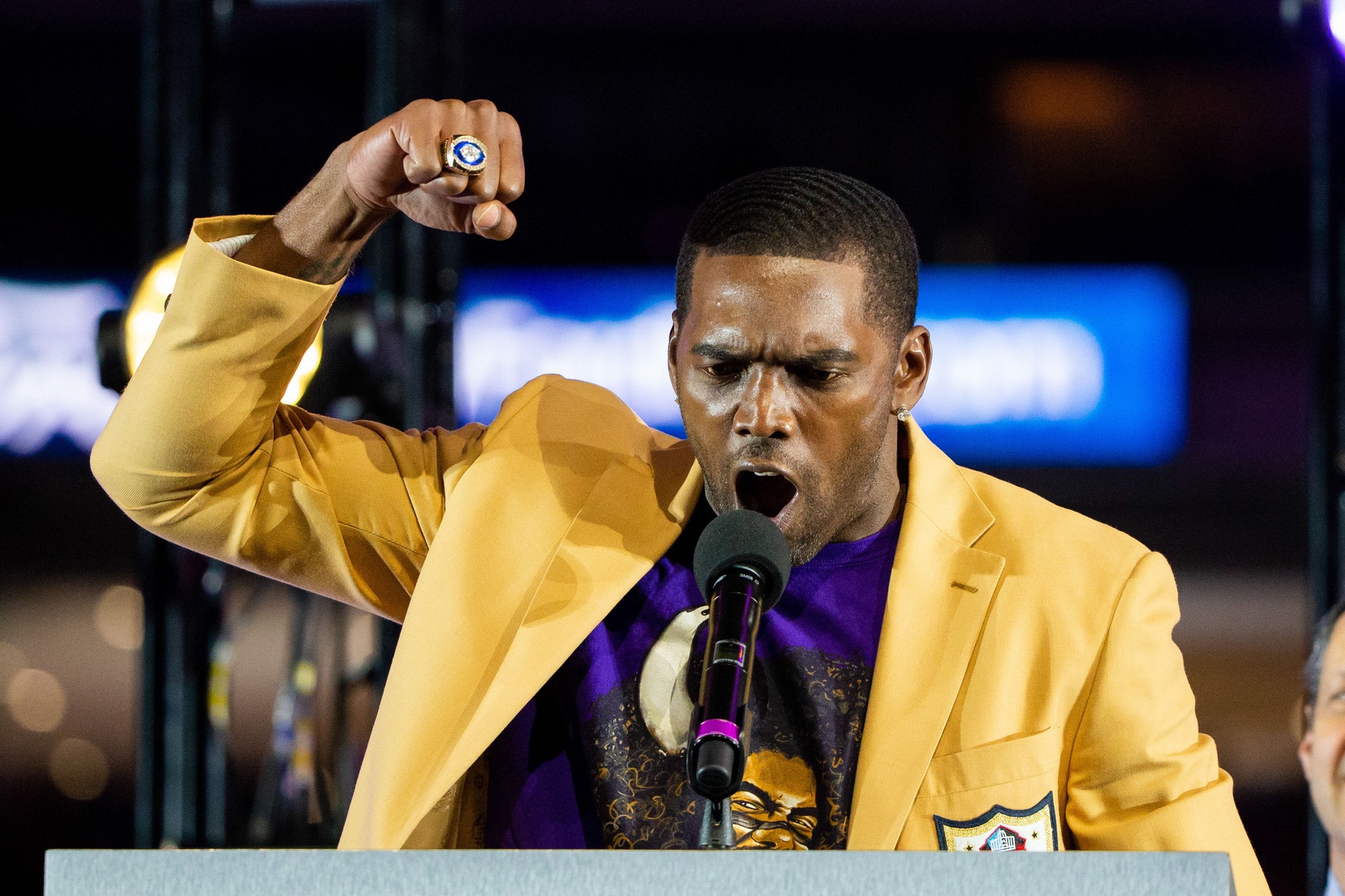 Solomon Wilcots

"In '97, he was on the Heisman watch list playing at Marshall with Chad Pennington. And for him to even be on that list, playing at Marshall on that stage, but still be seen as an equal to guys like Peyton Manning at Tennessee and Charles Woodson at Michigan … he would have been on their level had he been at Notre Dame and at Florida State. So, to still be sitting in that chair and on that stage with those guys after having been downgraded to Marshall, was in and of itself a huge accomplishment."
After sliding all the way to No. 21, Moss hit the NFL with a point to prove. From Day 1 in Minnesota, he was visibly just different from regular athletes and quickly became known as a physical "freak."
---
Pete Bercich
"I think it was just one of those things that just kind of fell into your lap. And I think it turned out great, not only for the Vikings but also for Randy. He was in an unbelievably good place."
---
Robert Smith
"I think Denny [Green] had a really good eye for talent that he thought was just different. And Randy was more different than any athlete that I had seen in my entire time in the league. And that's saying something, because at that point, obviously being on the same team as Cris Carter and Warren Moon and Roger Craig and Randall McDaniel and Johnny Randall, playing against guys like Deion Sanders and Emmitt Smith and Michael Irvin and Reggie White.
When Randy came into camp, I remember seeing him in the first practice, and it's only in shorts, but I just … I remember seeing him and just knew … there's just something different. The way that somebody moves in relation to all these other professional athletes and the way that he snatched the ball out of the air and just how smooth and how quickly he accelerated."
---
Solomon Wilcots
"I'd been wrong about players before, but I felt as strongly about him as I've ever felt about any player."
---
Pete Bercich

"Well, what's interesting is that when he showed up for the first minicamp, he had an ankle injury. He had something going on with his ankle that he got while playing basketball. So we really didn't get to see much of him at all in minicamp. 
It wasn't until August, end of July into August, when we got down to Mankato and Randy was healthy, and it took about, oh, I would say, halfway through the first practice before guys realized when he was at full speed what he was capable of. "
---
Robert Smith
"It didn't take any time at all. It was the first practice, literally."
---
Pete Bercich
"I swear to you after the first practice down in Mankato, you hear the DBs sitting in the meeting room they're like, 'Jesus, this guy is unbelievable.'"
---
Robert Smith
"It just stands out. He's so different from everybody else that it doesn't take a genius to recognize that.
I remember I spoke to my agent at a break in between the two-a-days. And he said, how did Randy look? I said, 'I'm going to tell you this right now. If he stays healthy, he's going to be a Hall of Famer. I've never seen anything this. He's the best athlete that I've ever seen.' And I had been in a race with Carl Lewis. I had seen a lot of really good athletes perform, but he was so different from everybody else. My sixth year in the league that you just knew that there was something different."
---
Pete Bercich

"And it's always 'steps' in the NFL because you have camp warriors every single year. You had guys that go down to training camp and just do unbelievably well. And then they get into preseason games and it's like, 'Well, we'll see.' And then they do real well in the preseason games. And then you break camp and get back up to the cities, and are they going to continue? Is he going to be able to continue? You know what I mean? At that level, at that pace. And he absolutely did. But it literally took about half of a practice before everybody realized that … this guy has the skill set and the talent to be an unbelievable receiver."
In his first preseason, Randy Moss recorded over 200 receiving yards and four touchdowns, making big plays in every game.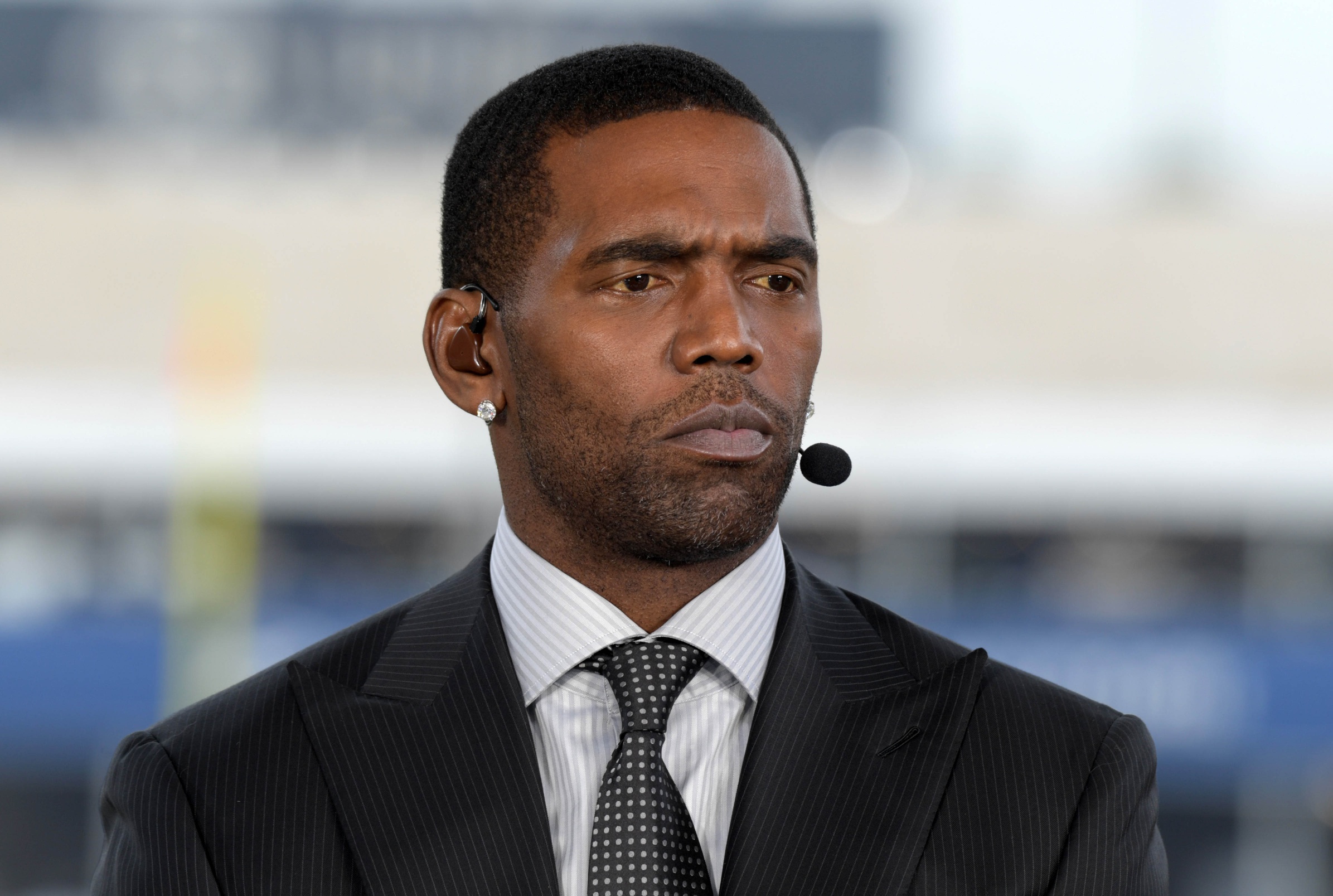 Robert Smith
"We felt, as an organization, that we were on the verge of something special. And then, of course, Randy gets drafted and Red McCombs becomes the owner of a team. And Red comes in with his 'purple pride' and cowboy hats and just all the excitement … everything felt different that year. You go into the preseason, and people talk about how overrated it is, but just the way that the preseason went [undefeated], everybody knew that there was just a different feel.
Randall Cunningham being there and all the talk about Randall and a lot of negativity and us saying, 'whoa, wait a second, that's not the Randall we see.' So, everything just had a different feel about it. And Randy was a huge part of it, but it was more than that … there was a special feeling around."
---
Pete Bercich

"The whole was greater than the sum of the parts. Let's just put it that way. That mix of talent that you had, or that we had offensively. And then, talking about Brad Johnson … Brad, unfortunately, got hurt and Randall Cunningham was later able to step in. And I don't know if there's ever been anyone that throws a prettier or better deep ball than Randall Cunningham. I mean, he was just amazing."
---
Robert Smith

"The league wasn't ready for it. "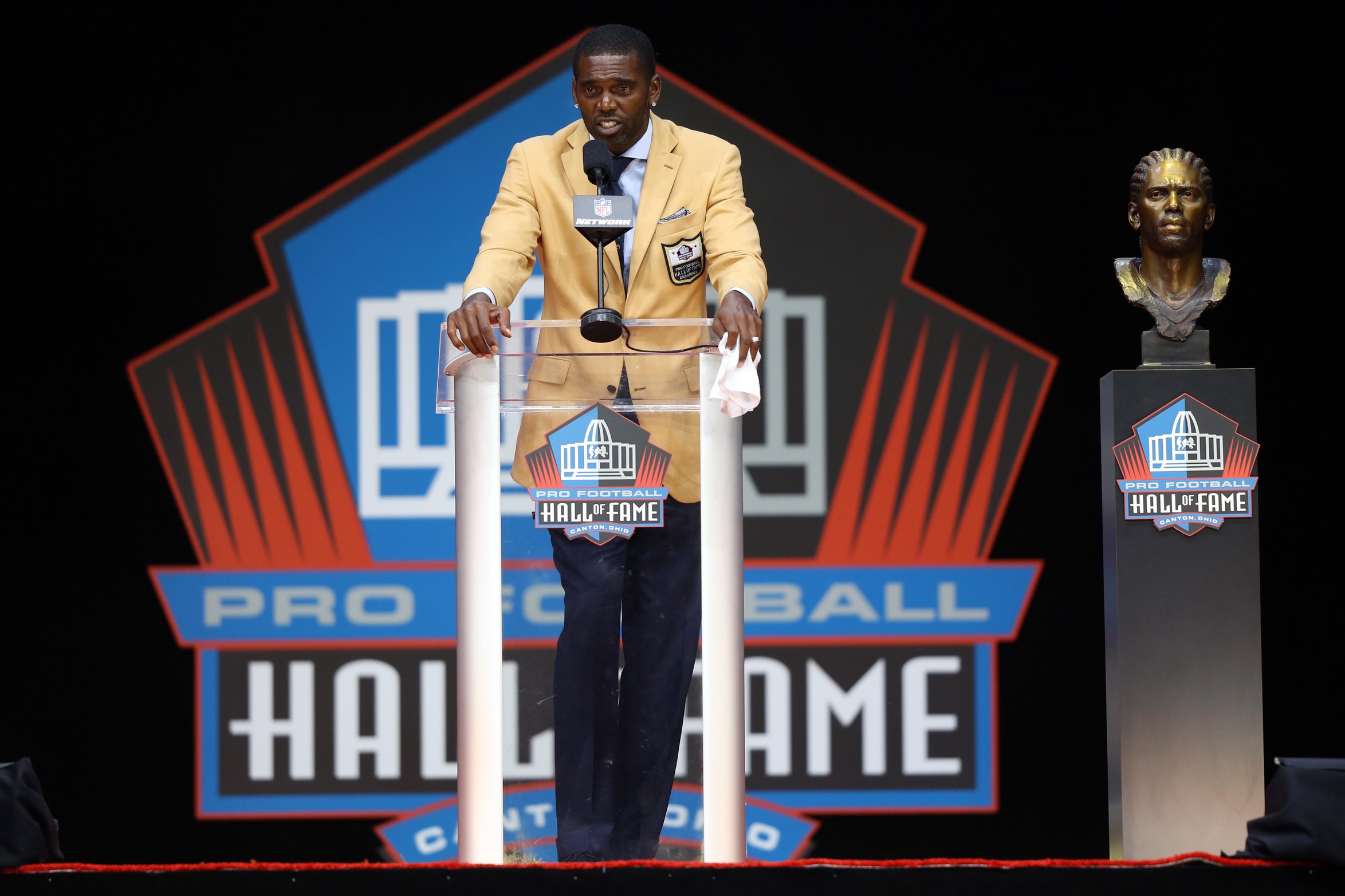 Pete Bercich

"We let a defense kind of pick the way that they wanted to die. If you didn't put two or three guys on Randy, then we had underneath all day long to Cris, and then, oh, by the way, you can hand it off to Robert Smith.

And I think that is the difference with that offense than any that I've seen since is the number of big plays and the people that can get you the big plays. Cris Carter wasn't going to rip off a 60-yard touchdown, but Randy Moss would catch a 60-yard pass and Robert Smith would make a 60-odd-yard run. And we had the ability to score quickly on so many different ways that schematically … what do you do? And as the season went on, we saw that more and more attention was to Randy because it took one play to put up 7 points."
In Week 2, Vikings starting quarterback Brad Johnson went down hurt, thrusting Randall Cunningham back into the spotlight in relief. Cunningham's deep ball proved to be a perfect complement to Randy Moss' deep speed.
---
Robert Smith
"Randall's just a special person far more than a special athlete to me because, on the flights, we would sit next to each other. Some of the best conversations that I ever had were sitting by Randall. It's amazing to me just how your perception of somebody or your belief of what somebody is going to be like could just be completely turned on its head when you actually sit and talk to that person. I just really enjoyed Randall as a person."
---
Pete Bercich
"Obviously Brad Johnson's a very capable quarterback, as he won a Super Bowl later on in his career, but was he the perfect match for a guy like Randy Moss? No, not really. I think that Randall Cunningham's ability and willingness to throw the deep ball the way he did to a guy like Randy … it was just the perfect match."
---
Solomon Wilcots

"They would tell the quarterbacks, 'You can't overthrow Randy. You can just throw deep; he'll go get it.' And that's how it turned out to be. And I remember a Monday night game that year against the Green Bay Packers. They get big touchdown passes in that game on Monday night. And after that, the rest of the league regretted not taking Randy Moss."
The Vikings were rolling to open the season, even with the change in quarterback, but they hadn't faced many significant tests until that Green Bay game in Week 5. On the road at Lambeau Field against the class of the NFC and the team they would need to get past to win the division. This was the game that changed everything.
---
Robert Smith

"They were on, I think, a 26- or 27-game winning streak at that point at home. And it is without question my favorite game of my career for that reason. The big rival up there. My favorite place to play without question just because, like Notre Dame, the fans are right on top of you. They're really hostile, in a good way, though. You know what I mean? It's a great rivalry."
---
Pete Bercich

"The Packers hadn't been beaten in Lambeau in two years or longer than two years. And yeah, that was the true test."
---
Robert Smith
"And there was a little bit of drizzle that night. It was Monday Night Football, and the place was glistening. I mean, it was freaking magical. It really was."
---
Pete Bercich
"And I think the Packers thought they had a chance because it was on grass and it was muddy and slippery and rainy, and all those things to slow the game down would put those things in their favor."
---
Robert Smith

"It was such a party atmosphere for us. We can't wait to show the world who we are. I don't care how many games in a row you've won; we're going to beat the crap out of you guys."
---
Pete Bercich
"That game probably was my favorite game I ever played in just because no one gave us a chance. No one thought Randy was real. It was all kind of, 'Well, we'll wait and see and see how good you guys are.'

And then we hung, I believe, 500 yards on them. I mean, Randy was just unbelievable, and that game and those highlights of those catches personified what he did so well with body control, not giving up when he was going to go up for the football so the DB couldn't time it. He didn't know when to look back. And just the ability to catch that ball on his back hip and come through and not lose his balance and keep his feet and then get into the end zone. That's when things were really coming together.
And I think after that, I think that game, because it was nationally televised, really made everybody perk up and go, 'Okay. They put up 500 yards against a Green Bay team that hasn't lost in two and a half years at home. This kid's for real.'
And they were waiting for Thanksgiving to see the next national event to see how good this kid really was."
Moss caught five passes for 190 yards and two touchdowns, but he also had a 75-yard score taken off the board by a questionable holding call and drew a big pass interference call deep downfield. He could have had 300 receiving yards in that game without very much changing. The Packers went on to spend their first three picks — and four picks overall — in the 1999 NFL Draft on defensive backs. 
---
Robert Smith

"Well, you've got to play us twice a year. What else are you going to do? You have to try and find some people that might be able to hold up in single coverage. You can't press him. He's too tall and too smart. He's too fast. You need to find somebody that can play some type of off-man coverage and maybe hold up long enough until you can get somebody home to make the quarterback get rid of the ball a little bit faster. It changes the way that a defense has to think about how you play defense."
---
Pete Bercich

"I don't know if the league had ever seen anything like that out of a wide receiver. They could put two guys out there, and it still didn't matter … there was nothing that these defenses could do to stop him."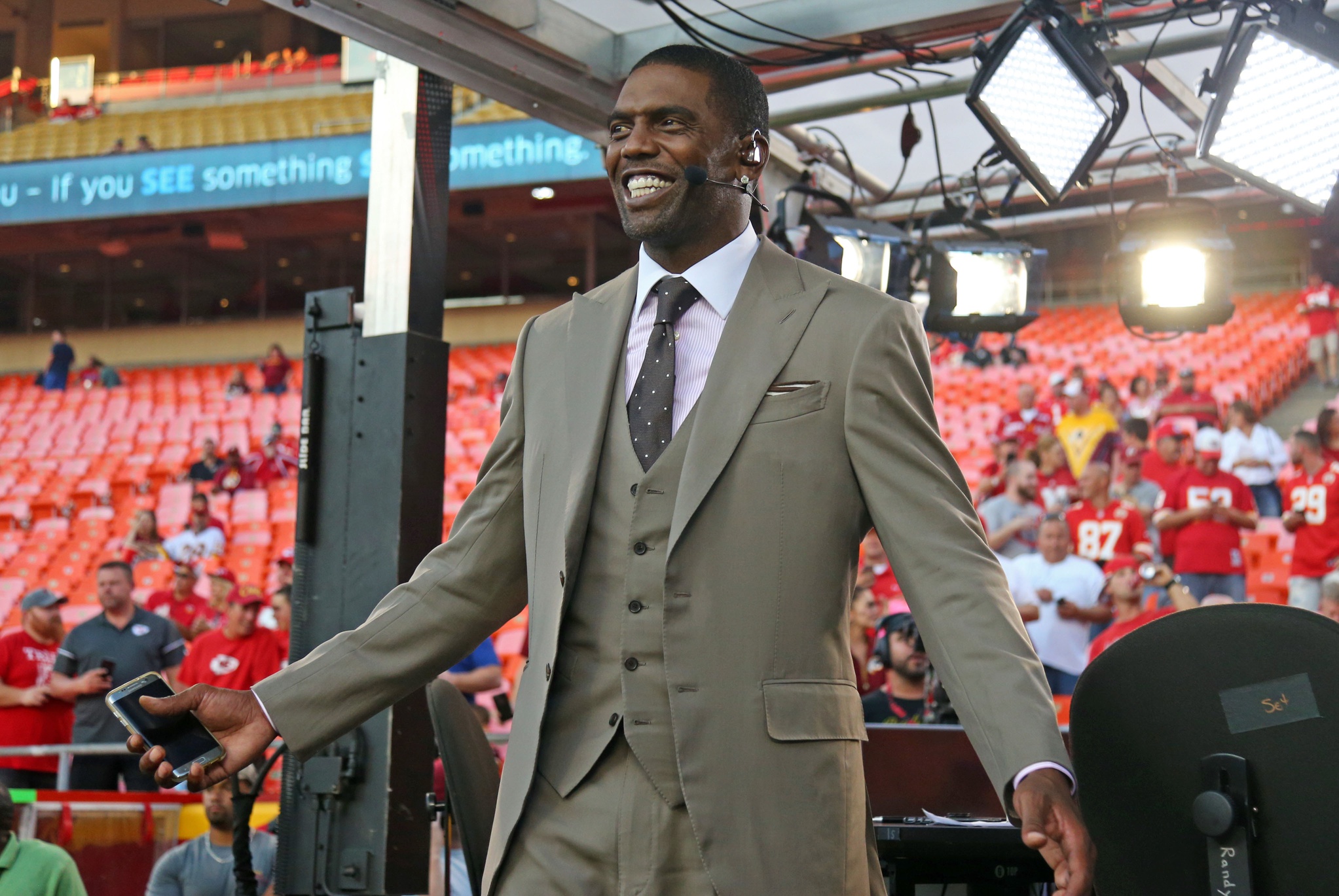 Solomon Wilcots

I remember when I went out to cover him midway through that '98 season. He's now drafted by the Vikings; he's tearing the league up. And I go to interview him. I'm working for ESPN as a reporter. I sat down with Randy, and I asked him the question, 'When did you know that what you have was different than everyone else, every other athlete? When did you know that you were different?' I didn't ask, 'When did you know you were better?' I just asked, 'When did you know it was different?'

And he gave the most thought-provoking answer. I just remember him pausing, and he thought deeply before he answered. And he said, 'When I was eight, nine or 10 years old, I couldn't play with other kids my age … it was too easy. It was boring.' He said, 'I had a brother,' — and I think his brother was about maybe four years older than he was — And he said, 'I had to play with my brother and his friends. In order for it to be competitive and for it to be fun, I had to always play up.'
The Thanksgiving game in Dallas showcased that Moss still had the ability to embarrass even professional players, and it showcased the kind of devastating speed the league just wasn't ready for. Moss caught three passes that day. All three went for touchdowns, and he recorded over 160 yards in total.
---
Pete Bercich

"One of the touchdowns he caught was just a little hitch route. And I remember that it was literally a 5- or 7-yard route. He turned, the corner missed him and the safety took an angle, and then you could just see Randy open up … I can see that play in my head, him just opening up and striding. That stride gets real long and the safety took an angle and then he's like, 'Uh oh,' and then he started to bend it, and he just never got there. 
You do this a million times throughout your career [as a defender], where a guy catches a pass in the flat: 'All right, I'll take this angle to him.' And then all of a sudden, he starts moving and the DB's going, 'Wait a minute, this isn't the right angle. I've got to recalculate here on the fly.' And just not being able to do that, to reset that.
And most of his touchdowns, you're going to see tight coverage. You're going to see guys draped all over him. And he still finds a way to come down with the football. But that one play against Dallas in 1998, if you had any question as to his speed, I mean, that changed everything right there."
Robert Smith

"Randy was just different. And it didn't take long to figure that out."
---
Pete Bercich

"He had some things that he wanted to make people pay for. And he had that kind of attitude. And I think that's a big reason why teams were never really able to stop him. I mean, because if you wanted to put two guys on him all the time, it just left too much of the other parts of the offense open. So, they had to pick and choose, and even if there were two guys on him and he was deep down the field and Cunningham would just heave it up there and let him come down with it. And he was able to do that.
And what was awesome, too, was by the end of the year when Randall Cunningham would step back and he would throw the ball in the air, I mean, everybody would get out of their seats, even if you were a player on the bench, because you can't quite see the field all the time with guys in front of you. But as soon as you saw that ball go up in the air, everybody stood up to see what this kid was going to do next."
By the end of the season, Moss had set a rookie record of 17 touchdown receptions. He had recorded more than 1,300 yards and had people already calling him the best receiver in football. He had changed the landscape not just within the division, but in terms of how teams were going to play defense to try and combat his threat.
The Vikings finished the season with the best record in football at 15-1 but fell short of the Super Bowl in the NFC Championship game thanks to a missed Gary Anderson field goal — his first miss of the year.
Moss's impact is remembered, but it's also underappreciated because that era didn't have the same level of blanket media coverage as we do now.
---
Pete Bercich

"What's amazing to me is if Randy was playing today, how different and how much more of a household name he would be, and how much bigger? I mean, he would be more of a Michael Jordan in this day and age with fantasy football and the ability to watch the NFL Gameday channel and see every single game that they play."
---
Subscribe to the PFF Podcasts today