Estimated reading time: 12 minutes
---
We already covered the 2020 NFL Draft quarterbacks, with Philadelphia Eagles quarterback Jalen Hurts the first to sign the dotted line. Now we take a look at the other offensive players from the 2020 class that could be in line to sign major extensions this offseason. 
In years past, we've included first-round picks, with the occasional non-quarterback agreeing to an extension with two years remaining on their rookie deal when including the fifth-year option. However, it's such a rarity that we felt this article was better suited to address players outside the first round that are entering true contract years in 2023. 

---
Wide receiver
We kick things off with wide receivers and buck the trend from last offseason a bit, where Deebo Samuel, Terry McLaurin and DK Metcalf all signed three-year extensions to get back to the market as quickly as possible. We expect the Cincinnati Bengals and Indianapolis Colts to push pretty hard for a longer deal to at least get one year of extra control, and with Gabriel Davis and the Buffalo Bills, they can point to the fact Stefon Diggs agreed to a four-year extension last offseason. 
What Cincinnati will do with Higgins and Joe Burrow is already one of the biggest storylines of the NFL offseason, so big in fact that we recorded an entire PFF NFL Podcast centered around the topic. The situation is complicated for a myriad of reasons, namely that Higgins is not the best wide receiver on his own team, but also how to balance his production between Ja'Marr Chase presence and the benefit of playing with Joe Burrow. Higgins would undoubtedly be the No. 1 wide receiver on many NFL rosters and would probably have more production from a volume standpoint just by sheer target share but has been remarkably efficient as a No. 2 option in Cincinnati.
Higgins' 2.08 yards per route run since 2021 ranks 13th, but Jaylen Waddle at 2.15 yards per route run is the only player ahead of him that is also not the No. 1 receiving weapon on his team. 
Contract Projection: Four years, $97 million ($24.25 million per year), $32.25 million guaranteed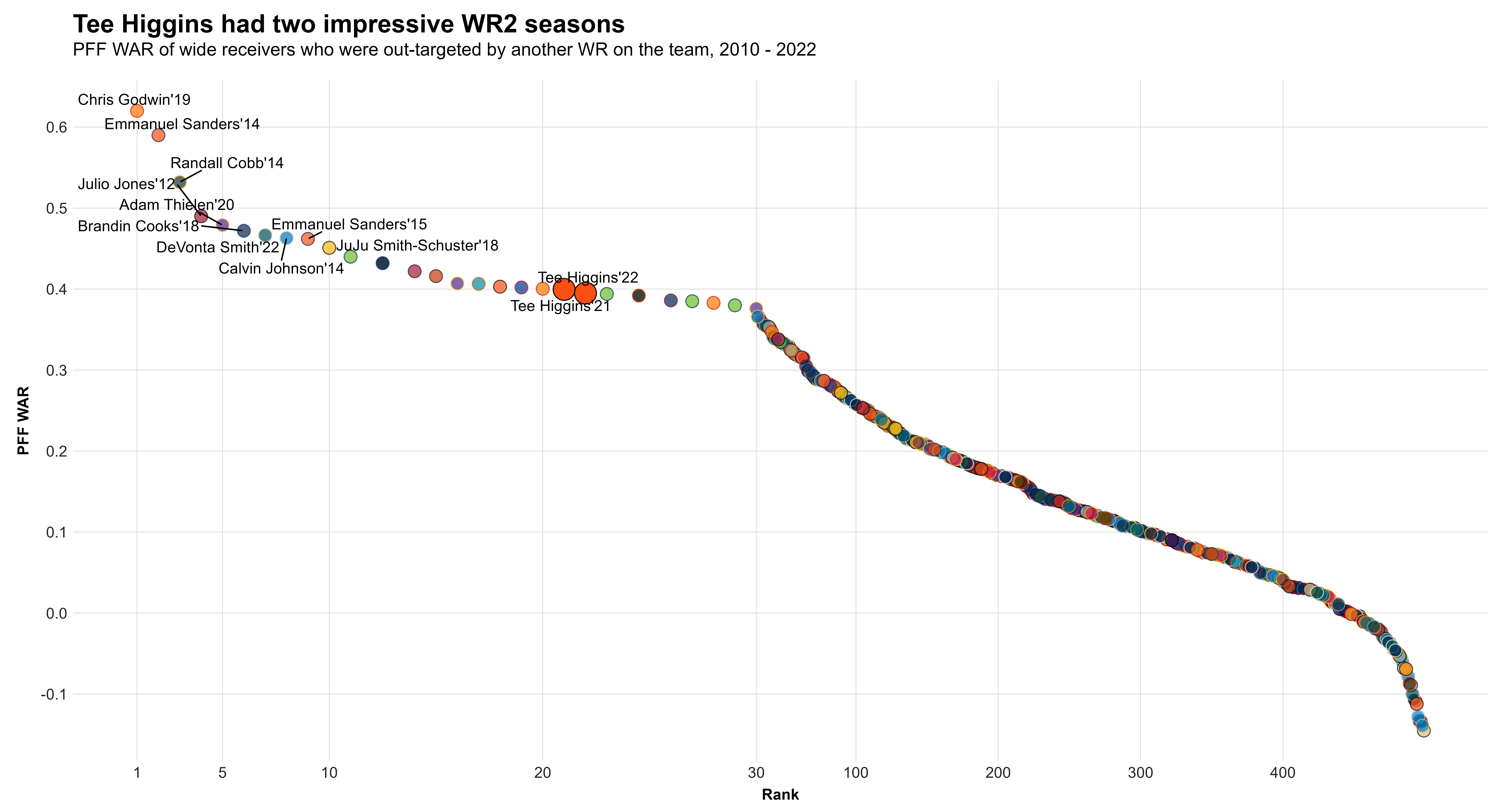 Free for 7-days. Subscribe to continue reading and unlock
All premium content with the best insights + analysis in the game
NFL Draft Guide, Big Board + Mock Draft Sim
Fantasy Draft Kit and Nathan Jahnke's award winning rankings
Bet smarter with PFF player mismatches and expert betting insights
NFL and CFB player grades and premium stats
Unlock all PFF data trusted by all 32 NFL teams
Already have a subscription? Log In