The most exciting part of the NFL preseason is finally getting to see rookie quarterbacks on the gridiron. We've spent months discussing, prodding and analyzing these 20-somethings prior to the draft, and now they're performing on a real NFL stage. Overreactions after a few snaps are here, which begs the question: Does the preseason really tell us anything about rookie quarterback performance?
Click here for more PFF tools:
PFF Betting Dashboard | PFF Fantasy Projections | PFF Draft Kit
PFF Fantasy Rankings | NFL Premium Stats | Win Totals Tracker
PFF data scientist extraordinaire Timo Riske has already found that, on the whole, we don't learn much and offensive schemes are substantially different (read: simpler) compared to the regular season. He uses player testimonials to claim that this is a result of game-planning not being a point of emphasis in the preseason. While this seems to lead us to a negative answer, performance in these simpler conditions could signal information about performance in more complicated conditions. 
We'll try to answer this question by looking at the 29 rookie quarterbacks since 2013, when PFF began grading preseason games, who threw at least 150 passes in their first NFL season and compare their preseason and regular-season performance in the six stable quarterback metrics. We'll be looking only at rookie years since we have strong evidence to suggest there is significant development that goes on between the first and second seasons of a signal-caller's career. We can make any strong claims since the sample is only n = 29, but this should give some directional evidence toward whether preseason performance is predictive.
To establish a baseline, we'll first compare these rookie's first three regular-season starts and see how well they correlate with their remaining starts.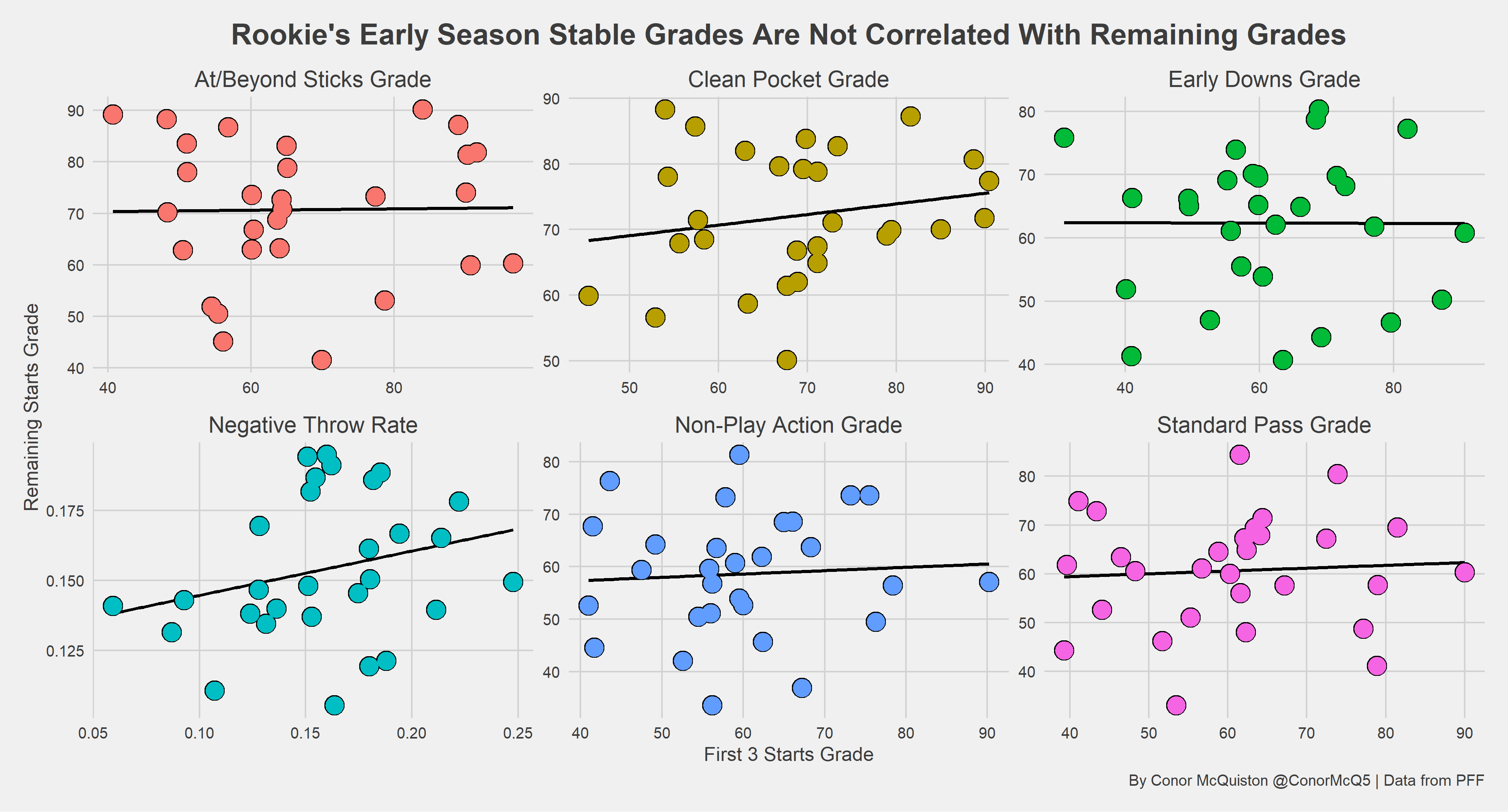 There is no correlation between a rookie's performance in their first three games and the remainder of their starts. This is not particularly surprising for this sample, as 10 rookies started half of a season or less, making themselves extremely susceptible to noisy outlier performances. For the quarterbacks with more starts, it is completely reasonable to figure that getting more comfortable with NFL football and defensive coaches getting film to gameplan off of can dramatically change performance.
Free for 7-days. Subscribe to continue reading and unlock
All premium content with the best insights + analysis in the game
NFL Draft Guide, Big Board + Mock Draft Sim
Fantasy Draft Kit and Nathan Jahnke's award winning rankings
Bet smarter with PFF player mismatches and expert betting insights
NFL and CFB player grades and premium stats
Unlock all PFF data trusted by all 32 NFL teams

Already have a subscription? Log In