There arguably wasn't a better passing game than the Cincinnati Bengals during the 2021 NFL regular season. Pick whatever metric you want: Yards per attempt (8.7, No. 1), adjusted completion rate (78%, No. 4), explosive pass play rate (19.5%, No. 2), EPA per play (+0.11, No. 10) and PFF team passing grade (90.5, No. 2) — they all tell the same general story. Joe Burrow and company have been a handful for any secondary to deal with for the better part of the last five months.
---
Click here for more PFF tools:
Rankings & Projections | WR/CB Matchup Chart | NFL & NCAA Betting Dashboards | NFL Player Props Tool | NFL & NCAA Power Rankings
Best Bets Tool
---
The good times continued to roll for Who Dey nation during its 26-19 wild-card victory over the Raiders. Burrow posted relatively moderate counting numbers in regards to passing yards (244) and touchdowns (two), but he did have to deal with a wild-card-high four drops and ultimately finished the week as PFF's third-highest-graded passer (87.7).
The eye test from the Bengals' stud second-year quarterback was more impressive than anything I could write out.
Pretty, pretty, pretty good pic.twitter.com/XuKIq6Iluf

— Ian Hartitz (@Ihartitz) January 16, 2022
Of course, Burrow wouldn't be on the verge of leading the Bengals to their first AFC Championship since 1989 without the services of Ja'Marr Chase, Tee Higgins, Tyler Boyd and C.J. Uzomah. Similar to Burrow, it's hard to find any real sort of weakness in this pass-catching crew.
Yards after the catch per reception: 6.4 (No. 2)

Yards per route run: 7.6 (No. 2)

Drop rate: 0.054% (No. 9)

PFF receiving grade: 82.2 (No. 3)
The quarterback-to-receiver connection has a bit of a "chicken or the egg" vibe in terms of which side is more responsible; the point is this Bengals passing game has been nothing short of (wait for it) elite for most of the 2021-22 season. Cool? Cool.
This leads us to the primary question of today's article: How are 11 mere mortals supposed to slow this group down? We'll attempt to answer this by breaking things down into a few key defensive categories essentially any game plan will revolve around.
Pass rush
The Bengals rank 25th in PFF pass-block grade (57.1) and have given up multiple sacks in all but two games this season. High sack totals are usually a better indicator of quarterback decision-making than an indictment on the offensive line; either way, Burrow was brought down behind the line of scrimmage on a league-high 51 occasions during the regular season. It's probably not a coincidence this team is just 2-7-1 over the past two years when allowing the 2020 NFL Draft's No. 1 overall pick to be taken down at least four times in a single game.
Good news, Bengals faithful: The Tennessee Titans aren't exactly the class of the league when it comes to getting after the opposing quarterback. Credit to each of Harold Landry (63 pressures), Jeffery Simmons (62) and Denico Autry (61) for working as three of just 21 defenders with 60-plus pressures on the season, but this was more due to volume than consistent domination. Overall, David Long (44th) is the only Titans defender to rank inside the top-110 pass rushers in pressure rate this season (min. 25 pass rush snaps).
Burrow has still performed plenty admirably under duress this season. Performance under pressure isn't the most-stable stat to evaluate quarterback play, but Burrow comes in as the NFL's 10th-highest-graded passer under pressure among 40 qualified quarterbacks. Nobody has averaged more yards per attempt; opponents aren't in the clear even when able to wreak some havoc in the Bengals backfield.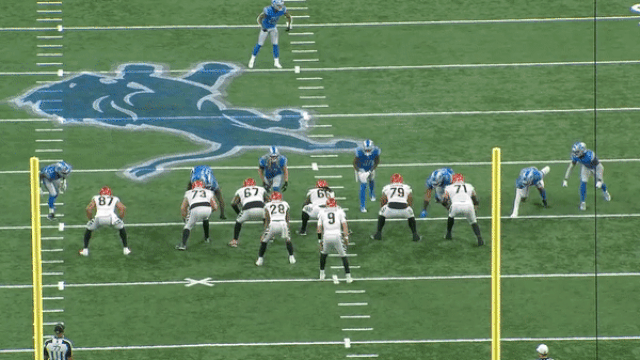 Still, nine of Burrow's 15 turnover-worthy plays have come under pressure, and he has posted PFF's single-highest passing grade (95.2) when kept clean this season. The man doesn't exactly turn into a pumpkin when facing a tough pass rush, but defenses are still better off doing everything in their power to make life uncomfortable in the pocket for No. 9.
The catch: This needs to be done without the help of extra rushers. Nobody has posted higher marks than Burrow in yards per attempt (10.8) and PFF passing grade (93.4) against the blitz this season, and this holds true even when compensating for occasions in which the blitz created pressure.
We're nitpicking here, but Burrow (like any quarterback) truly hasn't been his usual self when defenses have been able to create blitz-free pressure.
Joe Burrow | 2021-22
| | | | | | | |
| --- | --- | --- | --- | --- | --- | --- |
| | PFF Pass Grade | Rank | Adj Comp % | Rank | YPA | Rank |
| Pressure w/blitz | 70.2 | 9 | 77.8% | 4 | 10.5 | 1 |
| Pressure no blitz | 53.5 | 17 | 69.2% | 15 | 7.6 | 5 |
The Titans just so happen to blitz at the 10th-lowest rate in the league, although they rank first in simulated pressure rate at a whopping 26.8% — the Bengals (18.3%) are in a distant second place. The ability to create pressure without sending extra bodies could be the difference between Burrow looking like arguably the best quarterback in the league vs. a very good player.
Coverage
Burrow has performed more than fine against most coverage schemes this season, although there certainly are some discrepancies when looking at defenses featuring two-high safeties in particular:
| | | | |
| --- | --- | --- | --- |
| Coverage | PFF Pass Grade | Comp % | YPA |
| Cover-3 | 90.6 | 78% | 8.8 |
| Cover-1 | 91.7 | 66.7% | 12.0 |
| Cover-2 | 76.6 | 78.7% | 9.7 |
| Quarters | 72.7 | 70.3% | 7.1 |
| Cover-6 Right | 65.8 | 66% | 7.1 |
| Cover-6 Left | 70.2 | 73.7% | 8.6 |
| 3 Seam | 84.2 | 61.5% | 6.9 |
| Cover-0 | 77 | 60% | 7.7 |
| 2-Man | 64 | 70% | 6.5 |
Burrow has been a straight-up world beater against single-high looks like cover-3 and cover-1, but defenses have been able to contain him to a better extent when giving their corners extra help deep in schemes like cover-2, quarters, cover-6 and 2-man.
Once again: These struggles are all relative. Burrow grades out as the league's 12th-best passer with a still-gaudy 8.1 yards per attempt against these aforementioned two-high coverages; he's just the No. 1 passer against cover-3 and cover-1 looks, so any sort of downgrade matters.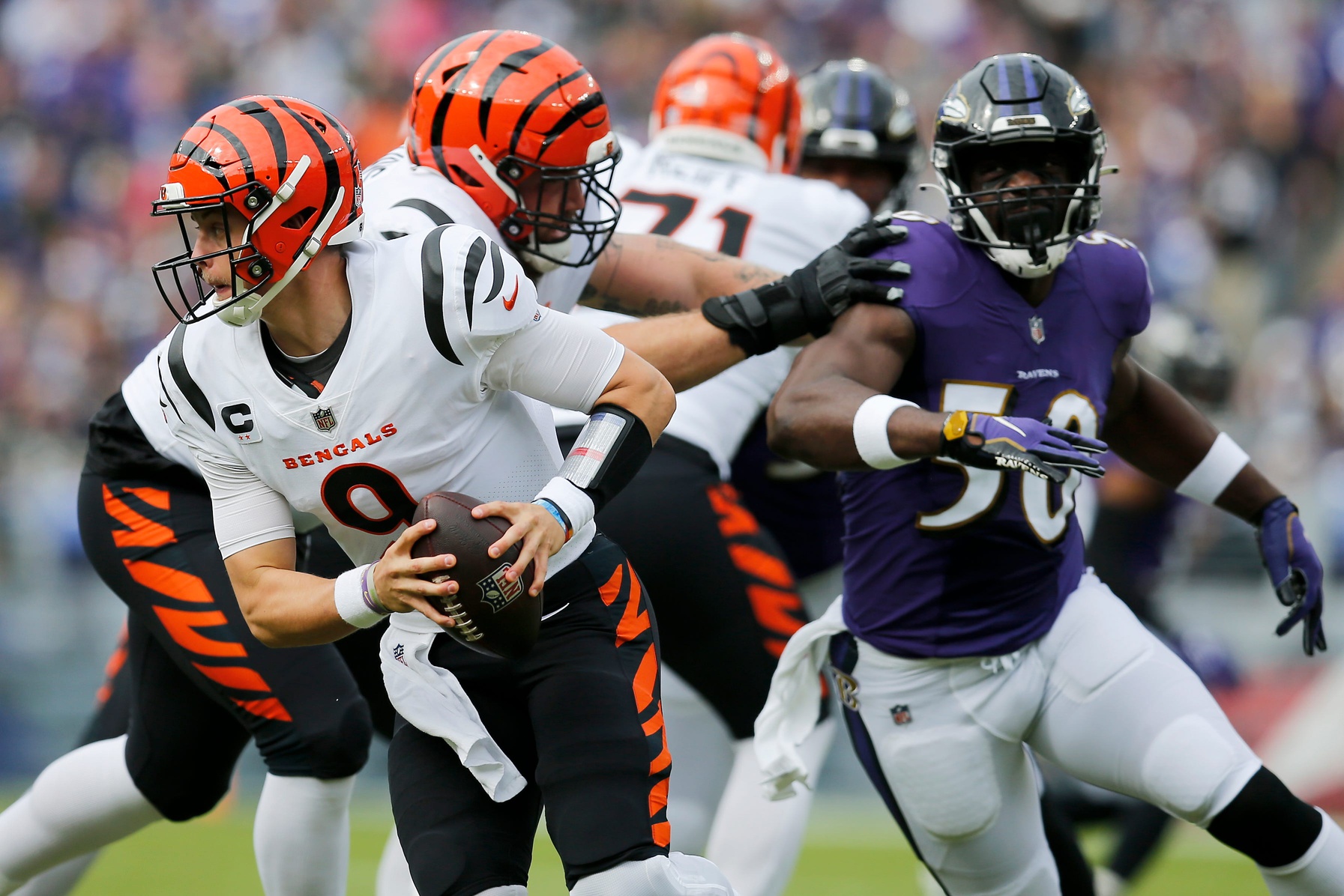 The good news for the Titans: They have posted their best team PFF coverage grades when playing cover-3 (72.0) and cover-1 (76.1) among every look they've featured for more than 20 snaps. The bad news: These aren't elite measures by any stretch, while cover-3 (27.2%) and cover-1 (22.9%) happen to be the Titans' two most-frequently utilized looks.
Similar to the findings in our pass-rush section, there's a proven path to at least somewhat slowing down Burrow and company based on coverage looks, but the Titans don't appear to be built all that well to take advantage of it.
Related content for you:
The Dallas Cowboys' missed opportunity: Was this the best Cowboys team of the Dak Prescott era? via Ian Hartitz
Personnel
What about the actual players? Jimmy's and Joe's beat X's and O's, after all. We've already talked a bit about the Titans' deficiencies rushing the passer, but maybe the cornerbacks and safeties involved are good enough to contain arguably the league's single-best trio of receivers.
First up: cornerback. The Titans' top-four corners have posted the following PFF coverage grades among 134 qualified players at the position:
Not great, Bob.
Luckily, safety is headlined by two of PFF's top-10 players at the position in pure coverage grade in Kevin Byard (90.9, No. 1) and Amani Hooker (83.4, No. 9). The Titans might just have the sort of high-level safety duo capable of making life tough for this passing game if put in the right position; the question remains just how willing the Titans will be to adjust to their opponent's weaknesses.
This latter point is perhaps the best thing going for the Titans. They've had two weeks to prepare for this game and *should* be in a better position than usual to keep up in a shootout. Head coach Mike Vrabel and defensive coordinator Shane Bowen have been willing to evolve their coverage scheme on a week-to-week basis, utilizing our aforementioned group of two-high looks anywhere from 15% (Week 4) to 56% (Week 15) of the time throughout the year.
Add it all together and …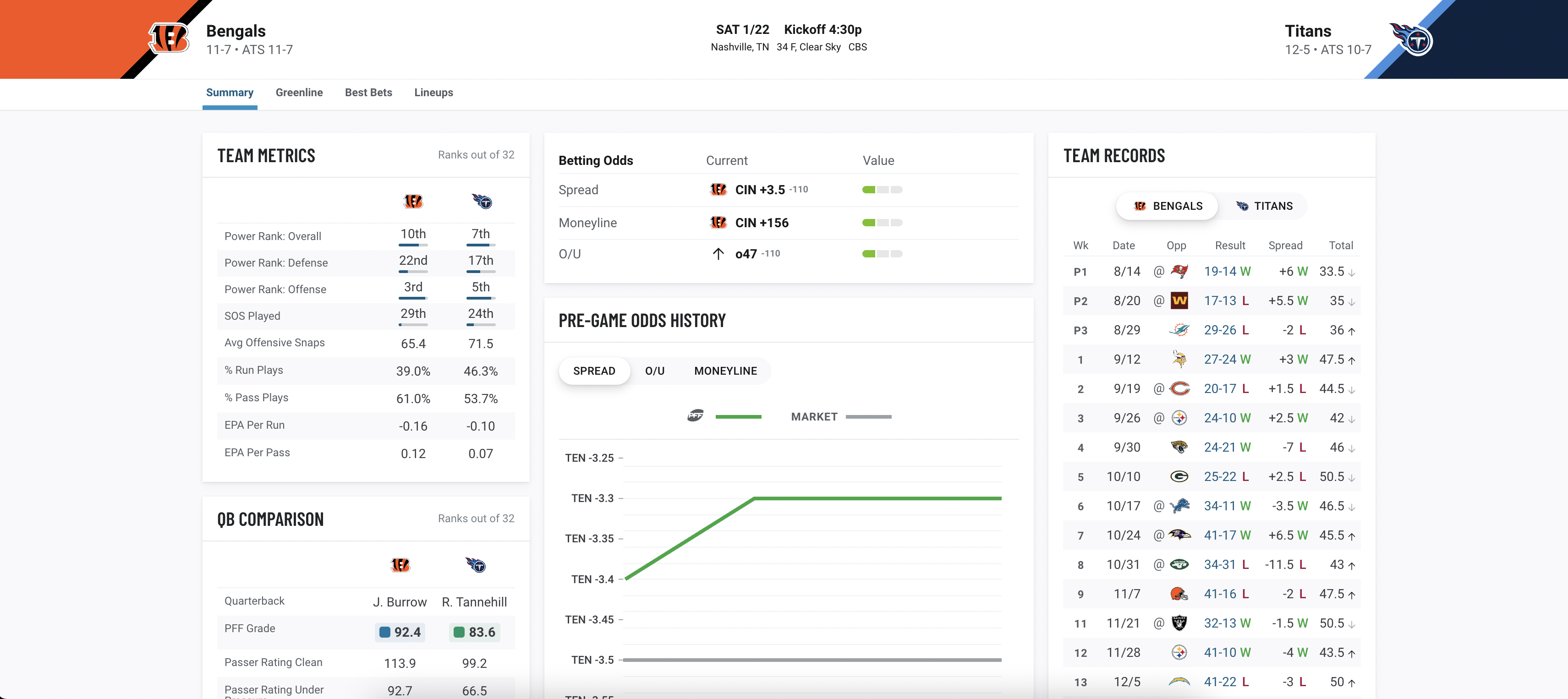 Slowing down this Bengals passing attack isn't going to be easy
The idea is fairly simple: Create pressure without sending extra rushers while keeping the back-end of the secondary strong enough to limit explosive plays. Theoretical benefits include both producing a less god-like version of Burrow as well as possibly getting head coach Zac Taylor to do silly things like run the football, which he did on a rather meh 59% of his snaps in the wild-card round.
Of course, everyone has a plan until they get punched in the face. Actually implementing this game plan against high-end talents like Burrow, Chase, Higgins and Boyd is far easier said than done — but you could imagine.
The Bengals didn't exactly stand out as the most complete team entering the playoffs. In fact, they ranked just ninth in the NFL by my calculations. Still, teams don't win games by being complete; they win by scoring more points than the other side, and the Bengals' top-ranked passing game gives them a chance to do just that on any given Sunday (or Saturday, I guess).
The scariest part about all of this? Burrow has started just 27 career professional games. Good luck, Titans.