Last night, as the snap sailed over Ben Roethlisberger's head and bobbled toward his own end zone, the Pittsburgh Steelers' longtime franchise quarterback had a split-second decision on his hands. After a few nervous glances over his left shoulder toward running back James Conner, Roethlisberger did the seemingly unthinkable: he didn't go for the ball.
The takes were immediate and as harsh as one would expect. No matter how much leeway one wanted to extend Roethlisberger's way in the moment, it's impossible to shake the question: Does a 23-year-old, Super Bowl ring-less Big Ben do the same thing? Sure, Roethlisberger wants to win another Super Bowl, but does he need to win another Super Bowl?
If the question were only about motivation, it would be one thing. But post-elbow surgery Roethlisberger was a shell of his former self. Despite his seemingly stable passer rating — between 93.0 and 97.0 in each of his last five full seasons, with a rating of 94.1 in 2020 — this past year was still was easily his lowest-graded season since 2006 at 69.0 overall.
It was obvious for anyone who watched him try to push the ball downfield this past season. His numbers over his past five full seasons (2019 excluded because of injury) on throws 10-plus yards downfield can be seen below.
| | | | |
| --- | --- | --- | --- |
| Year | PFF grade | Big-time throws | Adjusted Comp. % |
| 2020 | 72.7 | 26 | 39.3% |
| 2018 | 80.9 | 43 | 41.9% |
| 2017 | 91.6 | 32 | 45.5% |
| 2016 | 88.3 | 32 | 46.3% |
| 2015 | 95.5 | 42 | 49.8% |
Now at 38 years old, Roethlisberger and the Steelers have some serious soul searching to do in the coming months. The organization can stick its head in the sand and repeat "Tom Brady is still playing at 43" to itself until it is blue in the face, but it won't change reality. The Steelers need to do something about the quarterback position if they want to compete in the now-loaded AFC.
The elephant in the room is Roethlisberger's contract — it's ugly. He's on the books for a $41.25 million cap hit in 2021, the final year of his contract. If he retires, or even if he's cut, he'll still be on the books for $22.25 million.
The Steelers … well … they could really use that $19 million in space if he's not on the roster in 2021. They are currently $21.8 million over a projected cap of $176 million next season, according to OverTheCap.com. However, they could get relief if the NFL chooses to further smooth out the lost revenue from the pandemic over multiple years.
The Steelers roster is built to win now, and it's one you'd rather not chip away at elsewhere to save cap space, so let's examine their options at quarterback this offseason.
Free agency is becoming a far more viable method of at least finding competency at the position than in years past. Just this season, we saw Tom Brady and Philip Rivers lead new franchises to the playoffs; we also saw Teddy Bridgewater and Cam Newton find new starting roles while the league's leader in passing yards in 2019, Jameis Winston, could have been signed by anyone.
This year, the crown jewel is obviously the Dallas Cowboys' Dak Prescott, but he'll undoubtedly get another tag. And With the Cowboys falling to the 10th pick, it's unlikely they are open to a tag-and-trade.
That leaves the players who all signed one-year deals last year as the Steelers' best options here.
In the last full season that we saw from each, Rivers, Newton and Winston earned overall grades of 77.2, 70.9 and 68.4, respectively. While none are likely to be "the guy" long term, those are similar neighborhoods to what we saw from Big Ben in 2020, only at a fraction of the cost. I would say that free agency this year should be a last resort for the Steelers.
If I were taking the reins on the Steelers' QB search, this is the territory where I'd be the most active. Kevin Colbert has built a really good roster, but the vast majority of their impact players are already on second contracts. That means the window is now.
In terms of quarterbacks who look as if they'll be made available for a trade, a few names stand out above the rest. While the entire world is discussing the possibility of the Houston Texans moving Deshaun Watson, that's a pipe dream for the Steelers, given that they don't really have the draft capital to make an enticing bid.
More realistically, they should be targeting one of two guys: Matthew Stafford or Sam Darnold. These are two guys who have very similar playstyles to Big Ben and have the arms to deal with Pittsburgh's blustery weather.
From a cap perspective, both would also be cheaper than Big Ben in 2021. Stafford would count $20 million against the Steelers cap in 2021 and $23 million in 2022 — a relative bargain by today's standards. Meanwhile, Darnold would cost only $4.8 million against the cap in 2021 while he's still on his rookie deal, and he'd be on the books for between $21-23 million if they exercise his fifth-year option, with the true number depending on the official 2021 salary cap.
While Darnold would obviously be a cheaper option that could pay larger long-term dividends, Stafford is the clearer immediate upgrade. He only turns 33 next month, and his lowest-graded passing season over his past five years is a 76.4. Even with a banged-up receiving corps in 2020, Stafford still finished as the 12th-highest-graded passer in the league. That puts Pittsburgh back in the neighborhood of where Big Ben was before his downturn.
Of course, compensation for Stafford won't come cheap. The most obvious recent corollary was the Minnesota Vikings' trade for Sam Bradford in 2016. They gave up a first-rounder along with a conditional pick that could have been a second, third or fourth (it ended up being the latter). They've already shown their willingness to mortgage draft capital for the here and now with their trades over the past couple of years. This, to me, seems like the most appealing option given how the Steelers' roster is currently built.
After the wild-card loss to the Cleveland Browns, the Steelers officially own the 24th overall pick in the 2021 NFL Draft. While that was famously the pick number the Green Bay Packers used to select Aaron Rodgers back in 2005, teams have wised up with their view on quarterback value in recent years. If there's the slightest chance a quarterback has "it," they go early.
In this year's draft, expect Clemson's Trevor Lawrence, Ohio State's Justin Fields, BYU's Zach Wilson and North Dakota State's Trey Lance to all be off the board well before the Steelers' pick.
If they plan on moving up into the top 10 to secure whichever one of those guys falls, it isn't going to be cheap. Steelers fans should know this, as they just did it in 2019. They gave up a 2019 second-rounder and 2020 third-rounder to move from Pick 20 to Pick 10 that year. Going from 24 will take even more — especially to jump other quarterback-needy teams like the 49ers, Patriots, Football Team and Bears.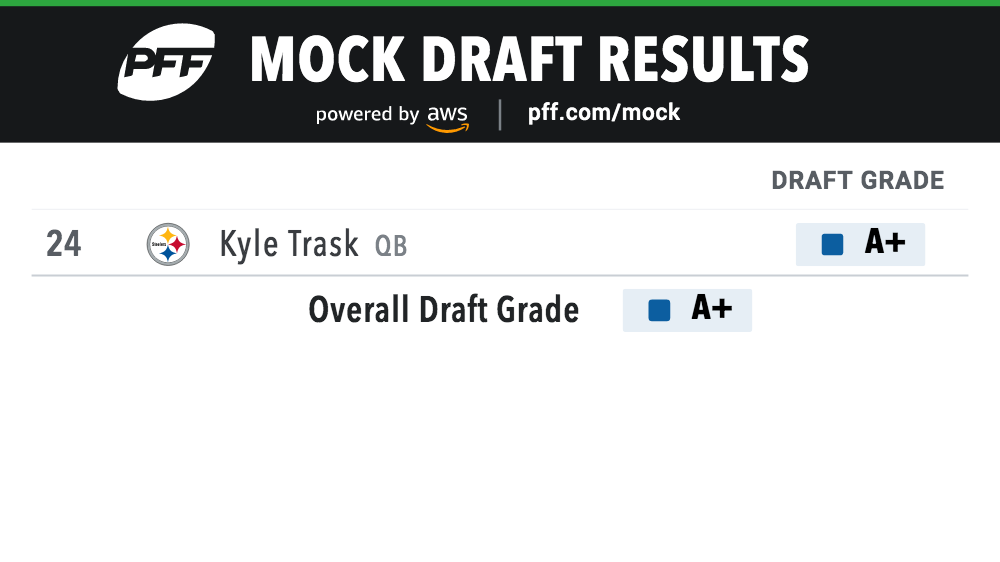 If they stand pat, Alabama's Mac Jones or Florida's Kyle Trask look as if they'll be the best options available. Both come with their caveats, however, and are a comfortable tier behind the top four quarterbacks in the class talent-wise.
For anyone suggesting the Steelers take a "draft and develop" quarterback outside the first round, I'd recommend rethinking that strategy. The odds — as Steelers fans should again know — simply aren't in your favor. Since Dak Prescott's breakout as a fourth-rounder in 2016, here's a full list of all the quarterbacks since that have taken 150 NFL dropbacks despite not being drafted in the first round:
If Round 1 ends and the Steelers haven't signed, traded for or drafted a quarterback, Steelers fans have plenty of reasons to be upset.