Over 700 players start at their respective positions in the NFL, and hundreds more make valuable contributions from the bench or in sub packages. To rank among the top 50 NFL players is rare air, which means that some great competitors will be left off the PFF50 in any given season.
Here are 10 such players that narrowly missed the cut this year.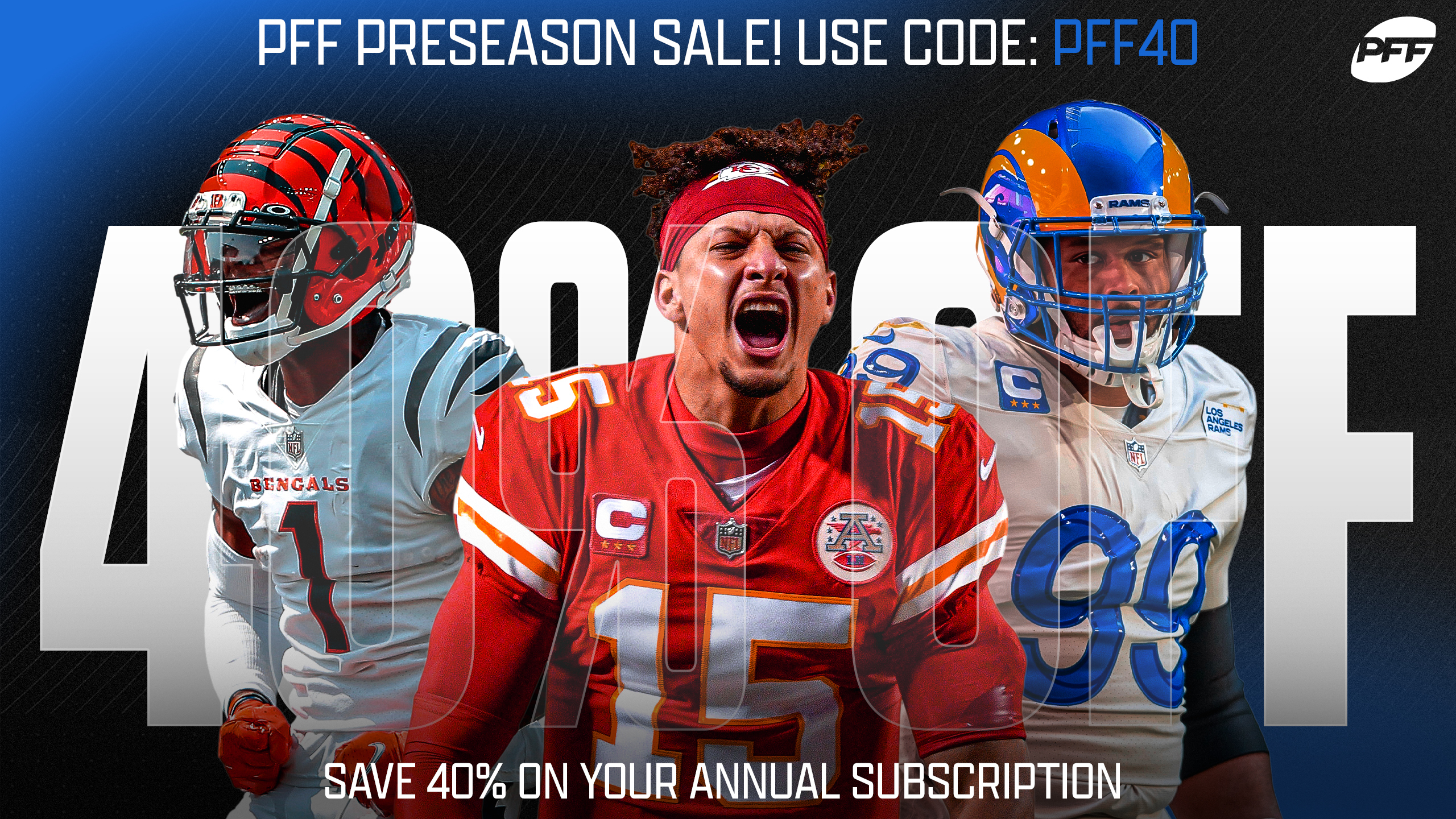 ---
Few tackles have been as assured in all areas of the game as Slater early in their NFL careers. Slater was one of only three offensive tackles who earned an 80.0-plus PFF grade as both a run blocker and in pass protection. He allowed 26 total pressures all season, and the most pressures in a game he allowed was four — against Myles Garrett just five weeks into his career. Slater already looks like a top tackle, and if he improves even a little in Year 2, he will vault his way onto the list.
---
One of the biggest controversies on this list a year ago was Jackson's omission, as he was coming off a season that was a notable step back from his unanimous MVP season. Jackson then followed that season with one that was still shaping up to be worse before injury made things even tougher. Jackson is a unique talent, but we haven't seen his best play since that MVP season — his overall PFF grade has gone from 90.1 in 2019 to 79.3 in 2020 and then 70.2 in 2021. With Marquise Brown traded away in the offseason and no contract extension yet signed, Jackson enters the 2022 season under a sneaky amount of pressure.
---
Winfield has appeared experienced beyond his years since the moment he entered the NFL, playing like a savvy veteran and making a difference from Day 1 in Tampa Bay's secondary. His overall PFF grade improve dramatically in his second season, and he added 10 additional defensive stops from his rookie season despite playing fewer playoff games. Winfield is an outstanding modern safety who has the versatility to line up all over Tampa Bay's defense, and another year at this level will likely see him earn a spot on the PFF50.
---
One can make a good case that Humphrey should be on the list already given his rookie season, as only a lack of inbuilt credit in the bank relative to some other players kept him off. Humphrey finished his rookie year with the best overall PFF grade (91.8) among NFL centers. His pass protection grade was a little lower (79.1), which is a smaller problem at center than other positions along the offensive line, but if he can back up that debut season with another even remotely of the same caliber, he will be one of the best players in the league at any position.
---
Perennially one of the best right tackles in football, Ramczyk is now the last high-quality member on a New Orleans offensive line that was one of the best in the league not long ago. Ramczyk missed some time in 2021, but when healthy, his PFF grades put him near Tristan Wirfs, who made the list. Ramczyk is a perfect example of how hard it is to maintain a spot on this list, and he could easily make it again in 2023 — just as he did last year.
---
Kamara is a phenomenal talent, but his first year in a post-Drew Brees world didn't go so well. Kamara posted the lowest overall PFF grade (63.2) of his career and missed some time due to injury. He was a vital outlet and playmaker within an offense that ran smoothly with Brees at quarterback, but the combination the Saints were left with last year wasn't able to utilize him as effectively. It's not that Kamara became a worse player, but he wasn't able to rival the production of other star talents at the same position.
---
Kendricks established himself as one of the best coverage linebackers in the league in recent seasons — one of the few players who is actively able to squeeze throwing lanes and adjust the way quarterbacks play the game because of his range in that area. However, this past season saw a massive step backward, particularly down the stretch, as he wasn't able to post a PFF game grade above 61.5 for the entire second half of the season. If Kendricks bounces back to his best next season, he is a top-50 player, but the guy we saw for the second half of last season last year wasn't.
---
Sustaining truly elite levels of play at the safety position is extremely hard in today's NFL. In 2019, Simmons earned a 90.9 overall PFF grade, but he has failed to top 80 since that season, grading well but not truly elite over that time. Simmons has impressive range at free safety but also an unusual ability to make plays closer to the line of scrimmage for a player with his deployment. He has recorded at least 20 defensive stops in each of the last three seasons, a threshold that is rare for a free safety to cross.
---
McLaurin may have been quarterback-proof for his first few seasons in the league, but the lack of a high-end passer has prevented us from seeing just how good he can really be. His PFF grade, as well as his production, has plateaued to a level just a step behind the game's best receivers. He has failed to generate more than 2.0 yards per route run in each of the last two seasons in a league where the best receivers in the game will threaten 3.0. McLaurin may be as talented as some of the receivers ahead of him, but we need to see him paired with a quarterback that is able to unleash that potential to be sure.
---
Hunter is still only 27 years old, but injuries have robbed us of seeing him for the majority of the last two seasons. Hunter had his best year in 2019, with 97 total pressures and career-best PFF grades, but he missed the entirety of 2020 and most of last year. In seven games last season, he notched 31 total pressures and recorded the second-best PFF pass-rushing grade of his career, so we should still see a dominant player if he can stay healthy, but that question mark is now big enough to keep him off the list until he can prove it's no longer a factor.