The NFL playoff picture is beginning to become a bit clearer, with a mere five weeks remaining in the regular season. As crunch time nears, each play becomes all the more critical. Here are 20 stats to know from the last week of games, shining a light both on players who stepped up and who fell short of expectations.

1. Mitchell Trubisky is testing his deep ball more frequently
Through the first eight weeks of the season, Mitchell Trubisky threw 20 or more yards downfield at an 11.8% clip — just 19th among 35 qualifying cornerbacks. In the past four weeks, though, Trubisky has tested his arm with more regularity, throwing deep 16.4% of the time — fifth among 35 quarterbacks. While his 75.9 passer rating on deep throws in the latter span is an improvement, it still ranks just 18th overall.
In his short career, Leonard Fournette has had three or more third-down carries in a game just five times — one being on Sunday against the Titans. He made the most of his opportunities in Week 12, rushing for two first downs and a touchdown on his three attempts. And with a career-high 11 targets, too, Fournette is becoming an all-around back in the Jaguars' offense.
3. Signing Shaquil Barrett has been well worth it for the Buccaneers
Shaquil Barrett racked up double-digit pressures in Week 12 for the second time this season — and the second time in his career. Barrett's signing this offseason has paid dividends for the Buccaneers, with his 29.3% win rate ranking second among qualifying edge defenders this past week. He now has 56 pressures on the season, slotting in at No. 6 among edge defenders.
4. As poor as Ryan Finley has been, the Bengals' blocking didn't give him a chance Sunday
On 31 pass-blocking snaps, the Bengals managed to surrender 21 quarterback pressures Sunday against the Steelers — a pressure rate of nearly 70%. It's hard to expect a rookie signal-caller to thrive in such a situation, and Ryan Finley subsequently garnered a horrid 26.0 game grade for the performance. For the season, it was the fourth-highest pressure rate surrendered in a game by a team. We'll see if anything changes with Andy Dalton back at the helm.
5. Jared Cook frequently found space in the Panthers secondary
Jared Cook became just the fourth tight end in the since the start of the 2018 season to record five plays of 15-plus yards. He did it through an average depth of target of 14.6 yards — tops among tight ends in Week 12.
6. We saw a different Fabian Moreau in Week 12
The same player who had allowed 25 catches on 28 targets for more than 300 yards this season had a career performance Sunday. On eight targets, Moreau surrendered five completions and came away with two interceptions — the first requiring him to go stride for stride with Marvin Hall, and the second tasking him to jump a short route. While Jeff Driskel isn't exactly top-notch competition, Moreau clearly flashed his skillset this past week.
7. Back from injury, George Kittle announced his return in style
At a certain point, it becomes easier to list off the things George Kittle can't do as opposed to what he has accomplished in such a short time in the NFL. In Week 12, he became the sixth tight end on the season to see at least five targets and notch a perfect passer rating on those throws, hauling in six catches for 129 yards and a touchdown.
8. Jarvis Landry lit it up on contested throws
Not only did Jarvis Landry post his best game grade as a Cleveland Brown on Sunday, but he also locked up his best mark since Week 15 of 2016. That grade is justified by his absurd contested-catch rate, reeling in four of five contested targets in a win over the Dolphins. The four-catch effort was the most in Landry's career on contested throws.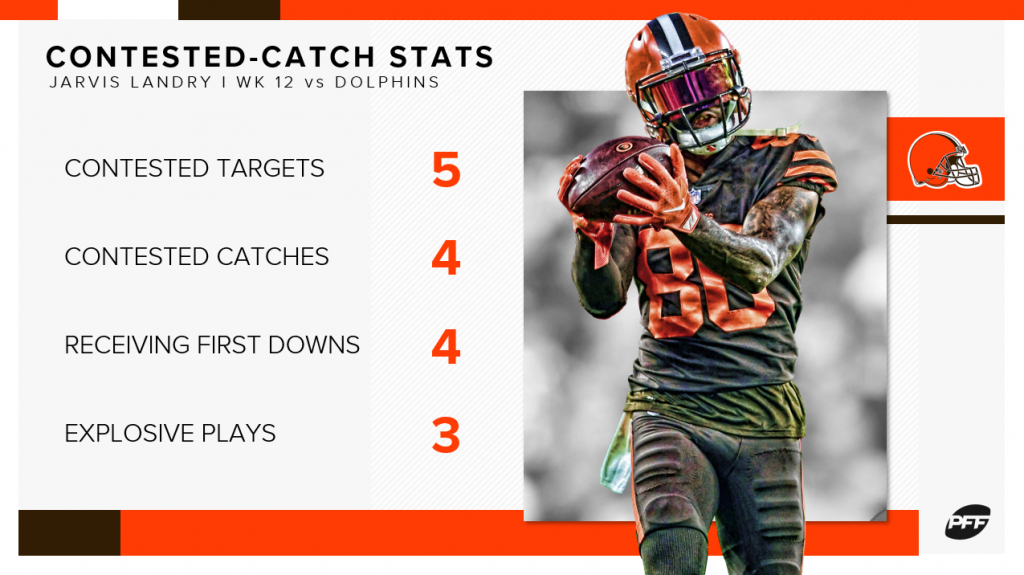 Only one offensive lineman hasn't allowed a single quarterback pressure in the past five weeks. And perhaps it's no surprise that Rodney Hudson is that lineman, putting together yet another stellar season. Hudson currently owns an 87.4 pass-blocking grade, which would make it his ninth straight season of an 80.0-plus mark in the facet if he continues to play at a high level.
10. Grady Jarrett has been a no-show the past two weeks
Through the first 10 weeks of the 2019 season, Grady Jarrett was the fourth-highest-graded interior defender, racking up pressures and run stops en route to 85.0-plus grades in each area. The past two weeks have been unkind to the star interior defender, though, as he ranks just 107th among 122 interior defenders in overall grade. In that span, he's managed just one run stop on 38 run-defense snaps and five quarterback pressures on 66 pass-rushing snaps.
11. Struggling under pressure all year, Baker Mayfield finally showed out
Baker Mayfield had thrown just three touchdowns when facing pressure entering his team's Week 11 bout against the Dolphins, part of an abysmal 49.7 passer rating that ranked 31st among 39 qualifying quarterbacks. But against that porous Miami secondary, Mayfield lit it up — he led all quarterbacks with a 155.7 passer rating, completing 6-of-8 pressured attempts for 99 yards and two touchdowns.
12. Calais Campbell is elite, but he continues to rack up missed tackles
With two more missed tackles in Week 12, Calais Campbell now leads all interior defenders, whiffing on 10 total this season. He boasts an impressive 90.5 overall grade, but his 35.4 tackling mark ranks just 103rd among 127 qualifying interior defenders.
13. Vinny Curry is turning it up a notch
It's always interesting to see which players find their groove as the season progresses, and Vinny Curry has done just that. Through the first six weeks, he ranked tied for 31st at the edge defender position in overall grade (72.7), tied for 56th in pressures (12) and tied for 81st in stops (4). Since then, Curry ranks tied for fourth in overall grade (89.9), boasting a 25.9% pass-rush win rate that ranks fifth among edge defenders.
14. Chris Godwin didn't spend much time in the slot, but he dominated from inside
Just under 50% of Chris Godwin's snaps in Week 12 were from the slot, but that didn't stop the third-year wideout from putting up massive numbers when lined up there. Of Godwin's 184 receiving yards on the day, 128 of them came from the slot on just four receptions. And the Penn State product added two touchdowns from inside for good measure.
15. Adoree' Jackson is fresh off one of the best games of his career
Allowing five catches on seven targets admittedly doesn't appear all that great at its face value. But in Adoree' Jackson's case, only 30 yards were surrendered on those receptions, including a pass breakup. Jackson added five stops on the day for a game grade of 87.3, the second-best mark of his career.
16. Motion was once again the focus for the NFL's top teams
The Ravens and 49ers finished first and second, respectively, in motion rate in Week 12, both using it at an above-70% clip. The Patriots weren't far behind, coming in at fourth place after using motion 68.2% of the time in a tight win over the Cowboys.
17. Jimmie Ward: From first-round disappointment to star safety
You'd be hard-pressed to find a safety who has made as big of a leap from one year to the next as Jimmie Ward. Riddled by injury throughout his six-year career, Ward is finally starring on the backend of the 49ers defense, racking up seven pass breakups (tied for first among safeties). He owns an 87.4 overall grade after earning a lowly 55.2 mark last season.
18. Mark Ingram was a well-oiled machine against the Rams
Earning a first down or touchdown on 47% of his carries Monday night, Mark Ingram was wildly efficient. So much so, in fact, that his first down or touchdown rate was a full 15 percentage points higher than the next best running back — the Tennessee Titans' Derrick Henry.
19. Joe Schobert is a rare asset in coverage
Linebackers are generally a liability in coverage. Not Joe Schobert. The fourth-year man out of Wisconsin put on a show against the Dolphins, facing seven targets and allowing just one to be caught. He added two pass breakups and two interceptions to his stat line for the day, subsequently earning a stellar 85.0 coverage grade.
20. The Seahawks made use of an extra body up front
The Seahawks utilized an extra offensive lineman on 20 snaps in Week 12 — which was more than 20 other teams combined. Granted, only Duane Brown managed to grade out higher than 60.0 among the group, but Rashaad Penny had himself a day behind the unit, rushing for a career-high 129 yards.