A handful of young cornerbacks showed up in Week 10, while a few seasoned wideouts did the same. This past week's slate of games provided plenty of eye-opening stats — here are 20 to know entering Week 11.

1. Tyreek Hill was productive on third down despite drops
Hill became just the third wideout this season to move then chains five times in one game on third down, joining DeSean Jackson and Cooper Kupp, the latter has done it twice. But Hill wasn't efficient as he could have been, dropping two of his seven third-down targets.
2. Ezekiel Elliott surprisingly failed to notch a first-down run
For the first time in his career, Elliott did not record a first-down rush in a game. Instead, he was stymied at the hands of the Minnesota Vikings' defensive front in Week 10. While Elliott had 20 carries, he managed just 47 yards — 44 of which came after contact.
Just as we're seeing younger quarterbacks becoming more mobile, the safety position has begun to shift, too. Adams and Peppers each pressured their opposing quarterbacks four times Sunday, with Adams coming away with a strip-sack for a score on one of them. They rank Nos. 1 and 2 at the safety position in pressures this season. And when Derwin James returns, expect him to join the party after posting 19 pressures last season, second only to Adams.
4. The box score didn't show Peyton Barber's dominance Sunday
Forty-four yards on 11 carries is a modest output, no doubt. But Barber made more than the boxscore Sunday, forcing six missed tackles and finishing tied for fourth among qualifying running backs in average yards after contact (3.5) in limited action. As such, he was the only qualifying running back to earn a rushing grade above 80.0 in Week 10.
5. Philip Rivers was abysmal under pressure
Rivers has faced his fair share of pressure in the pocket during his 16-year NFL tenure, but few performances were as poor as the one he put up against the Raiders. For just the third time in his career — and the first since 2008 — Rivers posted a 0.0 passer rating under pressure, completing 1-of-10 passes and tossing three picks.
6. No player generates targets like Michael Thomas
In each of his past five games, Thomas has seen double-digit targets. He now has seven such games this season, matching his total from all of last year. And with Drew Brees firmly back at the helm, Thomas — already with 101 receptions — has a real shot at breaking Marvin Harrison's single-season catch record.
7. Ryan Tannehill thrived in multiple facets, but particularly on play-action
Tannehill was one of two quarterbacks to post a perfect passer rating on play-action in Week 10, joining Lamar Jackson. He completed five of his six attempts for 81 yards, slinging a touchdown in the process. And after a signature win over the Patrick Mahomes-led Chiefs, the job is Tannehill's to lose.
8. Motion has proven beneficial to the league's top teams
The San Francisco 49ers, Baltimore Ravens and New England Patriots rank Nos. 1, 2 and 3, respectively, in use of motion/shifts in 2019. Each uses motion more than 65% of the time, and many pundits would argue those are also the league's best teams through 10 weeks. It remains to be seen whether a correlation exists, but for now, motion reigns supreme for the NFL's top dogs.
More than a third of Prescott's attempts Sunday were into Hughes' coverage — 17, to be exact. And 11 of them went for completions as Prescott racked up 154 yards when he targeted Hughes as the primary defender. But then again, when Amari Cooper is making near-impossible catches, it's a tough job to be a cornerback.
Garoppolo failed to live up to the 49ers' once-unblemished record entering Monday night, racking up a league-high four turnover-worthy plays. It wasn't only he who fell short of expectations, though, as his receivers dropped five passes, which tied for first, and he was sacked five times, which tied for third.
11. Josh Jacobs is breaking tackles at a frenetic pace
You'll be hard-pressed to find a running back who has acclimated to the NFL as quickly as Jacobs has this season. And when it comes to forcing defenders to whiff, Jacobs is unmatched. His 46 missed tackles forced through 10 weeks is the most by a rookie running back since PFF began grading in 2006.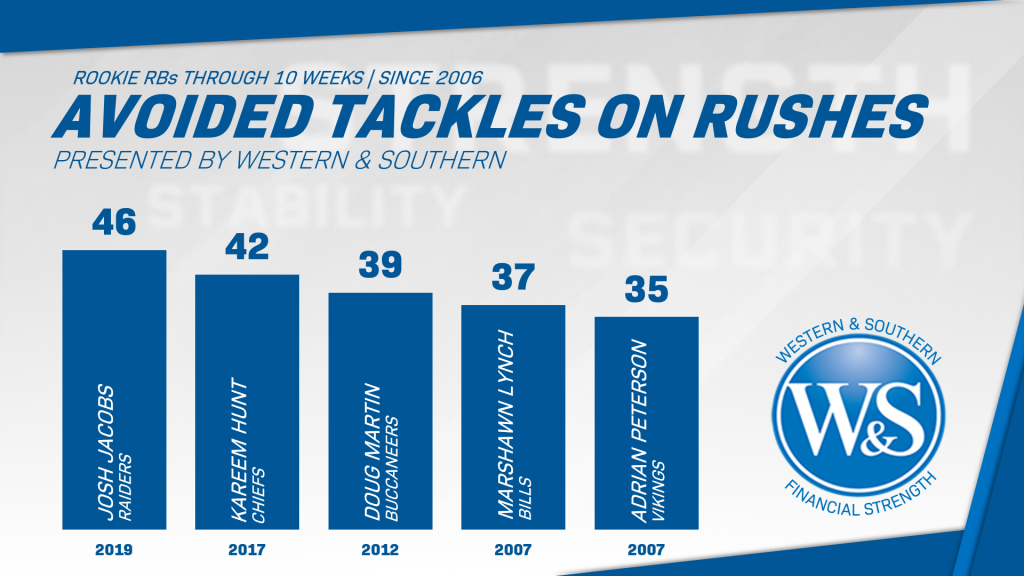 12. For Darius Slayton, contested throws were just another day on the job
Contested catches are, well, exactly that: contested. As such, receivers often struggle to haul them in, and in Week 10, they caught just 41% of such throws. Slayton was an anomaly, seeing six contested throws Sunday and reeling in five of them. He became just the third receiver to notch five contested catches in a game this season, joining Corey Davis and teammate Golden Tate.
13. Baltimore's tight end unit thrived off Lamar Jackson's stellar day
Nick Boyle earned his first career 90.0 grade, and Mark Andrews did so for the second time this season. Each was the beneficiary of perfectly placed throws from Jackson, who targeted tight ends on 14 of his 17 attempts. As a result, Andrews had the first multi-touchdown game of his career while Boyle racked up a career-high 78 yards.
14. The Packers are getting more out of Za'Darius Smith than they could have ever hoped for
Sure, Smith had improved on his pressure total in each of his four years as a Baltimore Raven. But after a 2018 season where Smith had 61 pressures and 10 sacks, it was hard to envision him taking yet another step forward. But after a 12-pressure effort in Week 10, Smith now ranks second in the NFL, with 57 quarterback pressures to his name — well on his way to besting his 2018 total.
15. Jamel Dean bounced back after a poor showing last week
Dean was fresh off allowing three touchdowns and 155 yards on nine catches in Week 9. He didn't let that faze him in Week 10, though, surrendering just one catch on five targets for -2 yards. Yes, negative yardage. The rookie has plenty of time to ensure the latter performance becomes the norm.
We already knew that, though. Nelson burst onto the scene in 2018, and he's doing even better this season. In Week 10, he didn't allow a single quarterback pressure on 41 pass-blocking snaps. He paired it with a 77.1 run-blocking mark, making him PFF's highest-graded offensive lineman this past week.
17. It was a tale of two facets for James Daniels
Daniels excelled as a run-blocker, posting a career-high 85.4 mark while blocking for the Bears' backs. As a pass-blocker, though, Daniels was on the other end of the spectrum, with an abysmal 38.5 mark. That was the result of a handful of "losses" to oncoming pass-rushers, leading to two quarterback hurries.
18. Kenny Golladay caught a case of the drops
After dropping just one pass all season, Golladay let a league-high three slip through his grasp Sunday. His catch rate suffered as a result, reeling in just three of his nine targets on the day for 57 yards and a score.
19. Nik Needham is quickly earning his stripes
The undrafted free agent out of UTEP earned an elite overall grade in Week 10 after allowing three catches for 34 yards on eight targets, picking off a pass along the way. Needham has yet to allow more than 40 yards in coverage in a game this season.
20. Buffalo's inside linebackers continue to impact the run game
Matt Milano and Tremaine Edmunds have each made 10 run stops in the past three weeks combined, tied for first among linebackers in that span. While Buffalo has gone just 1-2 in those games, it's a promising sign from the young duo inside.