After a rare Tuesday night game, we are finally through five full weeks of the 2020 NFL season. Now, it's time to look at some wide receiver rankings.
Although we have five new weeks of data, we're not ready to throw out all that has happened in the past, so this list isn't just the highest-graded receivers in 2020 so far, or even the highest-graded players at the position since the start of 2019. Rather, it's a combination of everything we know about these wideouts, using PFF grades and the rest of the data available to us.
If anything, Hopkins has been better in Arizona than he was in Houston despite more inconsistent play from Kyler Murray at quarterback than he had from Deshaun Watson — for the most part. Hopkins leads the league in receiving yards (528) and receptions (45) in 2020, and he is tied for second in targets (53), giving him by far the highest catch rate of his career (84.9%).
The Cardinals' scheme is getting Hopkins open to make plays in ways that the Houston system never did, and that's resulting in statistical dominance on a new level for him.
Thomas has now missed time through injury and a team suspension this season, which doesn't help his case. But when he returns, there is no reason to expect anything less than the dominant and near-unstoppable force we have seen over the past few seasons. The only real criticisms thrown his way are centered on a relative lack of threat to all areas of the field, but there is no data that says Thomas can't make an impact on deep passes, just that the Saints don't ask him to.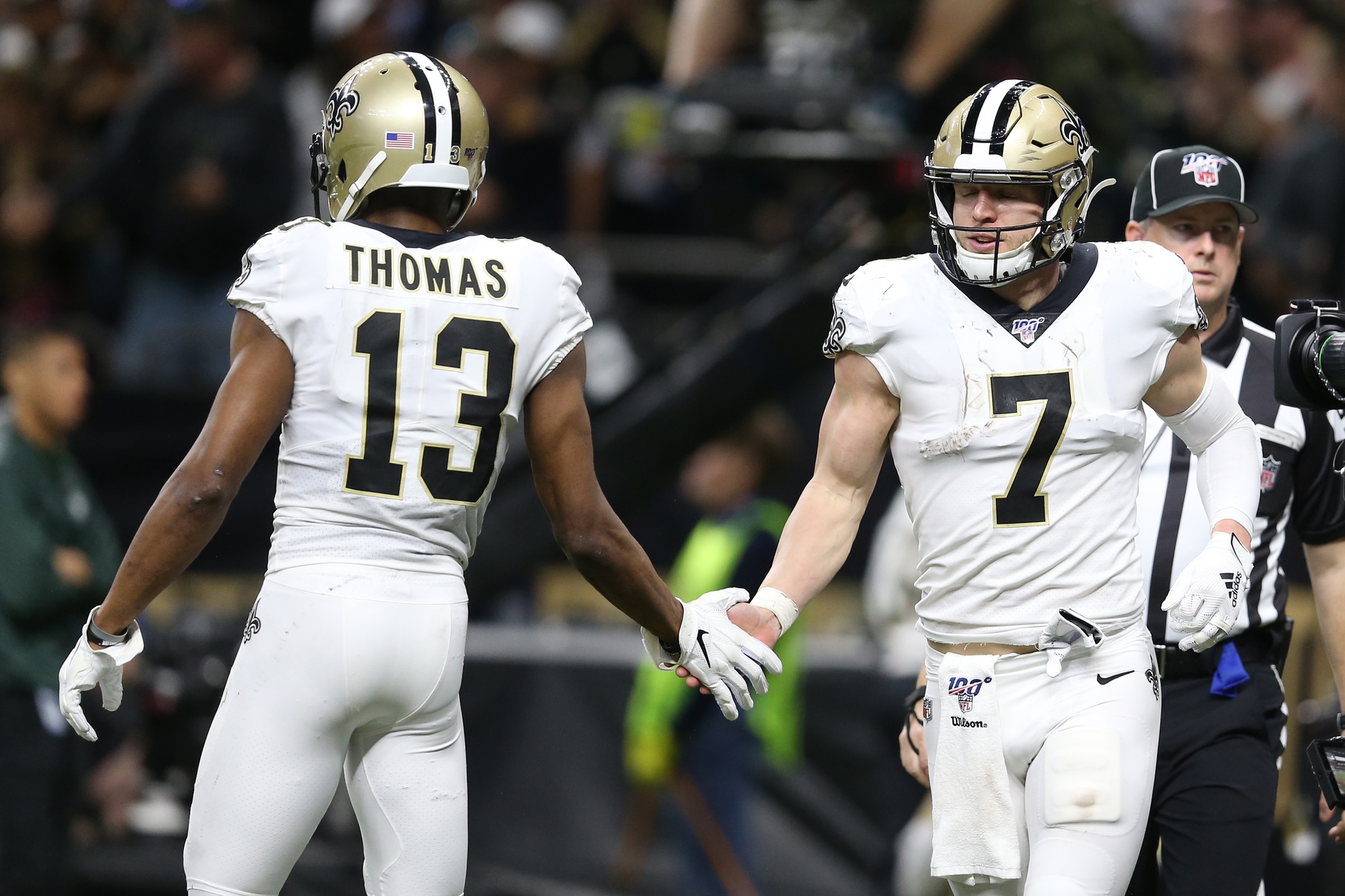 In 2019, Thomas had a higher target rate (18.3%) on vertical routes than Stefon Diggs and Tyreek Hill and has easily the best catch rate of any major receiver on deep targets. He just sees fewer of them.
2020 has not been kind to elite receivers in terms of injuries, and Julio Jones is one such player who has missed time. He has actually been outshined by teammate Calvin Ridley in terms of production for the Falcons. Let's not allow three games to cloud five straight seasons of PFF grades above 90.0, however — Jones remains the single most imposing receiver in the game.
There are no real weaknesses to his game, even if the Falcons can't find a better way of getting him in the end zone more consistently. And even this year, throwing the ball his way is resulting in a passer rating of 109.0, almost 20 points higher than Ryan's overall passer rating.
Injuries are beginning to surface as Davante Adams' only real weakness, as he has appeared in just two games this season after missing time last year before as well. In fact, Adams has featured in all sixteen games in a season only twice out of seven NFL campaigns.
That being said, you could make a strong argument that he is the single best route-runner in the game. Since the start of the 2019 season, just 4.9% of his targets have been contested, which speaks to the degree of separation he is able to generate on a consistent basis.
There are maybe better receivers in the league than Tyreek Hill (four of them, apparently), but I'm not sure there any who scare defenses more — which is certainly a valuable trait. Hill's devastating speed paired with instant reactions and quickness makes him a player defenses just can't match up with individually.
And with Patrick Mahomes at quarterback, Hill has a passer capable of near-impossible throws that make him a danger at any time on any play from any position. For a small receiver, Hill is also very good at contested catches, hauling in 45.5% of them since the start of the 2017 season.
Chris Godwin was exceptionally productive last year with Jameis Winston at quarterback, but injuries have largely denied us of seeing whether he can repeat that output with Tom Brady. Godwin has appeared in just two games so far but has been solid in each, and he now has three straight seasons of generating a passer rating of over 110.0 when targeted.
Last year, throwing the ball his way resulted in a 121.7 passer rating of 121.7 despite five interceptions on targets headed his way. Godwin is also able to line up all over the offense, making him a threat from any alignment.
The things Terry McLaurin is doing in Washington despite the pieces around him are truly remarkable — especially as just a third-round draft pick who didn't have the entire team being set up around him in the way a first-round rookie might have.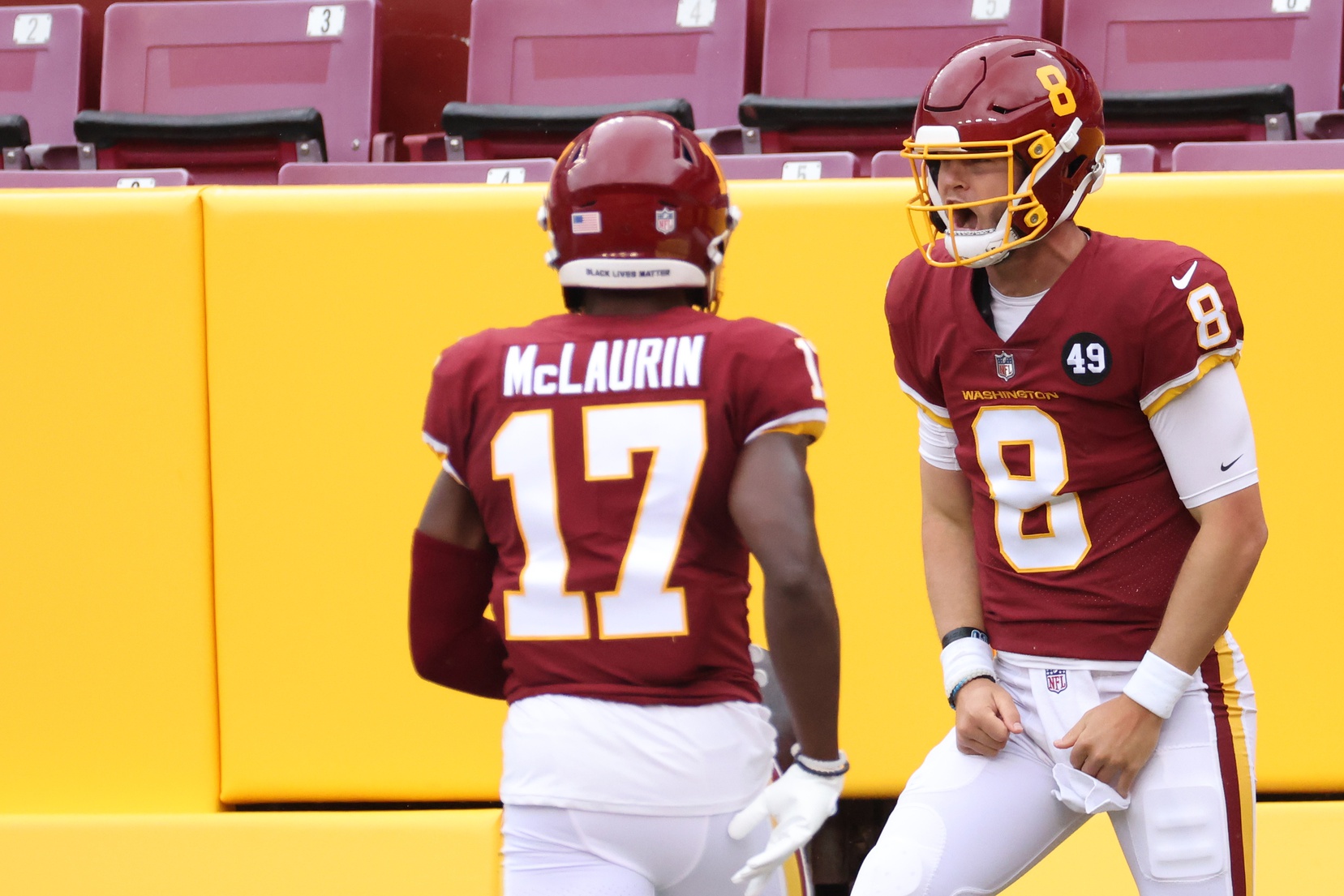 McLaurin is pretty much the only receiving threat on the team who has had one of the worst and most conservative quarterback situations since entering the NFL. Despite that, he has 1,332 career receiving yards on just 135 targets and has been a consistent threat.
Another player with a case as the best route-runner in football, Keenan Allen is a technician who is dealing with life sans Philip Rivers throwing him the football for the first time in his NFL career. It's not exactly having a detrimental effect, with rookie Justin Herbert airing it out enough that Allen's production looks like it will be just fine.
Allen has never had an overall PFF grade over a season lower than 74.9, and he is on a run of five straight seasons with marks above 80.0. Allen also has one of the best drop rates in the game, making only 34 such miscues on almost 800 career targets.
Allen Robinson II may have never had plus quarterback play, dating all the way back to his high school days. Despite this, he continues to produce like a top-10 wide receiver. He leads the league in targets this year (56) and has 17 more contested targets than any other receiver since the start of last season.
Almost one-third of his targets over that span have been contested, yet he has still brought in over 90% of the passes thrown his way deemed catchable by PFF's data, dropping just 2% of them. No receiver has done more with less help than Robinson.
Stefon Diggs has been an elite receiver for some time now but wanted a bigger workload in the passing game than he saw in Minnesota. Through five weeks with his new squad, his wishes are being fulfilled. The Bills wideout ranks fourth in the league in targets (50) — more than halfway to his 2019 total in Minnesota that featured two playoff appearances.
Diggs is one of the best route-runners in football and is also very good at the catch point, with multiple plays already this season showing he can play far bigger than his size would suggest. Even against Tennessee in Week 5, he was able to prevent an interception by turning the defensive back when the ball arrived to break the pass up.
Mike Evans' production is down this year, but he has been battling through injury and been clearly far from 100%. Despite that, he has two 100-yard receiving games and six touchdowns in five appearances. Evans is an exceptional vertical threat who has ranked in the top five in yards on deep targets (20-plus air yards) in each of the past two seasons and ranks in the top 10 this season despite being hobbled by injury.
We have yet to see the full potential of the Tom Brady to Mike Evans connection, but the veteran signal-caller has tried to find Evans often despite the wideout clearly being hampered physically, which bodes well for their outlook over the remainder of the season.
Amari Cooper's ability is best summed up by the impact he has had on two different offenses — the Raiders and the Cowboys — when he has been in the lineup and when he has not. His departure sent Derek Carr into a funk that he is only just clawing his way out of, and Dak Prescott's numbers are night-and-day when Cooper is on the field.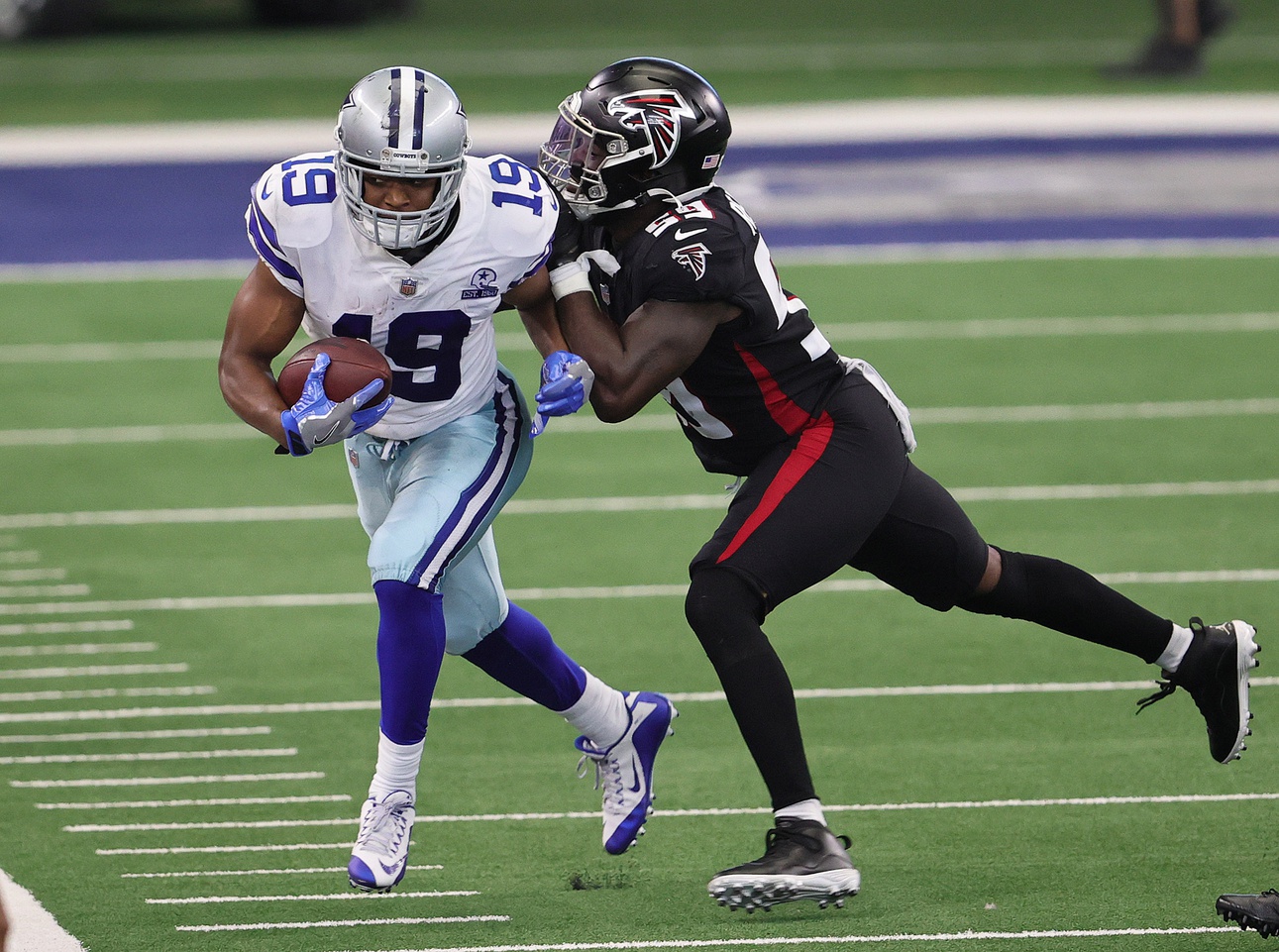 He is a complete receiver who challenges defenses at all levels and has very few flaws to his game. Cooper now has to fight against other receivers in the Dallas offense for targets, but he remains one of the top wideouts in the league, even if his production may be challenged because there are more mouths to feed in Dallas.
Adam Thielen is an exceptional technician at the position and shows just how good a receiver can be without having any extraordinary physical traits. He's big enough, he's fast enough and he's strong enough, but he isn't overwhelming any defenders with any of those abilities.
What Thielen does well is win with his release, routes and ball skills. For his career, he has generated a 110.0 passer rating when the ball is thrown his way. And through five weeks of the 2020 season, he is the highest-graded receiver in the NFL, already catching six touchdowns thus far.
Look out, because Metcalf is shooting up these rankings the same way he shoots past cornerbacks deep down the field. He was an effective receiver running go-routes from Day 1 thanks largely due to the partnership with Russell Wilson, the best deep-ball thrower in the league, but 2020 has seen him add versatility to his arsenal of skills.
His combination of speed, size and strength is a real problem for even elite defensive backs like Stephon Gilmore. Right now, Metcalf is averaging an absurd 22.5 yards per reception, a figure that could be even higher but for a dropped touchdown. Metcalf has five scores in five weeks and has cost himself at least two more, with that drop and the infamous goal-line fumble when he torched rookie cornerback Trevon Diggs only to let him recover and punch it out at the end of the play.
Woods is the perfect receiver for this Los Angeles Rams offense. His intelligence and ability to exploit the hesitation induced by the play action, motion and route combinations are second to none, and it has led to him being extremely productive during his time with the Rams.
Since the start of the 2018 season, only Julio Jones, Mike Evans and DeAndre Hopkins have more explosive plays than the 76 Woods has to his name, and he has dropped only five passes over that period from nearly 300 targets.
It's challenging to place Brown accurately because we are still working on a limited sample size with him, particularly as an injury has limited him to just two games this season.
Brown has tremendous physical tools and was a monster for a Titans offense that caught lightning in a bottle last year once Ryan Tannehill came into the starting lineup. Just over a season into his career, he has generated a passer rating of 122.0 when targeted while averaging 2.56 yards per route run. He could easily vault up this list as the season wears on.
Golladay has caught 63% of his contested targets since the start of the 2019 season, which is one of the highest marks in the NFL. At 6-foot-4 and over 200 pounds, he has the size and length to dominate defensive backs at the catch point and bring in passes that don't have perfect ball placement.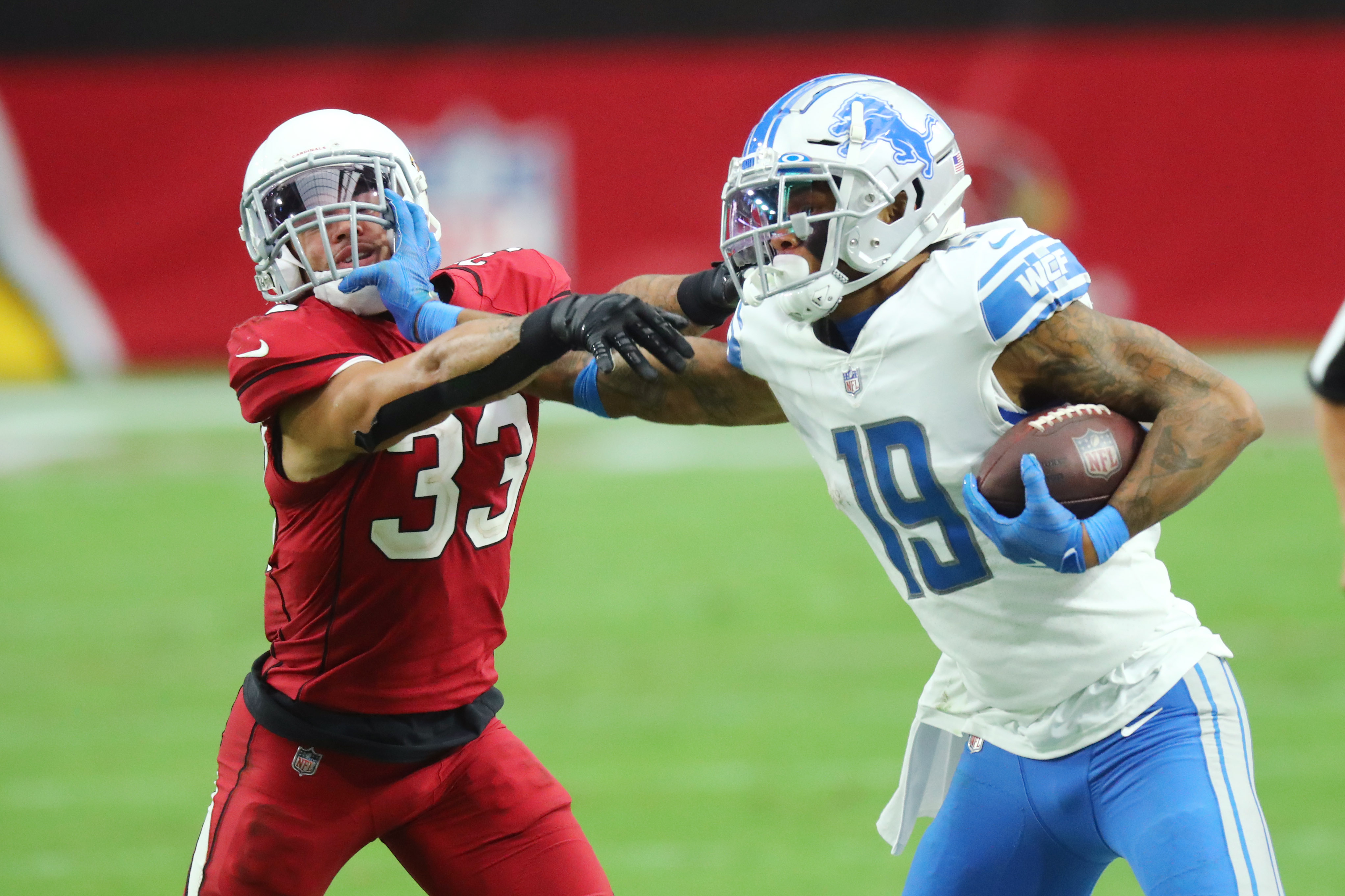 Only Allen Robinson II has more contested catches over that same time, and Golladay has a significantly better contested-catch rate. The Lions pass-catcher forms part of a very underrated group of receivers in Detroit and was a big reason why Matthew Stafford played so well a season ago.
Calvin Ridley's route running was too good for the college level at Alabama, and we're seeing that it ties defenders in knots at the NFL level, as well. With Julio Jones missing time through injury, Ridley has been given more opportunities than he has had in the past. He has responded by being one of the most productive receivers in the game, despite getting completely shut down against Green Bay in Week 4.
Ridley is still not likely to be a contested-catch superstar any time soon, but he has speed to burn and separation skills that give him a lot of favorable looks from his quarterback.
It's been a slow start to 2020 for Tyler Lockett, made worse by the fact that D.K. Metcalf has been so dominant, but that shouldn't overshadow what he has been doing over the past couple of seasons as Seattle's top receiver.
Since the start of the 2018 season, throwing the ball Lockett's way has resulted in a passer rating of 146.1 for Russell Wilson, and Lockett has a PFF receiving grade of 86.0 over that time. He may be less physically imposing than his teammate, but he is still an exceptionally productive and dangerous receiver in his own right.
It feels like Moore is still flying under the radar, largely because of the offenses he has been working in until now.
With an injured Cam Newton, then Kyle Allen throwing the highest rate of turnover-worthy passes in the league and now Teddy Bridgewater playing solidly but not spectacularly, he hasn't had much to help him in the way of quarterback play, yet Moore just continues to produce. Last season he had a PFF grade of 82.2 despite the drag of that quarterback play, and this year he has remained productive with a new passer.
Last season was a breakout year for the former first-round pick, as we finally saw the kind of talent that made him such an attractive prospect back in 2015.
The question was whether he could back that up this season or whether it was just a fluke. So far, he's repeating the performance and looks to have truly developed beyond what his early seasons were. Since the start of last season, Parker is generating a passer rating of 111.7 when targeted, and that's with Ryan Fitzpatrick's rating over that time being just 87.5.
Lamb was the top rookie on our draft board back in April, and he's the only rookie receiver to make this list through five games. You can argue we're just reinforcing our prior takes, but Lamb has been a dominant force so far for Dallas.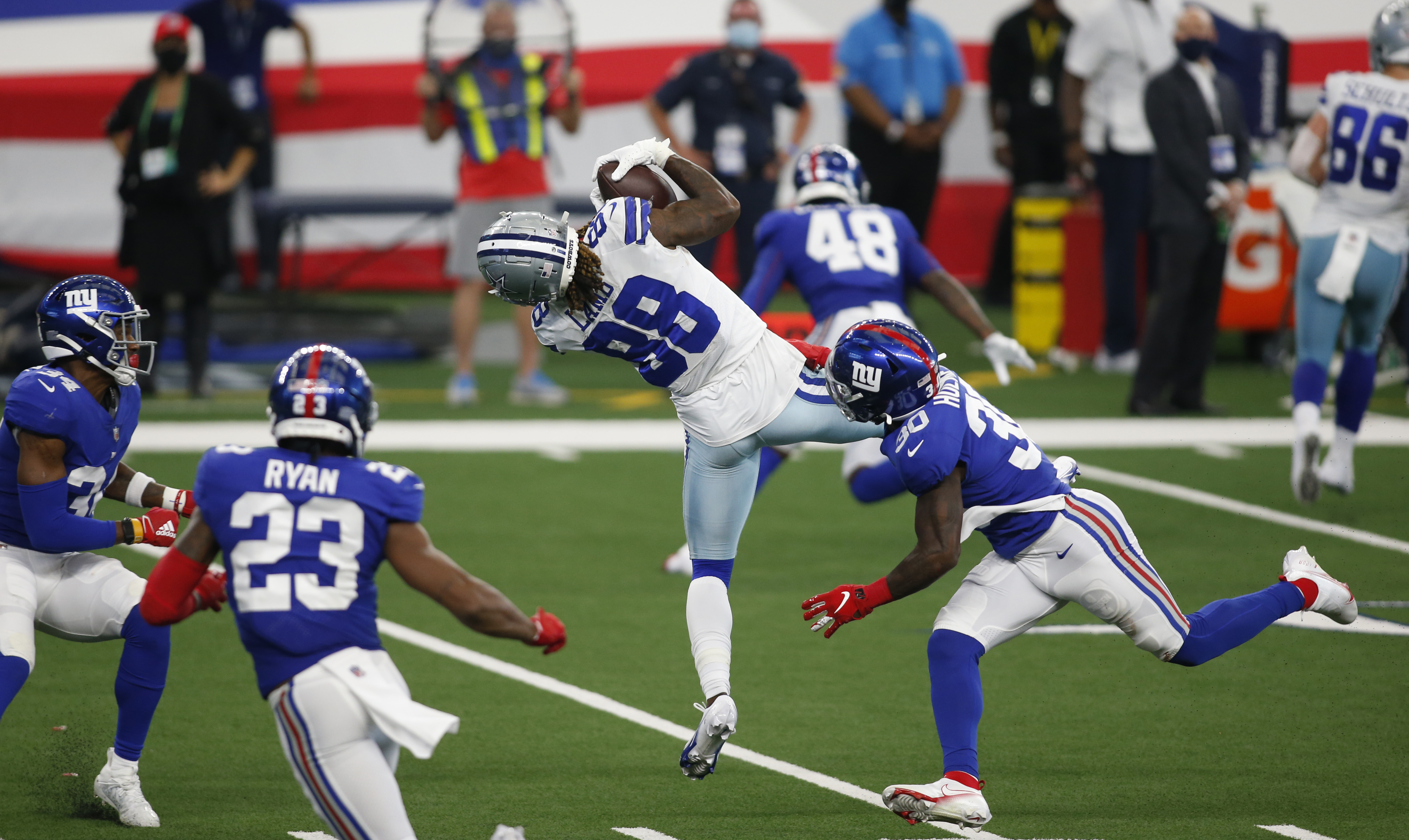 He has taken to an alignment in the slot exceptionally well and leads the league in receiving yards (395) when lined up inside. He has also shown a physicality and toughness over the middle that some of the other rookie receivers from this excellent draft class don't necessarily possess, going up to make plays in traffic and bringing in the pass knowing he would take a shot on the back of it. Lamb looks like a star already, and he still has more to come if he is given the opportunity.
Anderson has always been one of the league's best deep threats, but this season in Carolina we're starting to see that he may have been held back by the New York Jets and not given the chance to showcase his full array of skills.
Anderson is fourth in the league in receiving yards (490), but he's first among wide receivers in yards after the catch (227), averaging 6.3 yards after the catch and showing that he can make plays underneath with a quarterback more inclined to attack that area of the field. Anderson is also generating a passer rating of 116.4 this season despite having scored just one touchdown, and he has gained almost 3 yards per route run.
Will Fuller is a player whose impact is felt deeper than his production alone. We saw when DeAndre Hopkins was the top receiver in Houston that Fuller changes the way teams defend the Texans. The vertical threat of his speed affects the defense every snap he is on the field, not just on the plays he is targeted, and that continues to be true even without Hopkins on the field.
Fuller wasn't given a single target against the Ravens in Week 2, but despite that, he still has over 300 receiving yards in a Texans offense that has yet to find its feet, earning four PFF grades of at least 73.5.
Beckham is starting to look like the player he was earlier in his career, but he isn't all the way back to that level yet. At his best, Beckham was earning PFF grades above 90.0 with the Giants, but this season his grade is 76.7, which is a significant jump over his debut season in Cleveland but still some way short of his best play.
We have at least seen flashes of that player, which rarely happened in 2019. It was Beckham's end-around touchdown that rescued the win that seemed to be slipping from them against Dallas, and this past week he bailed out more than one poorly located ball from Baker Mayfield. At his best, Beckham is a top-10 receiver and then some, but we're still waiting for that guy to consistently be there every week.