PFF's Doug Kyed and Brad Spielberger empty their notebooks on the buzz they're hearing around the NFL. 
---
Click here for more PFF tools:
Draft Guide & Big Board | Mock Draft Simulator
Dynasty Rankings & Projections | Free Agent Rankings | 2022 QB Annual
Player Grades
---
Doug Kyed: After the Indianapolis Colts were able to unload Carson Wentz on the Washington Commanders for a pretty solid package (a second-round swap and two third-round picks — one of which could become another second-rounder if Wentz hits 75 percent of offensive snaps or 70 percent and leads Washington to the playoffs — plus the Commanders picked up Wentz's $28 million contract in 2022), Indianapolis is firmly back in the quarterback market. The Colts have more draft capital if they want to enter the Deshaun Watson sweepstakes, but it seems unlikely that the Houston Texans would trade him inside their own division. 
Their top competitors for a veteran quarterback are the Carolina Panthers, New Orleans Saints, Seattle Seahawks and Tampa Bay Buccaneers now that the Denver Broncos and Commanders have acquired Russell Wilson and Wentz, respectively. I suspect the Detroit Lions and Pittsburgh Steelers will stick with Jared Goff and Mason Rudolph, respectively, and draft their quarterbacks of the future.
The top veterans available via trade, at this point, are Watson, Jimmy Garoppolo, Sam Darnold, and maybe Kirk Cousins and Gardner Minshew. The top free agents are Teddy Bridgewater, Jameis Winston (likely heading back to the Saints), Mitchell Trubisky and Marcus Mariota.
We talked to Philadelphia Eagles head coach Nick Sirianni last week at the NFL scouting combine, and he didn't seem in a rush to trade Minshew, but it's worth noting that Philadelphia only gave up a sixth-round pick to acquire him last August. If the Eagles could, in turn, flip him for something better from the Colts or Seahawks, then that's just good business. The quarterback-needy teams are just changing, not dwindling, with each passing move.
Brad Spielberger: PFF's own Ari Meirov put out a great article highlighting some of the pending free agents who may earn more on their next contracts than people expect. Here are a few more additions to that list based on things we're hearing:
Okorafor earned a career-high 63.6 PFF grade in 2021 and allowed a quarterback pressure on just 3.6% of his pass-blocking snaps — the 10th-best rate among tackles in 2021. Okorafor still has room to grow, but we've seen plenty of tackles take a bit of time to adjust to the NFL game, and there's optimism about him taking that next step. 
Green is an intriguing chess piece at 6-foot-4 and 279 pounds, as he has the ability to rush the passer off the edge and from the interior. Green generated a career-high 34 quarterback pressures and eight sacks in 2021, and the 2018 third-rounder was a full-time starter for the first season of his career. 
Wallace posted seven pass breakups and two interceptions in 2021 while logging a career-high 993 snaps and keeping a Bills cornerback unit afloat following the loss of Tre'Davious White to a torn ACL. After going undrafted out of Alabama — where he walked onto the football team — Wallace has logged almost 3,000 snaps over four seasons. A lot of teams could use a reliable outside cornerback in a zone-heavy scheme, and Wallace fits that bill. 
The Vikings acquired Mason Cole in a trade with the Arizona Cardinals prior to the 2021 season, and he earned a career-best 69.7 grade that was buoyed by a strong 75.2 run-blocking grade in the Vikings' wide-zone rushing attack. Cole spent time at both center and right guard, and he has also played left guard in the past. New Vikings head coach Kevin O'Connell will deploy the same wide-zone rushing attack, and Cole figures to be a good fit as a player who can start at all three spots on the interior. If he leaves in free agency, there are plenty of teams running the same system that could use his versatility. 
There was a lot of buzz around Ward at the NFL combine. Ward has proven he can hold up on the outside in man coverage and is one of the best tackling cornerbacks in the NFL. He's expected to have a strong market in free agency.
Reeves-Maybin quietly logged a career-high 615 snaps in 2021 for the Lions after taking on a full-time role in Week 3, and he has always been a very valuable special teams contributor, earning a 90.0 special teams grade in 2019. As we've seen already with deals for Panthers linebacker Frankie Luvu and Buffalo Bills safety Siran Neal, teams are willing to pay up for reliable special teams contributors who can also be trusted to play a role on defense. 
Doug: Two more free agents to watch are cornerback Mike Hughes and linebacker Nick Vigil. 
I could see Hughes getting a slightly better but shorter deal than what Jalen Mills signed with the New England Patriots last offseason (four years, $24 million). A significant amount of teams will be interested in Hughes, and it wouldn't be shocking if some defensive coaches view him as an option at nickel.
Vigil has received even more interest than Hughes but for slightly less money. There are teams who believe he could play in base and sub-packages. I'd look at teams who value bigger linebackers.
Brad: Look for the Jacksonville Jaguars to be big players in free agency along the defensive line and at wide receiver. A second consecutive franchise tag for tackle Cam Robinson perhaps tailors their search a bit, and they have big money to spend as they work to surround quarterback Trevor Lawrence with more talent. 
A potential reunion with the team's 2014 second-round pick, wide receiver Allen Robinson II, is possible. On the other hand, it does not appear that a reunion with pending free agent wide receiver D.J. Chark is likely at this time, though things can always change. A different Florida team, the Miami Dolphins, is expected to be interested in Chark once the tampering window opens on March 14th. 
Doug: Don't rule out a return to the Patriots for linebacker Jamie Collins. He likes playing for head coach Bill Belichick and has historically been a much better player in a New England uniform.
Jamie Collins' career grades by team
| | | | | |
| --- | --- | --- | --- | --- |
| | Overall grade | Run defense | Pass coverage | Pass rush |
| Patriots | 90.2 | 78.4 | 86.1 | 91.4 |
| Browns | 53.6 | 55.3 | 50.7 | 59.2 |
| Lions | 64.8 | 68.4 | 55.3 | 75.6 |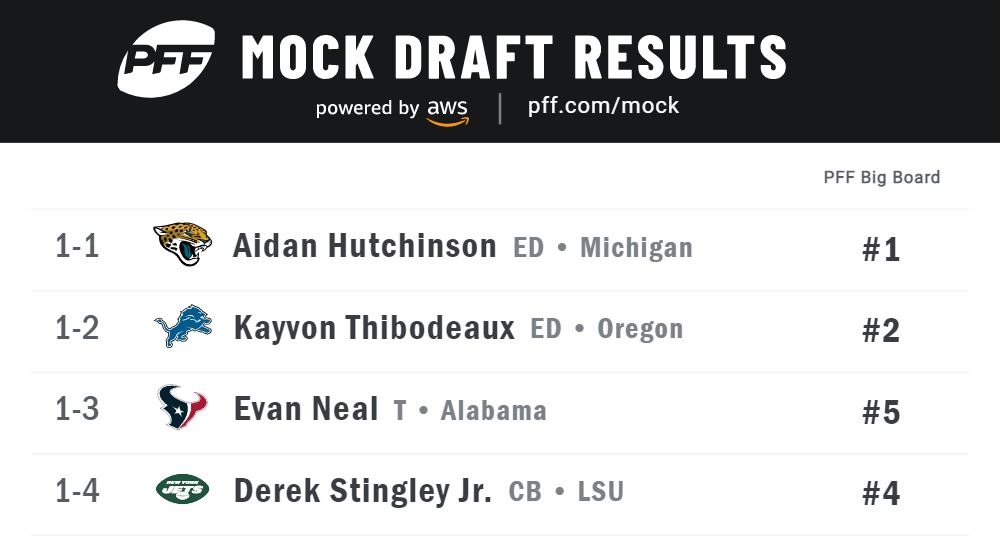 Doug Kyed: The top of the 2022 NFL Draft is starting to take shape after the Jacksonville Jaguars – holders of the No. 1 overall pick – franchised Robinson. The buzz before the NFL scouting combine was that Alabama offensive tackle Evan Neal would go first. Then NC State tackle Ikem Ekwonu gained some steam. Then came rumors that the Jaguars would spend big on a tackle in free agency, which kind of wound up being the case when they franchised Robinson a second time for $16.662M. Nonetheless, that seemingly takes them out of the mix for Neal and Ekwonu. Michigan edge defender Aidan Hutchinson is now the favorite to go first in the draft to Jacksonville.
There's also buzz that Liberty QB Malik Willis could go No. 2 overall to the Lions, which opens up the possibility that the top offensive tackles won't come off the board until No. 3 to the Texans or later. If that's the case, the Panthers should be feeling good about getting one of the top three offensive tackles (Neal, Ekwonu or Mississippi State's Charles Cross) at sixth overall.
Brad Spielberger: The Texans, at pick No. 3, could be the first team open for business for a potential trade down. They're still several pieces away and have a blue-chip left tackle on the roster — for now — in Laremy Tunsil. 
Doug Kyed: This is a deep offensive tackle class, and one more player to keep an eye on outside of the top three of Neal, Ekwonu and Cross is Tulsa's Tyler Smith. He recorded a 92.1 overall grade in 2021, ranking sixth out of 609 qualified tackles. He was 17th in 2020 with an 86.2 grade.
Here were his measurables from the combine:
| | | |
| --- | --- | --- |
| | Measurement | Percentile |
| Height | 6-foot-5 | 24th |
| Weight | 324 pounds | 83rd |
| Arm length | 34 inches | 53rd |
| Hand size | 10.75 inches | 93rd |
| 40-yard dash | 5.02 seconds | 84th |
| 10-yard split | 1.71 seconds | 92nd |
| Vertical jump | 28 inches | 35th |
| Broad jump | 8-foot-9 | 52nd |
| 20-yard shuttle | 4.65 seconds | 70th |
| 3-cone drill | 7.78 seconds | 51st |
Brad Spielberger: Two players who are moving up Ddaft boards following strong workouts:
His 41-inch vertical at the NFL combine ranks in the 98th percentile, per PFF's database.

His 4.19-second short shuttle at his Pro Day ranks above the 90th percentile.
His 32 bench press reps led all offensive linemen at the NFL combine. 

His 32-inch vertical ranked fourth among offensive linemen at the NFL combine.
We'd be surprised if Johnson makes it out of the first round. 
Doug Kyed: Wisconsin linebacker Leo Chenal's pro-day workout was worth the slight delay after the combine. At 6-foot-3, 250 pounds, he benched 225 pounds for 34 reps and ran a 3.94-second short shuttle and 6.84-second three-cone drill. He aced all of his drills and earned a 91.5 overall grade in 2021.
Leo Chenal at the Combine + Pro Day:

6'3" 250
4.53 40 (87th percentile among LBs historically)
1.55 10 (92nd)
34 bench (99th)
41 vertical (97th)
10'8" broad (95th)
3.94 short shuttle (99th)
6.84 3-cone (91st)

holy hell https://t.co/rQS8zzRsr4

— Anthony Treash (@PFF_Anthony) March 9, 2022
Virginia tight end Jelani Woods also really helped himself at the combine by running a 4.61-second 40-yard dash at 6-foot-7, 259 pounds. Woods was expected to run in the low 4.7s prior to the combine before burning up the track.
Expect Woods to be drafted in the third round next month. It's still very early, but one source expects the tight ends to come off the board in this order: 
Notably excluded from that list are Washington's Cade Otton, Texas A&M's Jalen Wydermyer and Coastal Carolina's Isaiah Likely. Otton would probably be the next player to come off the list but has some injury concerns. Wydermyer has some drop issues, and there's some question about Likely's speed after he didn't run at the combine.