When the San Francisco 49ers' Nick Bosa, the New York Giants' Saquon Barkley and the Denver Broncos' Courtland Sutton all went down with ACL tears in Week 2 last season, the NFL lost some of the best players at their respective positions. In addition, Christian McCaffrey, Jimmy Garoppolo and Anthony Barr suffered notable injuries during the week that shortened their seasons.
Subscribe to
WAR-Adjusted Injuries Lost (WAIL) was created to measure how impactful these injuries were on a team level. WAIL essentially uses a player's projected Wins Above Replacement (WAR) going into each week of the season and comes up with the WAR figure that was lost because that player missed the game.
We previously looked at WAIL from a general standpoint, but we can also dive deeper and examine the different types of injuries suffered and the WAIL lost from them.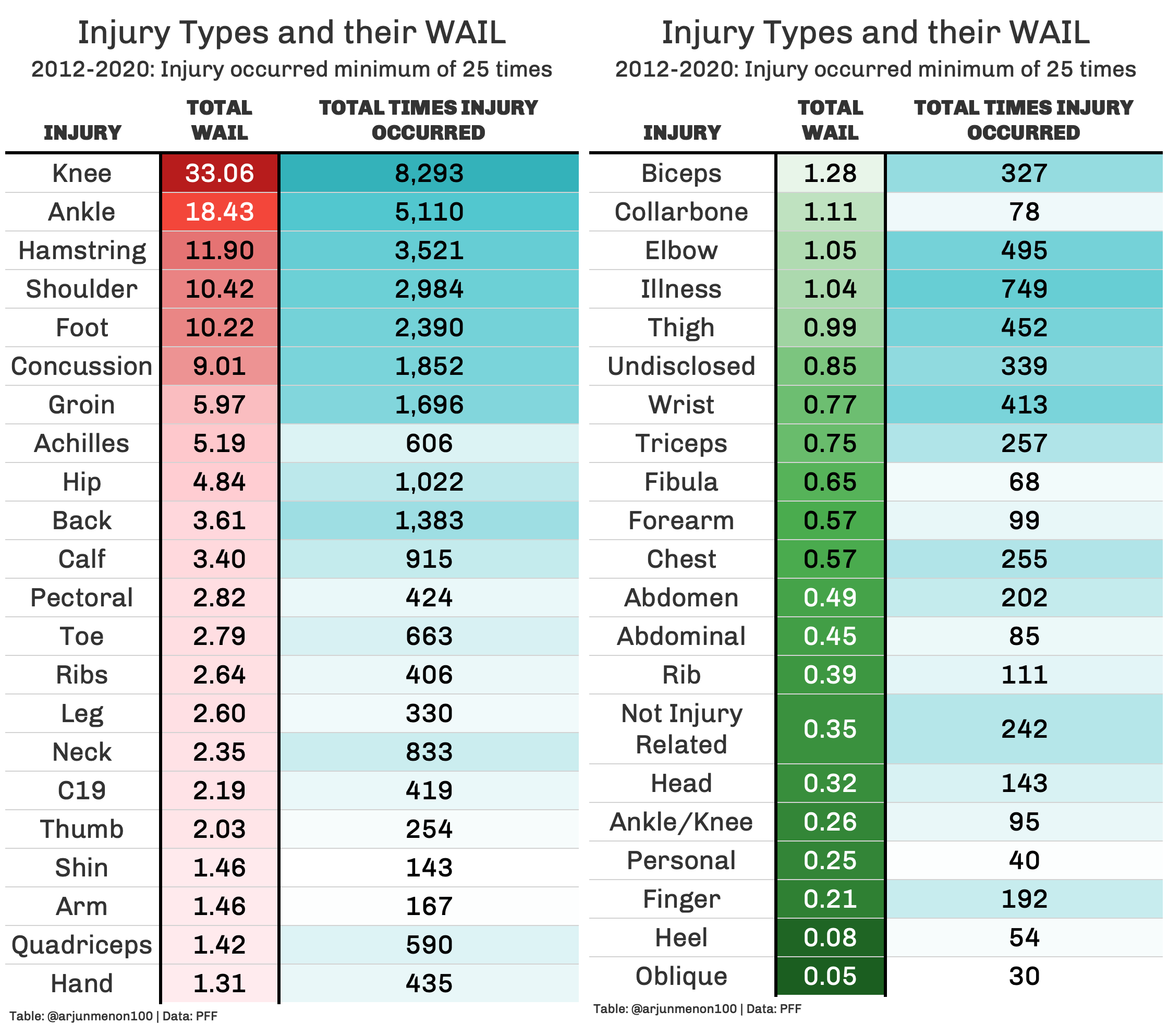 Since 2012, knee injuries have been the most common ailment and thus have accumulated the most WAIL during that time period. The four most common injuries suffered since 2012 are to the knee, ankle, hamstring and shoulder.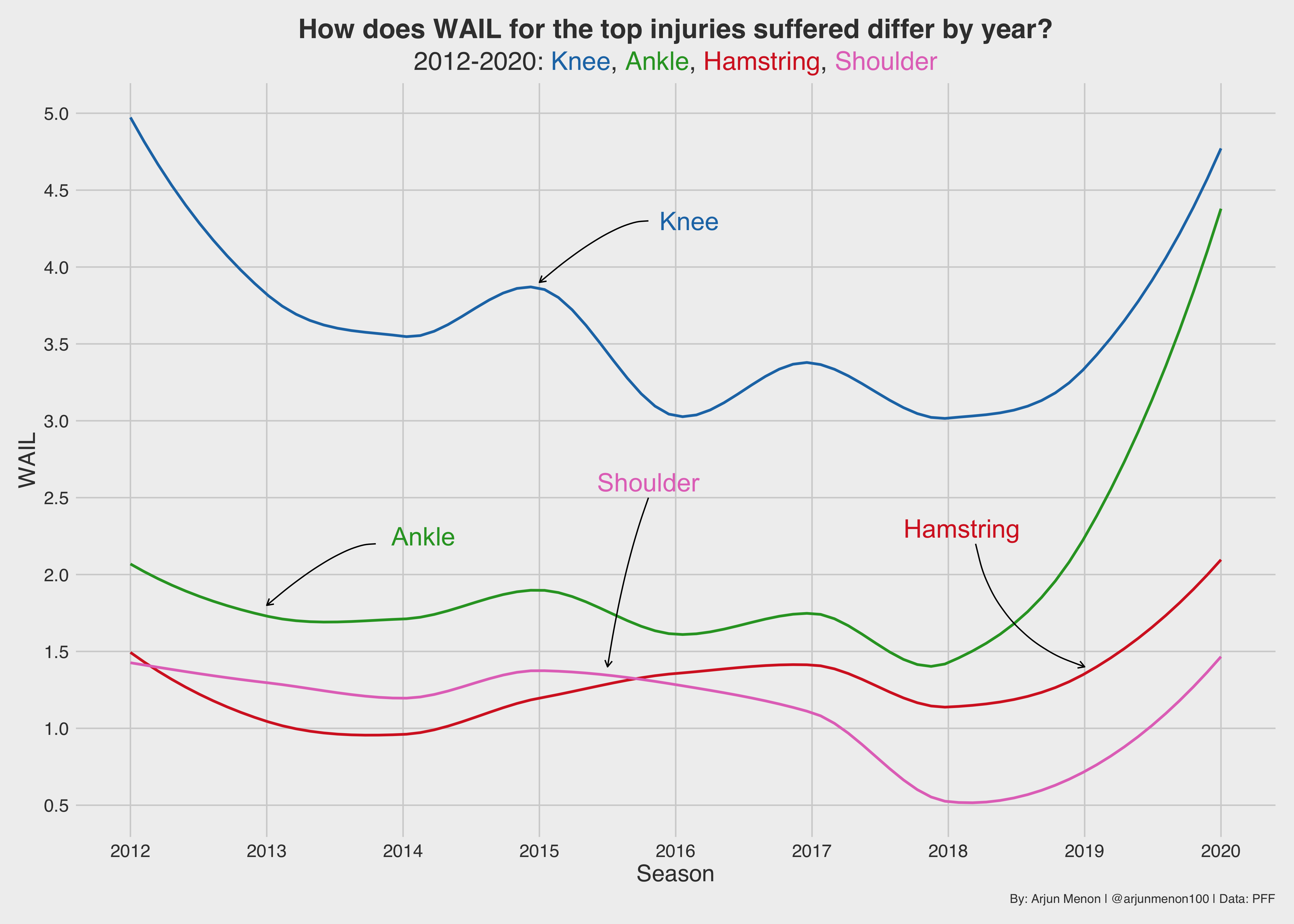 When looking at how each injury's WAIL has changed over the years, there is a noticeable trend that occurs from 2019 to 2020. Each of the top four injuries saw a sharp increase in WAIL in 2020, which was an unprecedented year for the NFL due to a shortened offseason program and no preseason games. The campaign subsequently featured the most WAIL of any season dating back to 2012.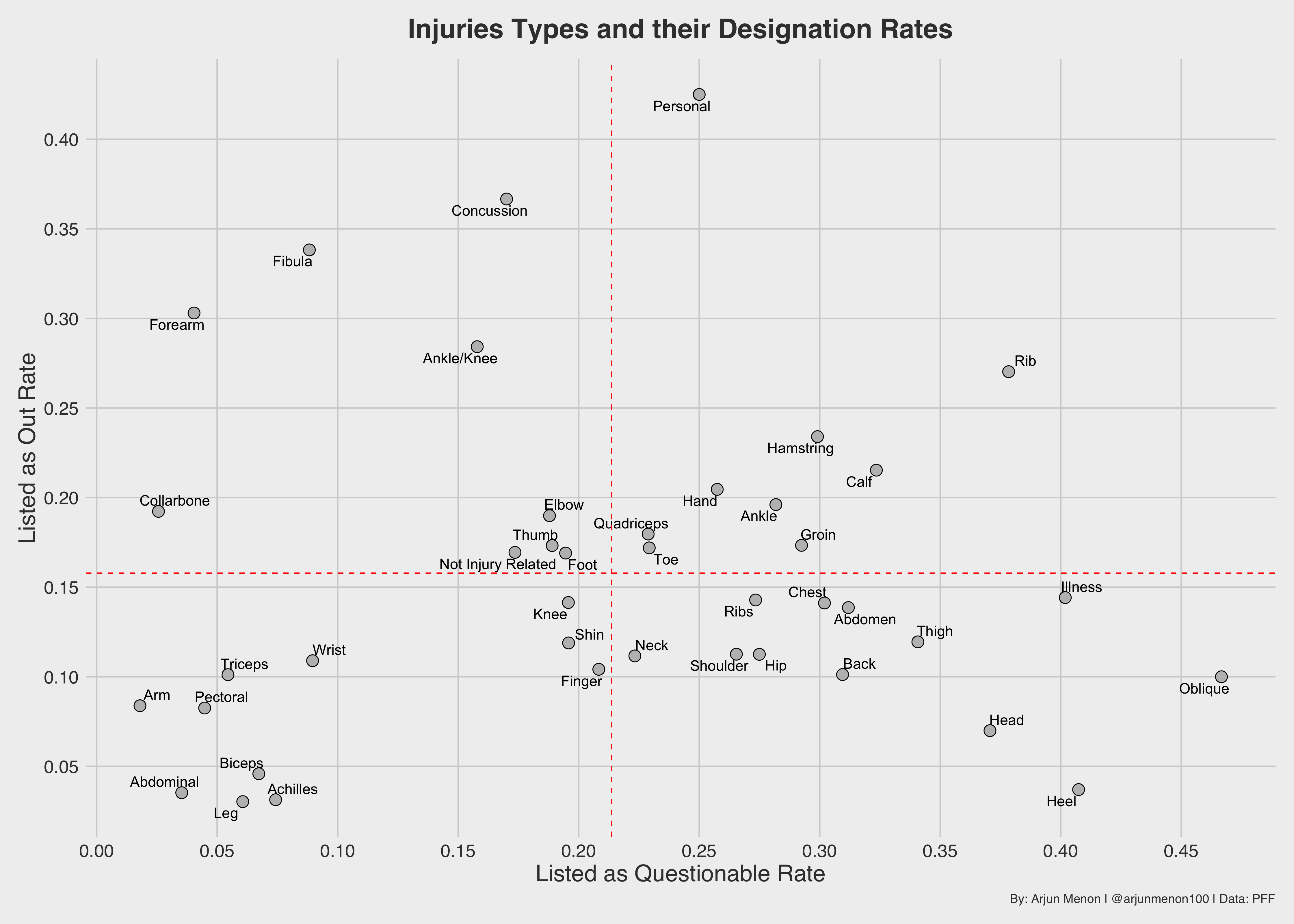 We can also examine which injuries are most affiliated with a certain game designation tag dating back to 2012. For example, a player who shows up with a fibula injury on the injury report is often ruled out but rarely designated as questionable. On the flip side, heel injuries are frequently listed as questionable but seldom listed as out. Using this, we can think about what a player's final game designation will be based on their injury.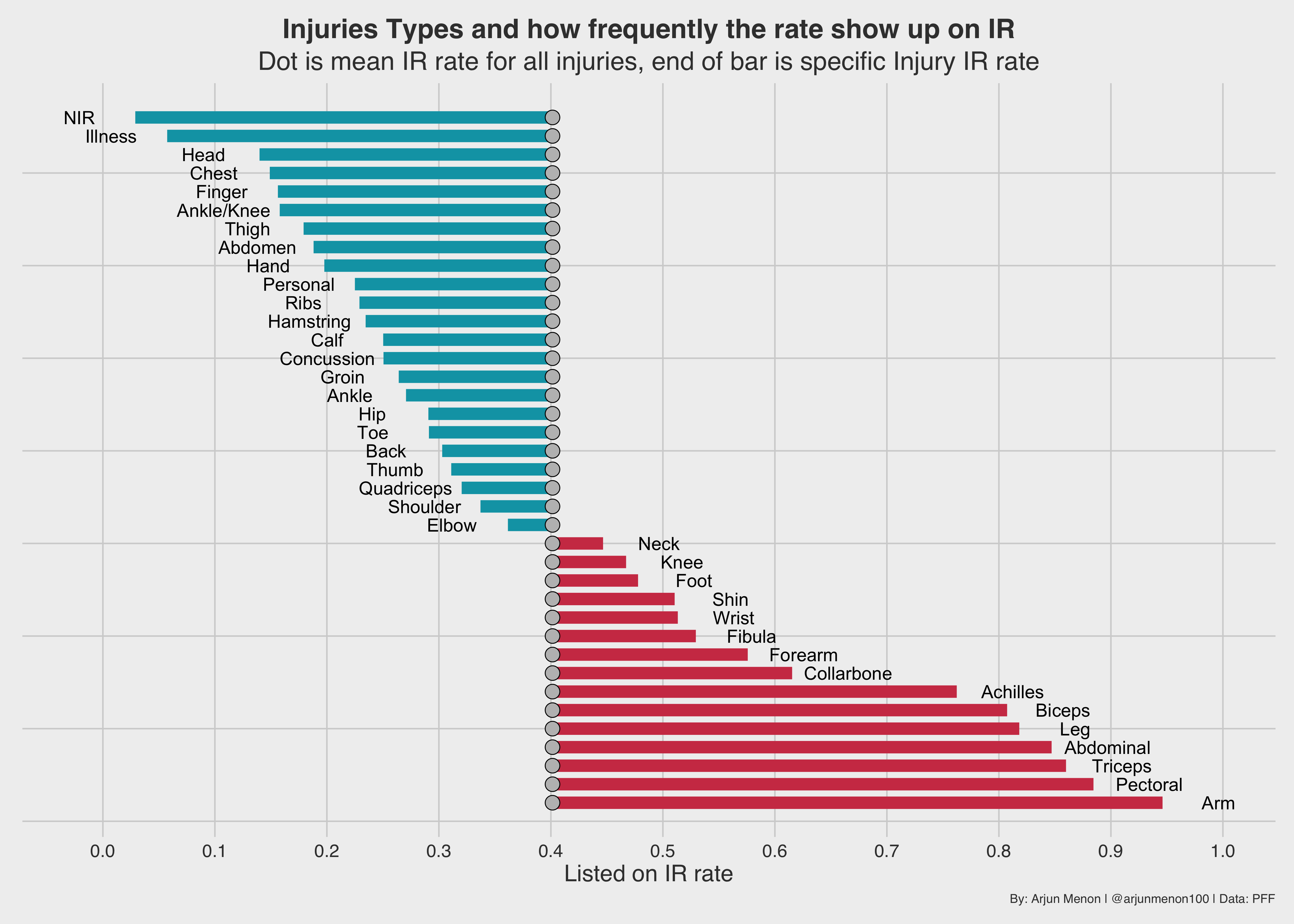 Adding onto this, we can identify which injuries have the highest rate of appearing on injured reserve. Injuries with lengthy recovery processes show up quite often. These injuries include arm (fractured), pectoral (torn) and triceps (torn). Those that don't appear very often on injured reserve are either not injuries or ones that heal quickly. 
| | |
| --- | --- |
| Player | Total WAIL |
| Dak Prescott, Cowboys | 1.61 |
| Joe Burrow, Bengals | 0.82 |
| Richard Sherman, 49ers | 0.42 |
| Drew Brees, Saints | 0.36 |
| Brian Poole, Jets | 0.34 |
| Damontae Kazee, Falcons | 0.31 |
| Malik Hooker, Colts | 0.30 |
| Nick Bosa, 49ers | 0.30 |
| Xavier McKinney, Giants | 0.30 |
| Kenny Golladay, Lions | 0.29 |
In 2020, Dak Prescott had the highest WAIL, followed by Joe Burrow. Richard Sherman was third after coming off a terrific 2019 season in which he was the highest-graded cornerback and had the most WAR at the position.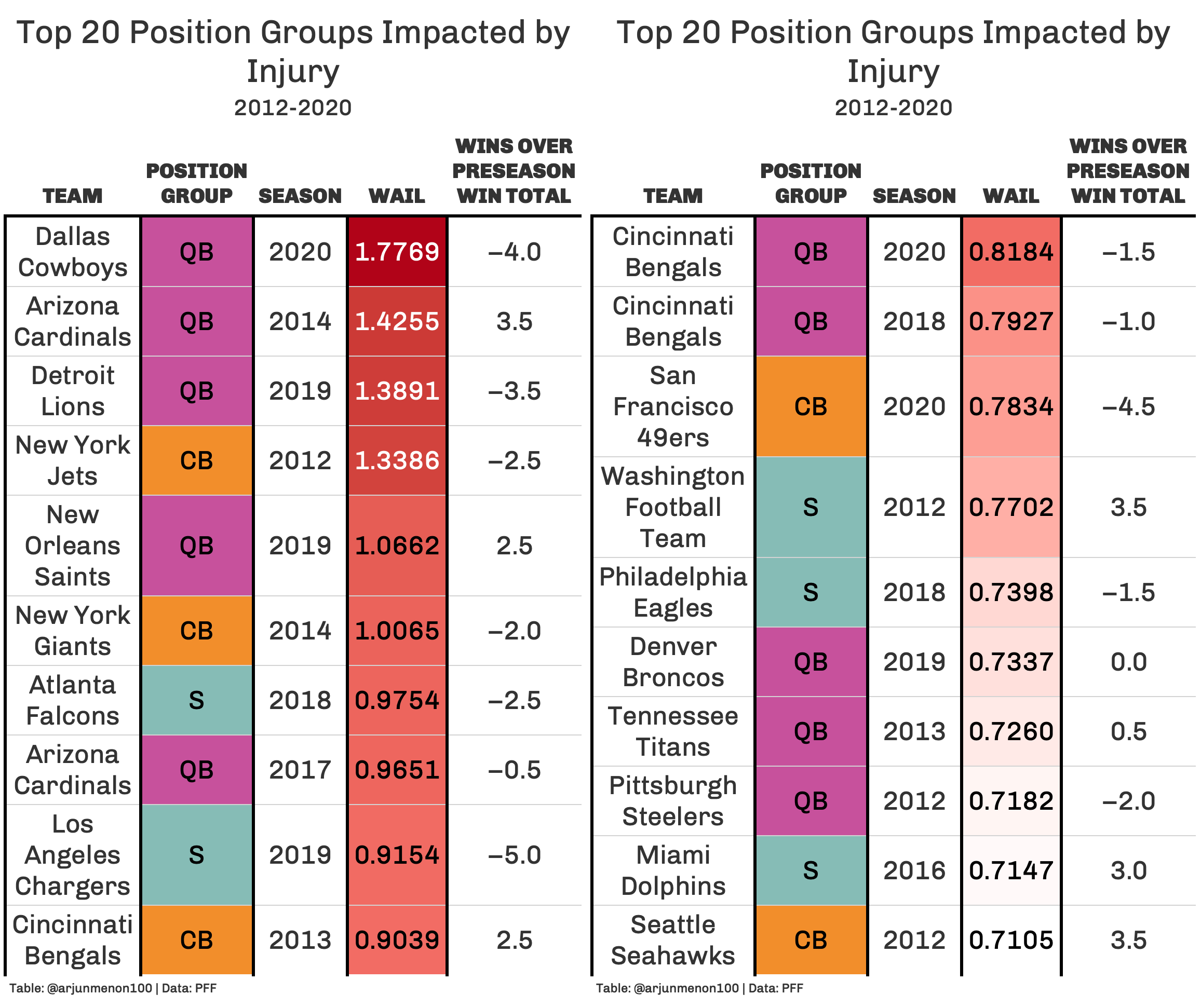 The 2020 Cowboys quarterback room had the highest WAIL of any position group since 2012. Even after losing Prescott to a season-ending injury, they also lost Andy Dalton for a short while and were forced to play Ben DiNucci and Garrett Gilbert.
The first non-quarterback team to show up was the 2012 Jets, a season in which Darrelle Revis played only two games. The previous year, Revis was the NFL's highest-graded cornerback. The only positions in the top 20 are quarterbacks, cornerbacks and safeties because they are the top three positions in WAR generated by the top 32 players.
Now, 2020 was a year like no other, and the coronavirus played a major part in that. Some teams managed to avoid major losses, while others were hit hard.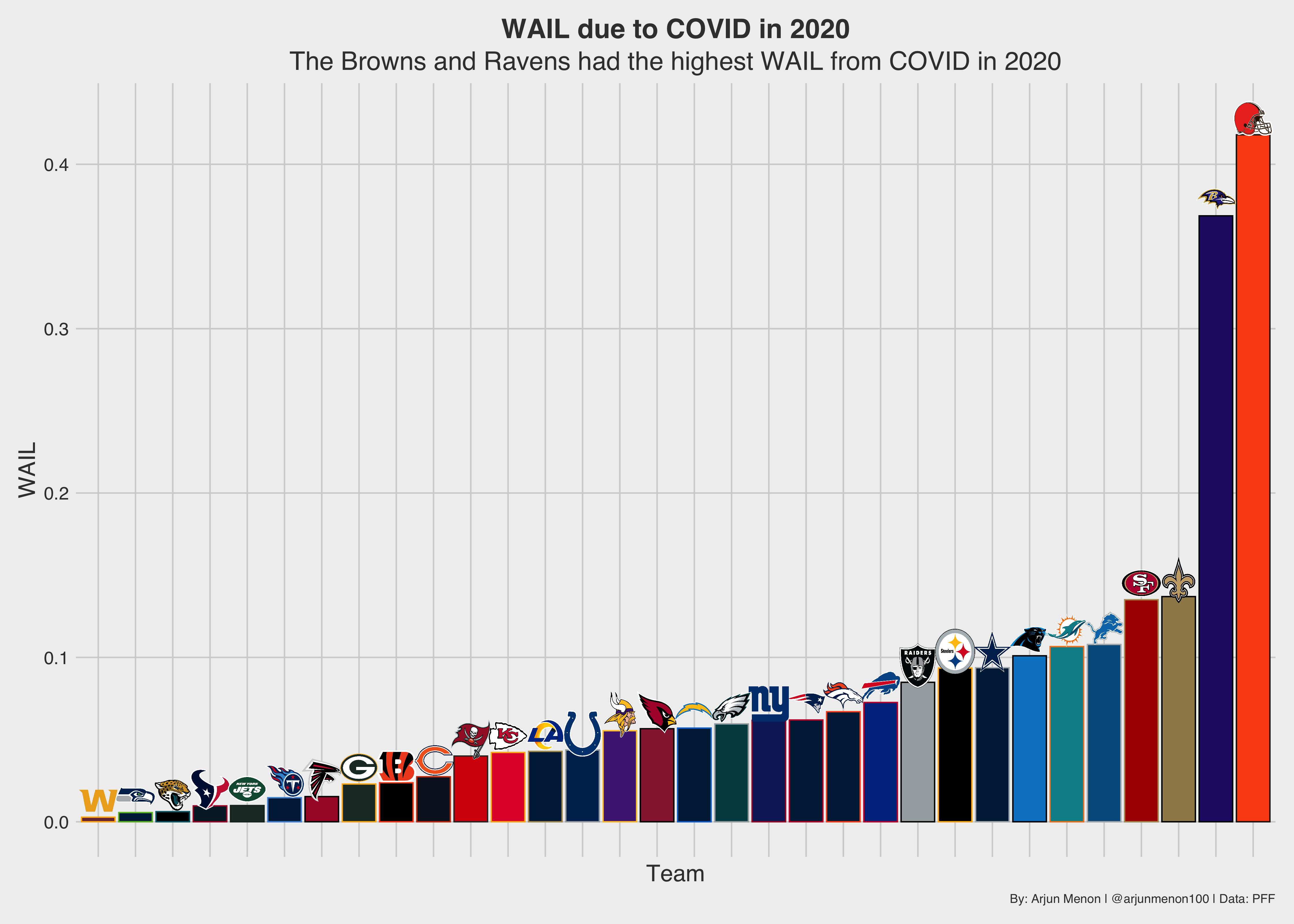 The Cleveland Browns and Baltimore Ravens finished as the top two teams in WAIL due to COVID-19, while the Seattle Seahawks and Washington Football Team were at the bottom. The Browns had Joel Bitonio and Jarvis Landry, among others, sidelined due to COVID-19, while the Ravens didn't have some of their stars, namely Lamar Jackson, Mark Andrews, Calais Campbell and Matthew Judon, for a key divisional game against the Pittsburgh Steelers in Week 12.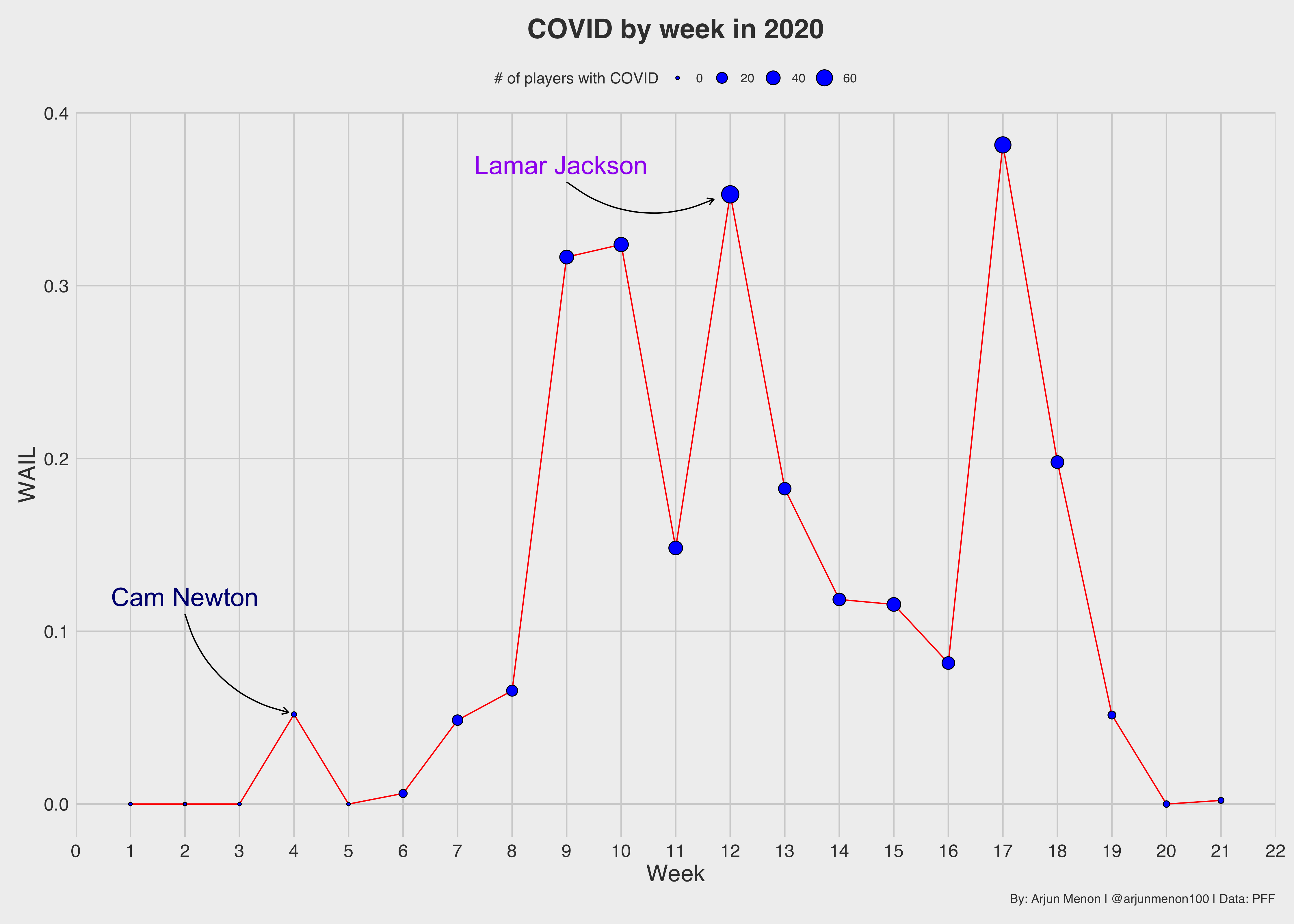 WAIL because of COVID-19 ramped up as the season progressed. Cam Newton was the first player to miss a game due to COVID-19. Despite being the only player on the COVID-19 list that week, he still had a relatively high WAIL since he was the 11th-best quarterback in expected points added (EPA) per play through Week 3. The highest point came in Week 17, but Week 12 saw the highest number of cases, with 72 players on the COVID-19 list that week.
With the NFL enforcing strict vaccination policies for the upcoming season, trends like this are important to monitor. It has been reported that most teams are trending toward the 85% vaccination mark.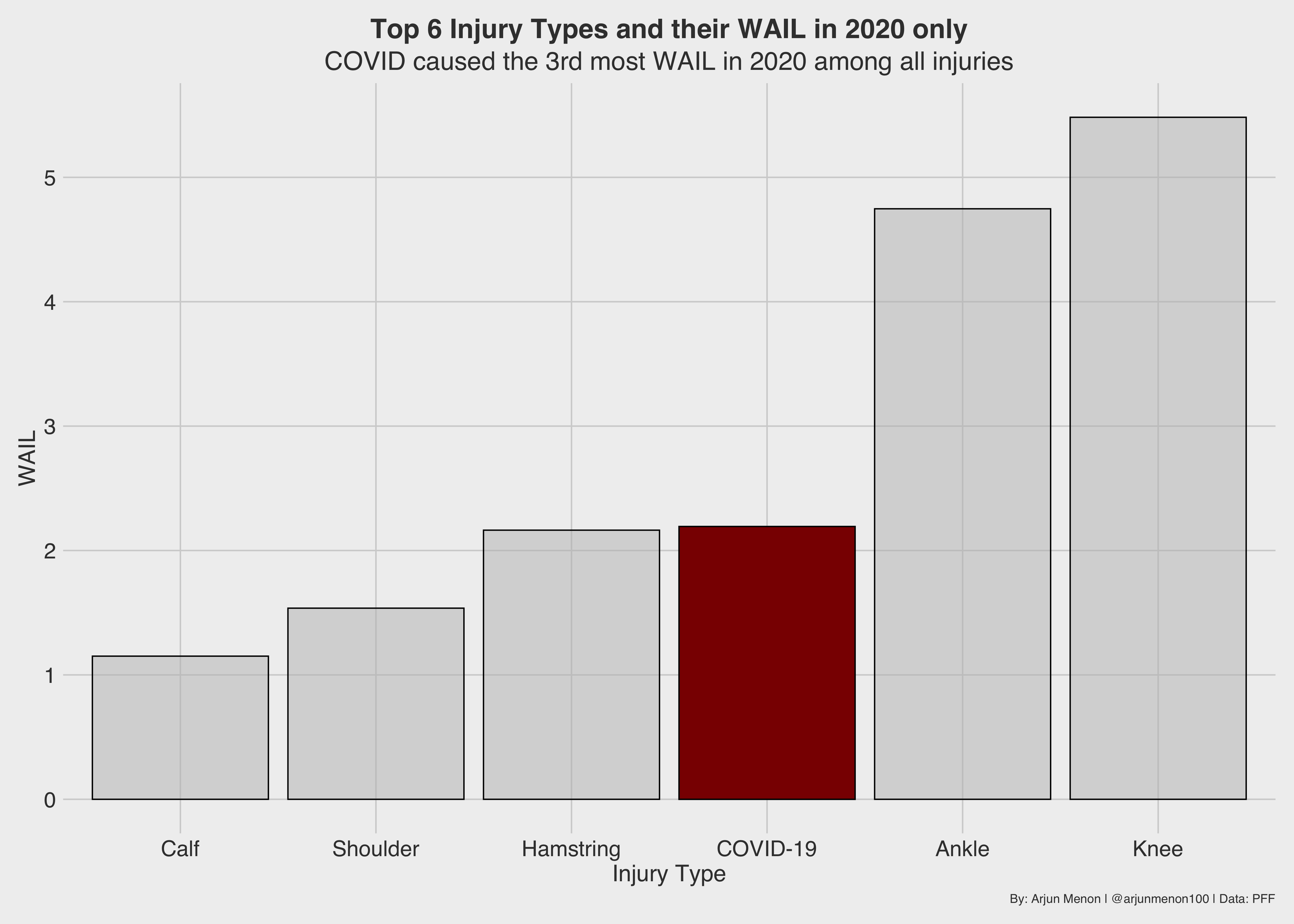 COVID-19 caused the third-most WAIL of any injury in 2020. So, with the coronavirus still prevalent, the discussion of keeping players safe and healthy amid the ongoing pandemic is again relevant for the 2021 season.
WAR-Adjusted Injuries Lost is a way to see how players and teams are affected by injuries throughout the course of a season. And the coronavirus is yet another "injury" that teams have to worry about and plan for in 2021.