PFF's 2023 QB Annual is the most comprehensive guide to the NFL's most important position. With 13-page profiles for 40 of the league's prominent quarterbacks, you'll get an in-depth look at their strengths, weaknesses and outlooks for the upcoming season.
A product of PFF's advanced grading system, ball location charting, situational grading and other wide-ranging advanced statistics, the 2023 QB Annual is now available to all PFF+ subscribers.
Download the 2023 QB Annual here.

What you can expect from PFF's 2023 QB Annual
An overview of quarterback play from 2022: If you are a PFF regular, you already know we analyze quarterbacks in incredible detail. Our exclusive database of performance metrics gives us unique insights into the state of quarterback play around the NFL.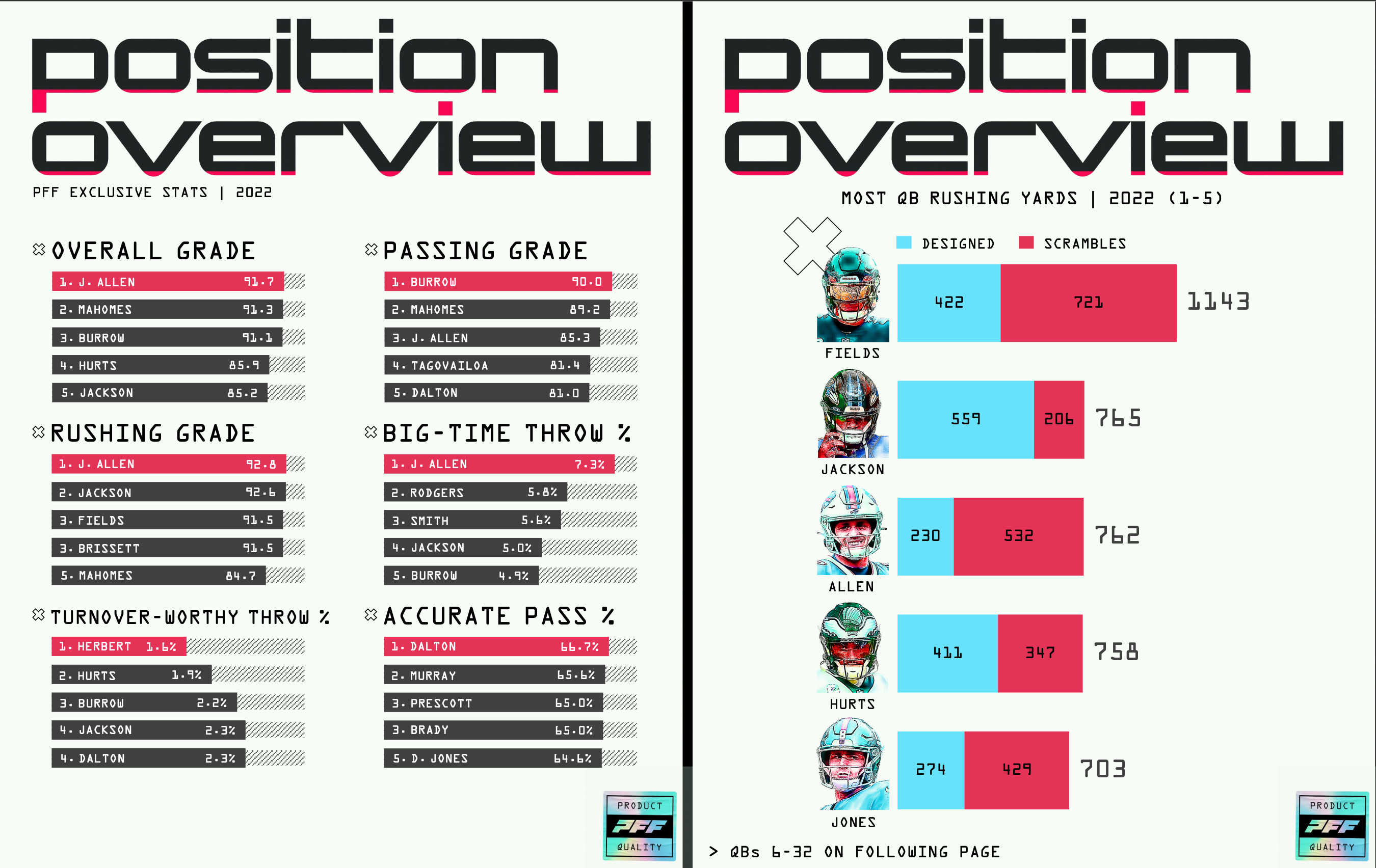 An unprecedented look at the league's best: The basic tenet of PFF's grading has always been to try and isolate the play of the quarterback from the rest of the team, giving you a true reflection of what they did, regardless of the result of the play.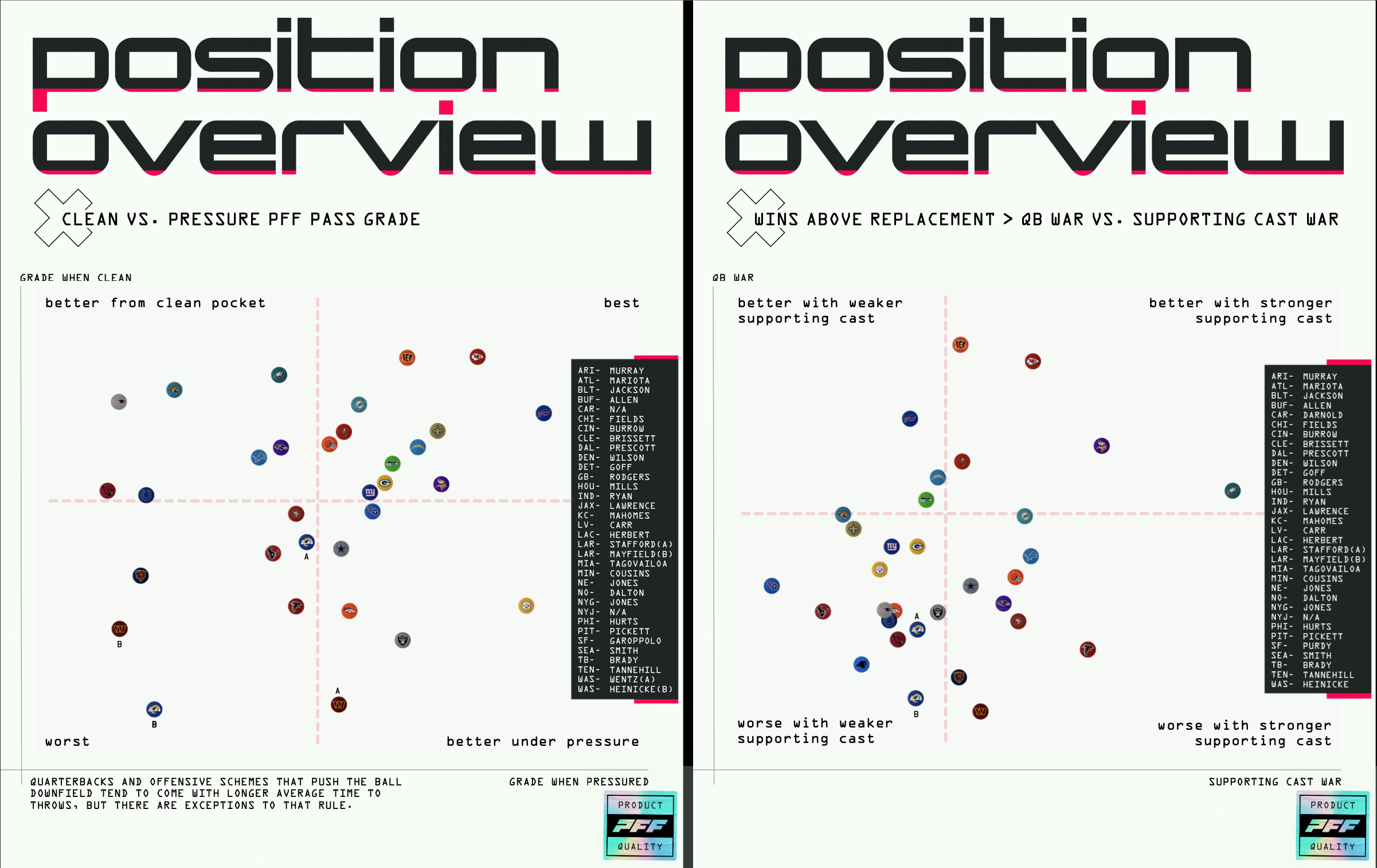 13-page player profiles: Each profile has a 13-page spread that includes PFF data points you won't find anywhere else. Each profile starts with the quarterback's box score stats and game grades from the 2022 season.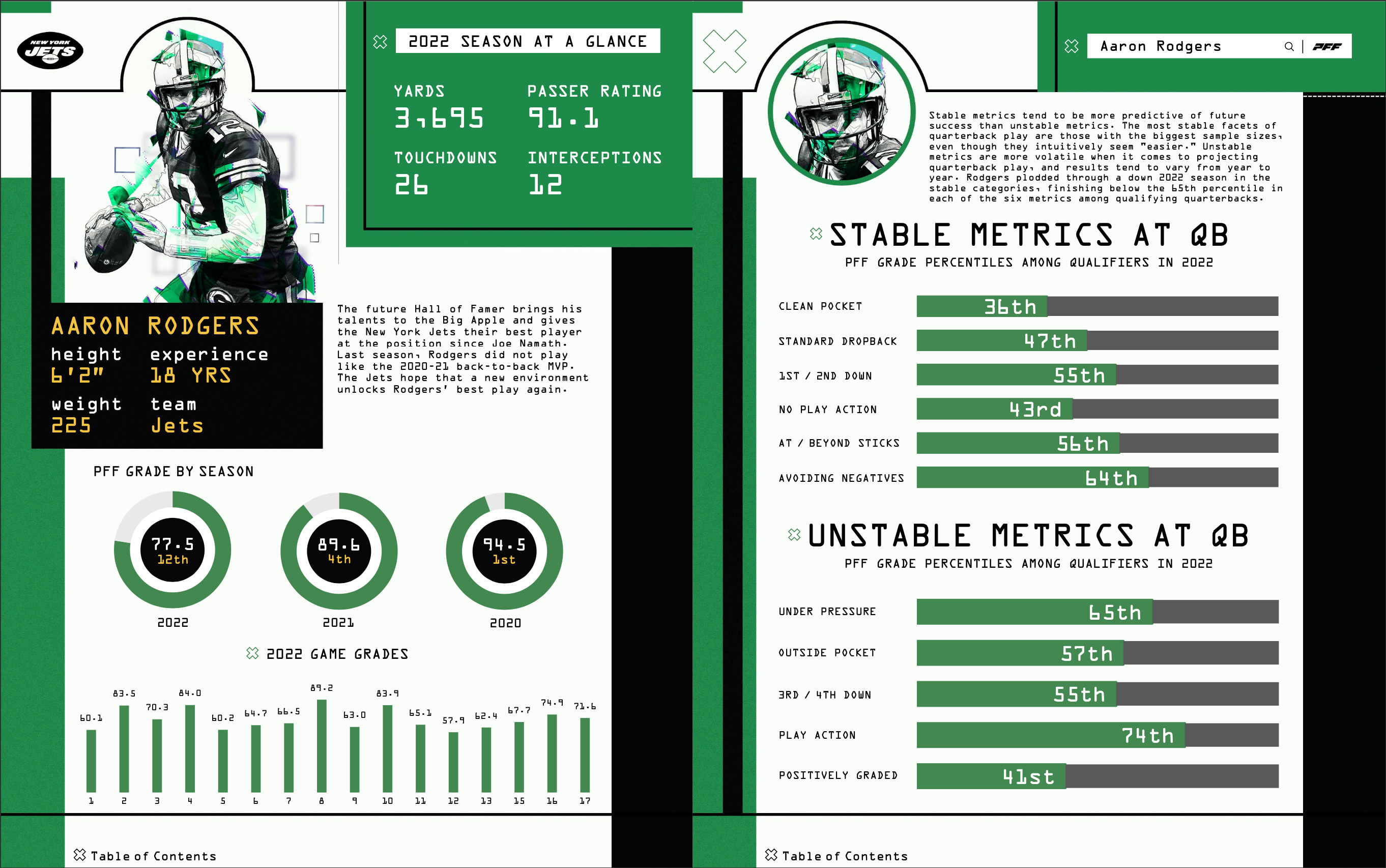 Stable and unstable metrics: Stable metrics tend to be more predictive of future success than unstable metrics. The most stable facets of quarterback play are those with the biggest sample sizes, even though they intuitively seem "easier." Unstable metrics are more volatile when it comes to projecting quarterback play, and results tend to vary from year to year.
Situational stats: PFF's situational stats show how each quarterback performed in different game situations, such as from a clean pocket, against the blitz, on plays with play action and much more.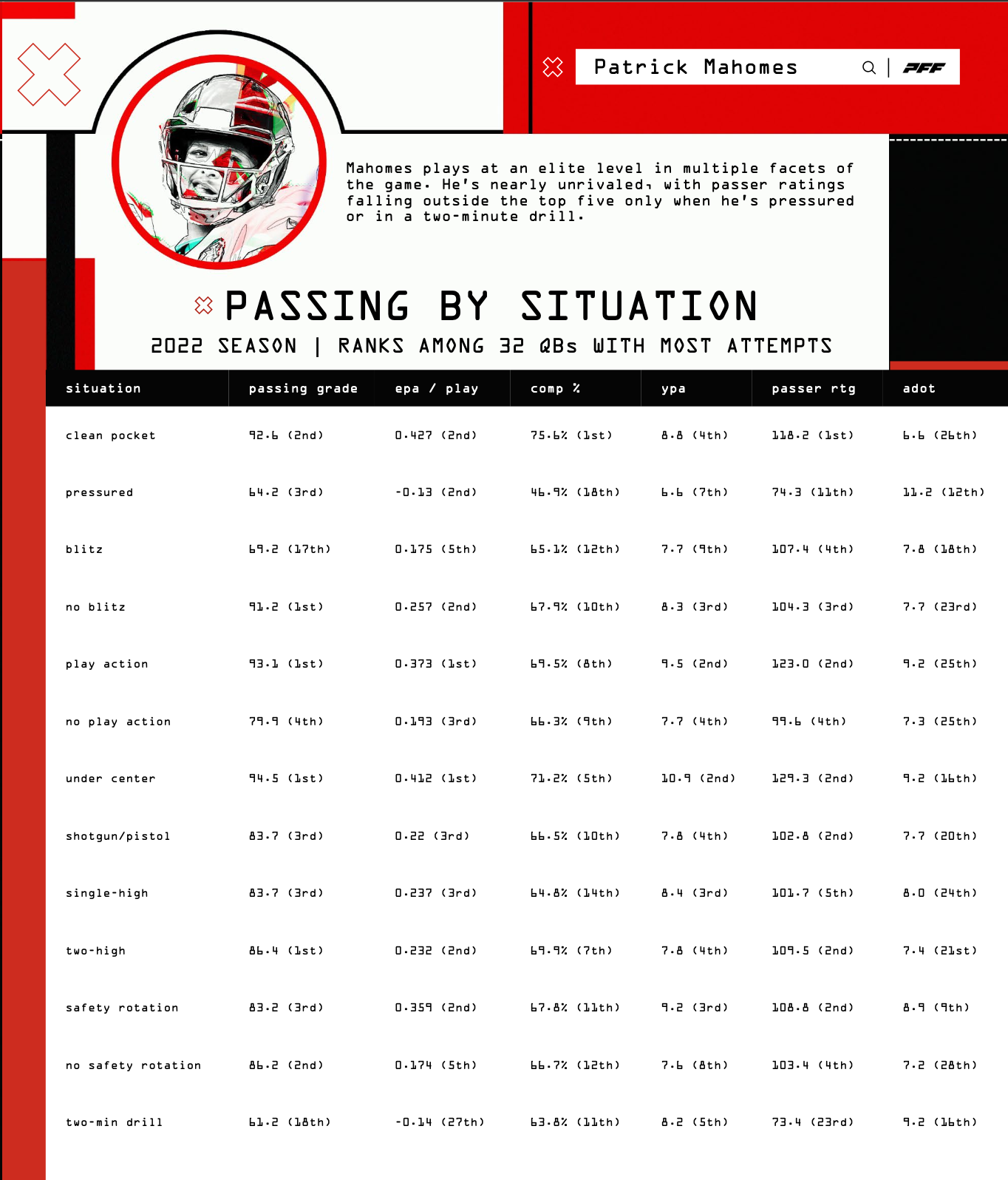 Throw-by-throw analysis: We break down each quarterback by throw type, so you can see how the league's signal-callers perform across multiple throw types and concepts.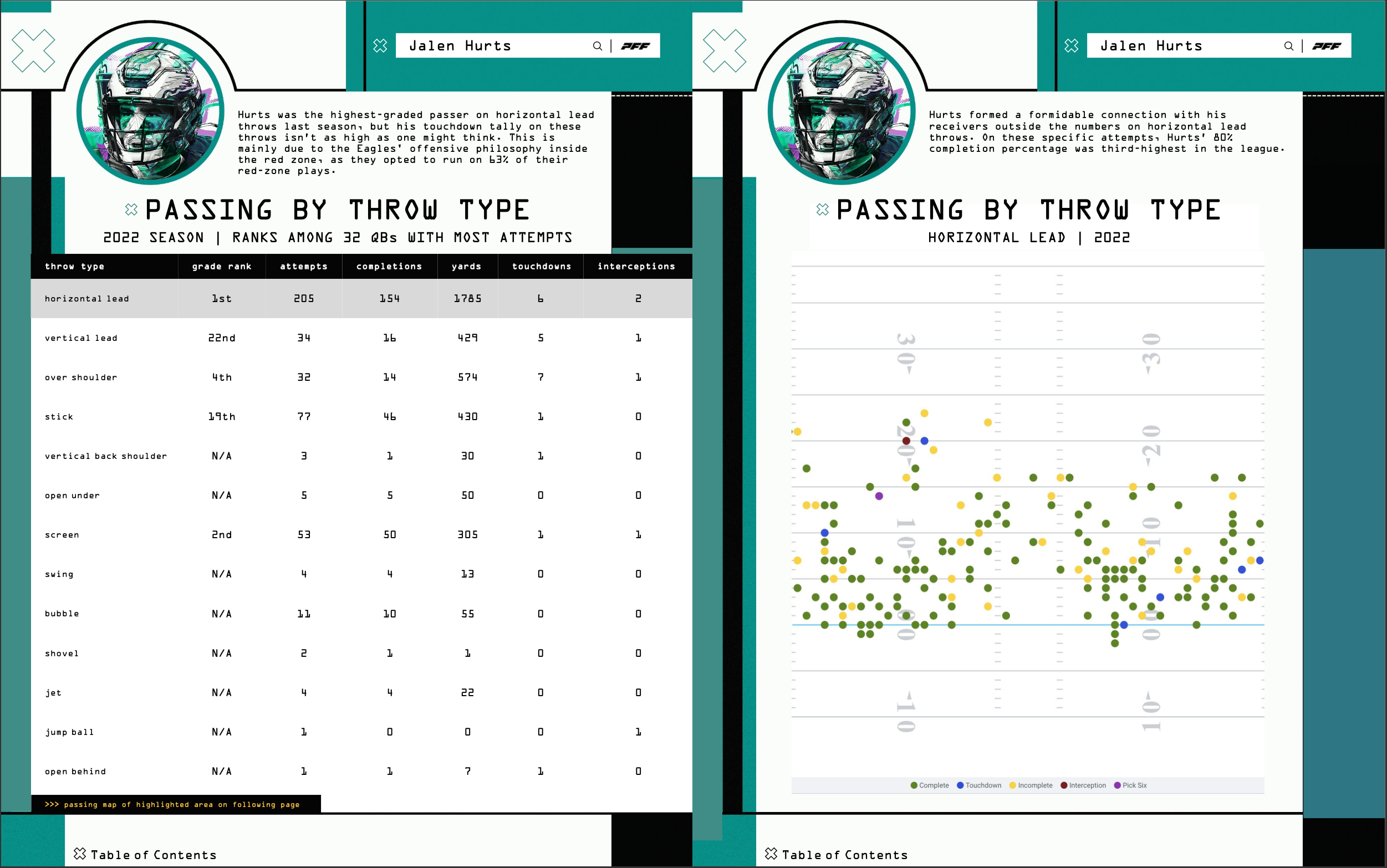 Industry-leading accuracy metrics: PFF tracks the actual ball location for every NFL quarterback and select draft-eligible quarterbacks. Did the QB put the slant route on the front number for optimum yards-after-the-catch opportunity? Did he hit him with an accurate pass on his frame? Did he leave it in a catchable spot but in a less-than-desirable YAC location? We answer these questions and more with PFF's advanced quarterback analysis.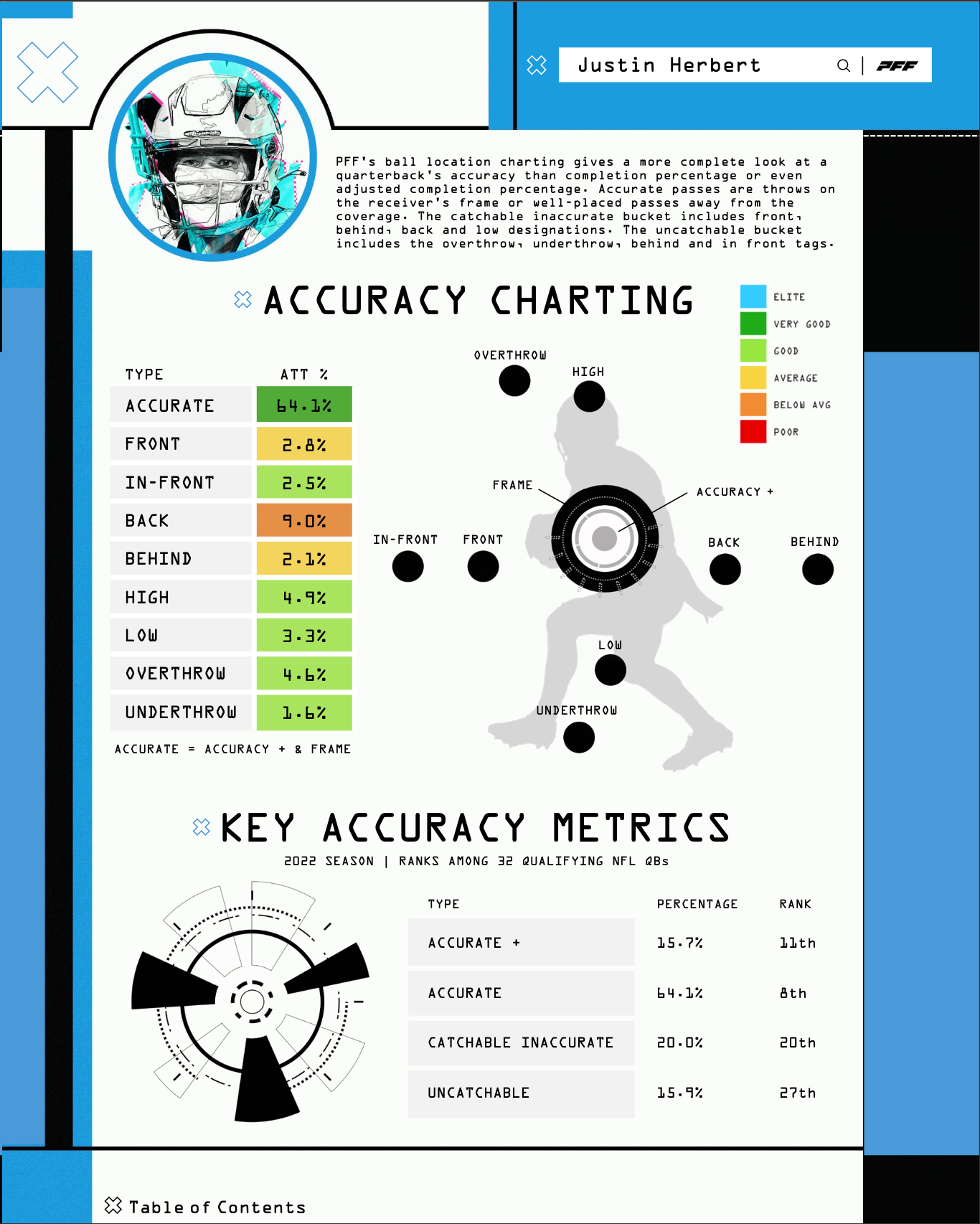 Time-to-throw data: A quarterback's time to throw measures the time, in seconds, from the snap to one of three outcomes: the quarterback releases the ball on a pass attempt, is under the control of a defender on a sack or passes the line of scrimmage on a scramble. A longer average time to throw tends to create more volatility in the passing game with both more negatives (stemming from pressure) and positives (explosive plays) than on a passing offense that prioritizes getting the ball out quickly.
Target-depth analysis: Average depth of target measures the distance, in yards, that a quarterback's passes travel past the line of scrimmage on average. Higher aDOT figures are typically associated with lower completion percentages, as the quarterback is usually taking more "low-percentage" chances downfield.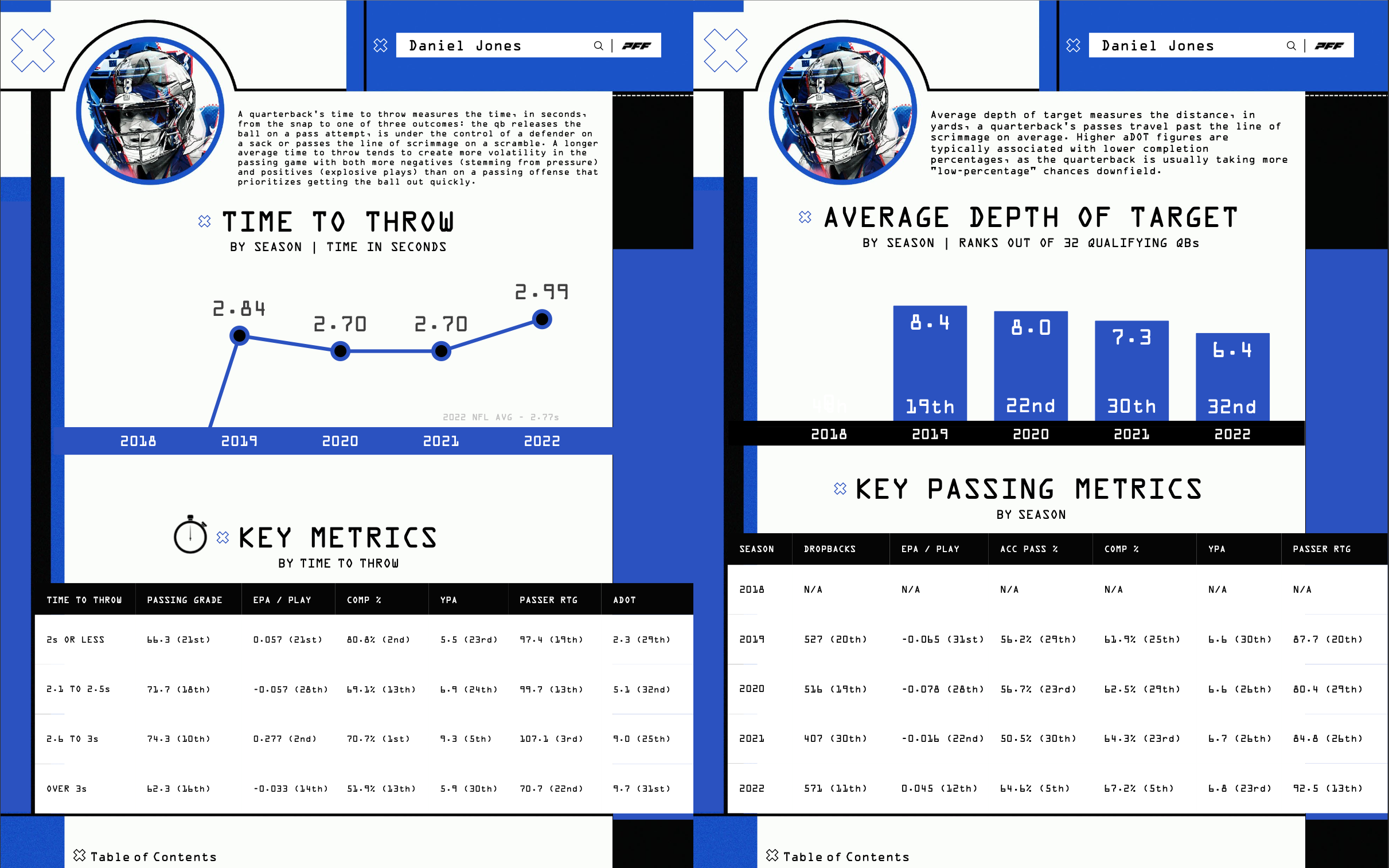 The 2023 QB Annual is the perfect resource for any NFL fan who wants to learn more about the league's most important position. Download your copy today!