The increase in dominant outside receivers makes it all the more important for NFL defenses to invest in top-tier outside cornerbacks — the guys who are tasked with shutting down opposing passing attacks.
Below are PFF's top 32 outside cornerbacks entering the 2022 NFL season, starting with Los Angeles Rams star Jalen Ramsey. Keep in mind that the cornerback position has a steep learning curve, hence why some of the 2022 NFL Draft's promising rookies didn't make the cut.
Tier 1: Elite
Ramsey generated 1.37 PFF Wins Above Replacement (PFF WAR) in his two full seasons with the Rams, making him the NFL's most valuable cornerback over that span. And no other cornerback even crossed the 1.0 WAR mark.
The seventh-year Florida State product has graded out above 70.0 in every year of his career, allowing a passer rating of only 78.0 into his coverage. He can move seamlessly from the inside to the outside while sustaining high-end play, and that's not easy. The 6-foot-1, 208-pounder is actually the only defensive back with an 80.0-plus coverage grade from the slot and outside since 2020.
Alexander was the best cornerback in the NFL in 2020. He led the position in PFF grade (90.7) while allowing just 353 yards on 76 targets and tallied a combined 17 pass breakups and interceptions, locking down his side of the field.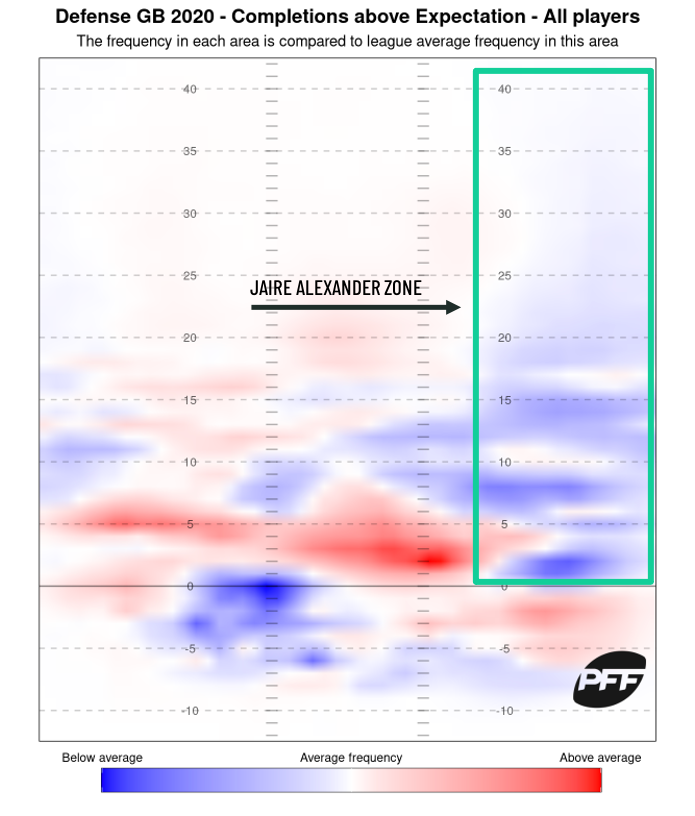 Unfortunately for Alexander, injury limited him to 227 snaps in 2021 and prevented him from building on that exceptional year. Still, the Louisville product has excelled in one-on-one situations throughout his career, leading the league in single-coverage grade since 2018. 
Terrell was one of the biggest breakouts of the 2021 season — and the lone bright spot on Atlanta's weak defense. The 2020 first-round pick allowed an NFL-leading 0.37 yards per coverage snap — a mark that was just one-hundredth of a yard off from the single-season PFF record owned by Asante Samuel (2010) and Nnamdi Asomugha (2008). He's proving to be a scheme-versatile player with elite movement skills, speed and discipline. The former Clemson Tiger has developed into a reliable island corner, too, shutting down Mike Evans, Antonio Brown and D.J. Moore last year.
Jackson was a true ballhawk for the New England Patriots, which led to him signing a monstrous five-year contract with the Chargers this past offseason. Chargers head coach Brandon Staley now has a cornerback who can help out in man coverage when they rotate from two-high safeties to Cover 1 post-snap, as they did often last season.
The former Patriot ranks second in man coverage grade since 2018. He has intercepted 19 passes in man coverage over that span — five more than the second-place player and twice as many as third place. His mirror ability and poise at the catch point make him a nightmare to throw at.
Since entering the league as a 2017 first-round pick, Lattimore ranks in the top five in separation rate and has racked up more forced incompletions (38) in man coverage than any other cornerback. Last season was the best of his career from a value perspective, as he produced 0.61 PFF WAR — the third-most among NFL cornerbacks.
Most forced incompletions in a game since 2016 (per @PFF)

????. ???????????????????????????? ???????????????????????????????????? ('???????? ???????? ???????? ????????????) – ????
2. David Amerson ('16 W3 at TEN) – 6
3. Jaire Alexander ('18 W8 at LAR) – 5
3. Kyle Fuller ('17 W6 vs CLV) – 5 pic.twitter.com/evkJW1m9GO

— Anthony Treash (@PFF_Anthony) October 11, 2021
"Big Play Slay" is coming off the highest-graded season of his NFL career. He played far less at the line of scrimmage and worked in off-zone more than in any other season of his tenure, and it paid dividends.
Slay was rarely caught out of position and didn't let anything up for most of the season. His 86.2 coverage grade as an outside cornerback led the NFL, and he ranked 11th in both yards allowed per outside-coverage snap (0.79) and percentage of outside targets to result in a first down or touchdown (29.4%). While Philadelphia's new defense struggled at times, it continues to bring out the best of Slay.
Howard is one of the best man-cover cornerbacks in the league. Since Miami shifted to being a man coverage team in 2020, the 6-foot-1, 192-pounder has led the NFL in coverage grade in press-man. He has intercepted seven passes and forced 10 incompletions in man coverage over that span, and he's given up only 17 combined first downs and touchdowns.
White is eying a bounce-back 2022 season after tearing his ACL during Buffalo's Week 12 Thanksgiving game in 2021. Before his injury, the 5-foot-11, 192-pounder had been nothing but stingy in coverage. He ranks third among qualifying cornerbacks in yards per coverage snap allowed since entering the NFL in 2017 (0.87). White can get overly physical from time to time, but he consistently stays glued to his opposition and doesn't often let up freebies. 
There's an argument to be made that Humphrey is better suited for the slot cornerback list (where he would claim the top spot), but he lands here because he has played more snaps on the outside since taking on a versatile role. The Alabama product ranked second only to A.J. Terrell in completion percentage allowed on the outside last season (47.8%). His grade on the outside ranks in the 62nd percentile since 2018, while his slot grade places in the 91st percentile.
---
Tier 2: On the cusp of elite
Ward is among a handful of NFL cornerbacks who can be trusted in one-on-one situations, a constant since the Browns drafted him fourth overall in 2018. Over the past four years, Ward ranks second among cornerbacks in single coverage grade, first in catch rate allowed (36.0%) and second in yards per target (5.37). He sticks to his receiver like glue and won't get beat deep thanks to his speed. 
One year into his NFL career, Surtain is only scratching the surface. He is an advanced technician who looked well beyond his years as a rookie. The 2021 top-10 pick allowed over 60 yards just once last season and led the draft class in combined interceptions and pass breakups (12). The 6-foot-2, 202-pounder earned a few poor game grades early on, but he soon righted those wrongs. From Week 7 on, he was one of the 25 highest-graded cornerbacks in the NFL. Surtain could take an A.J. Terrell-esque leap to elite status in 2022.
Jackson has been a brick wall on his side of the field over the past few years. Among qualifying corners since 2019, he boasts the fifth-lowest target rate (12.0%), sixth-most passing stops (29) and second-fewest yards per coverage snap (0.69). Quarterbacks are largely avoiding him in coverage, and he's blowing up anything underneath him when given the opportunity. While the Tennessee Titans did cut him in the middle of that stretch, the data speaks for itself. Jackson earned a top-five coverage grade in his first season with the Giants in 2021 and will eye elite-level play in 2022 and beyond at the Meadowlands. 
Davis' size and physicality allow him to be a pass-breakup machine. No cornerback has forced more incompletions over the past three years of regular-season action than him (45). Davis also leads the league in contested targets forced in that span (71) and has made more than double the number of plays on the ball as first downs or touchdowns allowed on such plays.
Dean is the shining star of the 2019 cornerback class. Despite being a fringe top-100 pick in that draft, the Auburn product leads the class in career outside coverage grade (87.8). Dean has allowed just 0.75 yards per coverage snap on the outside in his career, trailing only Richard Sherman and Adoree' Jackson for the best in the NFL.
---
Tier 3: Veterans with juice still in the tank
The 29-year-old Peters is coming off a torn ACL suffered right before Week 1 of the 2021 season, ending his campaign prematurely. When he is healthy, though, there's no denying he is liable to produce at a top-tier level. He's been nothing but a heady, physical playmaker in his NFL career. Since 2015, no cornerback has tallied more combined pass breakups and interceptions than Peters (83). And remember, he holds this spot even despite not playing a down in 2021. Peters is still prone to slip-ups given his aggressive nature, but he makes up for it with big plays.
After being the clear-cut best cornerback in the NFL in New England from 2017 through 2019, Gilmore's past couple of seasons haven't gone as planned. A handful of injuries prevented him from playing a full workload in 2020 and 2021 with the Patriots and Panthers, respectively. He was still a good cover cornerback in that span, earning a 67.8 coverage grade when on the field, but his ball production and overall man-to-man ability fell short of the previous standard he set. Now with the Colts, Gilmore will benefit from playing less man coverage. Regardless, he's not going to be a liability out in Indy.
The underrated Hayward has been the NFL's most valuable cornerback since 2016, according to PFF WAR, with all but one of those seasons being played under defensive coordinator Gus Bradley.
Most valuable cornerbacks since 2016
| | |
| --- | --- |
| Player | PFF WAR  |
| 1. Casey Hayward Jr., Atlanta Falcons | 3.04 |
| 2. Jalen Ramsey, Los Angeles Rams | 3.02 |
| 3. Stephon Gilmore, Indianapolis Colts | 2.31 |
Even at 32 years old in Las Vegas last season, the 5-foot-11, 192-pounder allowed less than 30 yards in 15 of his 18 games played. How Hayward will fare in a new system as he enters his older football years in Atlanta will be something to monitor. Going from a system that had him play Cover 3 roughly 60% of the time to something more diverse isn't going to be easy, but his top-tier coverage ability is unquestionable.
---
Tier 4: Good players with boom-or-bust tendencies
Awuzie joined Cincinnati in 2021 and put together the best season of his career, generating 0.45 WAR (11th among cornerbacks). He does his best work in zone coverage, where he can use his feel and explosiveness to his advantage. Awuzie's 14 passing stops in zone last season were the second-most among outside cornerbacks. He may not be a shutdown defender, but he's going to get the job done on a weekly basis.
Fuller transitioned from one of the league's best slot corners to a formidable outside player with Washington. Since 2020, he ranks in the top 20 in outside coverage grade (75.3), forced incompletion rate (15.4%) and passing stops (17). The 5-foot-11, 198-pounder really took his play to another level in 2021, establishing himself as the highest-graded cornerback in the NFL from Week 8 on.
Jones converted from safety to outside cornerback in Dallas in 2018, and it did wonders for his career. His 86.5 coverage grade from 2018 to 2019 made him one of the five highest-graded cornerbacks in the NFL. But after signing a big contract with Miami, Jones has struggled to keep up with that grading pace. While his coverage grade sits at 65.2 since 2020, he plays an incredibly difficult role in Miami, a defense that played more man coverage than any other team the past two seasons. Regardless, Jones has still been among the 30 most valuable cornerbacks since 2020.
Risk-taking is Diggs' game. Sometimes it works, sometimes it doesn't. His 11 interceptions in 2021 led the NFL, and his 11 forced incompletions tied for 11th. At the same time, the Alabama product ranked worst in the NFL in yards allowed (1,068) and penalties (11). Diggs isn't going to lose many battles at the catch point due to his length and ball skills. But while his aggressive playstyle leads to high ball production, it also leads to busts, which is why he likely won't place much higher than he does here — a still-excellent spot to be in.
Bradberry enjoyed a career year in his first season with the New York Giants in 2020. He turned in a 79.8 PFF grade, well over 10 grading points ahead of his previous career-best. Unfortunately, Bradberry reverted to his older form in 2021 and saw his grade fall 17 grading points. He still ranked well above the 50th percentile in outside coverage grade thanks to 17 combined pass breakups and interceptions, but he also tied for the most touchdowns allowed (8). The new Eagle will always be a productive player, given his physicality, but it's going to come with some bust tendencies.
Reed's NFL career took off in Seattle at outside cornerback after he spent two years in San Francisco playing safety and nickel with limited reps. Since 2020, the 5-foot-9, 188-pounder ranks ninth in the NFL in outside coverage grade. Reed will now try to sustain that level of play in 2022 with the Jets, reuniting with former defensive coordinator Robert Saleh in a defense he has great familiarity with. While the 2018 fifth-rounder has the requisite length despite being on the shorter side, he still is scheme-limited and not a cornerback you want playing straight press-man. Reed will have to do a little bit more of that in New York, but it shouldn't be too drastic to ruin his current trajectory.
Jackson's elite 90.2 PFF grade in his first year starting in 2017 with the Bengals was a perfect start to his NFL career, but he hasn't been able to sustain that level of play. In fact, the now-Washington Commander has posted two sub-60.0 PFF grades in his past four years amid up-and-down game performances. Jackson has shown more consistency when tasked with playing at the line of scrimmage in press-man. He's played the sixth-most press-man coverage snaps over the past four years and ranks sixth in coverage grade on such reps.
Griffin's five-year NFL career has been a bit of a rollercoaster. His resume includes single-season PFF grades as high as 78.0 and as low as 50.7. This past year with Jacksonville — Griffin's first outside of Seattle — ended in a 72.0 mark that ranked 20th of 120 qualifiers. That grading volatility stems from his man coverage ability. He ranks 18th in career coverage grade in zone coverage but fifth-to-last when playing man-to-man.
Williams is fresh off signing a three-year, $39 million deal with the Jaguars after four seasons with the Los Angeles Rams. After two years riding pine, the 5-foot-9, 187-pounder broke out in Year 3 in 2020. Williams ranked fourth among cornerbacks in PFF grade for the 2020 season while allowing under one yard per coverage snap and producing 16 combined pass breakups and interceptions. He's since struggled to keep up with that pace. His PFF grade fell by nearly 20 grading points year over year in 2021, although that is seemingly his floor — a small silver lining. Williams may be undersized, but that's not going to stop him from being a playmaker for the Jaguars, regardless of whether he continues to play on the outside.
---
Tier 5: Up-and-comers
Newsome is set to take over slot cornerback duties for the Browns in 2022. But because he played just 18 snaps there in college and 102 snaps inside as a rookie in 2021, he sticks here in the outside rankings until he plays a meaningful slot role. 
Playing predominantly on the outside in 2021, Newsome looked far from a rookie. He flashed advanced one-on-one ability in single coverage, earning a top-10 PFF grade on such reps for the season. The Northwestern product has smooth movement skills and the traits to be a top-tier cornerback in the NFL on the outside — that is, if Cleveland wants to play him there.
Mild panic set in once the media saw Johnson running with the second-team unit during OTAs, but head coach Matt Eberflus said it was nothing to look too much into. Johnson has already shown enough for his ceiling to be a true CB1. Despite snagging just one interception since entering the league in 2020, the 6-foot, 195-pound cornerback ranks eighth in forced incompletion rate (15.3%) since then. If Johnson can reel in his occasional over-aggressiveness, he can significantly climb these rankings.
Stokes surprised many in his rookie 2021 campaign. While he was a first-round pick, the Packers were thought to have reached on the Georgia product. We now know that was far from the case. The 6-foot-1, 185-pounder finished 2021 among the 25 most valuable cornerbacks in the NFL, according to PFF WAR. He allowed the lowest rate of separation on his targets leaguewide (24.0%) and ranked 15th at the position in yards per target (5.9). All the press experience he got in college is paying off, with him allowing just seven receptions on 27 targets when playing in press.
After a light workload of mostly slot snaps as a rookie, Fulton finally got a chance to showcase his outside skill set in 2021. He proceeded to post a top-25 coverage grade from that position. Fulton showcased innate playmaking ability with two interceptions, a 16.7% forced incompletion rate (10th among outside cornerbacks) and 12 passing stops (tied for 11th). He is at his best when things are kept in front of him, which is what Tennessee's defense asks of him.
Fenton has quietly been highly reliable over his three-year NFL career. Despite being a sixth-round pick in the 2019 NFL Draft, the former South Carolina Gamecock owns the second-highest career coverage grade among cornerbacks in that class (83.0). He fell in the draft partly because of subpar physical traits for NFL standards, but that hasn't been an issue. His tackling stands out more than any other part of his game, as he has missed just twice on 103 attempts since 2019.
Douglas was a pleasant surprise for the Packers in 2021. With injuries mounting in the cornerback room, Green Bay signed him midyear off Arizona's practice squad out of necessity. He proceeded to post a career-high 77.2 coverage grade — a top-10 mark among qualifying cornerbacks. Douglas racked up five interceptions (two pick-sixes) and seven pass breakups in 13 outings en route to a three-year, $21 million extension with the Packers. All that being said, it's important not to put too much stock into a small-sample Year 5 breakout. While Douglas made some incredible reads from off-zone coverage that led to big plays in 2021, he'll need to stay productive to climb up this list given how he fared in his first four NFL seasons.