The NFL offseason is the time for teams to fill any holes that hindered them during the 2019 season. For a great many teams, those holes came along the offensive line. Luckily, there is a relatively strong class of draft prospects and free agent options up front who can step in and provide much-needed consistency.
These 20 offensive linemen are some of the top names available, broken down into four categories: high-end players who should play well early (Blue Chips); players who won't cost quite as much as the top options but should still perform at a solid level (Mid-Tier); guys who will be taken too early in the draft or given risky, over-sized contracts (Buyer Beware); and, lastly, linemen who could be potential values (Undervalued). 
The Blue Chips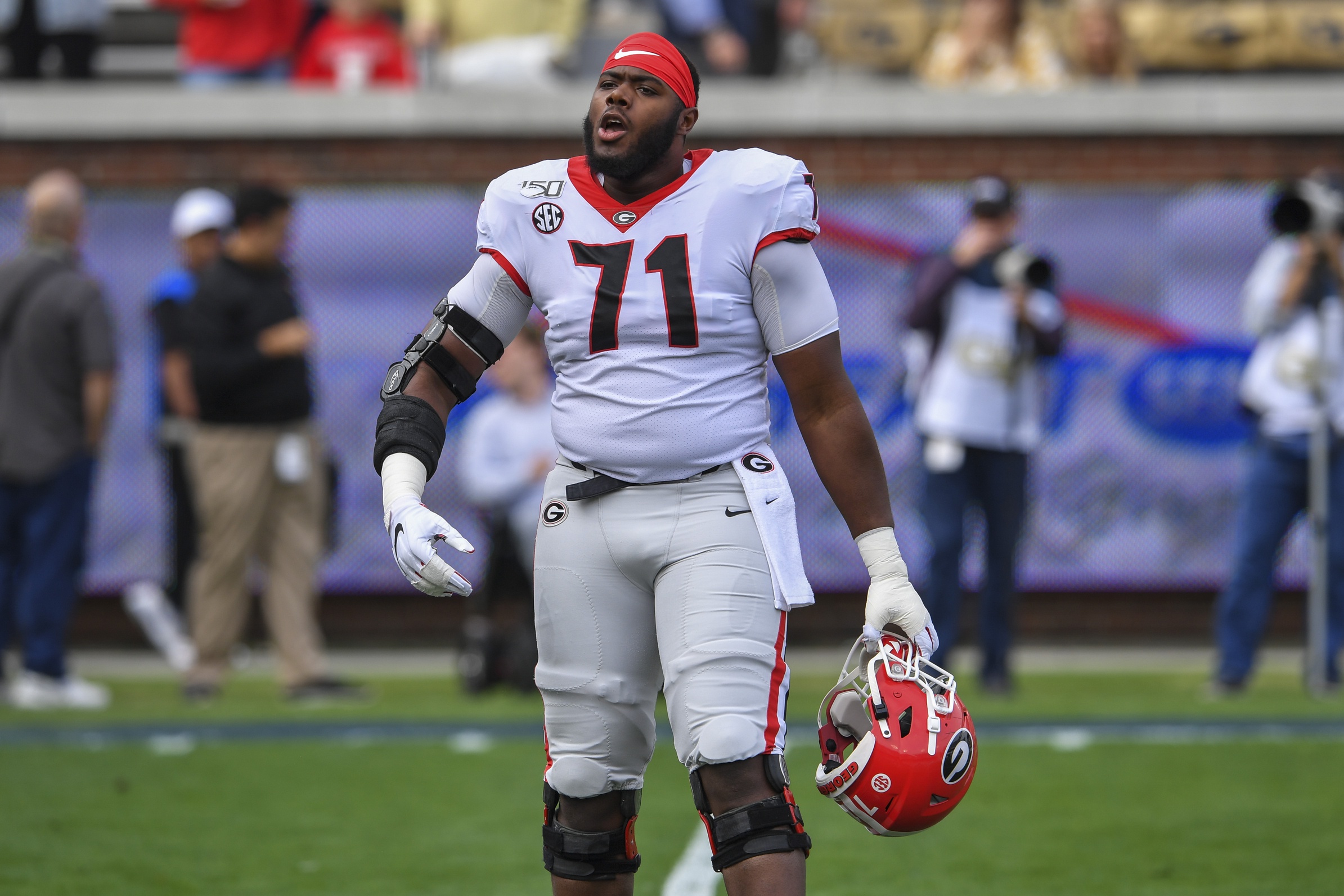 Thomas is PFF's top-ranked offensive tackle heading into the 2020 NFL Draft, narrowly beating out the likes of Wills, Jones and Wirfs. As such, he's one of the very best options available for tackle-needy teams, but he will come off the board early come April 23. Thomas has been a three-year starter for the Bulldogs, and he has seen massive improvement each season in Athens. He graded out at 68.4 overall as a freshman in 2017 then improved to 80.6 overall during the 2018 season, seeing his biggest leap come in the run game. And he finished off his collegiate career with an overall grade of 92.4 last season.
Thomas was dominant in both pass protection (89.0 pass-blocking grade) and as a run blocker (91.3 run-blocking grade). On top of the consistent production, he has the kind of strength and agility you look for in a top tackle. If you're taking a swing at the position early, Thomas is one of the safer bets in the class. 
From an athletic perspective, there aren't too many tackles who can impress like Wills. As PFF lead draft analyst Mike Renner described him in the PFF Draft Guide: "Explosive no matter what he is doing. Moves more like a defensive lineman than an offensive lineman." This past season at Alabama, Wills showed dominance in the run game with that athletic ability. He earned a 90.1 run-blocking grade, pairing it with a 79.8 pass-blocking grade that was nearly equal to what he recorded during the 2018 season (77.9). The combination of physical traits and strong production in a conference like the SEC makes Wills one of the top available options this offseason. 
Wirfs is a freak of an athlete. He won the shot put and discus titles in consecutive years at the high-school level. He broke the Hawkeyes' hang clean record — previously set by Brandon Scherff — at 450 pounds. Wirfs has used that athleticism well over his three-year career as a starter on the Iowa offensive line. It wasn't always pretty, as he picked up an overall grade of just 59.3 as a freshman in 2017, but he slowly improved each year to the point that he was one of the highest-graded tackles in college football this past season with a grade of 91.3. In that regard, Wirfs' career mirrored Thomas as a three-year starter who improved each year until he graded among the position's elite as a junior. His length isn't exactly ideal, but that takes a back seat if you can block the guy in front of you, as Wirfs has shown the ability to do. 
When it comes to experience, Jones has the most of this group of four offensive tackles at the top of PFF's draft board as a four-year starter for Houston. Until this past year, however, Jones had the look of only a solid collegiate starter, posting grades between 66.2 and 77.5 from 2016 to 2018. He wasn't seriously on the radar for an early appearance in the NFL draft until his senior season, when he posted an overall grade of 93.2. There are some things to clean up with his technique at the next level, but the fact that Jones managed to dominate like he did in 2019 with flaws in his game is promising for his future in the NFL. 
Chris Ballard announced on Tuesday that Castonzo will be returning to Indianapolis for the 2020 season. If he and the Colts hash out a new deal, the team will be locking down the surest thing on the market either in the draft or free agency. Castonzo is especially strong in pass protection, where his 84.4 grade ranked eighth at the position last season — his grade in "true pass sets" ranked fifth. Discounting his rookie season in 2011, Castonzo has recorded an overall grade between 76.9 and 84.2 on 800 or more offensive snaps every year of his career. This type of high-level consistency at the tackle position isn't commonplace, and it makes Castonzo the safest free agent option at tackle this offseason.
At just 25 years old and coming off a 2019 season in which his 80.6 overall grade ranked fifth among 39 qualifying right tackles, Conklin is going to make some money this offseason. He's the best right tackle on the market — as such, he will be highly coveted. That could make it difficult for the Tennessee Titans to retain him along with with players such as Ryan Tannehill and Derrick Henry (whom they will likely try to re-sign whether it is the right decision or not). Conklin is not the surest pass protector in the league, but he's been a top-15 run blocker by PFF grade on both zone and gap runs. He offers youth, versatility and a track record of solid (at worst) play at the tackle position.
Like nearly every Washington Redskins offensive lineman, Scherff has dealt with injuries the past few years that have caused him to miss some time. He missed 15 games over the last three years after playing 1,000 or more snaps in consecutive seasons to start his career. Scherff is at his best in the run game, posting run-blocking grades of 75.0 or higher in every season of his career except for 2018. And he is no slouch in pass protection, either, posting grades of 70.0 or higher in each of the past four seasons as a pass blocker and reaching his peak with an 84.0 pass-blocking grade during the 2018 season. You have to be concerned with the recent string of injuries, but when on the field Scherff is one of the better guards in the NFL and would be an upgrade on most rosters. 
If teams are looking for an elite pass protector to add to their interior offensive line, they should look no further than Thuney. Over the last two seasons, Thuney's pass-blocking grade of 88.8 ranks third among all guards with 1,000 or more snaps played, trailing only Zack Martin and Joel Bitonio. He's been charged with allowing just one sack in 1,412 pass-blocking snaps over that stretch. There aren't a whole lot of guards who can boast numbers like that in the entire league, let alone guards available to NFL teams this offseason. Thuney is not as strong a run blocker as someone like Scherff, but he's still solid in that area while providing excellent play in the passing game. That combination is going to earn him some money this offseason. 
The Mid-Tier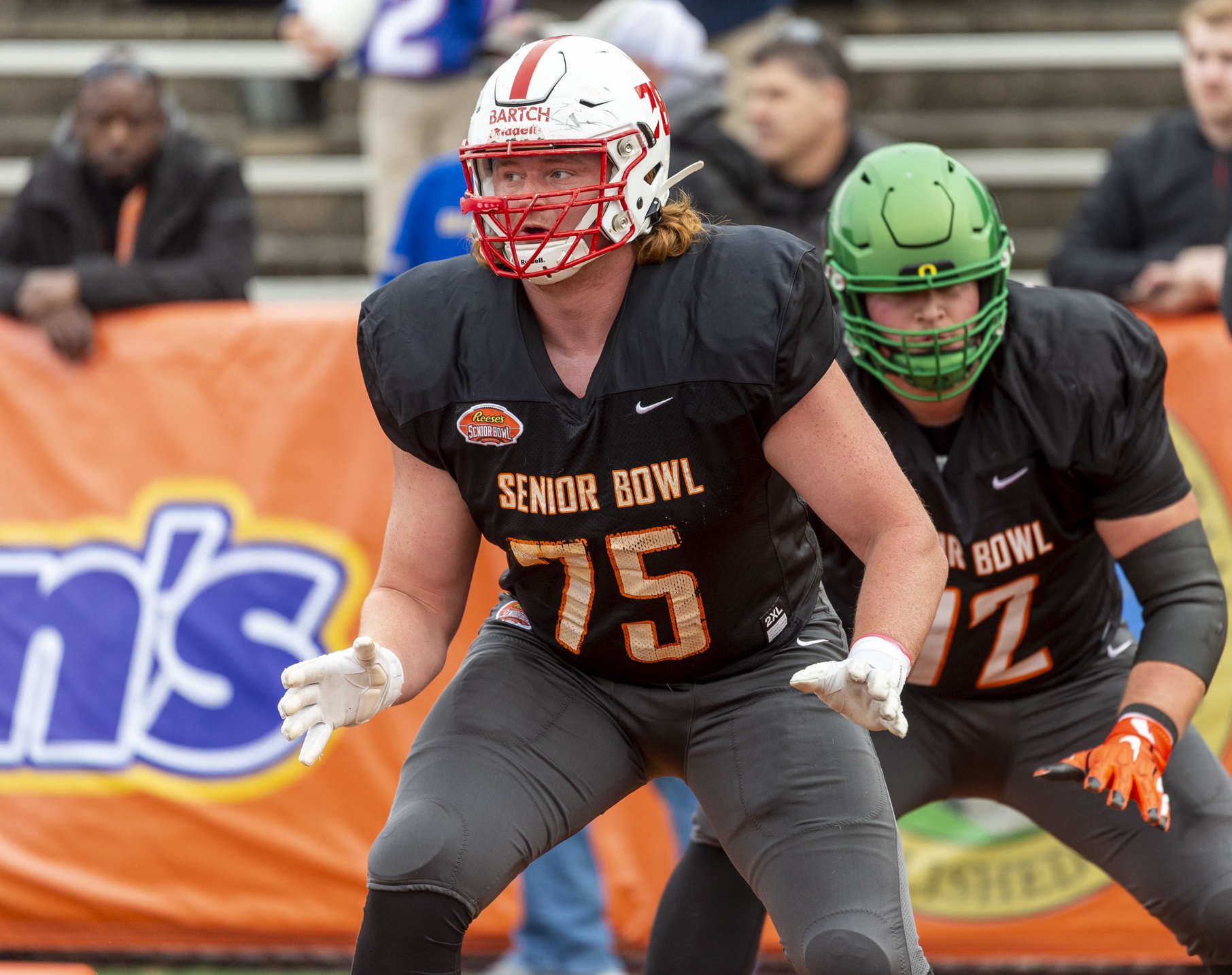 Bartch came to St. John's as a 6-foot-6, 230-pound tight end. He gained 75 pounds over the course of his collegiate career, and the St. John's official athletic site has the pictures to prove it. 

Our data is limited on the Johnnies tackle coming out of the Division III program, but we do have 487 snaps of grades and data from his senior season. Bartch was dominant, allowing just four pressures in 315 pass-blocking snaps. But, then again, this was against the fearsome defensive lines of schools such as Chapman and Wheaton. More impressive was how well he performed at Mobile during the Senior Bowl. PFF's lead draft analyst Mike Renner said of Bartch after the Senior Bowl, "Bartch has the nastiness and play strength you want to see at the position. He ended multiple one-on-one pass pro reps by taking the defender to the turf." The lack of high-level competition will be a concern, but he has shown he can win more difficult battles as well. Bartch is an intriguing option after the first wave of tackles comes off the board. 
The Green Bay Packers' offensive line has consistently been one of the better pass-protecting units in the NFL over the last several seasons, and Bulaga has been a big part of that success. Since 2014, Bulaga ranks second among 27 right tackles with 1,500 or more pass-blocking snaps in pass-blocking grade at 83.4, trailing only Mitchell Schwartz among qualifiers. On an offense where the quarterback isn't as prone to hold onto the football and take sacks — as Aaron Rodgers has shown the proclivity to do on occasion — Bulaga's raw numbers in pass protection would look even better. For teams looking for a steady veteran presence at right tackle who won't scrape the top of the market like Conklin figures to, Bulaga makes a lot of sense in the next price range. 
Lewis went from an unranked high school recruit to a two-time junior college All-American selection at guard to a player who will likely hear his name called on Day 2 of the NFL Draft after two seasons with LSU. Lewis impressed in his first season with the Tigers back in 2018, earning the ninth-highest grade among all guards in his first taste of SEC action. He's got the size and strength to be a mover of men in the run game. As PFF's lead draft analyst Mike Renner said in the latest edition of the draft guide, "Ideal guard build for a gap scheme. Run off him on double teams and profit." If he cleans up some of the inconsistencies we've seen from him as a pass protector, Lewis has the look of a guy who can be a reliable starter at the NFL level.   
Coming in a step below Thuney and Scherff on the free agent guard market, Glasgow will still likely command a decent chunk of change. He's coming off three consecutive seasons with an overall grade of 70.0 or higher — one primarily at left guard, one at center and one at right guard. That isn't an accomplishment to take lightly for an interior offensive lineman, and it showcased his versatility to play all three positions inside. He hasn't shown the high-end capabilities of some other players, maxing out at an overall grade of 74.1 this past season, but Glasgow has demonstrated that he is a reliable starter who can play at an above-average level both in the run game and as a pass blocker. That makes him a strong option on nearly any offense looking for interior offensive line help. 
Buyer Beware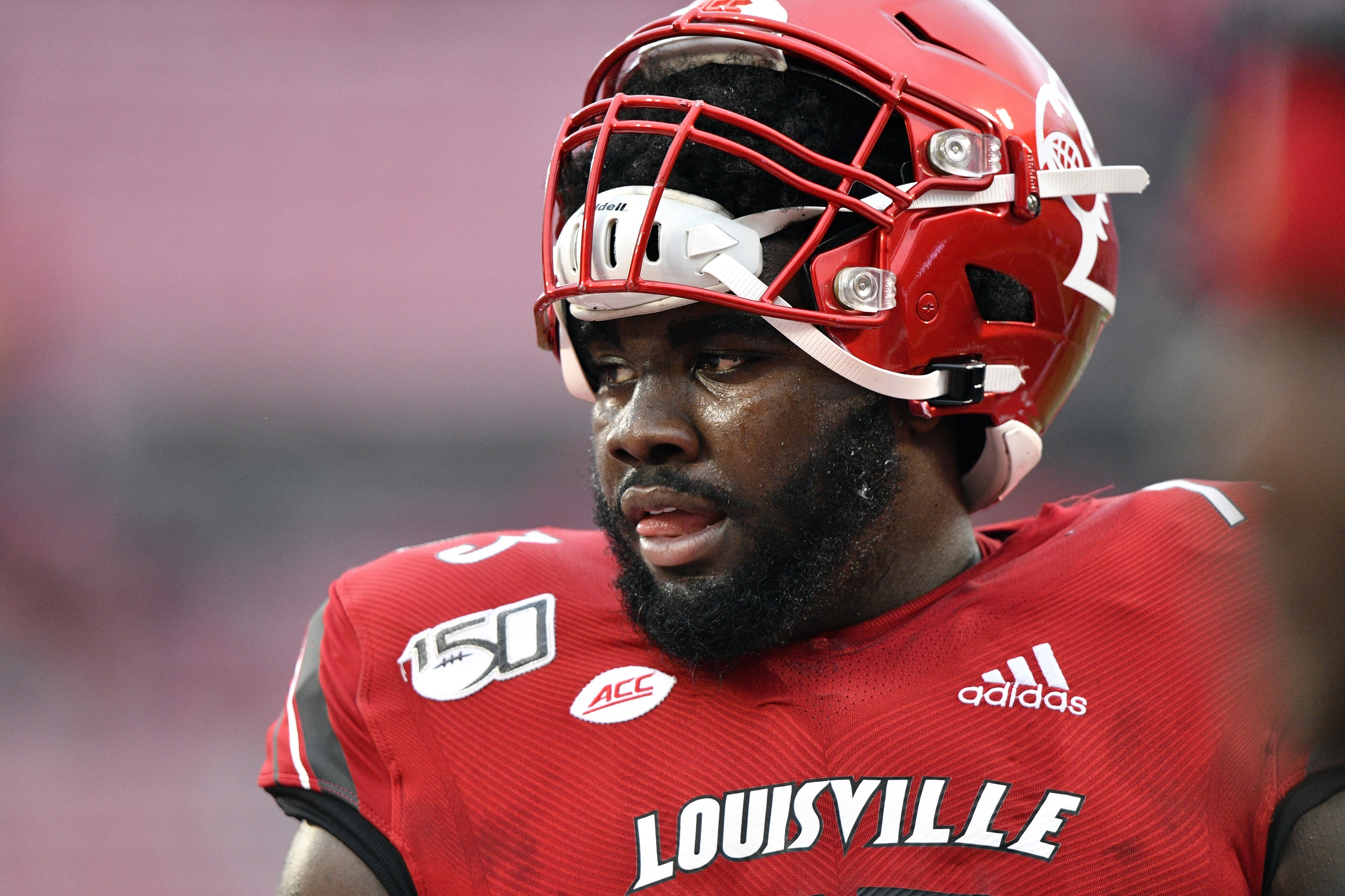 Becton has gone as early as the top five in several recent mock drafts around the industry, and the building hype around him is understandable to a certain extent. He was listed at 6-foot-7, 369 pounds at Louisville with the kind of strength that makes other strong men look like children. You can't teach that sort of physical profile, but as a prospect Becton is still pretty raw. That's why he comes in at just 50th on PFF's latest big board as the fifth overall tackle in the class. 
Becton improved as a pass blocker last season (79.2 pass-blocking grade), but that number came in at just 60.4 as a sophomore in 2018. Switching between left tackle and right tackle certainly did him no favors. That can't be used as a crutch, though, especially considering there also weren't a whole lot of what PFF considers "true" pass-blocking sets on his tape with the heavy play-action and screen usage at Louisville that helped to protect him. The team that drafts Becton will be getting an intriguing set of physical tools, but not a finished product. 
As the No. 35 overall recruit in the country coming out of North Canyon High School in 2017, Jackson certainly has some of the natural ability you're looking for at the position with his length and quickness. But he just hasn't produced at the same high level that some of the other tackle prospects have throughout their college careers. After playing just 175 snaps as a true freshman in 2017, Jackson recorded grades of 72.3 (2018) and 73.9 (2019) during his two seasons as the starter for the Trojans. He struggled in matchups with top edge prospects such as A.J. Epenesa, Bradlee Anae and Julian Okwara, and the consistent high-level performance just isn't there. He may be getting some first-round buzz around the league, but Jackson is more of a late Day 2 prospect for us at PFF. 
Cushenberry is a powerful guy. As Mike Renner said in PFF's Draft Guide, "Not going to lose in a phone booth. Doesn't cede any ground against nose tackles." Cushenberry used that power impressively as a first-year starter for the Tigers in 2018, recording a 77.1 overall grade with a grade of 85.6 as a pass blocker and 72.1 in the run game. He took a massive step back last season, however, particularly in pass protection. Cushenberry's pass-blocking grade dropped nearly 30 points to 55.8 during the 2019 campaign. He had trouble with quickness inside, struggling to recover once his man got to his side. He'll still be coveted at the NFL level, but PFF views Cushenberry further from the top of the interior offensive line board than the consensus has him. 
Ifedi's age, first-round pedigree and starting experience will likely lead to a decent contract offer once free agency begins, thanks in part to the fact that there's just a lack of offensive tackles readily available. Simply put, Ifedi hasn't been very productive on the football field. In four years as a starter for the Seahawks, Ifedi has PFF grades of 52.0, 51.7, 55.6 and 58.8. His run-blocking grade of 48.7 since entering the NFL in 2016 ranks third-worst among all tackles with 1,500 or more offensive snaps over that span. It's hard to get excited about what he brings to the table from a production standpoint. 
The Undervalued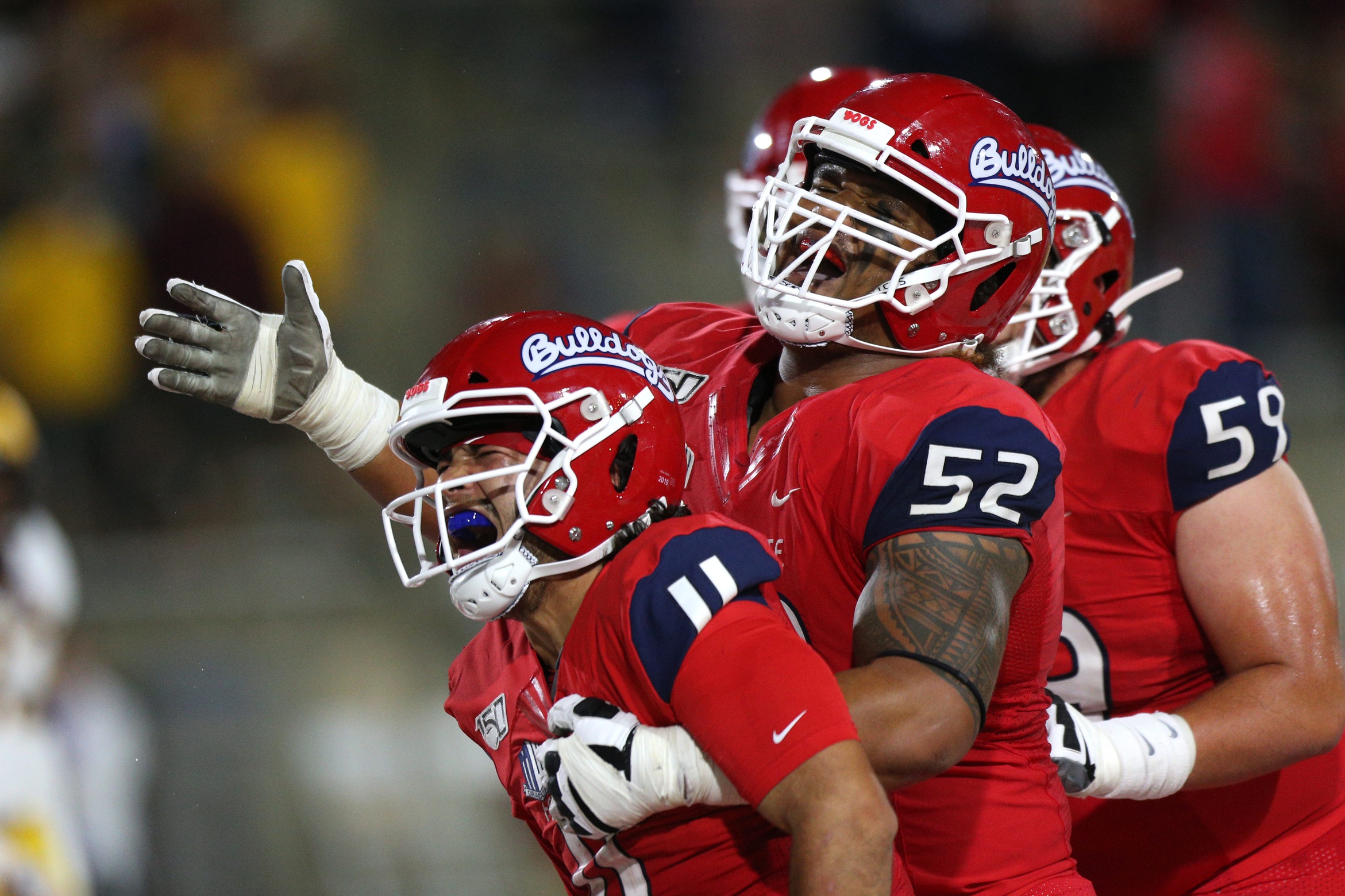 Muti's projection to the NFL is largely based on one very impressive debut season with Fresno State back in 2017. As the team's starting left guard, Muti earned grades higher than 80.0 as both a run blocker and pass protector, routinely blowing through defenders until they were on the ground. It was a season that had his teammates joking that he was a "mystical being" prior to the 2018 season, speculating that he could pick up a moose by himself. Injuries kept that promising start from continuing into 2018 and 2019, however, as he was only able to play just over 300 snaps between the two campaigns. That hasn't deterred us from making Muti the highest interior offensive lineman on our big board. He should be one of the better values at the position. 
Driscoll is ranked as the 83rd player overall and the eighth tackle on PFF's current big board. His teammate, Prince Tega Wanogho, is ranked as the 133rd player overall and the 16th tackle on the board. That isn't in line with most boards across the industry, but Driscoll has earned this spot in our eyes with how well he shut down opposing pass rushers in the SEC, even if he doesn't have the perfect measurables for the position. Driscoll began his collegiate career at UMASS with two solid seasons of play. It's what he did at Auburn, though — posting two straight seasons with a pass-blocking grade higher than 85.0 — that is the most impressive. His two-year passing grade of 88.4 ranked first among SEC tackles with 500 or more pass-blocking snaps over that stretch.  
For Gilbert, it is all about whether he can remain healthy. On one hand, he has managed to play only 773 offensive snaps in three seasons split between the Pittsburgh Steelers and the Arizona Cardinals. On the other hand, the three-year stretch prior to that showed Gilbert could be a quality right tackle when healthy. From 2014 to 2016, he recorded grades of 74.8, 73.6 and 78.5 on 800 or more offensive snaps each season. Gilbert missed a significant portion of the 2017 season, but he was able to record a 76.7 grade in the 411 snaps he played. There is definite risk involved with targeting a player with that kind of injury history, but the cost should be cheap enough that I would risk it. The value he could provide as a quality starting right tackle on a low-cost deal would be advantageous to a team as it looks to fill out the rest of a roster. 
It's been mentioned in a couple of PFF pieces this offseason, but for teams in the value guard market, Wisniewski is likely as safe of an option as you're going to find. Outside of a poor showing with the Philadelphia Eagles in 2018, Wisniewski has graded at 68.1 or higher every season of his nine-year NFL career. The Kansas City Chiefs picked him up last season, and though he didn't start for them, he filled in for the injured Andrew Wylie at left guard and held the fort during their Super Bowl run. Wisniewski ended the 2019 season with a 70.9 overall grade that ranked among the top-10 left guards in the league. He could be an option for teams looking to bolster the guard spot but don't have the resources to chase Thuney, Scherff or Glasgow.