Dallas Cowboys cornerback Trevon Diggs has taken the NFL by storm in his second season, bursting onto the scene with 11 interceptions through 16 weeks of action. And with just two regular-season games left to play, he is just three picks shy of the NFL single-season record, which has stood since 1952.
See Trevon Diggs' Full Premium Stats Profile Here!
After making the 2021 NFL Pro Bowl, Diggs is now popping up in Defensive Player of the Year conversations and on All-Pro lists, but he's not on the same lists at PFF. In fact, Diggs ranks 45th among cornerbacks in PFF coverage grade this season despite the gaudy turnover figures. 
But why? The second-year cornerback already has more picks in a season than anybody this century. The average year the players ahead of him achieved their feat is 1959 — before zip codes even existed.

Click here for more PFF tools:
Rankings & Projections | WR/CB Matchup Chart | NFL & NCAA Betting Dashboards | NFL Player Props tool | NFL & NCAA Power Rankings
Best Bets Tool
---
From this point on, the tenor of this article will feel very negative, though that's certainly not the intention. There is no denying that Diggs is having an excellent second season, and he has already more than paid back the second-round draft pick the Cowboys spent on him. He looks like a foundation piece for a defense moving in the right direction in a hurry.
However, turnovers can skew perception, and the backbone of PFF's process is accounting for all plays, not just the highlights, to give a fuller picture of player performance. 
BOOM OR BUST
The reason for this article is not just to show the other side of the coin but to show that the coin itself is the balance of both sides.
The first and most apparent reason Diggs has a lower grade than you might expect is that he gives up a lot of yardage between interceptions. How many yards? Well, he is currently on pace to surrender the most yards in coverage PFF has recorded from any cornerback over the last 16 years.
Trevon Diggs: Box score Coverage stats and rank among cornerbacks
| | | |
| --- | --- | --- |
| Metric | | Rank |
| Coverage snaps | 606 | Fourth-most |
| Targets | 93 | third-most |
| Receptions allowed | 53 | 10th-most |
| Yards allowed | 962 | most |
| Touchdowns allowed | 5 | ninth-most |
| Interceptions | 11 | most |
| PFF coverage grade | 67.7 | 45th of 134 |
Think about that for a second. Some truly catastrophic liabilities in coverage have started full seasons over the last 16 years in the NFL, and Diggs could eclipse them all in yards allowed despite boasting the kind of interception total that would ordinarily dissuade offenses from targeting his coverage.
Only two cornerbacks have more targets than Diggs this season despite the threat that he will pick off any wayward pass. And teams are not shying away from testing him, even as the season goes on. Kansas City Chiefs quarterback Patrick Mahomes targeted him 10 times in Week 11. The New Orleans Saints had no issue authorizing Taysom Hill to fire the ball eight times into Diggs' coverage in Week 13, even if it was risking the turnover that he did, in fact, come up with in the game.
Dallas is obviously a good team this year and often plays with a lead, but those coverage numbers aren't simply a product of playing soft zone coverage with the game in hand. In fact, Diggs leads the league in yardage allowed in the first quarter, and the first three quarters, not just overall. He ranks 98th out of the 100 corners who have played 100 or more snaps at outside corner in yards allowed per coverage snap. The Alabama product has also allowed five touchdowns.
The simple fact is that when he does give up a catch, it tends to be a big play. The average catch allowed in Diggs' coverage this season has gone for 18.2 yards, with around 40% of that coming after the catch.
Trevon Diggs: Coverage statistics and rank among 68 cornerbacks with 250 or more snaps at outside corner
| | | | |
| --- | --- | --- | --- |
| Metric | NFL Average | Trevon Diggs | Diggs rank |
| Yards allowed per coverage snap | 1.17 | 1.92 | 67th |
| Completion rate allowed | 61.3% | 61.0% | 35th |
| % receptions resulting in a 15-plus-yard gain | 28.6% | 36.0% | 58th |
| Open target % | 39.3% | 53.7% | 66th |
| Forced incompletion % | 11.3% | 7.3% | 59th |
It's a smaller point, but Diggs also leads the league in penalties among cornerbacks, with two more than anybody else. Seven of his 11 penalties have been in coverage, with two more coming courtesy of clumsy hand placement when jamming receivers at the line.
These are plays that don't appear in coverage statistics, but Diggs has given up 11 first downs due to penalties, most of which have been some form of sloppy coverage technique or overly aggressive play. Only two corners have allowed more first downs this season than Diggs, and he jumps both of them if we factor in penalties.
Obviously, turnovers offset a lot of negative plays in coverage, and Dallas will undoubtedly be happy to surrender some plays knowing that there is a potentially huge payoff any time Diggs can create a turnover. Those are the most valuable plays that defenders can make, but there are PFF data points that factor that in.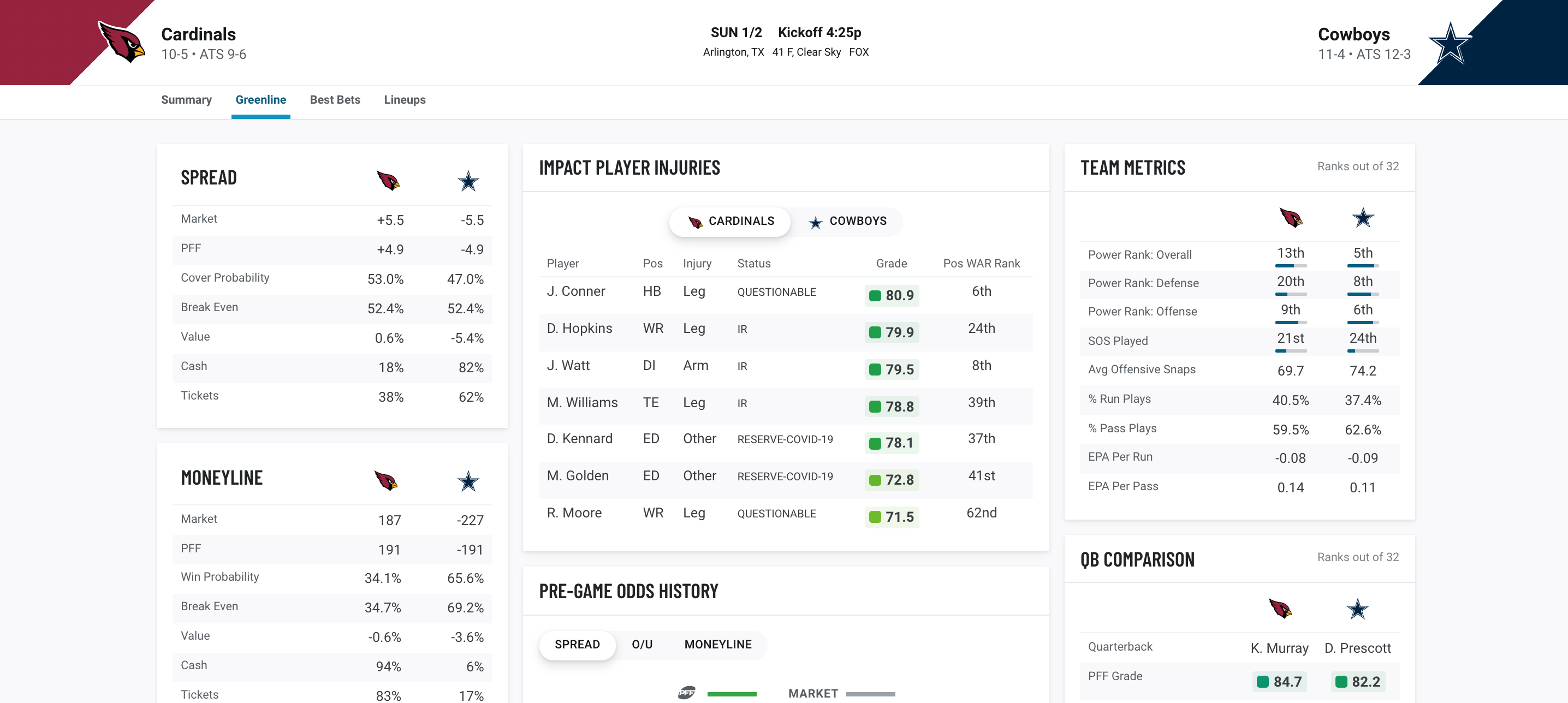 THE VALUE ELEMENT
PFF's data scientists have created a Wins Above Replacement metric (PFF WAR) to quantify the value element of all plays. Diggs ranks 66th in PFF WAR this season, around a third of the marks generated by the top players at his position, despite the turnovers. 
Think of the most recent victory over Washington as an example. Diggs picked off an ill-advised pass early in the game, but it took just a few minutes more of game time for him to get torched downfield by Dyami Brown for a 48-yard catch. The turnover was great, but Washington moved half the field in one play by targeting a player who had just eight catches on the year coming into that game.
Diggs has also been a poor run defender for a player of his size and physicality, managing a PFF run-defense grade of 30.4, 127th out of 130 qualifying cornerbacks. 

Why should anybody care about a cornerback's run defense in a pass-first league? Well, because big plays happen whenever they blow their assignment. PFF play-by-play grades work on a +2 to -2 scale along 0.5 increments. When a cornerback earns a -1 or worse grade on a run play, that run averages 13.5 yards. Diggs has 10 of those plays and just one positive grade against the run all season.
Lastly, we get to the interceptions themselves. Part of PFF's grading system is in differentiating between the quality of the play and not simply the result.
Interceptions are almost always great plays for the defense, but there is a substantial difference between a defender reading the route and breaking in front of the receiver for the pick and catching a pass that lands straight in his lap after hitting the intended receiver in the hands.
Statistically, there is no difference between those two plays. Qualitatively, they are very distinct and will be graded differently. That difference in grade is important because one is a repeatable skill, and the other is not.
Typically, blind luck comes and goes, but repeatable skills have staying power.  Of his 11 interceptions, two hit their intended receivers in the hands, three more were thrown straight to him and you could argue the relative merits of a couple more.
Still, there are fantastic plays in there, as well. His pick against Justin Herbert in Week 2 is as good a break on the ball and display of hands as you're going to see from a defensive back. But the difference between that play and his pick against the Buccaneers, or his pick-six against the Patriots, is important. 
It's not that either is a bad play, but neither are they achieving much above expectations for NFL cornerbacks given those opportunities.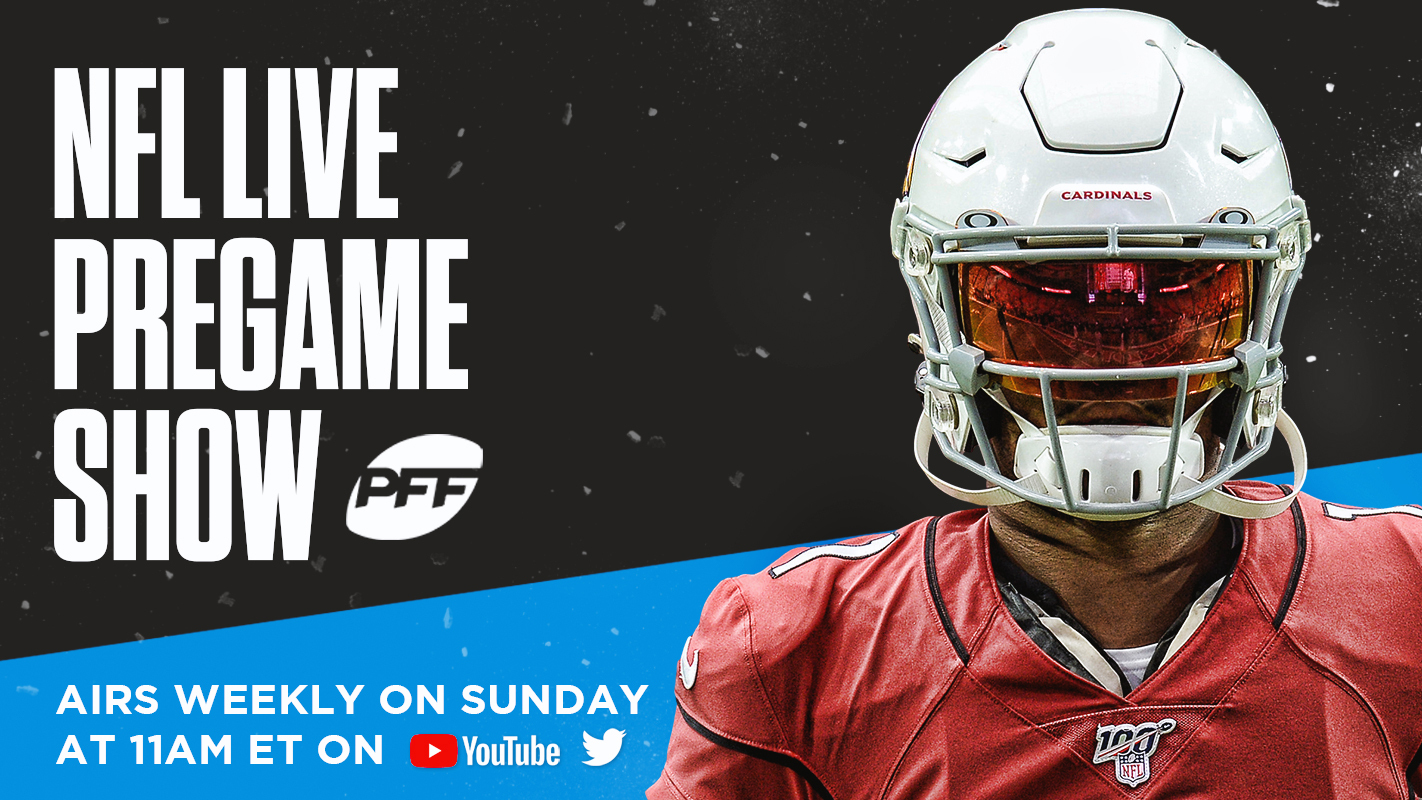 THE BOTTOM LINE
Diggs has made some fantastic plays in coverage this season. PFF has given him full credit for some of the best plays any defensive back has made, but critically, we did likewise for the negative ones that are easier to sweep under the rug. Eleven interceptions is a very impressive number, but it also owes a lot to external forces in addition to his playmaking ability.
What Diggs can control is his coverage on any given play, whether the opportunity for a turnover presents itself or not. When you tabulate all of those plays, his overall performance starts to look far less dominant than his interception total would suggest. 
Diggs has played almost 1,000 snaps on defense this season, and the fact that he has 11 picks is just too small a number relative to his overall body of work to be the bedrock of any elite performance case. If everything else about his season backed up that one number, he would be a worthy All-Pro, but not only does it fail to do so, it seems to actively undermine that number.
Trevon Diggs has made some great plays this season, but he has not played world-beating football, at least not across enough of his snaps to justify the narrative.