Only four NFL teams remain as we look forward to the AFC and NFC conference championship games, but which offensive line will protect its quarterback the best and give its team the best shot at qualifying for Super Bowl LV?
During the playoffs, we will investigate each game's trench matchups by looking at survival curves for offensive and defensive lines and predicting how often and how quickly the quarterbacks will be put under pressure.
Going into each game, a machine-learning model incorporates several features in order to come up with a prediction:
The survival curve of the offensive line in previous games
The survival curve of the defensive line in previous games
The PFF pass-blocking grades of the five offensive linemen
The PFF pass-rush grades of the pass-rushers and the positions they are projected to line up in
How the blend of individual grades and team-level survival curves from the past are weighted toward predicting the cervical curve depends on continuity and how far in the past the information lies. Less continuity means the individual grades are weighted more heavily.
Schematic factors such as how often the defense is projected to blitz and how often the offense is projected to use play action, designed rollouts or six-plus-man protections.
When the Packers have the ball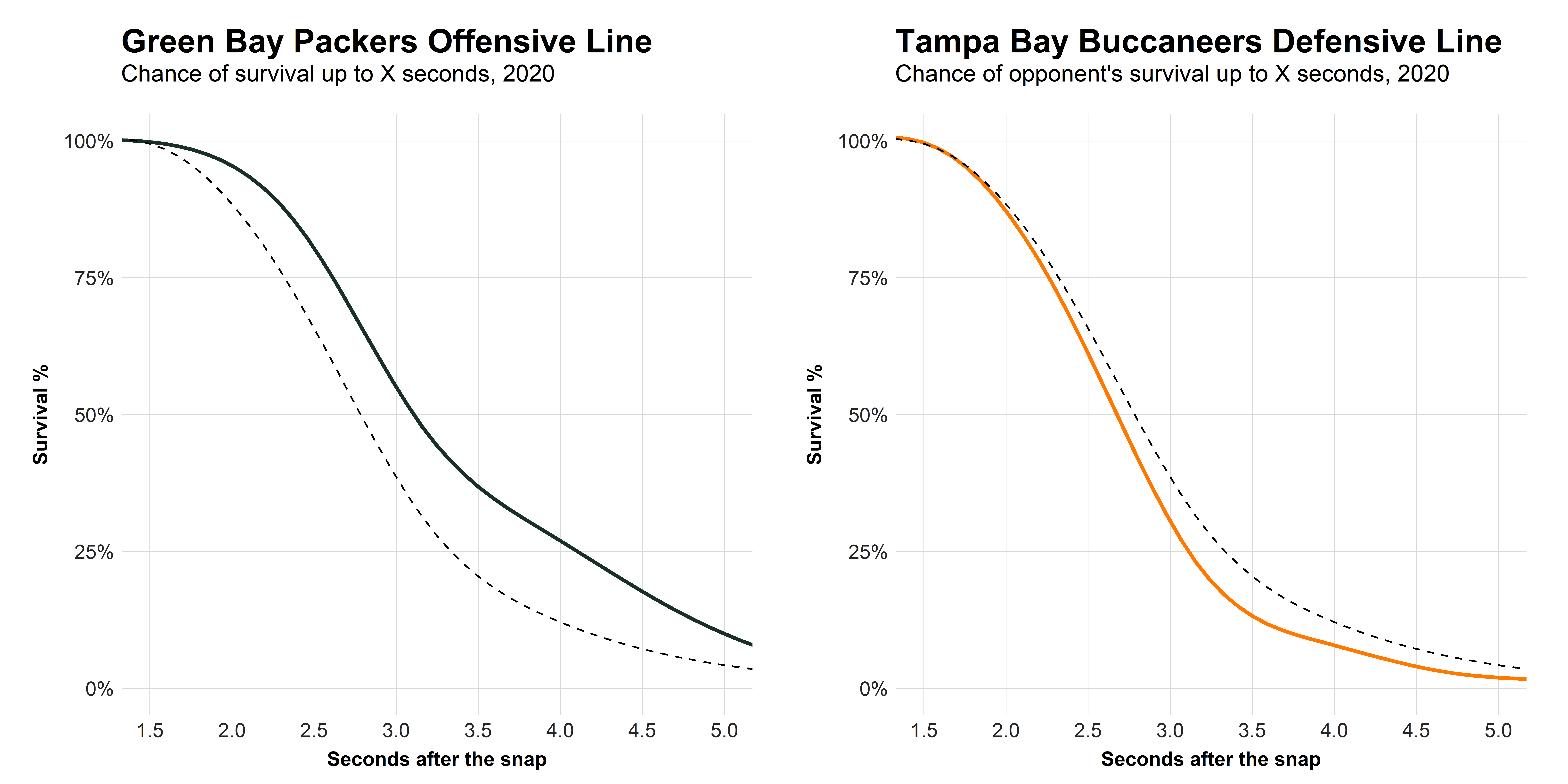 Last week, we warned the Los Angeles Rams that their wild-card success against the Seattle Seahawks' pass protection would be hard to replicate. And indeed, the Rams couldn't get to Aaron Rodgers to save their lives, as they pressured him within 2.5 seconds after the snap only twice despite Rodgers dropping back to pass 39 times.
Subscribe to PFF Edge to continue reading
Already have a subscription? Sign In