The New York Giants are planning to bring back both head coach Joe Judge and quarterback Daniel Jones for the 2022 NFL season, according to ESPN.
The team hired Judge prior to the 2020 season, and he has since compiled a 0.323 winning percentage, despite playing in the NFC East — one of the weakest divisions in the NFL.
Click here for more PFF tools:
Rankings & Projections | WR/CB Matchup Chart | NFL & NCAA Betting Dashboards | NFL Player Props Tool | NFL & NCAA Power Rankings
Best Bets Tool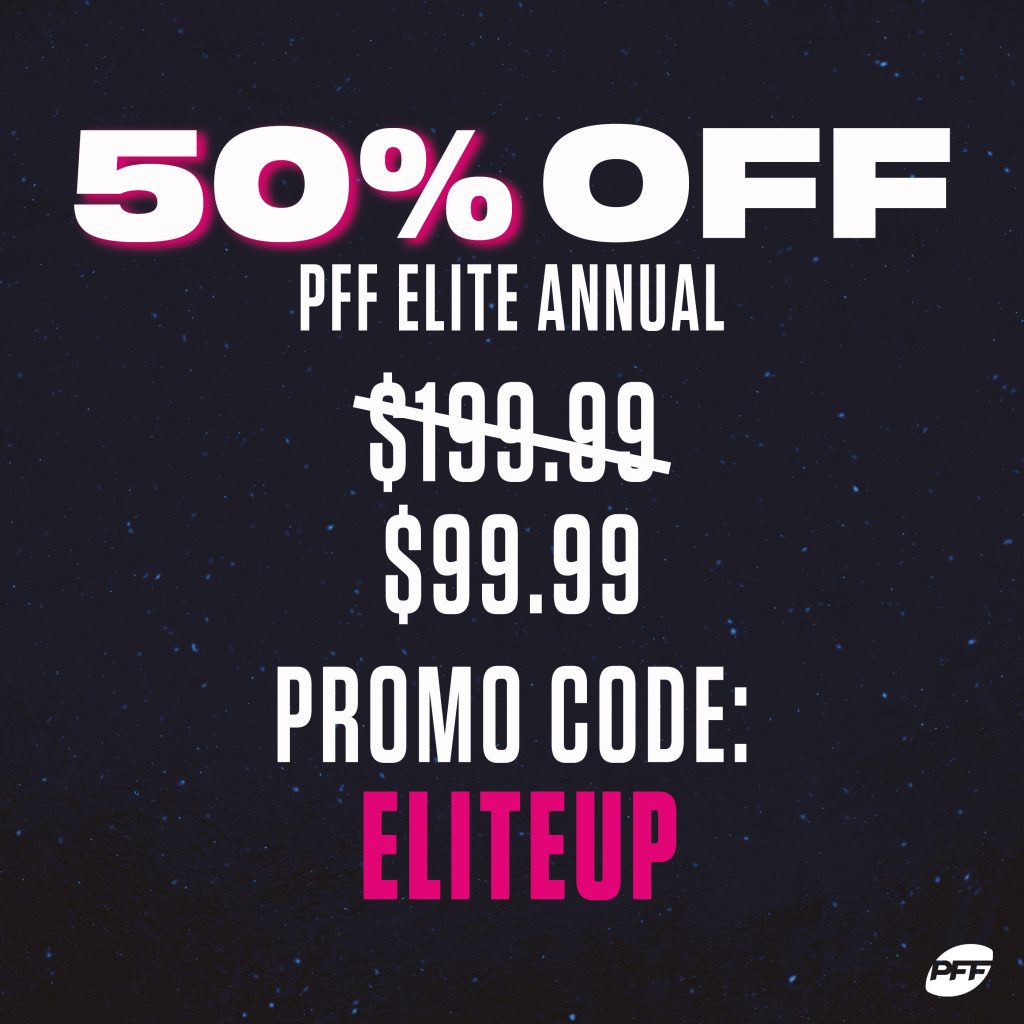 The tough part about assessing the Giants is that this was supposed to be their all-in year. They attacked free agency to bolster their roster and build around Jones in the third year of his rookie contract, similar to what the Arizona Cardinals did with Kyler Murray. They gave Kenny Golladay the biggest deal on the market from last year's free-agent wide receiver class, pushed hard to sign cornerback Adoree' Jackson and signed interior defender Leonard Williams to a big extension.
Despite all of that, the Giants are currently 4-11 and at the bottom of the NFC East.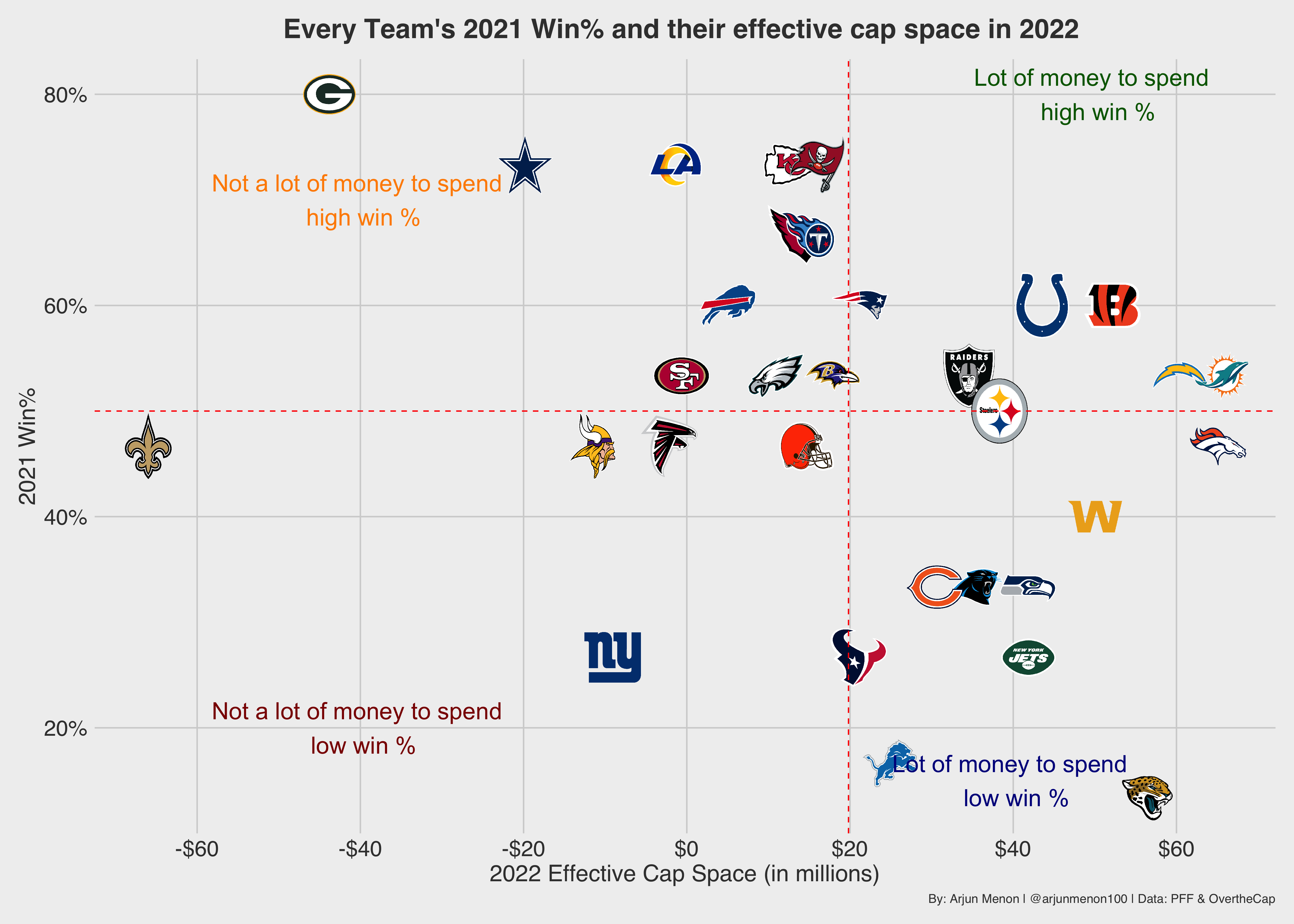 Not only is it a poor season based on record, but they also are not set up well for free agency next offseason, having the fifth-least effective cap space, per our friends at Over the Cap. You can make the argument that the Giants are the team no front office person would want to lead, simply based on their position in the graph. Combine that with the fact that Jones is the supposed starting quarterback next year, and it doesn't look any better.
Before we dive into how the Giants can attack the 2022 offseason, we should first try to evaluate Jones and the team around him. Since being drafted in 2019, he has recorded a 73.3 PFF grade and ranks 19th in cumulative Wins Above Replacement (WAR).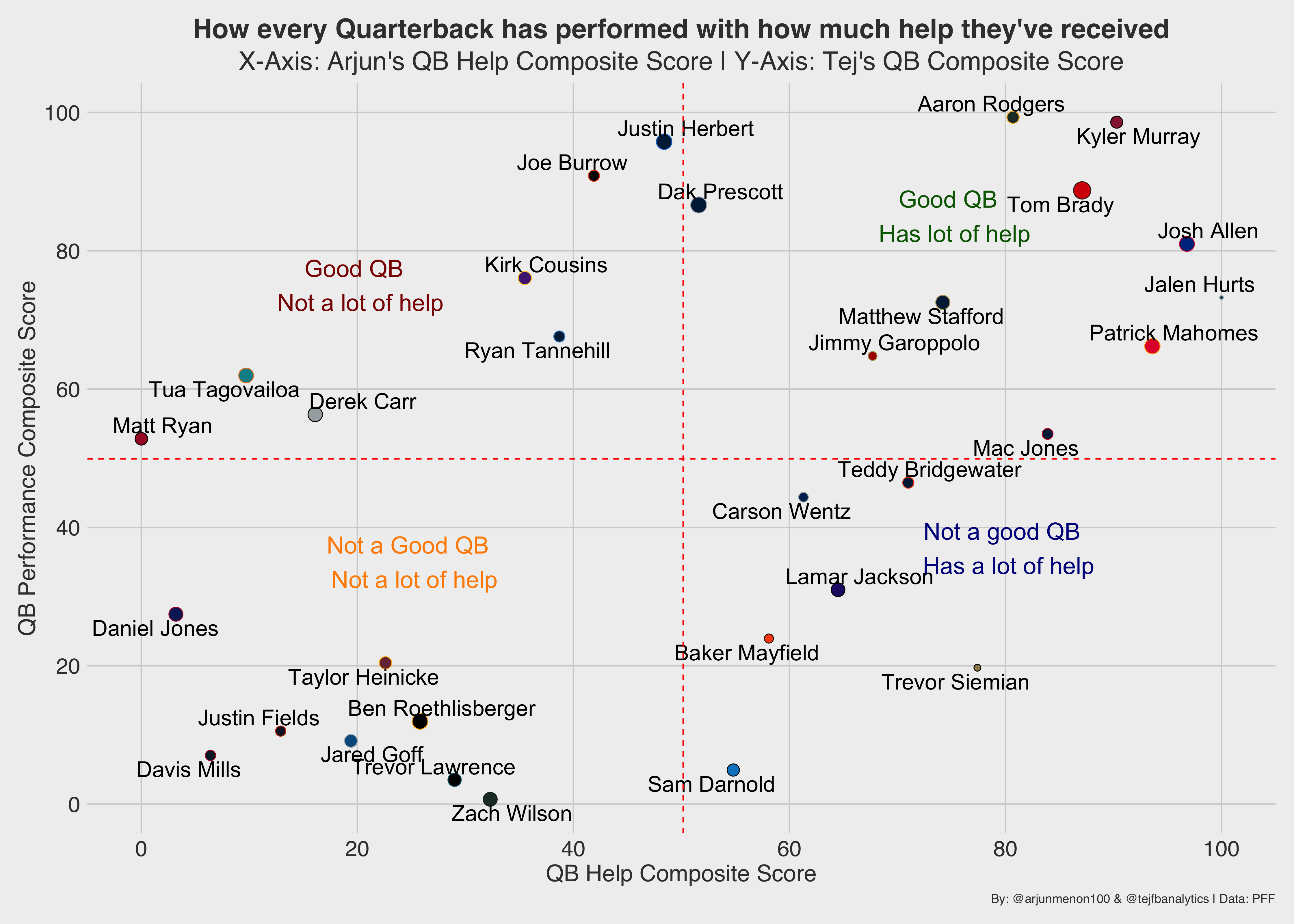 However, we can use other methods to try and evaluate Jones, especially this year. In the graph above, we are looking at two things: A QB Composite Score (X-axis) to measure quarterback performance, and a QB Help Composite Score (Y-axis) to measure how good of a team a quarterback has around him. 
The QB Composite Score was made by fellow PFF analyst Tej Seth, and it inputs a quarterback's raw PFF grade, raw EPA/play and Accuracy Rate over Expected (AROE) score to create a singular ranking. The QB Help Composite Score was made by myself, and it takes a team's special teams EPA, defensive EPA, pass-block grade, open rate (how open a team's receiver is when targeted) and rushing EPA (QB scrambles filtered out) to produce a score that measures how much help quarterbacks have gotten this year.
If you look on the bottom left, you can find Daniel Jones. Unfortunately for Giants fans, he's in the quadrant with bad quarterbacks, as well as quarterbacks who have bad teams around them. So while he hasn't been a good quarterback when on the field this year, the team around him has been bad as well, as he has received the second-least amount of help, per the QB Help Composite Score metric. 
With that being said, there definitely are a couple of areas the Giants need to fix to try and be competitive next year. Even though they have negative effective cap space to use in free agency, they do have two first-round picks, both of which are expected to come in the top 10.
Before entering free agency, they need to free up cap space. However, there aren't a lot of players they can cut without incurring dead money. One option could be tight end Kyle Rudolph, which would save the team $5 million against the cap next year, though he would also bring on $2 million in dead money. But with fellow tight end Evan Engram set to be a free agent next year, New York might not want to release Rudolph unless they're sure about the tight end situation.
Outside of that, there aren't a lot of good options for the Giants in terms of cutting players. What they can do, though, is restructure some bigger contracts to push money into future years.
| | |
| --- | --- |
| Player | 2022 Base Salary |
| James Bradberry | $13,400,000 |
| Leonard Williams | $19,000,000 |
| Kenny Golladay | $13,000,000 |
| Adoree' Jackson | $10,000,000 |
The Giants could look to restructure these four base contracts if they want to free up money going into free agency next year. 
In terms of what the team can look to address during free agency, it mainly starts in the trenches. Overall, the Giants should plug holes with free agents, then take the best player available in the 2022 NFL Draft.
Turning to the offensive line, it isn't pretty. New York's unit ranks 27th in pass blocking this year and 21st in run blocking. While second-year tackle Andrew Thomas has been great, everyone else could be replaced with a better option.
Billy Price, who the Giants traded for, has not been good (53.4 pass-blocking grade), and should the Giants look to replace him, there are some quality center options on the market. Ryan Jensen is a free agent in 2022, and he has been a stalwart for the Tampa Bay Buccaneers over the past two years. He will likely be the Corey Linsley of this class, though, and given the Giants' cap situation, they may want to target a cheaper option — such as Ted Karras, who has New England Patriots ties to Joe Judge.

The Giants can also improve their guard situation, as Will Hernandez has allowed 34 pressures in 2021 (ninth most) and is a free agent after this year. There are some solid right guards on the market this year, including Trai Turner, Mark Glowinski and Austin Corbett, who likely wouldn't cost the Giants much money if signed to a short-term deal.
On defense, the Giants need to improve up front. They currently rank in the bottom 10 in both pass-rush grade and run-defense grade. Losing Blake Martinez to an ACL injury obviously hurts, but it shouldn't result in New York being this bad. Leonard Williams has played well, but not great enough to justify the $21 million average-per-year contract he signed this past offseason.
The Giants really need to find another edge player to help Williams and 2021 second-round pick Azeez Ojulari. The 2022 free-agent edge rushers are all mostly old or middle-of-the-pack players. Again, the Giants' cap situation makes it tough for them to go after big names, so they might have to shoot for players such as Emmanuel Ogbah, Melvin Ingram III and Justin Houston.
Improving the trenches on both sides of the ball is vital, as that would allow New York to have more freedom with its draft picks and take the best players available. This doesn't mean the Giants should ignore the offensive and defensive lines in the draft completely, though. Getting a blue-chip guy like Evan Neal or Aidan Hutchinson in the Nos. 4-6 range would be huge. Iowa center Tyler Linderbaum (who won the nation's best center award), could be a potential selection for them in with the pick they received from the Bears, should they choose to not address the position in free agency. 
Given the Giants' investments at wide receiver, it doesn't seem wise for them to choose a player there. Drafting a running back or linebacker in the top 10 is just a bad assessment of positional value. This leaves cornerback or safety as other potential options to attack with their first-round picks. Kyle Hamilton is a name to watch, as he slots in at No. 3 on PFF's big board and could be a potential replacement for free agent Jabrill Peppers. Pairing him with rising safety Xavier McKinney would give defensive coordinator Patrick Graham two versatile safeties who can play in the box and in the deep part of the field.
Related content for you:
2022 NFL Mock Draft: Ole Miss QB Matt Corral lands in Washington at No. 9, Atlanta Falcons take Pittsburgh QB Kenny Pickett at No. 10
via Eric Eager
As a result, Logan Ryan could move back inside and give the Giants a great, versatile secondary to contain the high-powered offenses in the NFC.
The Giants' plan of attack in free agency will dictate their actions in the 2022 NFL Draft. And regardless of when or how, they must improve the trenches so that Jones has time in the pocket and Saquon Barkley has holes to run through (Giants have ninth-highest rate of runs for no gain or a loss in 2021). Being able to rush the passer is a must, as well, and getting edge players to support the line they have right now is vital.