PFF has dropped a 2022 NFL mock draft each week for a while now, so with the football guys taking a breather, it's time for a math guy to take a swing at it. 
A lot of what I'm working off here comes courtesy of our college-to-pro projection system, which we applied for the first time this fall on Nevada's Carson Strong. However, I am factoring in some of PFF's 2022 NFL Draft Big Board, given that no combine or pro day data is available. The output of this mock basically comes together to give us the ordering for our best-in-class Mock Draft Simulator, with some adjustments for team needs.
For reference, this is partially what I would do and partially what I think will happen, and there are explanations for this sprinkled in throughout the mock.
The draft order used is following the conclusion of the NFL Week 16 slate, minus Monday Night Football. Enjoy!
Click here for more PFF tools:
Rankings & Projections | WR/CB Matchup Chart | NFL & NCAA Betting Dashboards | NFL Player Props tool | NFL & NCAA Power Rankings
Best Bets Tool

Depending on where you look, Hutchinson is the second favorite to be selected with the first pick, at +120, with Kayvon Thibodeaux at even-money +100 on DraftKings Sportsbook. Hutchinson had a better season than Thibodeaux, which we chronicled in a recent article. In fact, he had a much better season than any edge player in the entire class, earning 0.80 wins above average, 0.35 more wins than the next best player at the position.
Thibodeaux will likely show out exceptionally well at the combine. This should keep him in the first two picks of the draft despite an injury-riddled 2021 season, especially considering the success of players who either were not as productive as college players in 2020 as they were as pro players in 2021 (e.g., Odafe Oweh) or players who sat out entirely (e.g., Ja'Marr Chase, Micah Parsons and Rashawn Slater).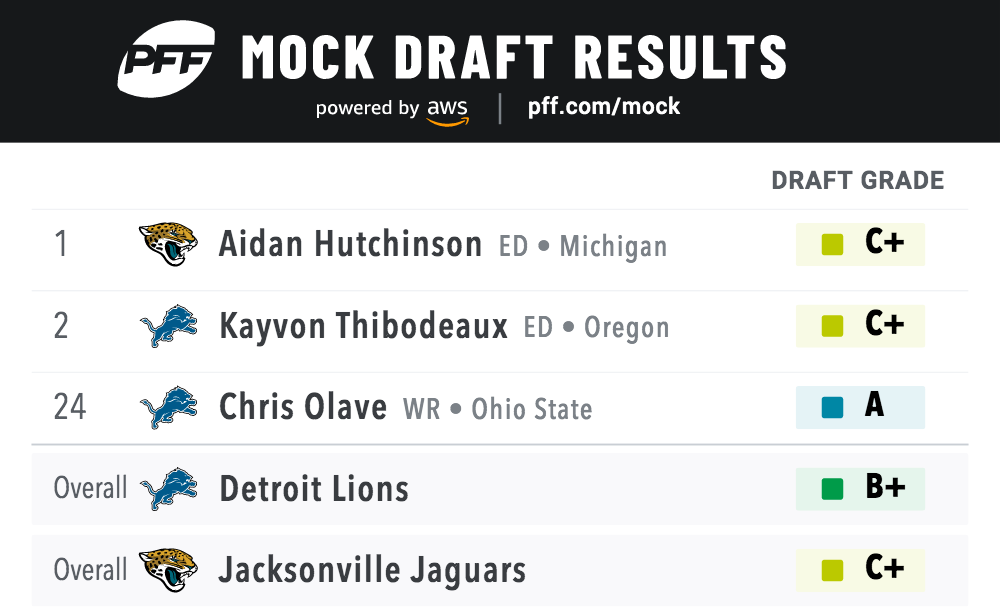 Neal is the third most likely player to go first overall on DraftKings (+1000). The Alabama product is an excellent selection for the Texans, especially given how likely it is that Houston trades star left tackle Laremy Tunsil. The 6-foot-7, 350-pound tackle has increased his pass-blocking grade each year with the Crimson Tide and finished at 81.5 this year. With the draft lacking high-end talent at the quarterback position and Davis Mills engineering two late-season wins the last two weeks, look for Houston to go with a position player here.
Now we get to the guy who is actually No. 1 in our projections because of positional value. Stingley is a great fit for a Jets team that lacks overall talent, especially at the cornerback position. His 1.05 wins above average since 2019 is second to only Patrick Surtain II, who has had quite the season in Denver as a rookie.
Lost in the overall dysfunction of things is that the Giants defense has been fine this year. Entering Week 16, they've allowed only 5.4 yards per play, the 14th-best mark in football on the year. They are pretty solid in the secondary and at interior defensive line with Leonard Williams. Karlaftis helps them enhance this strength, and while he was only involved in five sacks this past year, his 54 pressures and 90.6 PFF pass-rushing grade are enough to buy into.
The 2021 offseason was full of blunders for the Panthers, from trading a high pick for quarterback Sam Darnold to exercising his fifth-year option. We also mustn't forget that they consensually entered the season with Cam Erving as their left tackle, and the man did not disappoint — if you doubted it from the beginning, that is — earning a 55.1 PFF grade coming into Week 16. After two mediocre seasons, Cross was great in 2021, grading above 84.9 as both a run-blocker and pass-blocker while playing left tackle for an upstart Bulldogs team.
You can make the case that Hamilton is the best player in this class. However, it's tough to see a safety go in the top five (though Bill Belichick took Eric Turner second overall with his first draft pick as a head coach, interestingly enough). The Jets, however, have never shied away from taking a safety in the top 10, and with the pick that they acquired for trading said example, they take the replacement for him and the possibly pending free agent Marcus Maye.
Rules of thumb are good as long as you know the conditions in which to break them, and Linderbaum is good enough to break many of the rules of positional value. Despite the (constant) longings of the offensive line community to make Billy Price a thing, he simply hasn't been, earning just a 63.8 overall grade so far this year coming into Week 16. Linderbaum is the best center prospect we've ever seen. He's earned 0.67 wins above average over the last three years, 0.19 more than the next-best player at the position.
The Football Team tried to go to the bargain basement for the quarterback position ahead of the 2021 season, and an injury to Ryan Fitzpatrick on opening day, along with the limitations of backup Taylor Heinicke, made going over 8.5 wins an almost impossible feat for the defending NFC East champions. Corral was once a favorite to win the 2021 Heisman Trophy before struggling with injuries and somewhat ineffective play.
While the Falcons are randomly 7-8, they are still a team with a -122 point differential and require a new direction at the league's most important position. Pickett, who led the entire country in wins above average in 2021, would likely first sit behind Matt Ryan, who carries a $40.5 dead cap charge if released before June 1 next year. The Falcons offense is very quarterback-friendly with play action, a situation in which Pickett generated 9.4 yards per pass attempt this year.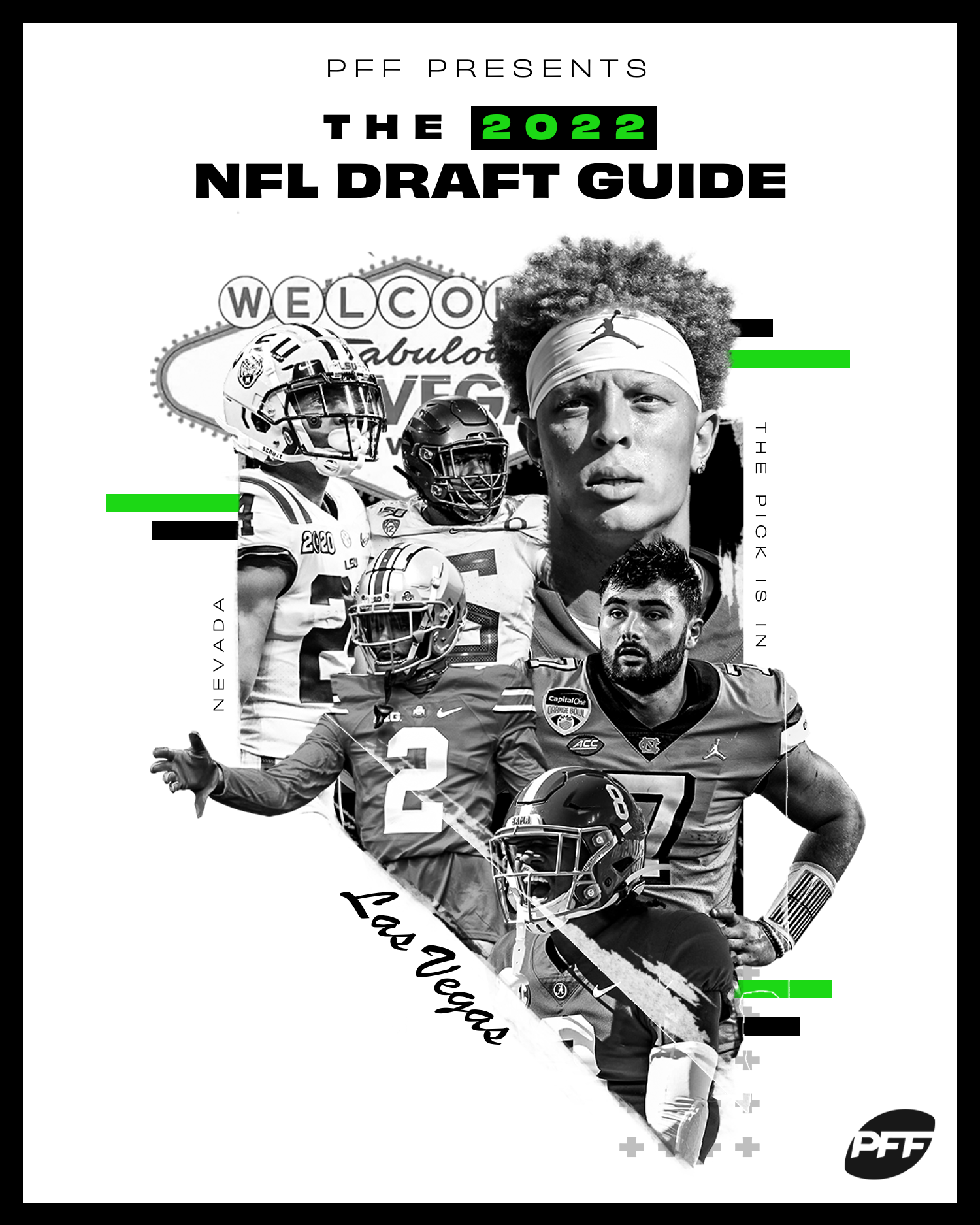 Denver is a team that could go quarterback here, but with the top two guys off of the board, they try to enhance an already good roster that could very well add a veteran at the position in free agency or through trades.
The Broncos have one of the tackle positions figured out with former first-round pick Garett Bolles manning the left side. However, they need another bookend after Bobby Massie struggled to a replacement-level grade in pass protection in 2021. Ekwonu was wonderful in 2021, earning a 91.6 overall grade and his second straight 90.0-plus run-blocking grade.
This isn't an easy topic to approach for Vikings fans, but the roster isn't good enough to win with Kirk Cousins and his pending $45 million cap hit.  Additionally, there isn't one player taken at this spot who will change this truth substantially. Thus, the move is to trade Cousins and explore options at the position, or as I said on the PFF NFL Live Show, let it go.
While Willis hasn't exactly put up the best numbers, he is a good prospect when one adjusts for strength of surrounding talent, having earned the seventh-most wins above average among all quarterbacks during the 2021 season.
Wilson was arguably the best wide receiver in college football in 2021, forcing 19 missed tackles and generating five 100-yard games. He earned 0.47 wins above average, the 11th-best mark in football among wide receivers. It's not clear who will be the Browns' quarterback in 2021, but what is clear is that they need a receiver who can make plays in a number of different circumstances.  Wilson fits that bill.
The Eagles have earned a spot in the hunt for the NFC playoffs in large part due to their ability to win at the line of scrimmage on both sides of the ball.  Ojabo, who earned an 88.2 pass-rushing grade playing opposite Aidan Hutchinson this year, would supplement that front nicely in 2022 and beyond.
Other than quarterback in Pittsburgh, there isn't a bigger need for a team right now than wide receiver is for New Orleans, and Burks answers the bell here. Burks was one of the most impressive wide receivers in college football this year, adding 0.32 wins above average while generating 9.3 yards after the catch per reception.
Going into the week, Ben Roethlisberger had generated 0.24 wins above replacement, which is one of the worst marks in the NFL among quarterbacks.  A mere 18 years after they took Roethlisberger out of Miami (OH), the Steelers take Howell, who struggled some with a lack of supporting cast but still managed one of the better seasons in college football among quarterbacks and could be ready to start right away for a team in need of a breath of fresh air at the position.

Some people have mocked Georgia defensive lineman Jordan Davis to the Chargers here, and I get it. The Chargers run a lot of two-high, and interior defenders matter, especially with that scheme. However, the Chargers are one of the worst five teams in the league in terms of percentage of contested targets (21.1%) and need a separator to complement Keenan Allen. Olave provides that.
Generating 0.48 wins above average in 2021, Williams emerged as the best skill position player in an offense that is now favored to take home the College Football Playoff Championship. The Raiders' need at wide receiver stems largely from what happened with their 2020 draft pick, Henry Ruggs III, who was released during the 2021 season.
The Eagles got a great season out of Darius Slay and Avonte Maddox in 2021, but depth at cornerback is always an important thing for a building team.  McDuffie allowed just 16 catches for 111 yards into his coverage in 2021, breaking up five passes in the process.
The Ravens need a tackle here, but with the best guys off the board and without any trades in this mock draft, they go with the process that made them a great defense before injury variance struck in 2021. Elam struggled quite a bit this year, earning just a 57.8 coverage grade despite surrendering just 191 yards and two touchdowns in coverage (seven penalties didn't help).  He was great in 2019 and 2020, earning coverage grades of 89.8 and 81.0 those years.
A year after drafting Jevon Holland, one of the 10 most valuable rookies in the NFL, the Dolphins get their second safety here in Brisker. Brisker would have been considered the best safety in college football had it not been for Kyle Hamilton and the splash plays he made earlier in the season. His 0.33 wins above average were seventh at the position in 2021.
J.C. Jackson has been one of the most productive players in football in 2021. And as a result, he might be gone from Bill Belichick's New England Patriots at the top of his market. Gardner would be a more than adequate replacement; he was a linchpin in the Bearcats' first-ever College Football Playoff appearance and has yet to give up a touchdown his entire college career.
I'm not a huge fan of drafting guys who are labeled "contested-target guys," but I think London has been unfairly labeled as this. Since 2019, he's been in the 30th percentile among college wide receivers who made it to the NFL in terms of separation rate against single coverage, but he's in the 86th percentile in PFF grade on single coverage.  So, while he's not above average in terms of gaining separation, he does win against single coverage, which is valuable for an offense that already has separators in DeVonta Smith and (in theory) Jalen Reagor.
Enagbare parlays a tremendous final year with the Gamecocks into a first-round selection by a Cardinals team that will likely move on from Chandler Jones in 2022. His pass-rushing grade improved each year, up to 92.5 in 2021, with 45 pressures and four sacks.  He would add some juice to a defense that has improved each year under Vance Joseph.

McCreary earned an 89.7 coverage grade in 2021, allowing only 45.3% of the passes into his coverage to be completed. The Bills have always sloughed off at the cornerback position outside of Tre'Davious White during most of the Sean McDermott era, and White will be coming off of an ACL this offseason.  This pick just makes too much sense.
After getting Ja'Marr Chase to go along with Tyler Boyd and Tee Higgins in the 2021 draft, it is time to put some better players in front of Joe Burrow. Green is that caliber of player; his pass-blocking and run-blocking grades have improved each year since he entered college football in 2019.
The Bucs are one of those teams that don't really need a lot at the moment, but with pending free agents like Pierre-Paul, Godwin, Jensen, Suh, Brown, Gronk and others, they are in a position to take anyone. As such, they go cornerback in the first round for the first time since they took Vernon Hargreaves III in 2016.  Booth broke up three passes and intercepted another three in 2021, all while giving up 312 yards into his coverage.
I originally thought quarterback here, but Ryan Tannehill's cap charge is prohibitive until at least 2023 (and realistically 2024), so we go with some support. Raimann blew up in 2021 after three years of improvement, earning a 94.6 overall grade and allowing 10 pressures all season.
Off-ball linebacker is not a valuable position in the NFL for the most part, but this would probably be a value for the Lions at Pick 29, who miss out on some of the great wide receiver talent in the first round. Dean was a leader on the country's best defense in 2021 and would be a good acquisition for a team that failed on numerous linebackers in the draft and free agency during the Matt Patricia years.
Dallas low-key has one of the best rosters in football. And with this spot, they can therefore enhance a fledgling strength, which is their defense. Jackson was limited in 2021 but had a breakout season, earning 26 pressures in just 182 pass-rushing reps for the Trojans. With Demarcus Lawrence's contract movable after the 2022 season, the Cowboys plan for the future with this pick.
The Chiefs need a third receiving option like you and I need to breathe, and Dotson was wonderful this past year for the Nittany Lions. He dropped just five passes the last two years, and his healthy 11.4-yard average depth of target meant that big plays were never that far away for Sean Clifford and Penn State. He'll do wonders in a field that Tyreek Hill and Travis Kelce already open up.
As we wrote about above with the Chargers, the teams that want to play two-high need to have a space-eater for early downs. Davis is that player, and Green Bay is now that defense.
defensive schemes post week 13 to make betz upset. tl;dr using principal component analysis to squish variables like coverage scheme, fronts, etc. into fewer variables. Here are the first two: pic.twitter.com/mL3kGLPCx5

— Eric Eager ???????? (@PFF_Eric) December 7, 2021