Easy situation, middling arm, dad bod — those three phrases were attached to Alabama quarterback Mac Jones' name all throughout the pre-draft process a year ago.
He was widely viewed as a first-round pick in the 2021 NFL Draft after earning a record-breaking 95.8 PFF grade in 2020, but the consensus labeled Jones as the least impressive among the five Round 1 quarterback prospects. 
---
Click here for more PFF tools:
Rankings & Projections | WR/CB Matchup Chart | NFL & NCAA Betting Dashboards | NFL Player Props Tool | NFL & NCAA Power Rankings
Best Bets Tool
---
Jones doesn't have  Trevor Lawrence, Zach Wilson, Justin Fields and Trey Lance's alluring physical tools, and that turned off to a lot of evaluators.
The gossip leading up to draft day was that San Francisco 49ers head coach Kyle Shanahan initially wanted Jones with their newly acquired No. 3 overall pick before caving to those who advocated for Lance. 
Jones wound up sliding all the way to the New England Patriots at 15th overall as the fifth quarterback selected. From there, Jones posted the best rookie campaign among the quarterbacks, and one of the best on the offensive side of the ball regardless of position. 
It's only been a year, but Jones is likely to go down as one of the 2021 NFL Draft's biggest steals. 
New England was able to make the postseason in Year 1 of the Jones era, but it didn't last long in the 14-team tournament, as the Patriots endured a blowout loss to the Buffalo Bills in the wild-card round. With further growth from Jones — that I personally think will come — and a few opportunities to get better this offseason, New England could make a deep playoff run sooner rather than later.
REVIEWING MAC JONES' ROOKIE CAMPAIGN
Jones finished his rookie year with an 80.4 PFF grade — the best among all rookie quarterbacks and tied for 11th-best overall at the position. He joined four other rookie quarterbacks in the last decade — Russell Wilson, Dak Prescott, Baker Mayfield and Robert Griffin III — who earned an 80.0-plus PFF overall grade in Year 1 (Justin Herbert just missed in 2020 at 79.9). 
"Cerebral" is the best way to describe Jones' play. His accuracy, timing and processing ability stood out during Alabama's national title run in 2020, and those traits translated nicely to the NFL. He is a quick and decisive decision maker, whose 2.6-second average time-to-throw tied for the 10th-quickest in 2021 and is the eighth-quickest among all rookies in the last decade.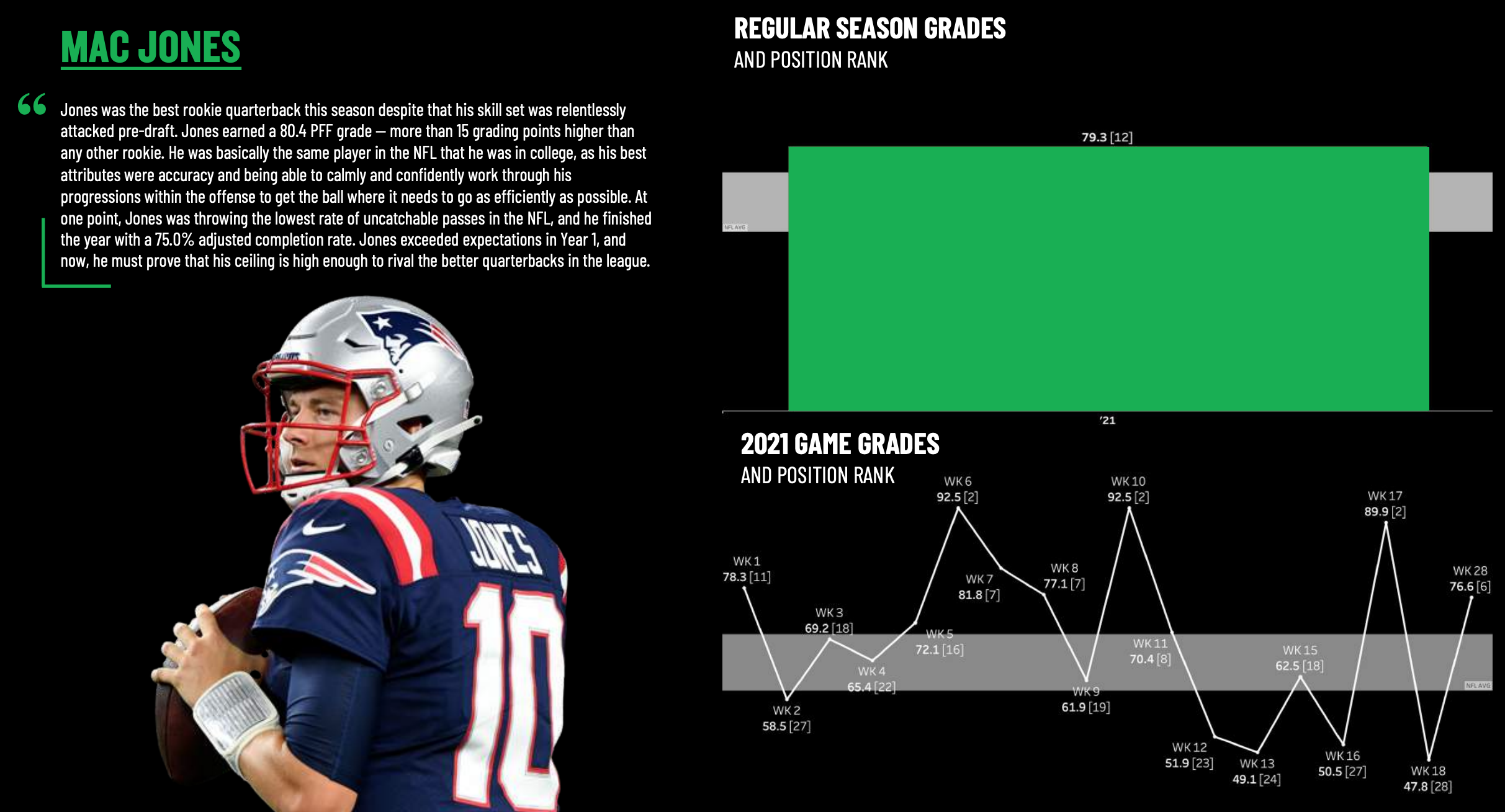 He naturally gets through his progressions to find the open receiver and didn't make many bad decisions or forceful throws during his rookie campaign. That's not to say he didn't have a few "boneheaded" rookie plays, but he was much better in that area than the typical rookie quarterback, as his 2.5% turnover-worthy play rate — which ranked sixth among all quarterbacks in 2021 — can attest. This isn't because Jones doesn't take risks or check the ball down too much. In fact, his 7.6% checkdown rate was over 2.5% lower than the rookie leader (Lawrence) in that category. 
These traits also have shown up in his sack numbers and performance under pressure. Jones was responsible for just one sack in 2021, making him the only starting quarterback in the NFL who wasn't responsible for multiple sacks this year. His calmness under pressure was apparent, as he made throws from tight quarters, manuevered the pocket well, kept his eyes downfield and consistently made smart decisions. Jones finished sixth in pressured passing grade this past season and produced the third-lowest turnover-worthy play rate when under duress.
Just take a look at this play during New England's Week 4 primetime matchup against the Tampa Bay Buccaneers.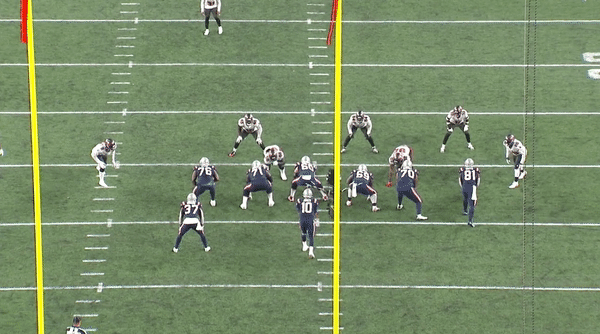 Early in the second quarter, the Bucs bring a well-designed blitz on second-and-19. After the ball was snapped, Damien Harris' blocked the wrong blitzing defender, which provides Linebacker Devin White a free path to Jones. At the same time, Jones appeared to want to attack down the seam but safety Antoine Winfield Jr. took it away. Nonetheless, Jones proceeded to sidestep White while simultaneously moving to his next read and delivering a catchable ball to the dig route to make it third-and-manageable.
This was one of several instances where Jones played like a seasoned vet during his rookie campaign. 
Jones had a knack for manipulating linebackers at Alabama, and he did the same at times this past year in New England. This play against the Cleveland Browns is a great example: 
Innate.
From coaches to the receivers themselves, the entire New England organization raved about Jones' ability to consistently deliver accurate and anticipatory throws. His former offensive coordinator with the Patriots — and now Las Vegas Raiders head coach — Josh McDaniels raved about how well Jones leads his receivers and places the ball where the defender can't make a play. The tape and data back that up. Jones' 21.1% uncatchable pass rate on throws beyond the line of scrimmage ranked 11th among all quarterbacks in 2021 and third among rookie quarterbacks since PFF started collecting such data in 2016.
McDaniels enabled Jones to take command of New England's offense, and the rookie seized the opportunity. On a weekly basis, he displayed his ability to change protections and audible to a new play when necessary. Jones clearly was doing his pre-snap job well because the Patriots wouldn't have ranked eighth in offensive success rate if he had a tougher time.
Tom Brady was always lauded for his effectiveness using quarterback sneaks, and Jones is coming for Brady's title as "top sneaker in the NFL" now that the future Hall-of-Famer has retired. Jones actually led the NFL in successful quarterback sneak conversions this past season with 15 — most of which were plays in which Jones audibled to the sneak after seeing the front the defense presented.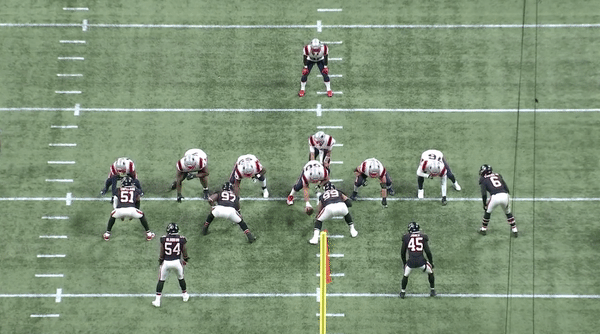 Jones may not possess the top-tier arm strength that stars like Patrick Mahomes and Josh Allen have, but that doesn't mean he can't be an elite quarterback. Jones was the highest-graded quarterback in the NFL for a multi-month stretch midway through the season. As a rookie, any such stretch is unheard of, but Jones has proven that he's can produce at a sustained elite level with more reps.
IMPROVING IN FREE AGENCY AND IN THE 2022 NFL DRAFT
Subscribe to PFF Edge to continue reading
Already have a subscription? Sign In