"An ounce of disguise is worth a pound of scheme." That's an old Ben Franklin quote on fire safety repurposed for football, and it's become my favorite cliche.
It seems like football coaches at some point forgot how important deception is to an offense. When I think about the football played during my formative years, I think of lining up, showing the defense your hand and then doing exactly what the defense thought you were going to do.
[Editor's note: Subscribe to PFF ELITE today to gain access to PFF's Premium Stats and new Player Grades experience in addition to the 2020 NFL Draft Guide, 2020 Fantasy Rookie Scouting Report, PFF Greenline, all of PFF's premium article content and more.]
It wasn't always like this: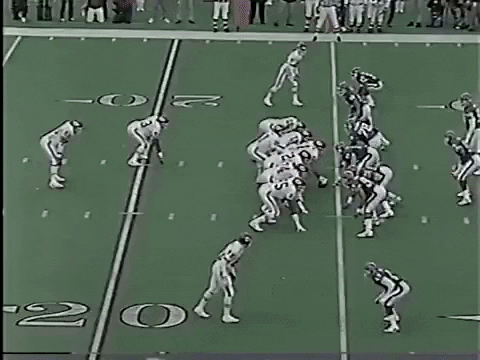 Deception was a major part of earlier offenses. Even before the sneaky ball handling of option offenses, the attacks of the 40's, 50's and 60's all needed fakes and gadgets to create yards. Those early base formations saw teams use a fraction of the split receivers we see in today's game. Condensed formations, as they were, meant you couldn't just line up and hand the ball off. It is surprising how much deception was baked into everyday life for offenses around the country.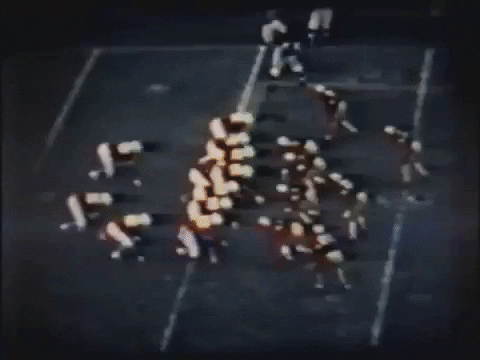 That clip is from the 1950 Sugar Bowl between LSU and Oklahoma. Future Texas coaching legend Darrell Royal hands to his running back before getting the pitch back from him.
Find any football game from before you were born and you'll find some of the wackiest ideas you've ever seen. Here's a direct snap to a running back who then throws a hook n' ladder to the tight end from 1945 Army: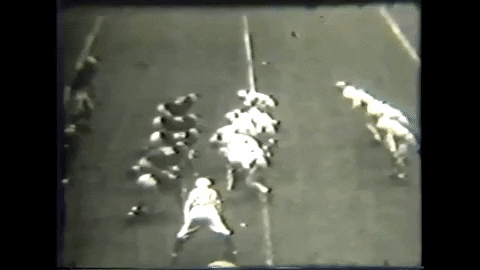 Another hook n' ladder from SMU great Doak Walker:
Ok well here's Doak Walker running an insane triple option look hook n' lateral in like 1948 pic.twitter.com/vXWEc4WHbd

— Seth Galina (@pff_seth) January 10, 2018
It's everywhere.
A lot of these plays form what's known as "series" football. With one backfield action, there could be a multitude of outcomes.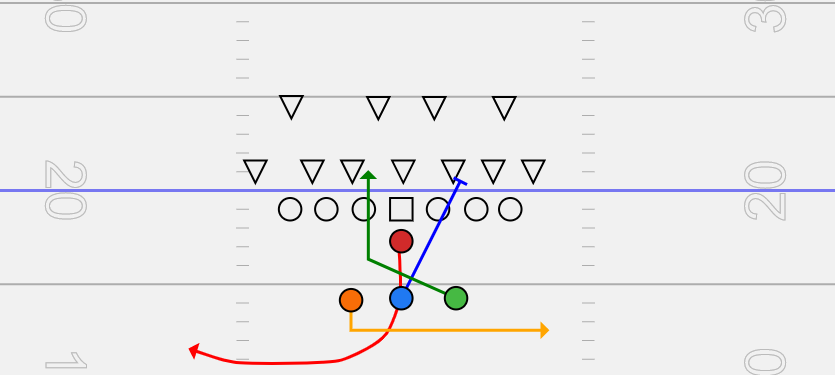 The ball could go to any of these players.
For most of football's existence, this was offense. It is still a big part of lower-level football, but at some point it just went out of style at the higher levels. Putting more receivers on the field meant fewer backfield players to create confusion. There became a risk-averse nature to calling offense. Line up. Pound it. Punt it.
Luckily, we might be turning a corner. Consider the most simple of deceptive actions — the play-action fake. We've seen an increase at the NFL level, as total play action dropbacks have risen every year since 2015. Just under 12% of all plays in 2015 were play-action, and by 2019 that number rose to 15%. There is at least some form of deception.
The Rams under Sean McVay lead the NFL in play action attempts since he became the head coach in Los Angeles in 2017. McVay is also on the forefront of bringing series football back into the mainstream.
He has a base play — the outside (or wide) zone — and so many different components of the overall attack are built off that one action. The interesting aspect is not necessarily the first play-action concept off the wide zone — McVay also uses the jet sweep to create more eye candy — because professional defenses are good enough to figure out that progression. It's the ones that follow.
You can watch this short video I put together on his play-action scheme here:
Subscribe to PFF Edge to continue reading
Already have a subscription? Sign In