The Los Angeles Rams' front office has had quite the 10 days of dealmaking, now agreeing to terms with wide receiver Robert Woods on a four-year, $65 million extension with $32 million in total guarantees, per NFL Network's Ian Rapoport. Woods was previously under contract through 2021 and gets $4.5 million in new money on top of his pre-existing deal. 
Subscribe to
Jalen Ramsey, Cooper Kupp and now Woods have all agreed to terms within the past two weeks, and the Rams' shutdown cornerback and top two wide receivers are set to be in Los Angeles for years to come. Rarely do you see a cornerback's deal come in at $4 million per year more than the top two receiving threats on his team's offense, but that is what Ramsey and agent David Mulugheta accomplished after a blockbuster trade from the Jacksonville Jaguars:
Five years, $100 million. $20 million per year — Jalen Ramsey

Four years, $65 million. $16.25 million per year — Robert Woods

Three years, $47.25 million. $15.75 million per year — Cooper Kupp
There were rumors of Woods' deal being close to complete earlier this morning, and when the final terms finally came to light, we were thoroughly impressed. Woods' $16.25 million average makes him only the 10th highest-paid wide receiver in the NFL on a per-year basis. Notably, and probably not by accident, Woods now ranks just ahead of Brandin Cooks, whose current deal has an average per year of $16.2 million. Giving Woods only the 10th-highest salary for a wideout on a per-year basis (could be 11th in a matter of days, depending on how the Allen Robinson situation unfolds in Chicago) is a major win on the Rams' part.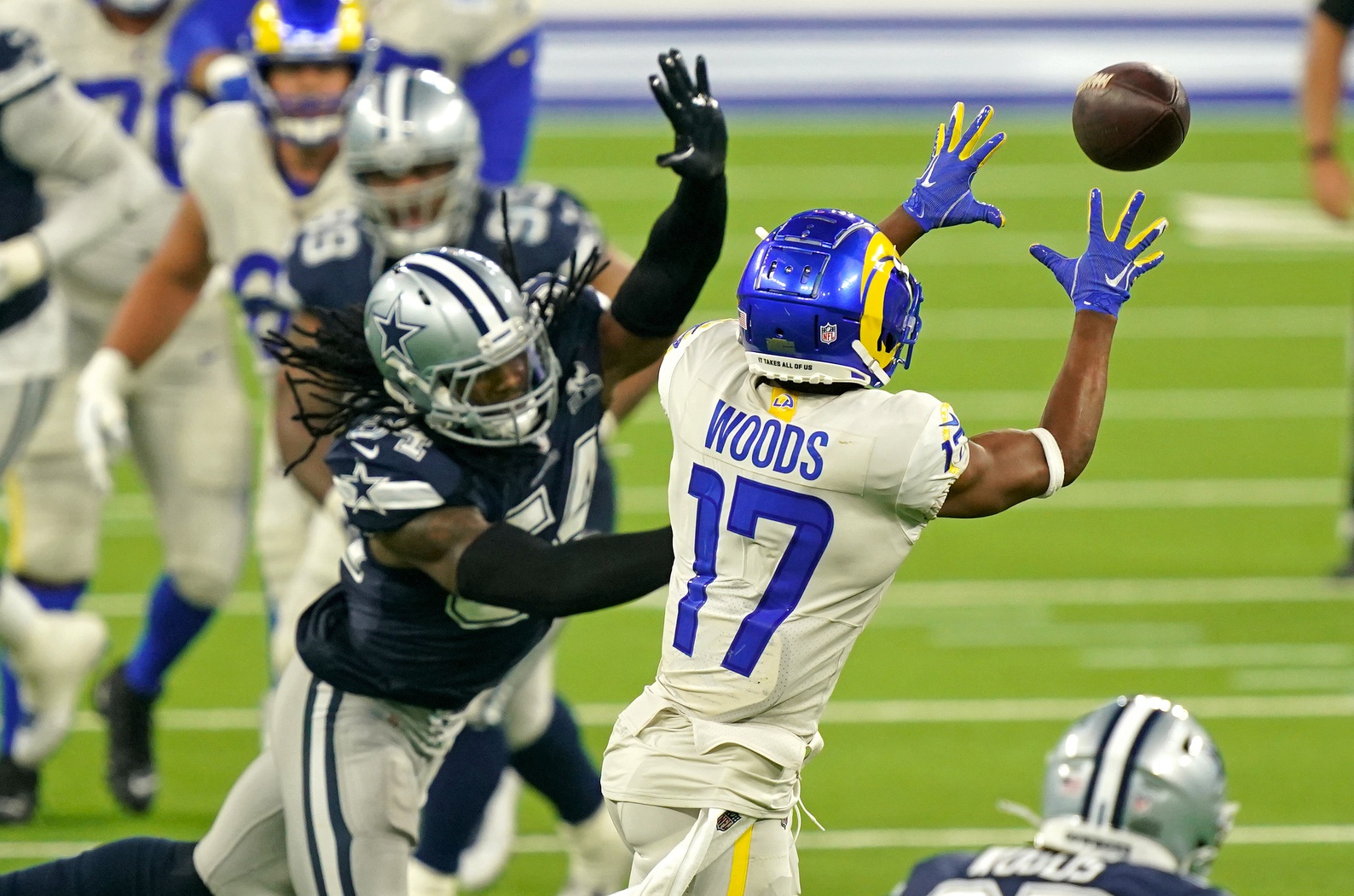 The Rams were able to lock up Woods and Kupp for a combined $32 million per year, making them just the second team in the NFL with two wide receivers earning above $15 million per year (Cleveland Browns: Odell Beckham Jr. — $18 million; Jarvis Landry — $15.1 million). DeAndre Hopkins' recent two-year extension with the Arizona Cardinals was for $27.25 million per year (which looks like a bargain after his 14-reception, 151-yard debut in Week 1), so the Rams certainly aren't spending so much at wide receiver as to be a concern. 
Los Angeles has had quite the whirlwind offseason, unloading the contracts of two former weapons in Cooks and running back Todd Gurley. The Rams took on $21.8 million in dead money in trading Cooks — believed to be the largest single-year dead money charge for any player in NFL history. This full amount hit their cap in 2020, and Gurley's release added an additional $11.75 million in dead money for 2020 and $8.4 million in dead money for 2021 (a combined total of $20.15 million). Between Cooks and Gurley, $33.5 million of the Rams' $198 million 2020 NFL salary cap — roughly 17% — is accounted for by two players no longer on the roster. 
The Rams decided to go in a different direction and knew there were some key offensive players due for extensions. Kupp was entering the fourth and final year of his rookie contract, and Woods had just 2020 and 2021 remaining. The Rams agreeing to buy out the 2021 year for Woods may have gotten them a bit of a discount, as we believe Woods to be a tremendously valuable player. 
Woods ranked sixth in wins above replacement at wide receiver over the 2018-19 seasons, in large part because of his incredibly diverse skill set and reliability. He is also a model of efficiency:
Ranked 24th and 27th in 2018 and 2019, respectively, in yards per route run among all wide receivers with a minimum of 20 targets in either season. 

Ranked 14th and seventh in drop rate in 2018 and 2019, respectively. 
Woods earned the eight-best receiving grade in 2018 and the 14th-best mark in 2019, reemphasizing how he produces often and doesn't waste the opportunities afforded to him. But perhaps what Sean McVay loves most about Woods, and what enabled the Rams to be so effective running the ball out of 11 personnel, is his' prowess as a run blocker: 
Woods ranked 10th in 2018 and 13th in 2019 in run-blocking grade among all wide receivers with at least 50 run-blocking snaps. 

Brandin Cooks ranked 94th and 105th, respectively.

Cooper Kupp ranked 84th and 110th, respectively.
Woods' blocking boosted the Rams' zone running game, clearing a path on the outside for two generational backs in Gurley and the recently retired C.J. Anderson on the way to a Super Bowl appearance. 
Still just 28 years old, the former second-round pick of the Buffalo Bills should have some good football ahead of him on the West Coast. Woods may now have an even larger role with the departure of Cooks, and Week 1 saw him go over 100 yards in a big win against the Dallas Cowboys. 
The Rams once again have a heavy concentration of contracts at the top of their roster, with Jared Goff, Aaron Donald, Andrew Whitworth and a few others on larger contracts relative to their positional peers across the NFL. After a 1-0 start, the Rams are dialing it back up and pushing their chips in once again.