COSTA MESA, Calif. — It was an hour after a spirited joint practice between the Los Angeles Chargers and San Francisco 49ers concluded Thursday, and I was sweating just crouching on the sideline in the early-afternoon Orange County sun while staring at two mostly empty practice fields. Standing near the end zone of the far field were just four Chargers players and three coaches, and it began to feel like rookie wide receiver Josh Palmer would never stop running deep routes for quarterback and impending NFL superstar Justin Herbert.
Subscribe to
This is Palmer's daily routine. It's a mutually beneficial exercise: Palmer gets to work on something that gave him trouble in practice, and Herbert looks to improve an aspect of his game, as well.
"We're kind of similar to where half the time we're on the field we feel like we played like crap," Palmer told PFF on Thursday. "It drives us. I'm able to go up to him and tell him, 'My bad I sucked on that play.' But then during the same play he'll say, 'Nah, it was me — I sucked on that play.'"

---
Click here for more PFF tools:
PFF Fantasy Draft Kit | PFF Betting Dashboard | PFF Fantasy Rankings
PFF Fantasy Projections | NFL Premium Stats | Win Totals Tracker
---
They were joined on Thursday by backup quarterback Easton Stick, 2020 undrafted free-agent wide receiver John Hurst, offensive coordinator Joe Lombardi, passing game coordinator/quarterbacks coach Shane Day and offensive quality control coach Chandler Whitmer. The four players were working on deep passes and over-the-shoulder catches, and Palmer was precise in getting this skill down perfectly even if it meant dropping passes in the process. Sometimes the wide receivers would stay downfield and only finish their routes before attempting to make the difficult grabs without looking back at the ball. But most of the time they were running deep routes over and over in the midsummer heat. It looked absolutely exhausting.
"I don't give a damn. I'm going to keep it raw, if I've got to work on something then I've got to get it down because I've got to work on it now so they can trust me to do it in a game," Palmer said. "If I can't do it in practice, if I can't prove to them that I can do it, then what sense does it make? I know I have to keep my legs good for practice, but once I know I can catch it then I can give my legs a break. But I need to go out and get it every day and prove it to myself that I can do it. I'll do whatever I can to make that happen and make this team trust me and make plays when I need to."
Making the NFL jump
Palmer doesn't suck. The Brampton, Ontario, Canada-native was selected 77th overall in the third round of the 2021 NFL Draft out of Tennessee, and he's the front runner to start Week 1 of the season as the third receiver alongside Keenan Allen and Mike Williams. But if he convinces himself enough that he sucks, then he'll keep perfecting his game. Maybe one day he won't have to stay after practice to the point where he's side-eyeing the last bus back to the Chargers' facility in hopes it doesn't take off without him, leaving him to walk a mile from the Jack R. Hammett Sports Complex to the team facility while answering questions from a reporter on why he's still here so late.
The jump from the SEC to the NFL is a big one, despite the college conference's lofty reputation. The leap he took in high school from St. Roch Catholic Secondary School in Brampton to perennial powerhouse St. Thomas Aquinas High School in Fort Lauderdale, Fla., might have been even greater. Suddenly, after playing a high school sport that is an afterthought in the Greater Toronto Horseshoe region of Canada, he was teammates with future Chargers cornerback Asante Samuel Jr., and edge defender Nick Bosa (who was on the opposing team, the 49ers, in Thursday's practice) plus 2021 second-round pick Elijah Moore.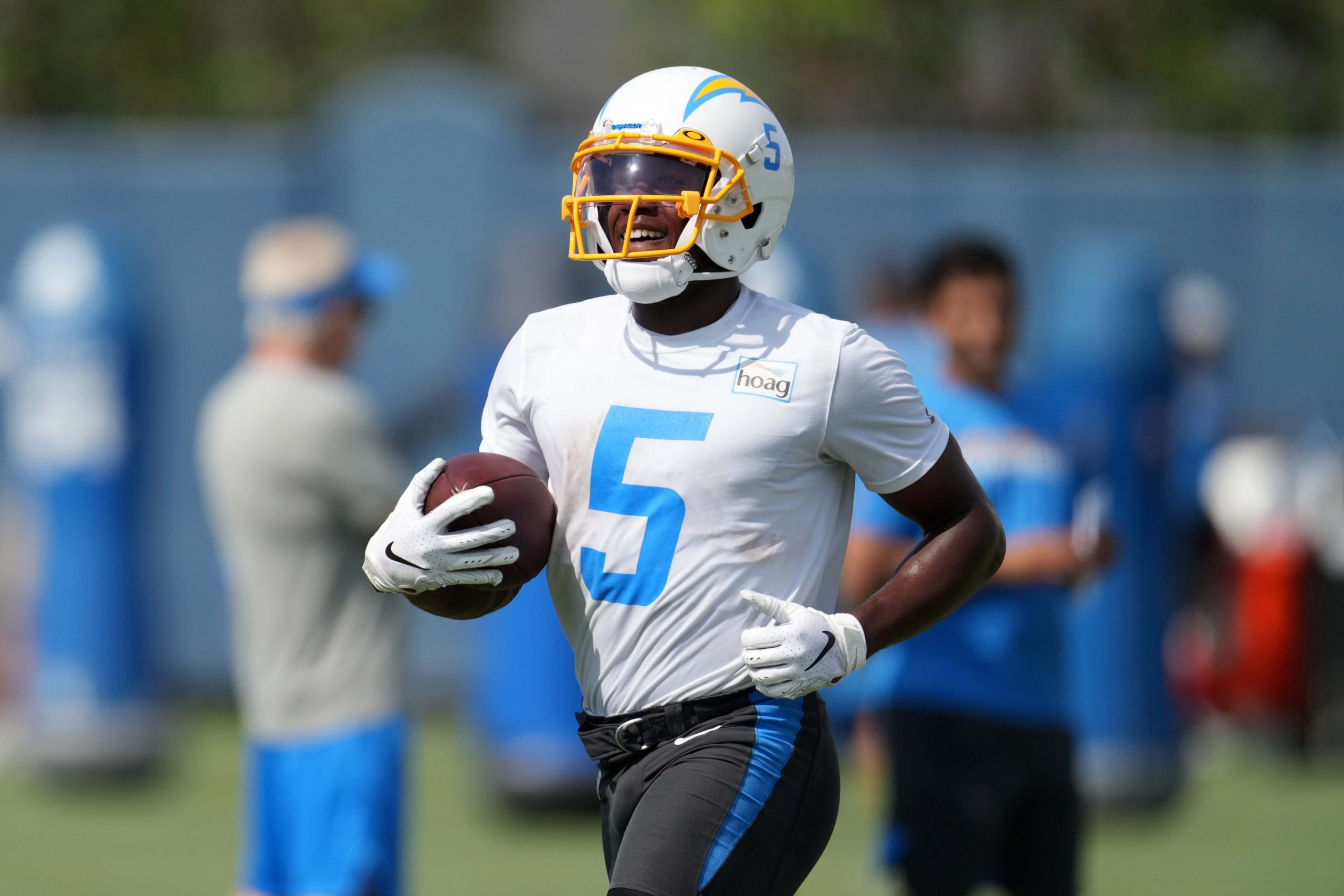 Palmer went on to be a three-year starter at Tennessee but never put up gaudy stats through some uneven quarterback play. He shined at the Senior Bowl and has continued his ascent in camp.
A fast rapport with Herbert has helped, and he's received valuable mentorship from Allen, one of the best wide receivers in the NFL.
"I talk to Keenan and Mike after every series," Palmer said. "After every series I come off the field and I'm always going to them asking them if they saw my route, what happened on their route, how could I have run my route better, just getting their trust. I want the players to be able to trust me, and the coaches to be able to trust me to where I feel confident when I'm in the game."
And Palmer feels like his game could compliment Allen and Williams in the starting offense.
"I feel like we all play differently," Palmer said. "Keenan, he's more suave and he's more saucy. He can run any route. My game is more vertical, powerful, run hard, stop hard, come in and out of breaks. Mike's savvy too, can get the high ball, really athletic. The way we play complements each other, just the DBs are going to expect different things from us."
Progress is evident
It takes a lot for Palmer to give himself a compliment. But he's working on it. And being so negative about his play on the field can be beneficial at times.
"I feel like most times it does help me, it keeps me grounded," Palmer said. "But sometimes I don't give myself enough credit. Sometimes I feel like I don't deserve it. I feel like if I make a play, I should make it so there's nothing to be happy about. I'm working on it, on not being too hard."
Palmer caught six passes on six targets for 36 yards in his NFL preseason debut for an 83.3 overall offensive PFF grade. He caught a touchdown Sunday night against the 49ers.
The rookie's tough self-love has helped him build an early rapport with Herbert, so it's certainly not hurting. Someday, Palmer can retire early into the facility with the rest of his teammates. But he's smart to stay after while still earning his role on the team.