The Carolina Panthers made history in the 2020 NFL Draft when they spent all seven of their draft picks on defense. Per ESPN Stats & Information, those seven selections tied the 1985 Cleveland Browns for the most on one side of the football in NFL history. 
Carolina Panthers 2020 draft selections
Adding so many young pieces was a quick way to try to jumpstart a unit that was lacking talent — especially after losing all-world linebacker Luke Kuechly to retirement — but how does that decision look one year later? 
To start that conversation, let's first look at how each of those draft picks performed as rookies. 
PFF positional grade rank: 78 / 130
Oddly enough, Brown's grading profile this season was the opposite of what many would have expected entering the year. Through Brown's first three seasons at Auburn, his development as a run defender had always been a step ahead of his development as a pass rusher — all the way up until his senior season when he produced an 89.9 pass-rushing grade for the Tigers. 
His bottom line in the 2020 PFF Draft Guide read, "Brown will stop the run and push the pocket at the next level. Those things are not really up for debate." Meanwhile, one of his "cons" read, "Can he affect the pass game enough at his size? Trends far more run-first defensive tackle."
Despite that, Brown graded significantly higher as a pass rusher (71.9) than he did as a run defender (54.1) during his rookie season in Carolina. Some of his pass-rushing wins, like the one below against Gabe Jackson in Week 1, were simply a function of grown-man strength and Brown's ability to launch a large human being by his shoulder pads. 
Brown also showed the ability to win with a quick first step as a pass rusher, particularly when lined up over center where he posted a pass-rush win rate of over 20% on the season across 68 pass-rushing snaps.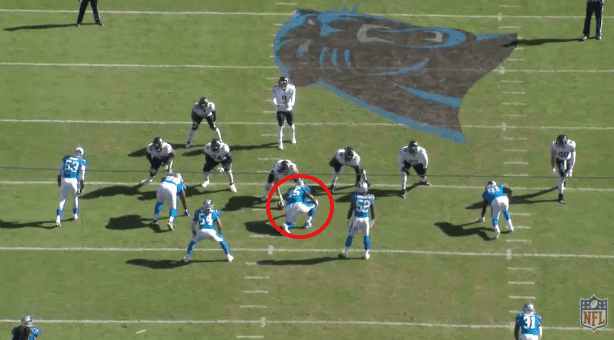 This rep against Cody Whitehair is one such example. Brown doesn't get home thanks to the quick release by Nick Foles, but you're not going to see a player win up the middle much more quickly than that. 
There were promising signs overall for Brown's ability to affect the game as a pass rusher considering some of the concerns in that department coming out of Auburn. His 34 pressures on the season ranked second among all rookie defenders, trailing only Chase Young. 
Brown's performance against the run was more concerning. He was too often moved off the ball by double teams or caught working out of his gap to try to make a play, without enough disruptive plays in the backfield to make up for those negatives. Brown's 54.1 run-defense grade on the year ranked 90th out of 130 qualifying interior defenders. 
Chances are we will see improvement in that area in 2021 given how well he projected in that department coming out of the collegiate ranks, making his rookie season promising as a whole.  
PFF positional grade rank: 97 / 115
Subscribe to PFF Edge to continue reading
Already have a subscription? Sign In