It's been over a week now since David Njoku requested a trade from the Cleveland Browns. Per ESPN's Adam Schefter, Drew Rosenhaus — Njoku's agent — stated, "It is in David's best interest to find a new team at this time." 
He now joins the likes of Jamal Adams and Yannick Ngakoue, both of whom have requested trades this offseason. But as we have seen, the current air of uncertainty surrounding when or how the NFL season will take place has slowed transactions over the past several months. It may be some time until Njoku's request results in a trade, and at this point, he is still more of a potential high-level contributor than he is a finished product. 
Njoku saw increased volume in the passing game in 2018 over his 2017 rookie season, but his PFF grade remained nearly identical. He finished the 2017 campaign with a 66.4 overall grade and the 2018 season with a mark of 66.3. A stint on injured reserve with a wrist injury and some tension surrounding his return to the field kept Njoku from any chance at improvement in 2019, as he played just 99 offensive snaps all year.  
His size and athleticism should intrigue plenty of teams, but for Njoku to become the player many believe him to be, consistency is key. There is still plenty of time for that to become reality, though. These are the teams that make the most sense as landing spots for Njoku to continue to develop. 
Of all the potential destinations for Njoku, this one makes the most sense. The signing of Cam Newton indicates that the Patriots have no intention of tanking — otherwise known as "seeing what they have" in Jarrett Stidham. They have a dearth of receiving weapons for Newton, especially at the tight end position. I wrote about what figures to be the training camp battle at tight end between Matt LaCosse, Devin Asiasi and Dalton Keene last week, but the truth is that none of those guys are likely to offer much in the passing game in 2020.
The Patriots could part ways with a mid- to late-round draft pick for a semi-proven player whose value is at a low point — a staple of the Patriots under Belichick. There's a reason that New England is among the favorites to make the move. 
When the Packers signed Jimmy Graham to a three-year, $30 million contract, they thought they would be getting more from him than they did. In his two years with the team, he recorded just over 1,000 receiving yards and five touchdowns. His overall grade — 59.6 in 2018 and 58.0 last season — never cracked 60.0. The Packers have invested third-round picks in tight ends in each of the past two years, but neither is a sure bet to contribute in a lead role after Graham's departure. Jace Sternberger's career got off to a rough start in 2019; he had no receptions until the postseason after returning from injured reserve. He is actually older than Njoku despite the limited experience, as well. This year's pick — Josiah Deguara — has some interesting H-back qualities but doesn't have great size or length and underwhelmed at the catch point at Cincinnati.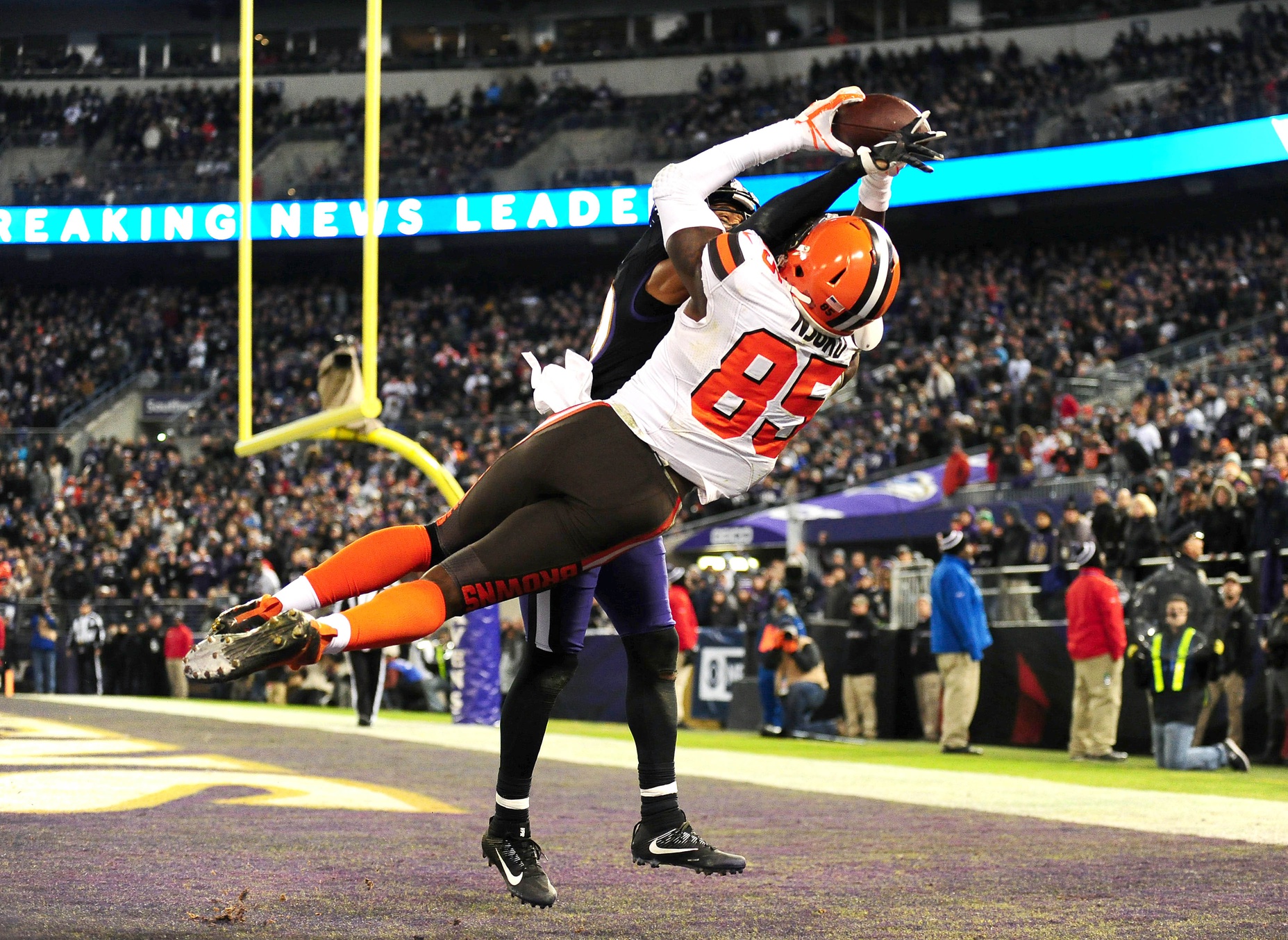 With the lack of receiving help added for Aaron Rodgers this offseason, a deal for Njoku makes sense despite having players like Sternberger and Deguara already on the roster. Rodgers may not be the truly elite quarterback he was toward the beginning of the 2010s, but you still need to try to maximize your championship window with him if you're Green Bay. 
The Cardinals already made a big splash this offseason by acquiring DeAndre Hopkins via highway robbery from the Houston Texans. Bringing in Njoku wouldn't make nearly as big a splash, but it would answer an important question: Which Cardinals tight end threatens opposing defenses in the passing game? The current answer to that question is none of them.
Maxx Williams is the presumptive starter as of now, but he is known more for his blocking (84.7 run-blocking grade last season) than he is his proficiency as a receiver. His 202 receiving yards in 2019 were the most in a season in his five-year career. The receiving trio of Hopkins, Larry Fitzgerald and Christian Kirk is a good start at surrounding Kyler Murray with talent. Bringing in Njoku to start at tight end would give them another way to threaten defenses.
The Newton era has come to a close, and the new iteration of the Panthers' offense will be ushered in by the additions of Teddy Bridgewater, Robby Anderson and Joe Brady. Newton wasn't the only player to depart, though. Greg Olsen wasn't quite the same player over the past few years due to injuries, but his 89.9 overall grade with Carolina since 2011 ranks third among 58 qualifying tight ends — behind only Rob Gronkowski and Travis Kelce. He won't be an easy player to replace.
The man currently tasked with filling that hole is Ian Thomas, who produced PFF grades of 53.3 and 51.8 in his first two NFL seasons. Njoku would add to the primary strength of this team — the receiving corps — while fitting with the timeline of the young players he would be playing alongside. With Joe Brady's thoughts on five-man protections, Njoku would be getting out on plenty of routes in Carolina if it were to be his new home. The Panthers aren't going to be contenders in 2020, but they could view Njoku as a future building block. 
What does a trade mean for Cleveland?
Some simple deduction would lead you to conclude that Cleveland was going to run a fair amount of two tight-end sets with Njoku and free-agent acquisition Austin Hooper in 2020. New head coach Kevin Stefanski used plenty of heavier packages with the Minnesota Vikings in 2019, and many of the same play-action principles would seemingly benefit Baker Mayfield. Adding to that theory is the fact that the Browns do not have a solidified No. 3 wide receiver on the depth chart. Behind Odell Beckham Jr. and Jarvis Landry, the next guy on the depth chart is Rashard Higgins, who had just four receptions in 2019 after bringing in 39 passes for over 500 yards a year earlier. 
All that goes to say that if you expect Beckham, Landry, Hooper and Nick Chubb to be on the field for most plays, then there is a fifth spot up for grabs. Kareem Hunt seems the most likely beneficiary from no snaps going to Njoku. Over the past three seasons, he is the only running back in the NFL with both rushing and receiving grades above 85.0. I expect that receiving ability to be used heavily next season as the Browns get both Chubb and Hunt on the field together. A Njoku trade would also be a clear boost to Harrison Bryant in his rookie season and receivers like Higgins if it pushes the Browns toward using more 11 personnel, as well. At any rate, they won't be hurting for receiving talent without Njoku.