By most conventional measures, Minnesota Vikings quarterback Kirk Cousins was a top-five signal-caller last season. His performance has been good enough two years into his paradigm-shifting, fully guaranteed contract that the team signed up for more of the same, extending him for two more seasons. So why does it feel like he still doesn't quite get the credit he deserves?
Cousins had an 85.9 PFF passing grade last season, ranking fourth in the NFL. He also produced an 84.4 overall grade, which was good enough for fifth in the regular season. Remember, Cousins did this after a slow start that featured a particularly poor Week 2 performance against the Green Bay Packers in which he completed just 43.8% of his passes and generated a mere 25.8 overall grade. If you remove that game, his grade jumps into the 90.0s and he was as good as any quarterback in football.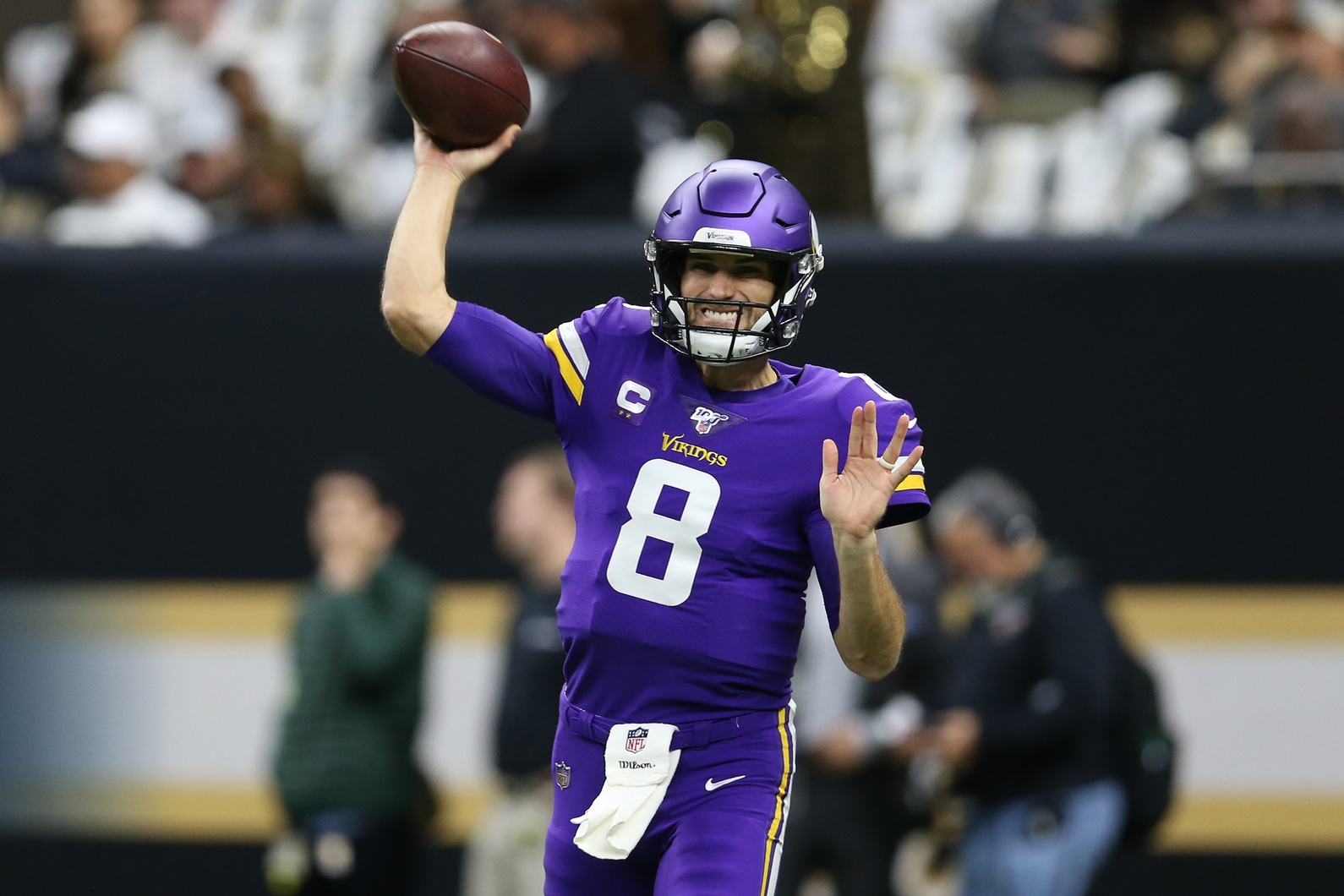 Jan 5, 2020; New Orleans, Louisiana, USA; Minnesota Vikings quarterback Kirk Cousins (8) throws a pass during warm ups before a NFC Wild Card playoff football game against the New Orleans Saints at the Mercedes-Benz Superdome. Credit: Chuck Cook -USA TODAY SportsThat game did happen, though, so discounting it entirely isn't a great process. But sometimes players have ugly days at the office that aren't representative of their future performance. Tossing out that outlier from Cousins vaults him into a pretty rare air of quarterback company league-wide. Over the past two seasons, he trails only Russell Wilson, Drew Brees and Patrick Mahomes in PFF passing grade without that game.
Of course, that gives him an unfair advantage. But even if we lose the worst game of all of the other top passers, Cousins maintains that spot as the No. 4 quarterback. He obviously adds no value with his legs, and a two-year view harms a player like Lamar Jackson, who was merely average as a rookie before exploding into an MVP season, but it does go some way to showing the kind of level Cousins has been operating at for the majority of his time with the Vikings. You can make a convincing argument that he is a top-five quarterback in the league right now.
Subscribe to PFF Edge to continue reading
Already have a subscription? Sign In