In a year of outstanding performances on both sides of the ball, two offensive rookies stood out above all others: Minnesota Vikings' Justin Jefferson and Los Angeles Chargers' Justin Herbert. While both were integral pieces of successful offenses, our tendency to focus on positional value and counting stats has bolstered the campaign for Herbert as the offensive rookie of the year. Herbert set the rookie records for passing touchdowns (31), most games with 300 yards passing (7) and narrowly missed the record for most rookie passing yards (4,336). Jefferson was also prolific, setting the rookie record for receiving yards (1,400).
It's understandable that in a situation with two outstanding players that the tie would go to the most valuable position in the sport. But much of the hype around Herbert, and specifically calls that his numbers make him the best rookie ever, ignores the distinction between counting stats and efficiency, with the latter being the true driver of value. Herbert is playing in an era of incredible passing volume and efficiency and was third in the NFL in pass attempts per game (39.7). Not only was Dan Marino the most efficient quarterback of his rookie season according to adjusted net yards per attempt, but his unadjusted number was higher than Herbert's nearly 40 years later (7.4 to 6.8).
Herbert should get some credit for the degree to which the Chargers were willing to lean on him this year, but the team was smack in the middle of the league in terms of percentage of plays that were passes and pass plays over expectation, when accounting for down, distance, field position and score differential.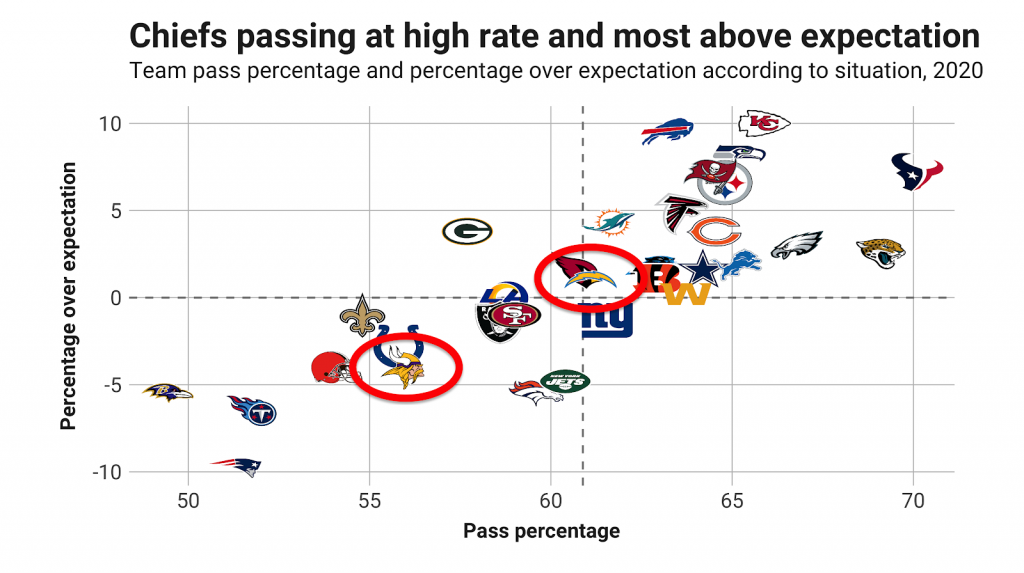 The Chargers weren't afraid to use Herbert, but they were unusually reliant on him either. Jefferson, on the other hand, was dealt one of the most difficult contexts for wide receiver production in the NFL, with the Vikings throwing the sixth-fewest pass attempts (516). Jefferson broke records while being held down by the run-first philosophy of his offense.
If we normalize Herbert's and Jefferson's production for volume, the degree to which Jefferson outperformed, on a relative basis, becomes apparent. Comparing both players to their peers across the league by various efficiency and volume metrics is the best way to juxtapose the levels at which they played.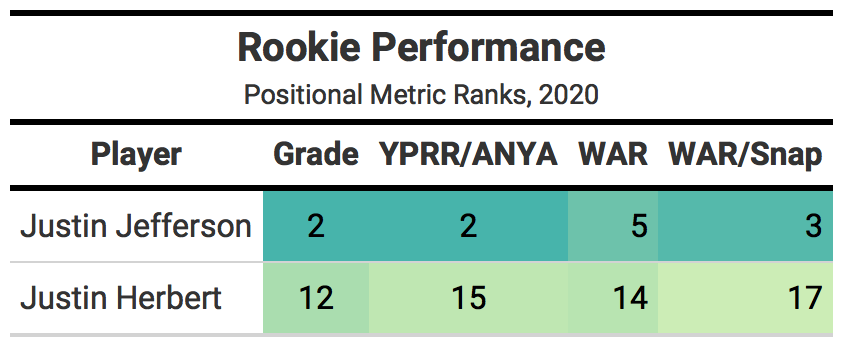 Comparing Jefferson to the broad cross-section of all players in the NFL at his position, his 2020 looks like a superior performance to Herbert's. Jefferson is second among all wide receivers in receiving grade and yards per route run (YPRR), fifth in PFF's wins above replacement (WAR) metric and third in WAR per snap played. Herbert was 12th in passing grade among quarterbacks, 15th in adjusted net yards per attempt (ANYA), 14th in total WAR and 17th in WAR per snap.
Jefferson was a top-tier player at his position as a rookie, Herbert was closer to the middle of the pack. Only Davante Adams bested Jefferson in receiving grade and YPRR, and the others to have higher WAR totals in addition to Adams were DeAndre Hopkins and Allen Robinson.
When we narrow the comparison to only rookies from a longer time period (2010-2020), Hebert's performance does look better compared to Jefferson's, but still not at the same level.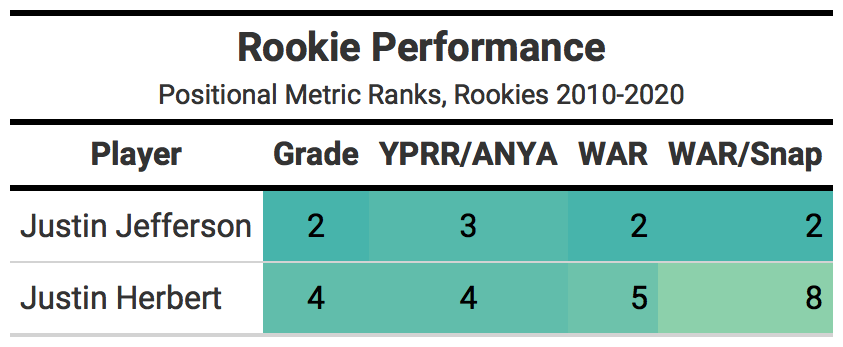 Jefferson had the second-highest receiving grade for a rookie since 2010, below only Odell Beckham Jr., who perhaps had the greatest rookie season ever for a wide receiver in 2014. Herbert is close at fourth highest, but also still trails Jefferson in relative efficiency in ANYA, total WAR and WAR per snap. The quarterback position appears harder to conquer for rookies, but adjusting for that doesn't close the gap between Jefferson and Herbert.
Jefferson also produced in a way that is less replaceable, with 70% of his receiving snaps and 65% of his receiving yards generated when lined up outside. Jefferson wasn't pigeonholed into a particular role or depth of the field, with 30%, 34% and 34% of his receiving yards coming from target depths of 0-9 yards, 10-20 yards and 20-plus yards, respectively. Jefferson did everything a team would want from an elite veteran wide receiver.
We've all heard the complaints about the MVP award only going to quarterbacks, but with the word "value" in the title of the award, it ties the hands of voters to make the good faith selection of a quarterback. The offensive rookie of the year award doesn't force voters into the quarterback box, and we should use that opportunity to reward excellent play across the field.
It's true that accounting for positional value gives Herbert a boost, with his absolute WAR this season at 1.7 versus 0.7 for Jefferson. But the Offensive Rookie of the Year is not explicitly a value-based award like MVP. If you think of OROY as similar to "most outstanding player," Jefferson is the clear choice after dominating the position to the highest degree this season.