Good players make good plays look routine, and great players make difficult plays look easy.
Elite players, though, make rare plays that can't be categorized by the same tidy binaries. There's little else happening in football to use as a proper point of comparison for the top 1% of athletic showcases, and the decisions to attempt such plays are typically inadvisable, even for a professional.
ROCKET ARM HERBERT. #BoltUp

????: #NYGvsLAC on FOX
????: NFL app pic.twitter.com/mWQkmNFftB

— NFL (@NFL) December 12, 2021
I keep that in mind whenever Justin Herbert is on my screen. When he uncorked a 59-yard bomb to Jalen Guyton in Week 14, the same thought crossed my mind that has at all of Herbert's peaks in 2021:
Nobody should be able to do this. Not this well, not this young, not this consistently.
Herbert was great as a rookie in 2020, finishing in the 66th percentile in PFF Wins Above Replacement (WAR). This year, he's leapt into the 98th percentile while playing like the best quarterback in the NFL more often than not.
| | |
| --- | --- |
| Justin Herbert, 2021 Season | Value (NFL Rank, min. 100 Dropbacks) |
| Dropbacks | 559 (3rd) |
| Passing TDs | 30 (3rd) |
| Adjusted Completion % | 77% (9th) |
| Passer Rating | 100.3 (10th) |
| Wins Above Replacement | 3.00 (2nd) |
Herbert is the first quarterback to throw 30 touchdowns in each of his first two NFL seasons, but focusing on the point-scoring production does the Chargers superstar a disservice. His ability to find the end zone is more than the laser show we see due to his arm strength. Digging into the film and the data, you'll see a signal-caller who is operating as a robot/savant hybrid, maximizing a generational skill set while making few poor decisions.
Click here for more PFF tools:
Rankings & Projections | WR/CB Matchup Chart | NFL & NCAA Betting Dashboards | NFL Player Props tool | NFL & NCAA Power Rankings
---
Chunk Plays
There has been plenty of hand wringing about offensive coordinator Joe Lombardi's play calling, often being accused of trapping a top-five arm talent in a dink-and-dunk offense tailored toward quarterbacks in need of manufactured completions. The observers clamoring for more explosive opportunities are justified by the data: in spite of ranking 20th in attempts of at least 20 yards downfield, Herbert places second in yards per attempt, completion rate and passer rating.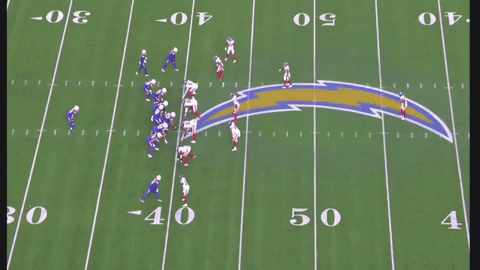 It doesn't matter what the game situation or passing concept may be, there's no area of the field that Herbert can't get to with a well-placed, well-timed throw. To add, there's a common thread in all of the quarterback's passing splits — he doesn't put the ball in harm's way. Of his 45 passes targeted 20 or more yards downfield, only one registered as a turnover-worthy play, the fewest of all 23 quarterbacks with 40 or more attempts.
Pure Dropbacks
The Lombardi offense is chock-full of the most difficult kinds of throws: no play action, no run-pass options (what I consider pure dropbacks). It's rare to see such a large mental and physical load put on a quarterback still playing out his rookie contract, but Herbert is fourth in the NFL in pure dropbacks (384).  Through Week 14, of the 19 quarterbacks with at least 300 pure dropbacks, Herbert ranks third in touchdowns (19), ninth in yards per attempt (7.2), seventh in adjusted completion rate (76%) and seventh passer rating (94.5). He's also made the fewest turnover-worthy plays (5).
To be so productive on passing concepts that aren't dressed up with misdirection or layered with options requires a high-level combination of mental processing and arm talent.
Herbert succeeds because of his ability to identify open receivers, working through to his third or fourth route in a progression against zone coverage, evident in this "spacing" concept meant to stretch a defense laterally…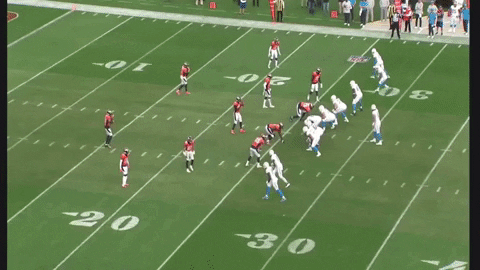 He's also adept at locating talent mismatches and leverage disadvantages in tight coverage when the defense is in a man or bracket concept, hitting in-breaking routes as they separate from defenders…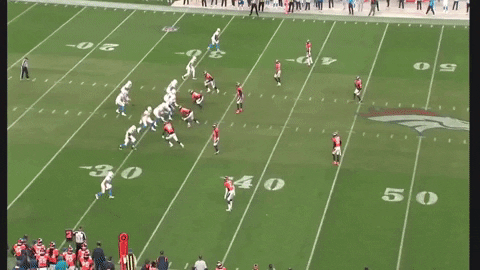 And, at a moment's notice, Herbert can flash his arm strength and find explosive play potential in the holes of a coverage, as he did by splitting the deep safeties with a bender route against Pittsburgh…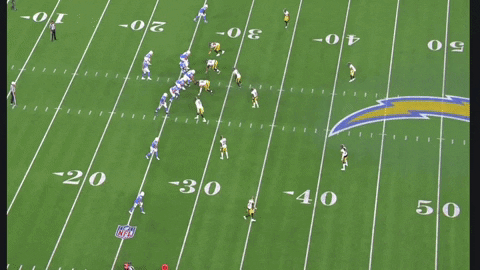 Managing Pressure and Bad Pockets
Operating as a top-tier quarterback in difficult situations doesn't stop with deep passing or pure dropbacks, either. Through Week 14, Herbert has 157 dropbacks with pressure, ranking 12th-most in the NFL. Of the 30 signal-callers with 100 or more dropbacks in such situations, Herbert slots in at sixth in passer rating despite ranking 19th in adjusted completion rate and 22nd in yards per attempt, and throwing short of the sticks at the fifth-highest rate. This is thanks (once again) to his risk aversion, having made the fewest turnover-worthy plays in the NFL.
| | |
| --- | --- |
| Justin Herbert, 2021 Season | Value |
| Dropbacks under Pressure | 157 |
| Yards Per Attempt | 5.8 |
| Adjusted Completion % | 62% |
| Rate of Throws Short of the Sticks | 44% |
| Turnover-Worthy Plays | 2 |
| Passer Rating | 79.6 |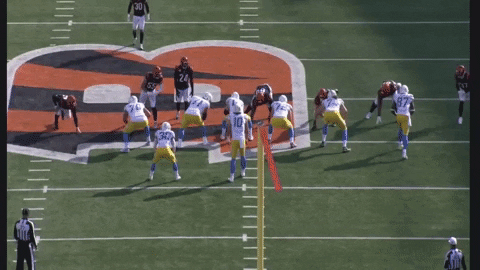 This efficiency under duress extends to throws made "off-platform," when the quarterback is moved off his original spot prior to his pass. Herbert ranks eighth in the NFL with 99 off-platform throws and currently sits in the top 10 of yards per attempt (8.1), passer rating (92.6), adjusted completion rate (69%) and PFF passing grade (60.3).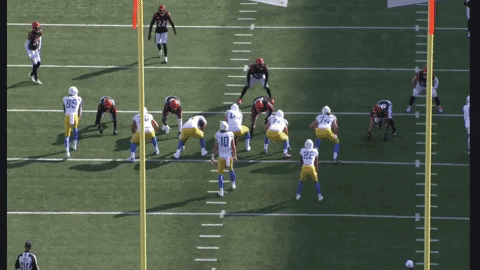 In an era requiring the game's elite to make video game-esque passes, even when they're pushed off their spot, Herbert's best can stand nose to nose with anyone's favorite throws this season.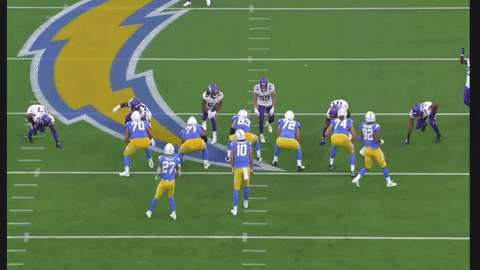 Winning on Third Down
Finally, nothing separates a quarterback from his peers quite like the "money" down, and nobody has performed quite like Herbert on such plays in 2021. Of the 24 quarterbacks with at least 100 dropbacks on third down, Herbert ranks first in passing grade, fifth in passer rating and throws beyond the sticks, sixth in yards per attempt, ninth in adjusted completion rate and again in the top three for fewest turnover-worthy plays.
| | |
| --- | --- |
| Justin Herbert, 2021 Season | Value |
| Third-Down Dropbacks | 147 |
| Adjusted Completion % | 73% |
| Yards Per Attempt | 8.3 |
| Rate of Throws Past the Sticks | 63% |
| Passer Rating | 104.8 |
In situations where you're most likely to see blitzes, tight coverage, two deep safeties or exotic fronts, Herbert has combined all of his best physical traits with his ability to work through a progression as the picture changes from the defense, and he's risen to the occasion to extend drives for this offense.
I don't think I'm picking against Justin Herbert in a playoff setting this year, if this is who he is now.

— Diante Lee (@PFF_DLee) December 12, 2021
In 2021, there hasn't been a play call, a defense or a game situation that has knocked Herbert off his mission, dragging the Chargers toward the playoffs despite a regime change and some glaring holes in the fit between roster talent and scheme.
The AFC has been a tight race all season long between evenly matched teams. When January comes around, the games will be decided by the one player who is guaranteed to touch the ball on every snap.
I'm putting my money on Herbert from here on out.