Jacksonville Jaguars edge defender Josh Allen wants to be a household name. That was one of Allen's goals heading into the 2021 NFL season, and it would be made a lot easier if he didn't have a namesake in the NFL who has already reached that status as the Buffalo Bills' All-Pro quarterback.
The two Josh Allens will face off for the first time in their careers Sunday in Jacksonville.
Click here for more PFF tools:
Rankings & Projections | WR/CB Matchup Chart | NFL & NCAA Betting Dashboards | NFL Player Props tool | NFL & NCAA Power Rankings
---
"I know we're about to play against another freaking Josh [Allen]. Got a little beef with that but he's been a helluva player," Allen said, trailing off in an interview with PFF this week. 
"You know, I definitely wanna be one of those guys that people talk about and people know about. I want to be respected by my peers. I know it's not given. I know I have to work it and I'm gonna work my ass off just to be the best out there and get my name called as, 'OK, this dude's a top guy in the NFL that you need to keep an eye on.' So, that's one of my goals, earning the respect of my peers and go out there and have fun."
Allen has some other goals too: double-digit sacks and to finish the season with more sacks than his bookend pass rusher Dawuane Smoot (they have a "gentleman's" side bet). Though he still might not be the most famous Josh Allen by season's end, he's well on his way to accomplishing those other two feats. Through seven games, Allen has 4.5 sacks (on pace for 11) and is currently beating out Smoot (2.5 sacks).
Allen has been especially dominant in his last three games, with 2.5 sacks, 17 total pressures, a 91.4 overall PFF grade (third-highest among all defenders), a 25.3% pass rushing win percentage (sixth), 11.0 pass rush productivity (sixth) and an 18.7% pressure rate (seventh).
#Jaguars OLB Josh Allen since Week 5 (three games):

???? 91.4 overall @PFF grade (third among all defenders)
????Three sacks
????17 total pressures
????25.3% pass rushing win percentage (6th)
????11.0 pass rush productivity (6th)
????18.7% pressure percentage (7th)

— Doug Kyed (@DougKyed) November 1, 2021
Josh Allen | 2021
| | | | |
| --- | --- | --- | --- |
| | Pass-rush grade | Win rate | Pressure rate |
| Weeks 1-4 | 62.6 (55th) | 10.7% (76th) | 9.2% (62nd) |
| Weeks 5-8 | 90.2 (4th) | 25.3% (6th) | 18.6% (5th) |
His PFF overall grade has improved every season but made a significant jump this season (among edge defenders):
2019: 68.4 (46th/103)

2020: 69.6 (32nd/107)

2021: 84.6 (8th/119)
He wants to keep that going Sunday against the other slightly more famous Allen.
"I'm gonna continue the course and continue what I've been doing," Allen said. "I've practiced my ass off everyday to go out there and play as hard as I can — assignment-free football and just go out there and make as many plays as I can. 
"If it's not a sack, hopefully I get something, but if not, I just wanna win this game."
Allen's path to improvement over the offseason was simple. 
"I trained my ass off," Allen said.
After each workout with trainer Jason Smith at his Rise and Grind facility, Allen felt like he was "dying."
"I feel like I was sitting in my car every workout just contemplating life," Allen said. "So, I definitely worked like I just wanted to see how hard I could push myself everyday."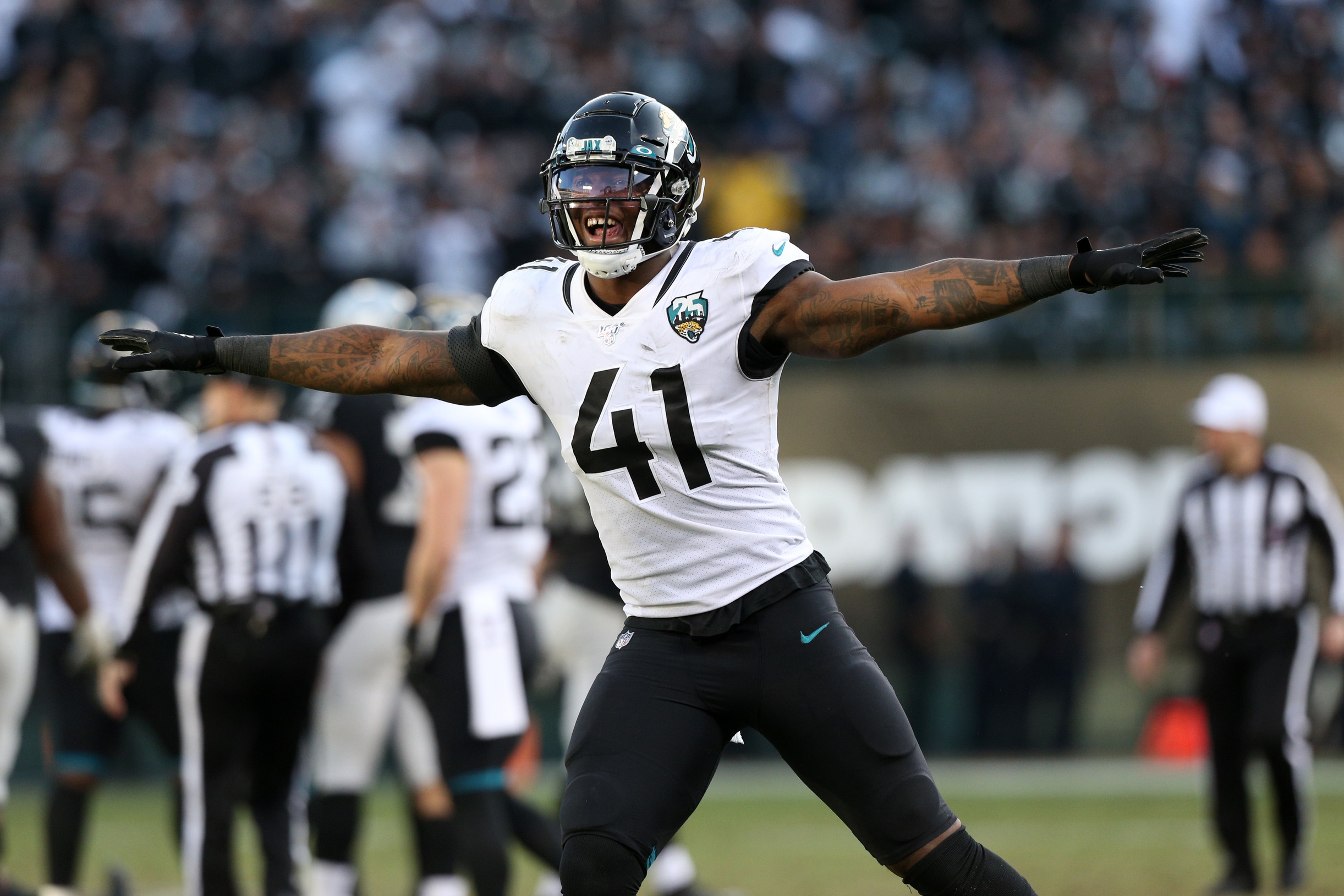 It's paying off, and Allen is PFF's eighth-highest-ranked edge defender this season, living up to that first-round pedigree.
He's also feeling more comfortable in his role on the field, where the Jaguars are showing supreme confidence in their 2019 seventh-overall pick.
"I know they know that I can rush, but I have to be the one to know, 'OK, you can rush your ass off, Josh. Just go out there every play and just win your one-on-ones.' And that's what I try to do consistently, and when those opportunities come, I have to make a play," Allen said.
Moving forward, Allen also wants to start "finishing" more. Finishing, to Allen, doesn't mean just sacking the quarterback but getting his hand on the ball. That has come naturally to Allen, a former high school wide receiver who has petitioned coaches for some goal-line offensive snaps throughout his playing career (his requests have been ignored so far).
Allen acknowledged that his ability to force fumbles went a long way toward Jacksonville's decision to use a top-10 pick on him. Allen forced two fumbles in 2019 when he made the Pro Bowl as a rookie. He forced 11 fumbles in his final three seasons at Kentucky — where he went after being lightly recruited out of Montclair (N.J.) High School — and recovered two as a senior in 2018.
"It's all about the ball," Allen said. "That's the real focus for every top pass rusher that I've ever talked to. That's the only reason why I'm here, that I got drafted in the top 10. It's just all about the ball, especially when you're rushing the passer. 
"When you get the ball out, if you think about it, if you get the ball out it's a strip, sack fumble, scoop and score, fumble recovery, you know what I'm saying? That's giving your team back the ball, that's putting points on the board for yourself, and that's giving an opportunity for the offense to come back and the defense to get off the field. Finishing means a lot, you've got to get the ball. That's how I look at it. The ball's the game, whoever has the ball controls the game. So go get that ball back, control this game and win it."
Allen doesn't have a forced fumble over his last two seasons, however. But with the frequency he's getting to the quarterback, it wouldn't be surprising if those came next and pushed his game to another level.