The 2022 NFL offseason is in full swing, starting this week with the NFL scouting combine's return after a one-year hiatus.  
---
Click here for more PFF tools:
Draft Guide & Big Board | Mock Draft Simulator
Dynasty Rankings & Projections | Free Agent Rankings | 2022 QB Annual
Player Grades
---
Interest in the NFL draft is different this year, as questions about who will be drafted first overall are players such as Aidan Hutchinson (check out our recent announcement of the PFF/Hutchinson collaboration), Evan Neal and Kayvon Thibodeaux — not a quarterback.  
Over the last two seasons, the number of Super Bowl-winning teams that had a quarterback playing his first season with that team has tripled — from one (Trent Dilfer, Baltimore Ravens) to three (adding Tom Brady, Tampa Bay Buccaneers and Matthew Stafford, Los Angeles Rams). The combination of these two facts has fans and analysts re-thinking a largely accepted axiom since the 2011 CBA was enacted:
Short of having a Hall-of-Fame quarterback, the optimal team-building strategy is to have a quarterback on a rookie deal while using that surplus value to build around him.
There's a significant amount of statistical evidence to prove this is true. For example, we wrote about this topic in 2019, examining how wins above replacement (WAR) at the quarterback position correlated with the amount of money paid to the position.
In 2020, we took another look at the idea — with Patrick Mahomes, Dak Prescott and Deshaun Watson up for new deals — and the idea remained.  This graph, even without data from 2020 and 2021, illuminates the situation quite strongly: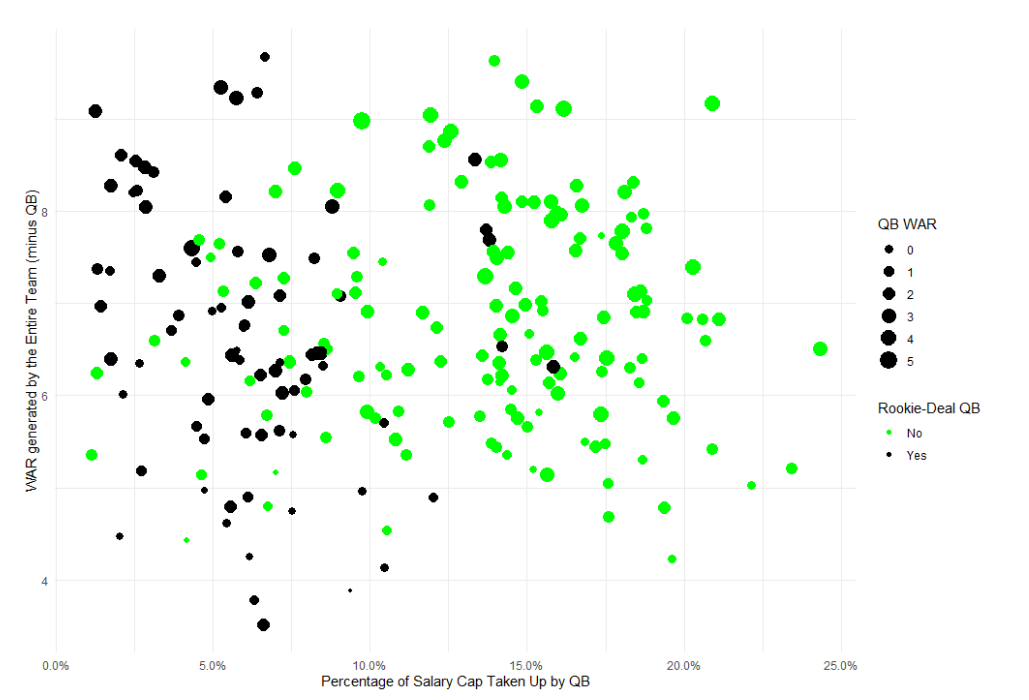 Paying too much money to a quarterback leads to diminishing returns along the rest of the roster — unless that quarterback is a four-to-five win quarterback in terms of WAR.
The idea was further crystallized by examining the theory that great quarterbacks elevate lesser-pedigree players on the offense's play, making up for the cost of paying a high-end quarterback. In this article from 2021, we examined WAR earned per dollar on the offense, and the top teams were ones with a veteran quarterback on market-ish deals (Green Bay Packers, Tampa Bay), and all eight teams listed in this article from 2022 made the playoffs.
Now, there is no deterministic way of building a football team. If there was, every team would be deploying it (we think). Football is full of noise and small samples — any sampling of the Twittersphere when a team fails to convert a fourth down in a high-profile game will show you that. For every couple of success stories for building around a young quarterback on a rookie deal, there's the 2021 Rams. So is life.
In this article, I want to eschew graphs and tables and go through the history of quarterbacks taken high in the draft, putting their successes (and, to what many fanbases worry about, failures) in proper context.
I have absolutely zero reservations about conflating team success with quarterback success, as quarterbacks have a bigger influence on team success than any individual player in any team sport.
While it has become popular to say "wins are not a QB stat," I very much disagree. There are zero stats (completion percentage, touchdowns, interceptions, EPA per play, etc.) that are perfectly correlated with the quarterback performance, and team success is simply somewhere on a continuum with these other ways of measuring QB performance.
Additionally, teams use resources to acquire quarterbacks to win football games; therefore, it is perfectly reasonable to judge a quarterback acquisition by the team-level results he was hired to influence. We're all big enough adults to live in a world where we can apply responsibility to a player without implying he deserves all of the credit/blame.
We start with the 2011 CBA, as the rookie wage scale significantly altered the risk profile associated with drafting a quarterback.  Enjoy!
2011 NFL Draft
Newton's production speaks for itself, as he led the Panthers to the playoffs twice prior to earning a five-year, $103.8-million deal right before his 2015 MVP season, where he led the Panthers to the Super Bowl against the Denver Broncos. Locker, Gabbert and Ponder were all busts, but the Titans (Marcus Mariota 2015), Jaguars (Blake Bortles 2014) and Vikings (Teddy Bridgewater 2014) were all able to move along quickly to the next gamble at the position — all three of which resulted in playoff appearances.  
---
Related content for you:
2022 NFL Mock Draft: Jacksonville Jaguars select Michigan EDGE Aidan Hutchinson, Sam Howell heads to Detroit via Steve Palazzolo
---
The second round of this draft produced two other quarterbacks, Dalton and Kaepernick, who helped guide significant team success during their rookie deal seasons and accumulated modest (at best) achievements after. While it's a bit on the borderline, as Newton made $13 million the year he took the Panthers to the Super Bowl (8.7% of their cap), this group accounted for two Super Bowl appearances.  
Subscribe to PFF Edge to continue reading
Already have a subscription? Sign In