The wait is finally over. The Houston Texans have agreed to an extension with their 2017 draft pick star… linebacker Zach Cunningham worth $14.5 million per year, per Ian Rapoport and Tom Pelissero. The total extension is worth $58 million over four new years, and the contract contains $23.5 million in full guarantees and $32.5 million in injury guarantees, per Aaron Wilson. 
The Texans were smart to lock Cunningham up after just his third season, in which he led the AFC with 142 tackles and was named to his first Pro Bowl. He was PFF's fourth-most valuable off-ball linebacker in 2019 and is still just 25 years old. While Cunningham logs a lot of quality snaps and moves very well sideline to sideline, in order for him to take the next step he needs to improve his skills in coverage.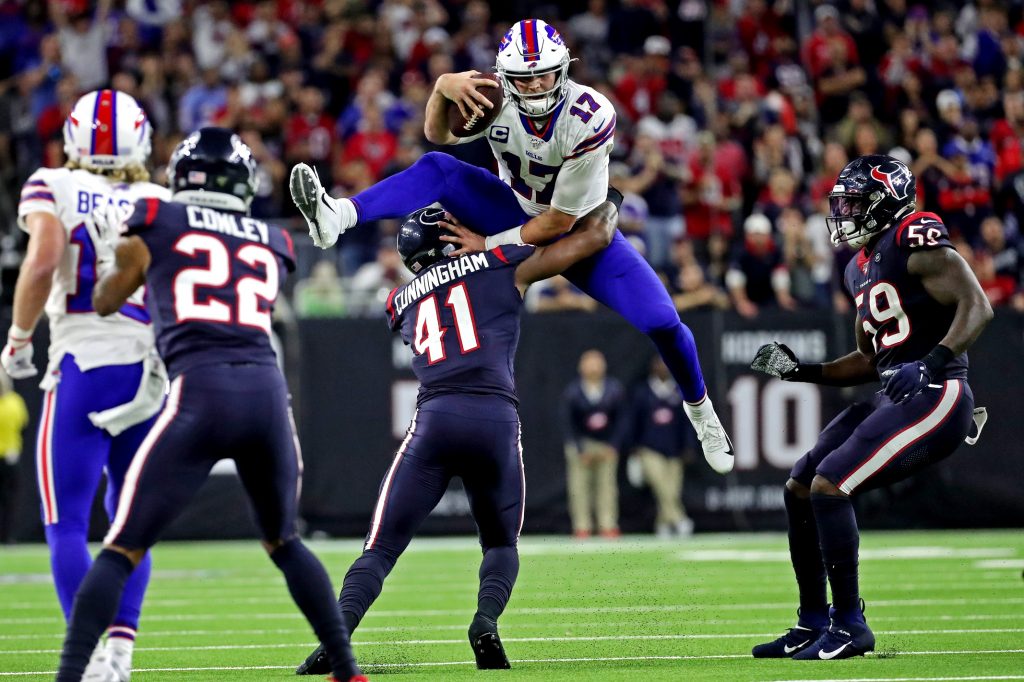 The deal is certainly a strong one for both parties, yet we suspect teams across the NFL are probably pretty happy to see this contract land where it did. This deal should help front offices argue that C.J. Mosley ($17 million average per year) and Bobby Wagner ($18 million average per year) signed contracts that should be viewed as something of anomalies in the off-ball linebacker market. A team like the Tampa Bay Buccaneers trying to keep Lavonte David's price tag down may benefit from this deal, though David had the highest coverage grade of any linebacker in the NFL in 2019, so he will probably argue he belongs with the top guys. 
There is a significant drop off to the rest of the off-ball linebackers, with players like Myles Jack and Deion Jones both recently signing for $14.25 million per year. Cunningham picks up where this group left off and continues to grow the market outside of Mosley and Wagner. While this individual deal looks good, the Texans still have a lot of money to spend going forward. Deshaun Watson was the guy they drafted the round before Cunningham in 2017, and he's obviously looking for big money. And Will Fuller is set to play on the fifth-year option in 2020 which will set him up for free agency in 2021. 
With Benardrick McKinney also signing a sizable extension in 2018 with the Texans, Houston now has two of the top-15 highest-paid off-ball linebackers in the NFL, and neither are exactly known for their prowess in coverage. Houston also made Laremy Tunsil by far the highest-paid tackle in the NFL earlier this offseason, and in acquiring Tunsil from the Dolphins, they gave up their first-round draft pick from this past year as well as their first- and second-round draft picks in 2021. A lack of cheap talent to offset the rising costs of their top guys could make things difficult going forward.
Since entering the league in 2017, few linebackers have played the run as well as Cunningham, and he finished with the third-best run defense grade in the league at 84.8 last season Since 2017, Cunningham leads the league with a run-stop percentage of 11.2%. He uses his 97th-percentile arm length and active hands to keep offensive linemen off his frame on his way to the ball carrier. This has been the strong point to Cunningham's game since his days at Vanderbilt, and he fits in well next to McKinney to form one of the best run-stopping duos in the league. 
The same physical skills have helped Cunningham produce as a blitzer as well, last year notching a career-high 17 pressures on just 65 attempts. However, the concerns with Cunningham's game extend beyond his ability to play the run or get after the quarterback. He's struggled playing in a space, limiting what Houston can do defensively against versatile offenses. 
For all of the tackles Cunningham made last season, he also tied for eighth with 16 misses during the regular season before a disastrous wild card round that saw him miss seven against the Buffalo Bills in a Texans' victory. More importantly, the coverage grade is lacking for Cunningham, whose best work came as a rookie at 62.1 and bottomed out last season with a 52.5 coverage grade including the playoffs. 
Since 2017, Cunningham has struggled both in zone coverage, where he ranks 79th out of 108 qualifiers when targeted, and in single coverage, where he ranks 61st out of 81 qualifiers. It's this area that keeps him out of the conversation of elite linebackers, as there are far too many plays where running backs and tight ends are getting the better of him in space. 
While run-game enthusiasts will love watching Cunningham play football, his ability to knife through second-level offensive linemen is a quality still but a secondary one in today's NFL. For Houston to maximize the value of his new contract, they need to see a step forward in the passing game where Cunningham's tackling and coverage ability have ranked below the league average and will further be under the microscope.