Rumors started to swirl on Thursday that Deshaun Watson was unhappy in Houston, and given the state of the franchise with a new GM in place, he could be the subject of what would certainly have to be a blockbuster trade.
#Texans QB Deshaun Watson is extremely unhappy with the organization after owner Cal McNair informed him he would be involved in the GM and coach hiring process and provide feedback… but then did neither in the hire of GM Nick Caserio, sources say.

— Ian Rapoport (@RapSheet) January 8, 2021
The Houston Texans are in an unusual position of having a superstar quarterback but not much else and very little means to address the issue. The trades executed by Bill O'Brien in his dual capacity as head coach and general manager has left the cupboard bare in terms of draft picks, and they aren't in a great salary cap situation either, hence moves like shipping out an all-pro receiver like DeAndre Hopkins in the first place.
The Texans just stumbled through a wasted season and would at least have a high draft pick to console themselves with in any normal year, but their No. 3 overall pick belongs to Miami thanks to the Laremy Tunsil trade, as does their second-rounder, another top 40 selection.
The Texans can't add to the roster until the third round of the draft and have little cash for any kind of splash in free agency. So do they accept that the rebuild will be a long-term project, or do they look to replenish all of that lost capital with one move – trading away a young, superstar quarterback at the peak of his powers?
It would be pretty much unprecedented, but it could bring a trade haul the likes of which have rarely been seen before.
Watson was handed a bad hand this season. His top target (Hopkins) was traded away, and though they brought in Brandin Cooks, the inevitable loss of Will Fuller for a stretch of play as well as other injuries meant he was operating something of a one-man band for much of the year.
You would have forgiven Watson for posting career-low PFF grades or production numbers, but the opposite happened. As if galvanized by the responsibility of carrying the entire offense solo, Watson took his game to another level and had a career year. He had already been on the precipice of greatness over the past couple of years, earning overall PFF grades over 80 in 2018 and 2019, but it was how those grades were compiled that really hinted at where he was heading.
For most of each of those seasons, Watson was already playing like one of the game's best quarterbacks, but he would punctuate his campaign with extremely poor games that would drag his overall grade down by the end of the year. For 80% of 2019, Watson was playing at the same kind of level as Patrick Mahomes, but while Mahomes virtually never has a bad day at the office, Watson had three games with a PFF grade in the 40s.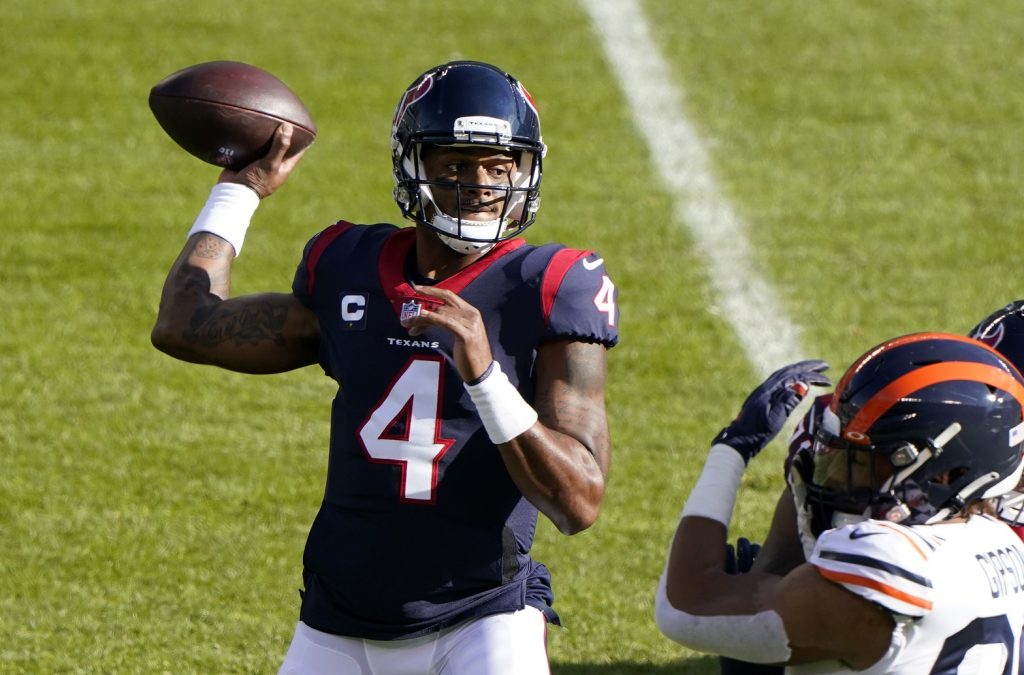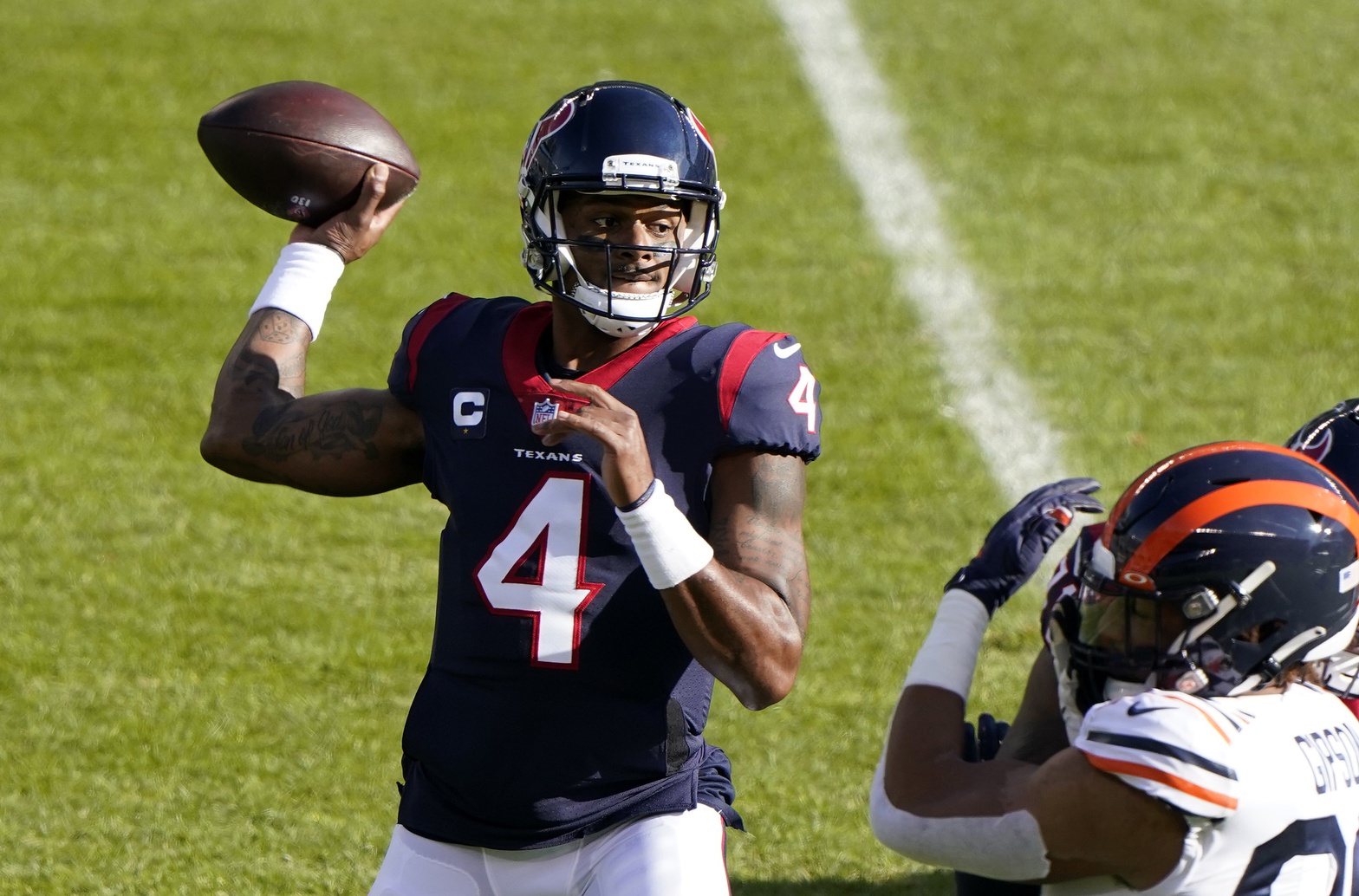 This year, he eliminated those bad days. Watson finished the 2020 NFL regular season as the third-highest graded quarterback (92.4). He ended the season as the only starting quarterback who didn't have a single PFF game-grade below 65 overall. He led the league in passing yards and yards per attempt, and he finished second in passer rating and top five in completion percentage. The story remains much the same if you look at advanced stats. He ended the season with 42 big-time throws (PFF's highest-graded passes), just four shy of Mahomes and the league lead. He offset those with just 14 turnover-worthy plays, six fewer than Mahomes and two more than Aaron Rodgers, one of the most careful quarterbacks with the football in league history.
Watson also has a run threat that added almost 400 yards on the ground and three rushing scores to his totals.
He was, by any measure, a truly elite quarterback, who finished the season as the third-most valuable in the league according to PFF's WAR metrics. And he's just 25 years old.
If you were redrafting the NFL right now, Mahomes would go No. 1 overall without question, but you could make a very good case that Watson would go No. 2. He is, in short, a jackpot result at the game's most important position.
There have been blockbuster trades in the past, but the NFL has rarely made it happen for quarterbacks. There has typically been no deal big enough to make a team willing to part with a sure thing at the position.
Players that don't play the game's most important position have been moved for multiple first-round draft picks, so the starting point for Watson would have to be at least three first-rounders, which immediately limits the number of teams with the ammunition or stomach for the move. In 1990, the Minnesota Vikings traded for Herschel Walker and inadvertently sparked the Dallas Cowboys dynasty of the 1990s. The Vikings traded their first and second-round pick for three straight drafts, as well as a couple more picks for a player that was thought to move the needle as much as Watson does right now. That's the kind of deal that it would likely take to snag Watson.
The only thing that would change the dynamics of those draft picks is how high up the draft they are. Jacksonville, sitting at No. 1 with the name of Trevor Lawrence likely already written in pencil on their draft card, could argue that they have a draft pick worth far more than a regular first-rounder given how good Lawrence is said to be as a prospect. They could potentially put together a package that gives the Texans Lawrence and nets them some more picks to replenish the roster.
The Jets one spot behind could also make something similar happen, but the team doesn't have the carrot of Lawrence to offer as part of it. The next draft spot is where things get really interesting – Miami. The Dolphins have the No. 3 overall selection that was originally Houstons, as well as their own first-rounder at No. 18, as well as Houston's second-rounder to pair with their own. Imagine if Miami packaged those four picks as well as Tua Tagovailoa to acquire Watson and immediately throw open their Super Bowl window.
Miami was a very good team this season that got only adequate quarterback play. Watson would be a monster upgrade for that team and take them from a fringe playoff side to a true contender. The Texans would amass a haul of draft picks as well as a quarterback who showed some promise as a rookie and is only a year removed from being a top-five selection himself.
The reality of the NFL is that trades of this magnitude are exceptionally difficult to pull off, so it remains likely that Watson goes nowhere, and the team tries their best to build around him. But if something is to happen, it will likely be the biggest trade the league has seen in 30 years, and could potentially change the entire balance of power for years to come.