While a handful of teams still have Super Bowl aspirations, the rest of the NFL and its fans are preparing for the offseason. PFF is also getting into the action with the launch of its 2022 Draft Guide and free agency rankings, which allows you to sort by position or team needs and includes OverTheCap contract projections as well as historical grades and wins above replacement (WAR) numbers for the past three seasons.
This article is part of a series going through PFF's top-ranked free agents (excluding quarterbacks) by position group, using their past stats to match them with historical players. Once we have a sample of similar players, we can see how they performed in subsequent seasons to get an idea of the current player's range of outcomes. I'll also include any potential bargain free agents who aren't at the top of our rankings but look better than expected in WAR projections.
---
Click here for more PFF tools:
Rankings & Projections | WR/CB Matchup Chart | NFL & NCAA Betting Dashboards | NFL Player Props Tool | NFL & NCAA Power Rankings
Best Bets Tool
---
METHODOLOGY
For each of the running backs below, the closest comparable players were found by measuring the similarity between them based on several features — age (within one year), weight, WAR, previous-year WAR, WAR per snap, air yards per target, targets per game and PFF rushing grades.
The most similar players across these metrics are grouped together to calculate the expected WAR numbers for 2020 and 2021, and the weight of each comparison reflects the level of similarity. I didn't use the same number of comparisons for all players, as it is more difficult to find a wide range of comparable seasons for older players.
The first plot shows the relevant WAR numbers for each of the running back's closest comparisons, the next displays past and future performance for the free agent based on the comparisons and the final table shows the dollar values based on positional WAR baselines for each outcome (expected, ceiling and floor) through 2023.
I decided to restrict the forecasts to the next two years in order to maximize the number of comparable players we have in the dataset, reduce error for longer forecasts and reflect the fact that all but the NFL's top-tier free-agent contracts are glorified two-year deals that give teams the option to continue.
Patterson had a breakout 2021 season, transitioning fully to lead-back status and hitting 623 rushing yards and six touchdowns to blast through previous career highs. Despite those results, Patterson's comparable players are not the most impressive as he enters his early 30s.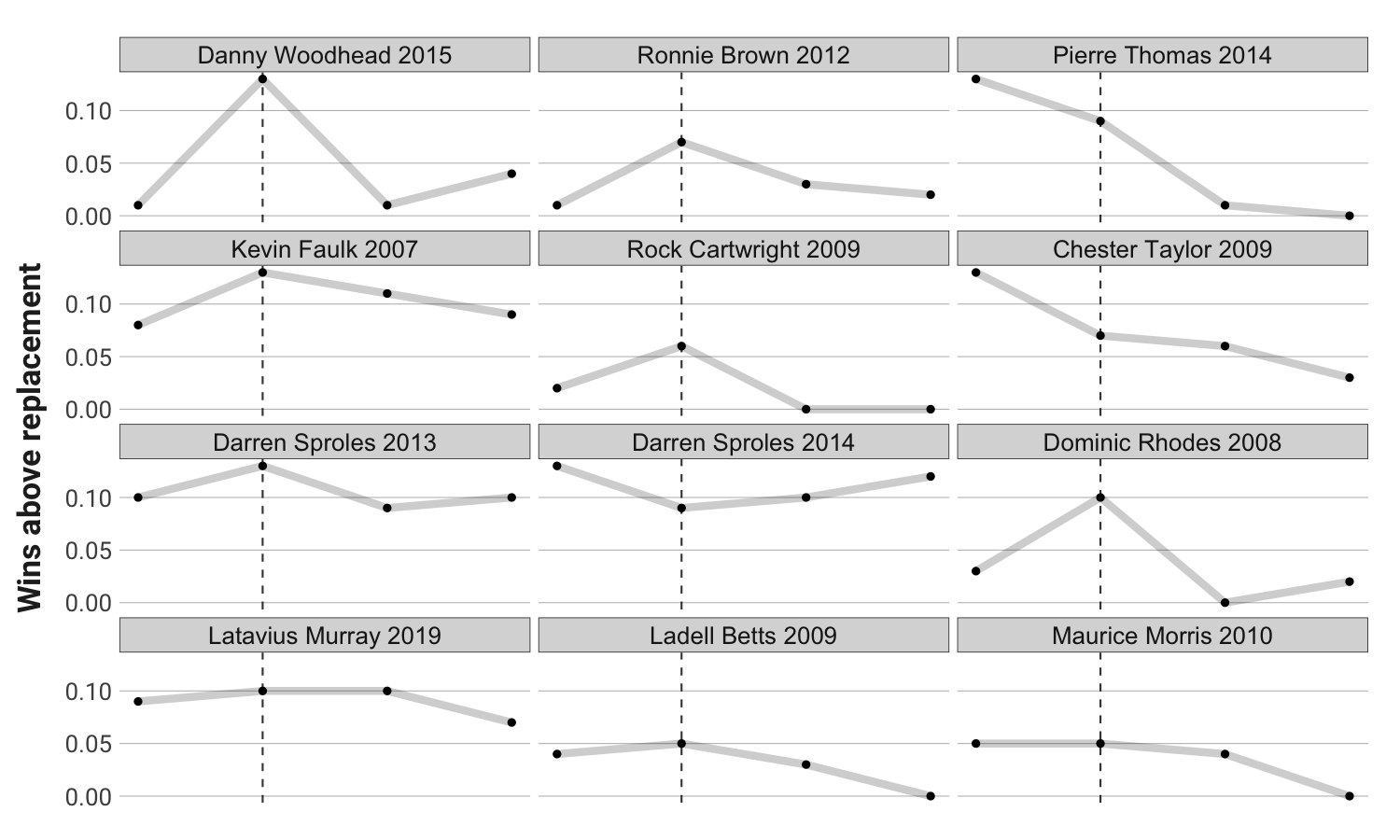 Our expected outcome for Patterson is regression back to earlier WAR levels, though the ceiling outcome is similar to his 2021 production.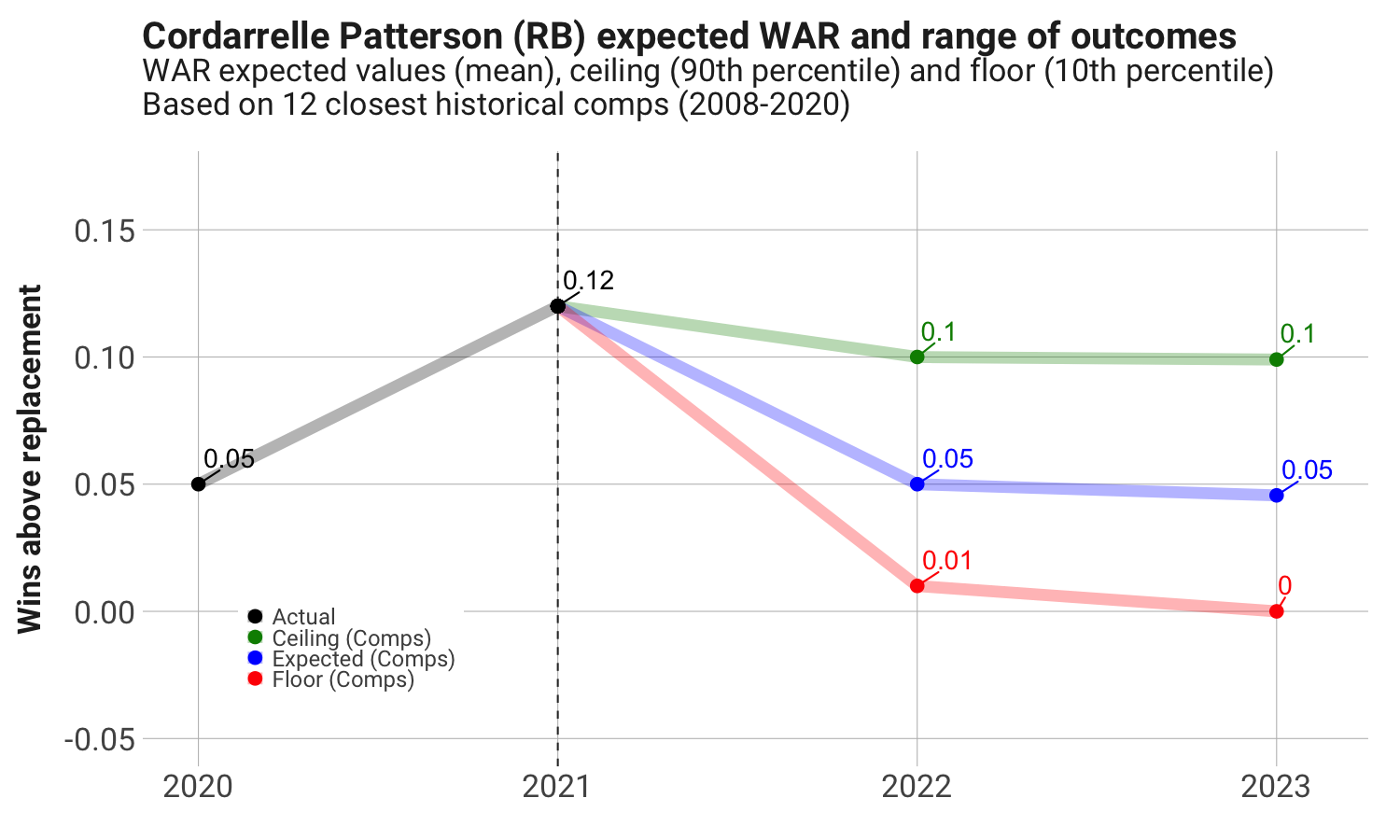 We project Patterson will sign for around $6 million per season for a couple of seasons. This is likely to be the last significant contract of his career, so he could trade more guaranteed money for less on a per-year basis. 
| | | | | | |
| --- | --- | --- | --- | --- | --- |
| Outcome | 2020 | 2021 | 2022 | 2023 | Two-Yr Avg |
| Actual/Expected | $3.9 | $9.5 | $4.1 | $3.3 | $3.7 |
| Ceiling (90th) | N/A | N/A | $8.1 | $8.1 | $8.1 |
| Floor (10th) | N/A | N/A | $1.0 | $1.0 | $1.0 |
Subscribe to PFF Edge to continue reading
Already have a subscription? Sign In