[As a part of our partnership with ESPN, this is a story that was originally published on ESPN+ and can be viewed in its entirety with your ESPN+ subscription – The highest-graded NFL players, rookies and surprises at every position during the 2019 season.]
The 2019 NFL regular season has been completed, and while we've seen the AP's All-Pro team and await the full slate of NFL honors, it's time to reset and take a look at which players led the league in overall grades from PFF. And there will be a few disagreements with the AP's team.
Here are the highest-graded players at every position from the 2019 season, plus the top rookie and a surprise from each position. We start at quarterback, where the Baltimore Ravens' Lamar Jackson — an All-Pro, and widely assumed to be the shoo-in as league MVP — did not earn the highest grades in our system.
Quarterback
The race for highest-graded quarterback came down to two players who saw action in 11 games this season, as Tannehill just edged out Drew Brees for the throne. Tannehill was a revelation for the Titans this season, and he finished with the third-highest percentage of big-time throws — those are PFF's highest-graded pass attempts based upon ball placement, velocity, targeted depth and other factors — among qualified quarterbacks (6.93%). He also limited turnover-worthy attempts at an incredible rate, as only Dwayne Haskins (82 fewer attempts) and Teddy Bridgewater (90 fewer attempts) threw fewer turnover-worthy passes than Tannehill.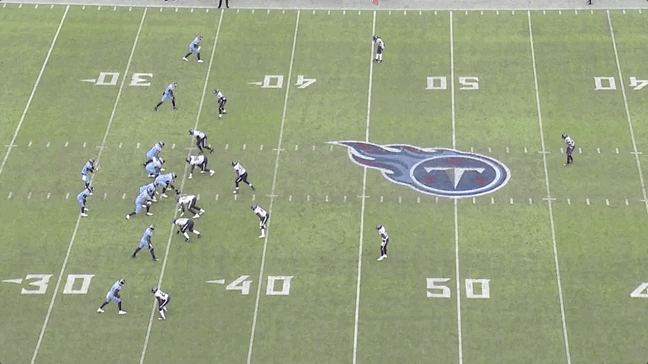 It wasn't a banner year for rookie quarterbacks, but I'm sure the Jaguars aren't complaining about how their rookie sixth-round pick performed. The former Washington State signal-caller was a magician at times — without a ton of help around him offensively. Still, he finished with more turnover-worthy plays than big-time throws, and he has a long way to go before he's "the guy" in Jacksonville.
The highest-graded quarterback this season is also far and away the most surprising. Nobody predicted this kind of breakout. His previous career-high overall grade came way back in 2013 when he earned an 80.4 overall in his second season. The last time we saw him as a starter, in 2018 for the Dolphins, he earned an ugly 45.3 overall grade. What a difference a change of scenery makes.
---
Running Back
Chubb improved on an impressive rookie season with another dominant outing in his sophomore campaign for the Browns. While there was much hype about the passing attack for Cleveland, Chubb mostly flew under the radar and was a mere 45 yards from the rushing crown. He was dominant on his carries, forcing 66 missed tackles and averaging 3.77 yards after contact per attempt. His 1,122 rushing yards after contact would have ranked as the 11th-most in total rushing yards this season.
If you're going to draft a running back in the first round, at least choose the right one. And that's just what the Raiders did at No. 24 in the 2019 NFL draft. Jacobs led all running backs this season in elusive rating, as his mark of 103.6 was one of the best we've ever seen. You could even argue that the Raiders didn't use him enough in the passing game, where he broke nine tackles on 20 catches.
Ekeler singlehandedly torpedoed any bargaining power that Melvin Gordon had in his holdout by not only producing in Gordon's stead, but arguably out-producing him. Ekeler finished with the eighth-best elusive rating of any back in the NFL, and more importantly, he earned the highest receiving grade at the position (93.6).
---
Wide Receiver
Godwin was every bit the best receiver in football, despite missing the final two games with an injury. He still finished second in total yards after the catch and third in yards after the catch per reception among qualified receivers, as he was the only receiver with over 100 targets to also average 6.5 YAC/reception. Separating him further from the rest of the league's receivers, Godwin's safe hands saw him drop just one of the 87 catchable passes thrown his way, and his drop rate of 1.1% stood as the second-best mark among 69 receivers who saw at least 35 targeted passes.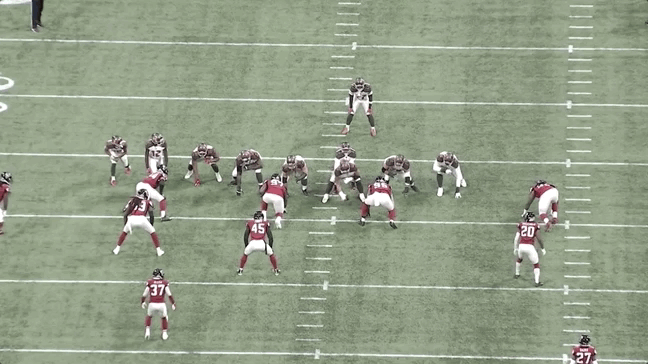 It was a stacked rookie class, but the many highlight-reel catches that McLaurin made downfield gave him the nod. The Redskins were in desperate need of a No. 1 receiver, and McLaurin delivered. He finished 14th among receivers in yards per route run (2.05) despite dealing with less-than-stellar quarterback play in Washington.
When Parker inked a four-year, $30.5 million deal last offseason, there was a good deal of head-scratching going on around the league. After all, this was a first-rounder who, through four years, had never caught more than 60 passes or reached 800 yards in a single season. Well, now it looks like one of the most team-friendly deals in the league after he hauled in 72 passes for 1,202 yards in 2019. He also put up eight catches for 137 yards against Stephon Gilmore and the vaunted New England secondary in Week 17 to put an exclamation point on his breakout year.
---
Tight End
Kittle's all-around dominant season may be one of the better seasons we've ever seen at the tight end position in the PFF era (2006-present). For his efforts in 2019, Kittle is now the proud owner of the highest-graded season from a tight end over the past 14 seasons, both from an overall and a receiving grade standpoint. He finished with more yards after the catch and more missed tackles forced than any other tight end, and this year's performance also set a new standard among the PFF-era tight ends in yards per route run, with Kittle gaining 3.10 yards in that metric.
In a word, Moreau's rookie season was efficient. He hauled in 91.3% of his targets (21 of 23), including five scores, and he didn't drop a single pass on the year. That's precisely the kind of production you love to see from your No. 2 tight end.
Both Raiders make our list, as Waller seemingly came out of nowhere to put up one of the most historically productive receiving years from a tight end. The former wide receiver had played all of 325 snaps prior to this year since being drafted in the sixth round in 2015. He remade his body after substance abuse issues almost cost him his NFL career, and now he's a playmaker at the tight end position. After playing only 42 snaps last season, Waller hauled in 90 passes for 1,146 yards this season, the 18th-most by a tight end in a single season in NFL history.
---
Offensive Tackle
By leading all tackles in overall grade in 2019, Ramczyk has capped a three-year rise to the top at the position. He has never finished outside of the top 10 in overall grade among all tackles over his three-year career and has capped that stretch by finishing with career-high grades overall as well as in the run and passing game. He allowed all of 20 pressures on a whopping 659 pass-blocking snaps, not yielding a single sack, and finished second among all tackles in run-blocking grade.
Taylor's lackluster grade here is Exhibit A as to why you don't come to the draft to fix your offensive line woes overnight. That being said, it's still a very encouraging start for a player the Jags found outside of the first round. He allowed 40 total pressures from 735 pass-blocking snaps at right tackle, but he needs to fix a penalty problem as he was flagged 14 times this season.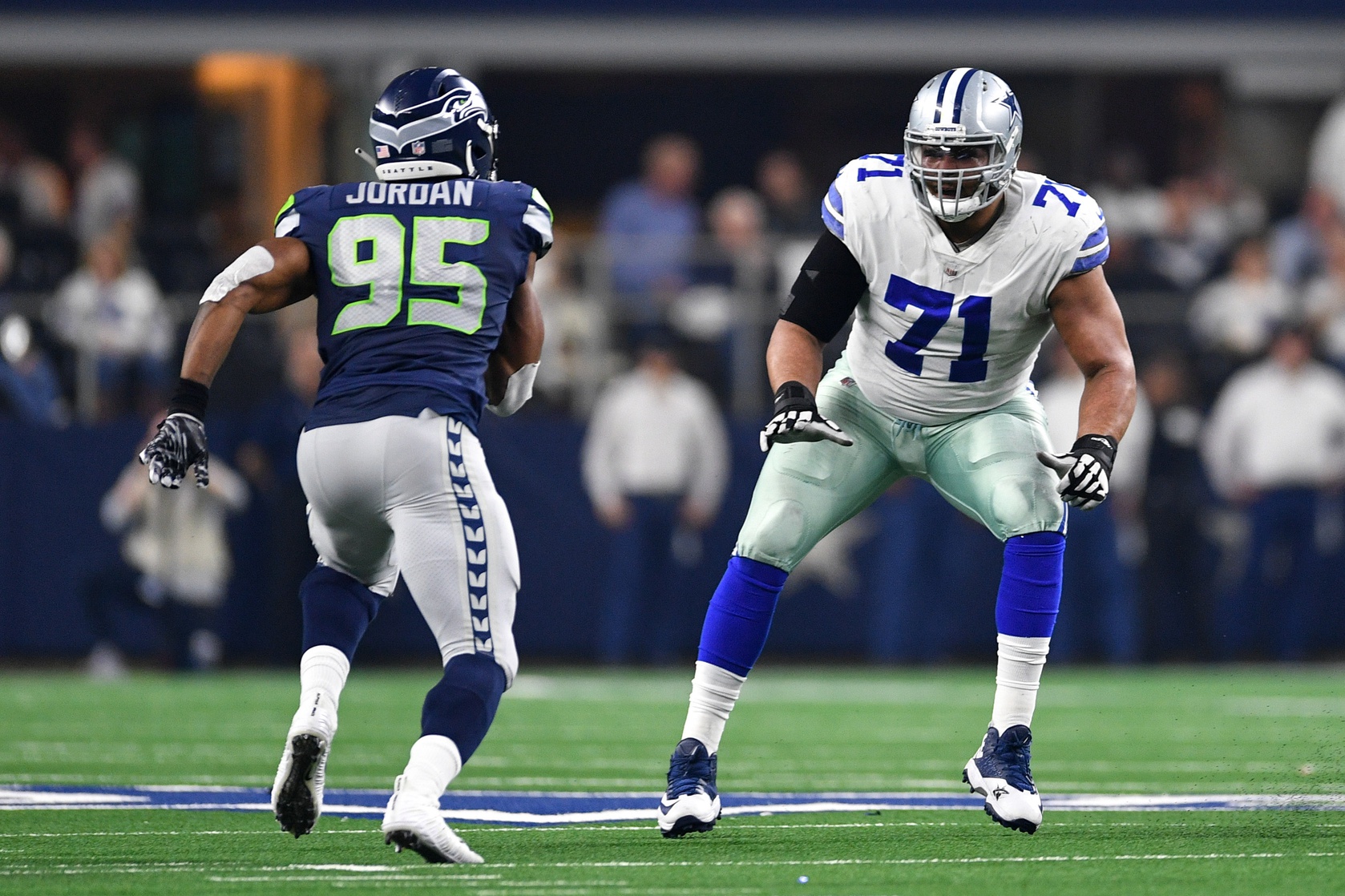 Usually, you see players break out before they sign an extension, but the Cowboys have to be ecstatic that it worked the other way around with Collins. They inked him to an extension before the season, and Collins repaid them by allowing 21 fewer pressures than he did in 2018.
---
Offensive Guard
The Eagles are rightfully represented by two of their interior players on the offensive line here, as the common theme from Philly appears yet again in our postseason accolades. Brooks anchored an offensive line that is arguably the best in football and clearly the Eagles' calling card. He allowed just 19 pressures this year — and one sack — on his 647 snaps in pass protection, while he led all guards across the league in run-blocking grade.
Jenkins hit the ground running in a big way in pass protection this season. He was one of five guards in the NFL to play 500-plus pass-blocking snaps and not allow a sack. That's exceptional production from a first-year player.
The surprise here is that Incognito took an entire year away from football and came back to be one of the elite guards in the league as a 36-year-old. He allowed nine pressures on 432 pass-blocking snaps in 2019.
---
Center
Kelce once against dominated from the center position. He commanded the action in the run game and allowed six combined sacks and hits in pass protection. Kelce has now finished six of the past eight seasons with a PFF overall grade above 80.0.
The Saints identified McCoy as a cornerstone piece to their offensive line last April and paid a hefty fee to move up to draft him. In retrospect, it looks like they were right. As a rookie, McCoy was a top-five graded center in the NFL. He allowed 14 pressures from 653 pass-blocking snaps in the regular season.
Jensen inked a big-money deal with the Buccaneers in 2018 after a career year in Baltimore, and then the wheels fell off. He allowed 25 pressures in his first year with Tampa Bay and earned a lowly 54.9 overall grade. That all changed this season, as he allowed 15 pressures and was a difference-maker in the run game, paving the way to the tune of a 73.6 run-blocking grade, fifth among qualifying centers.
---
Interior Defensive lineman
No surprise here. Donald once again led the league among interior defensive linemen, even if he wasn't quite as dominant as he has been in years past. This marks the fifth year in a row that he's led all interior defenders in overall grade (he finished second overall in his rookie season). He rattled off 80 pressures, including 14 sacks, 13 hits and 53 hurries; won 21.7% of his pass rushes; and he now owns five of the six highest pass-rush win figures in PFF history, with Fletcher Cox in 2018 (20.9%) the only player to break up that ranking.
| | | | |
| --- | --- | --- | --- |
| Player | Team | Year | Pass-Rush Win % |
| Aaron Donald | LAR | 2018 | 25.9% |
| Aaron Donald | LAR | 2017 | 22.7% |
| Aaron Donald | LAR | 2019 | 21.7% |
| Aaron Donald | LAR | 2016 | 21.4% |
| Fletcher Cox | PHI | 2018 | 20.9% |
| Aaron Donald | LAR | 2015 | 20.0% |
Lawrence was superb as a run-plugging nose tackle right out the gate for the Giants. His 76.3 run-defense grade was tops among rookie defensive tackles. What's more encouraging, though, is that he also added some heat as a pass-rusher, and his 30 total pressures on the year were tied for the most among first-year players at the position. That's not bad for a 342-pounder.
Ten years into an NFL career feels like enough of a sample, but that wasn't the case this year with 2010 first-rounder Alualu. His previous career-high grade for a single season was 66.5, but he shattered his previous grades in both run defense (79.9) and pass-rushing (68.2) this season with the Steelers.
---
Edge Defender
The Watt brothers have wreaked havoc on opposing quarterbacks for what feels like the better portion of the last decade because, well, they have. T.J. takes the mantle as the highest-graded edge defender this season just a year after his brother J.J. Watt made a triumphant return to the top of the charts in 2018. The younger Watt finished the season with 81 total pressures, including a whopping 37 combined sacks and hits, as well as 44 additional hurries. He also led all edge defenders with eight forced fumbles and six passes batted at the line of scrimmage.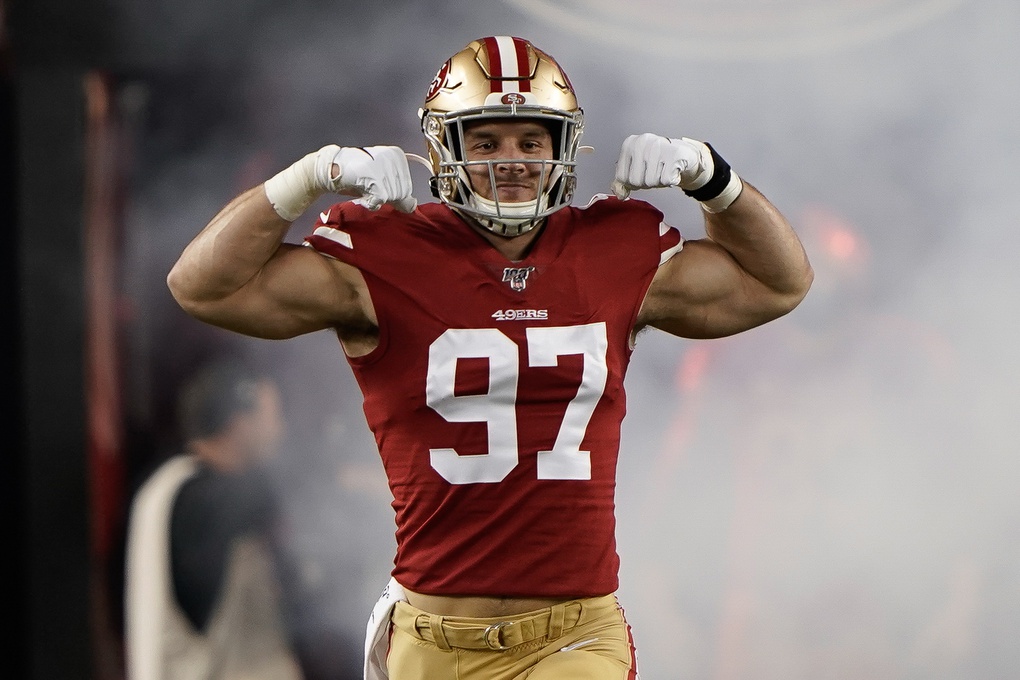 Bosa capped off arguably the best rookie season we've ever seen at the position with an 11-pressure performance against the Seahawks in the 49ers' crucial Week 17 win. His 80 total pressures shattered the single-season record for a rookie. The 49ers knocked it out the park with the second overall pick.
The general rule of thumb is to be wary of guys who break out in contract years. Smith's 61 pressures in 2018 with the Ravens were 21 more than his previous career-high. I'm sure the Packers would have been happy with Smith simply replicating that, but then he had another breakout year altogether. He led the NFL with 93 pressures this season, as he racked up eight or more pressures in four separate games.
---
Linebacker
A quiet nomination for overall Defensive Player of the Year, Kendricks quite literally did it all for Minnesota in 2019. He led all linebackers in overall grade thanks to his efforts in coverage, run defense and his overall sure tackling. He missed just nine of his 121 total tackle attempts while allowing no catch longer than 32 yards and ripping off 36 total stops this year. He recorded 12 pass breakups and even added 17 total pressures when he blitzed for an all-around dominant year.
Okereke was one of the best athletes at the position coming out of college last year, and it translated swiftly in coverage for the Colts. On 34 targets this season, he allowed 12 first downs and registered 10 stops. Apparently, the Colts know what they're doing when it comes to drafting linebackers.
For someone who entered the 2019 campaign without playing a single defensive snap since the 2014 college season, Johnson might qualify as the biggest surprise on this list. He was an exceptional tackler this season, with eight misses on 103 attempts.
---
Cornerback
The 2019 season was a throwback to what we were once accustomed to seeing from the future Hall of Famer. He put forth his first 80.0-plus graded season since 2014 thanks in large part to his incredibly sticky coverage. He allowed just 52.9% of the targets thrown his way to be caught (27 catches, 51 targets) and allowed one reception longer than 20 yards. He made multiple plays on the ball and allowed a 46.8 passer rating when targeted, giving him a career passer rating against of 54.0 — worthy of the moniker "best cornerback this decade."
No rookie cornerback in the NFL came close to Dean's ball production. He didn't see his first real action until Week 9, and D.K. Metcalf torched him to the tune of 155 yards that week. But in the seven games after that, Dean allowed 134 yards total; he picked off two passes and broke up seven more on 33 targets in coverage.
We had seen dominant games from Dunbar in the past, but he never kept it up for a whole season. In fact, he'd never played more than 400 snaps in a year before his 613 this season. He allowed a passer rating of 56.9 in coverage in 2019; he finished with four picks and was penalized once.
---
Safety
Simmons' 2019 season was his best yet, as he finished with career-high marks overall, against the run, as a tackler and in coverage. He saw 47 targets come his way as the primary coverage defender and allowed 25 catches for 239 yards while allowing no scores and intercepting four passes. He broke up 11 more passes, and his sure tackling was on display frequently, as he missed four of his 98 tackle attempts.
Thornhill's season ended with an ACL injury in Week 17, and we'll see in the playoffs just how much he meant to the transformation of the Chiefs' defense. He allowed 14 catches for 127 yards into his coverage, and he logged three picks and two pass breakups. His 78.0 coverage grade was the 12th-best mark among starting safeties this season.
Harris' performance this year didn't come as too much of a surprise after he earned an excellent 89.0 overall grade on limited snaps last year. However, over the offseason, the NFL was less enthused, as Harris signed a one-year, $3.1 million deal to stay with Minnesota. All he's done for an encore is not allow a single touchdown in his coverage. He picked off seven passes and recorded five pass breakups on 18 targets.