• Chris Olave goes off in Week 3: The New Orleans Saints rookie wideout caught nine of 12 targets for 147 yards — coming out to an impressive 3.77 yards per route run.
• Jermaine Johnson II's best performance yet: He tallied three run-defense stops across 11 such snaps for the New York Jets in Week 3.
• Tyler Linderbaum stays clean in pass protection: The rookie center gave up no pressure across 34 pass-blocking snaps in another solid effort for the Baltimore Ravens.
Estimated reading time: 10 minutes
---
We will be checking in weekly on the first-round NFL rookies throughout the 2022 season, grading their performances and highlighting their principal individual opponents in each game.
Here's how the group fared in Week 3, along with their PFF grade for the season.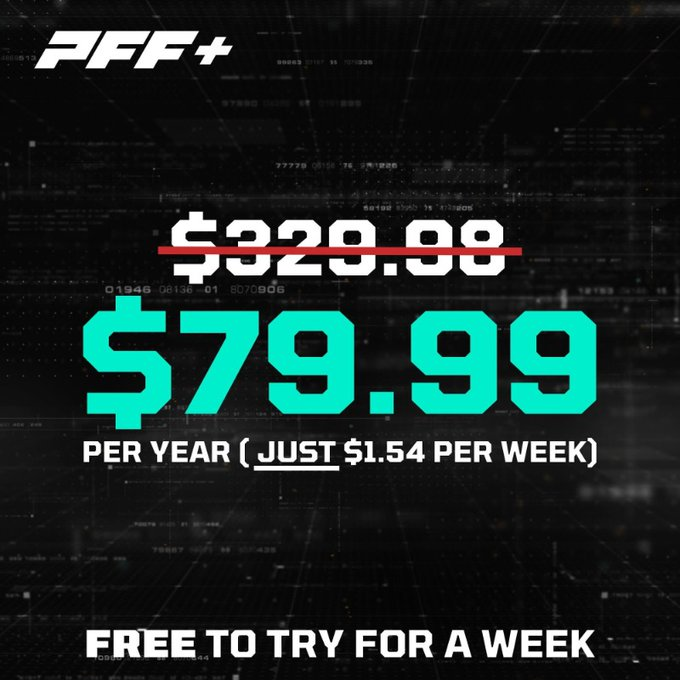 Overall Rookie Grade: 68.6 (Rank: 4/22)
Principal Opponent: Trey Pipkins
Week 3 Snaps: 51
Walker again impressed for the Jaguars, this time in coverage. He was able to break in front of a throw and record a pass breakup on one of the five snaps he dropped into coverage. Many of Walker's best plays in his college career came in coverage, and he appears to be backing that up in the NFL through three games. He also tallied three pressures (all hurries) from 38 pass rushes in this game. 
Overall Rookie Grade: 55.3 (Rank: 13/22)
Principal Opponent: Brian O'Neill
Week 3 Snaps: 57
Hutchinson moves around the line for the Lions but mostly took on Minnesota's best lineman, Brian O'Neill, this week. That goes some way toward explaining how he ended up with just two pressures from 38 pass-rushing snaps, but it's also the inevitable regression to the mean from last week's performance given how those sacks were accumulated. Hutchinson plays with outstanding hustle, but he isn't a consistent rusher yet.
Overall Rookie Grade: 46.0 (Rank: 25/30)
Principal Opponent: Dante Pettis
Week 3 Snaps: 63
Stingley had an easier time of it this week going up against a struggling Chicago Bears passing attack. He ended the game without allowing a single catch into his coverage and is slowly dragging his overall PFF grade for the season in the right direction after a battle with Courtland Sutton last week. Stingley has obvious talent that shines through every week on tape.
Overall Rookie Grade: 69.2 (Rank: 9/30)
Principal Opponent: Ja'Marr Chase
Week 3 Snaps: 68
Gardner has been involved in a couple of coverage busts in the New York secondary over the past couple of weeks. But when everybody is on the same page, this group is vastly improved from a year ago. Gardner went toe-to-toe with Ja'Marr Chase a few times in Week 3, and overall in the game he allowed two catches for 51 yards while recording a pair of pass breakups. His coverage skill looks elite; all he needs is to help the Jets eliminate those communication breakdowns.
Overall Rookie Grade: 73.2 (Rank: 1/23)
Principal Opponent: Terence Steele
Week 3 Snaps: 37
Thibodeaux made his NFL debut this week on Monday Night Football against the Dallas Cowboys. He started and played 37 snaps, the second-most among Giants edge defenders. From 19 pass-rushing snaps, he tallied just one pressure. He also chipped in with a lone defensive stop for a solid debut performance.
Overall Rookie Grade: 46.0 (Rank: 11/12)
Principal Opponent: Marcus Davenport
Week 3 Snaps: 61
Ekwonu hasn't enjoyed the easiest of starts to his NFL career in terms of strength of opponent, and he had another tough game against the New Orleans Saints and Marcus Davenport in Week 3. He allowed a pair of pressures and was called for a penalty in the game, while his PFF run-blocking grade finished at just 56.6. Ekwonu has outstanding physical tools, but he has been tested against some very high-level edge defenders through three weeks. 
Overall Rookie Grade: 42.3 (Rank: 12/12)
Principal Opponent: Micah Parsons
Week 3 Snaps: 67
Neal was overmatched from the get-go on Monday night against Dallas. Whether it was Micah Parsons or Demarcus Lawrence, Neal was struggling to survive one-on-one — and when he had help, too. Neal emerged from that game with a 27.4 PFF pass-blocking grade after giving up three sacks and a total of five pressures, as well as a penalty.
Overall Rookie Grade: 82.5 (Rank: 1/17)
Principal Opponent: Tariq Woolen
Week 3 Snaps: 48
London has flashed remarkable consistency within the Falcons' offense over three weeks of action. He saw six targets this week, catching three of them for 54 yards and a touchdown. London is a perfect fit for Arthur Smith's offense, catching in-breaking routes and breaking tackles after the reception. In this game, he didn't catch any of the three contested targets sent his way, but that's typically a strength of his game and speaks to an even higher ceiling as a baseline going forward.
Overall Rookie Grade: 60.2 (Rank: 5/12)
Principal Opponent: Lorenzo Carter
Week 3 Snaps: 71
Cross has been solid but unspectacular in his debut season thus far. This week, he faced a noteworthy opponent in Lorenzo Carter, the man he was tasked with blocking more often than not. Cross surrendered three total pressures, one of which was a sack, and earned a 53.6 PFF run-blocking grade. 
Overall Rookie Grade: 80.7 (Rank: 2/17)
Principal Opponent: Mike Hilton
Week 3 Snaps: 49
Wilson took a shot to the midsection that sent him out of the game for a brief time, but he returned later and continued to be a big target for the Jets' offense. Wilson caught six of the seven passes thrown his way for 60 yards, generating a 102.4 passer rating when targeted. He caught both of his contested targets and spent the majority of his snaps in the slot. 
Overall Rookie Grade: 73.2 (Rank: 3/17)
Principal Opponent: C.J. Henderson
Week 3 Snaps: 53
Olave had a huge day for the Saints despite their offense struggling to finish off drives and score points. Olave saw 12 targets, more than double the next best mark on the Saints, catching nine of them for 147 yards. He gained an impressive 3.77 yards per route run overall in the game.
---
Chris Olave is currently +500 to win Offensive Rookie of the Year
Click here to bet $10 or more at BetMGM and get a free PFF+ subscription
---
Overall Rookie Grade: N/A (Rank: N/A)
Principal Opponent: N/A
Week 3 Snaps: 0
Williams is still recovering from a torn ACL suffered in the national championship.