• Seahawks QB Geno Smith did most for his stock: A longtime backup signal-caller, Smith exceeded expectations and then some in 2022 and should be paid handsomely as a result.
• Buccaneers, Seahawks have most WAR from pending free agents: Geno Smith accounts for a heavy majority of Seattle's mark, while the same is true of Tom Brady for Tampa Bay.
Estimated Reading Time: 8 mins
---

Now through Week 14 of the 2022 NFL season, pending free agents have put close to a full year of work on tape, and some have taken massive strides forward in their game. While clubs tend to most closely study the two or three seasons prior to a free agent hitting the open market, there's no doubt that a very strong contract year can weigh more heavily in decision-making, even if sometimes based on an unconscious recency bias.
Before we dive into the five pending free agents who have boosted their stock the most in 2022, let's examine the league-wide performance of pending free agents broken down by team.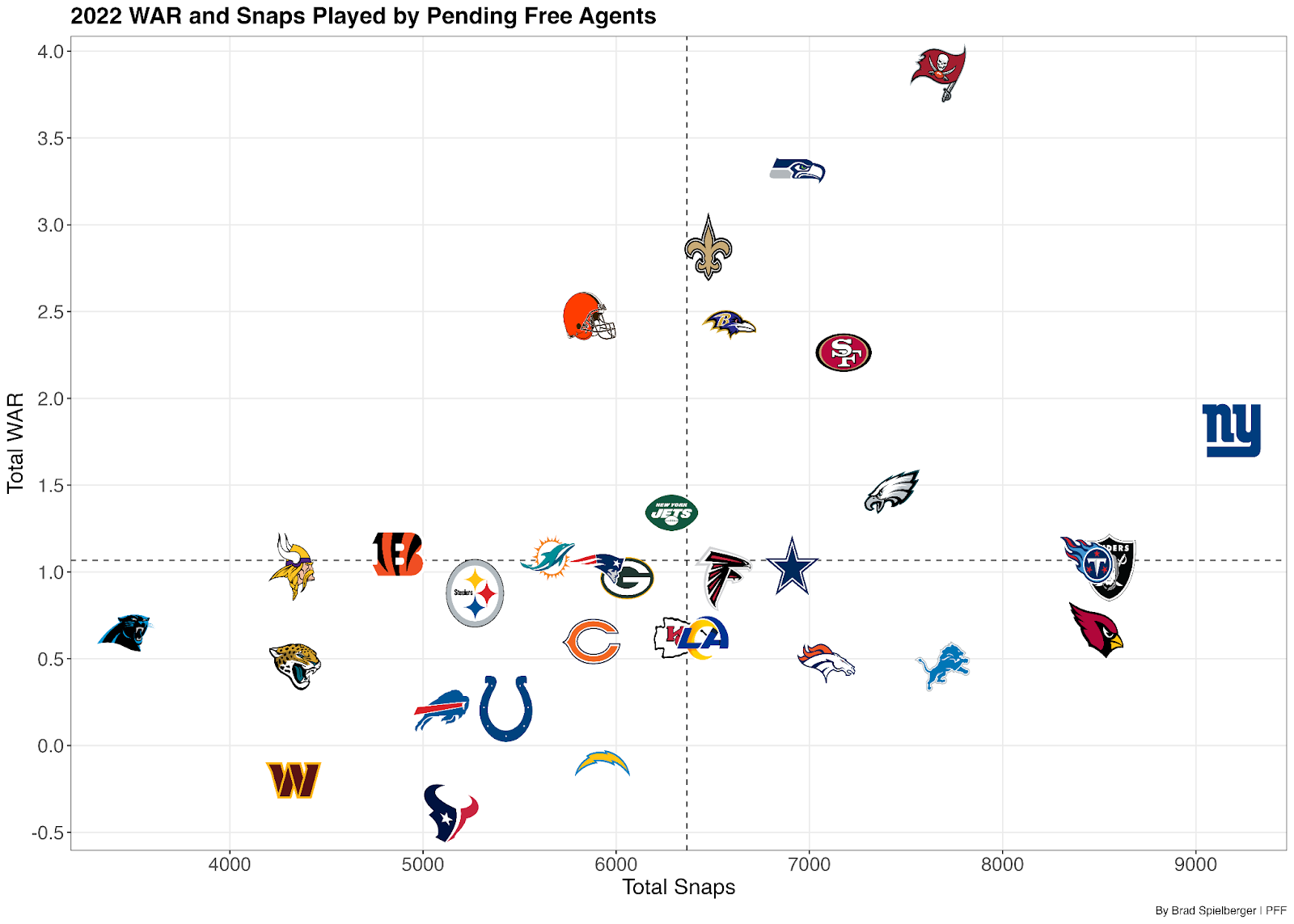 Geno Smith, our first player highlighted below, is responsible for roughly 80% of the Seattle Seahawks' total wins above replacement (WAR) generated by pending free agents, topped only by Tampa Bay Buccaneers quarterback Tom Brady. Their outsized impact is even more visible when isolating just offensive free agents, as depicted below.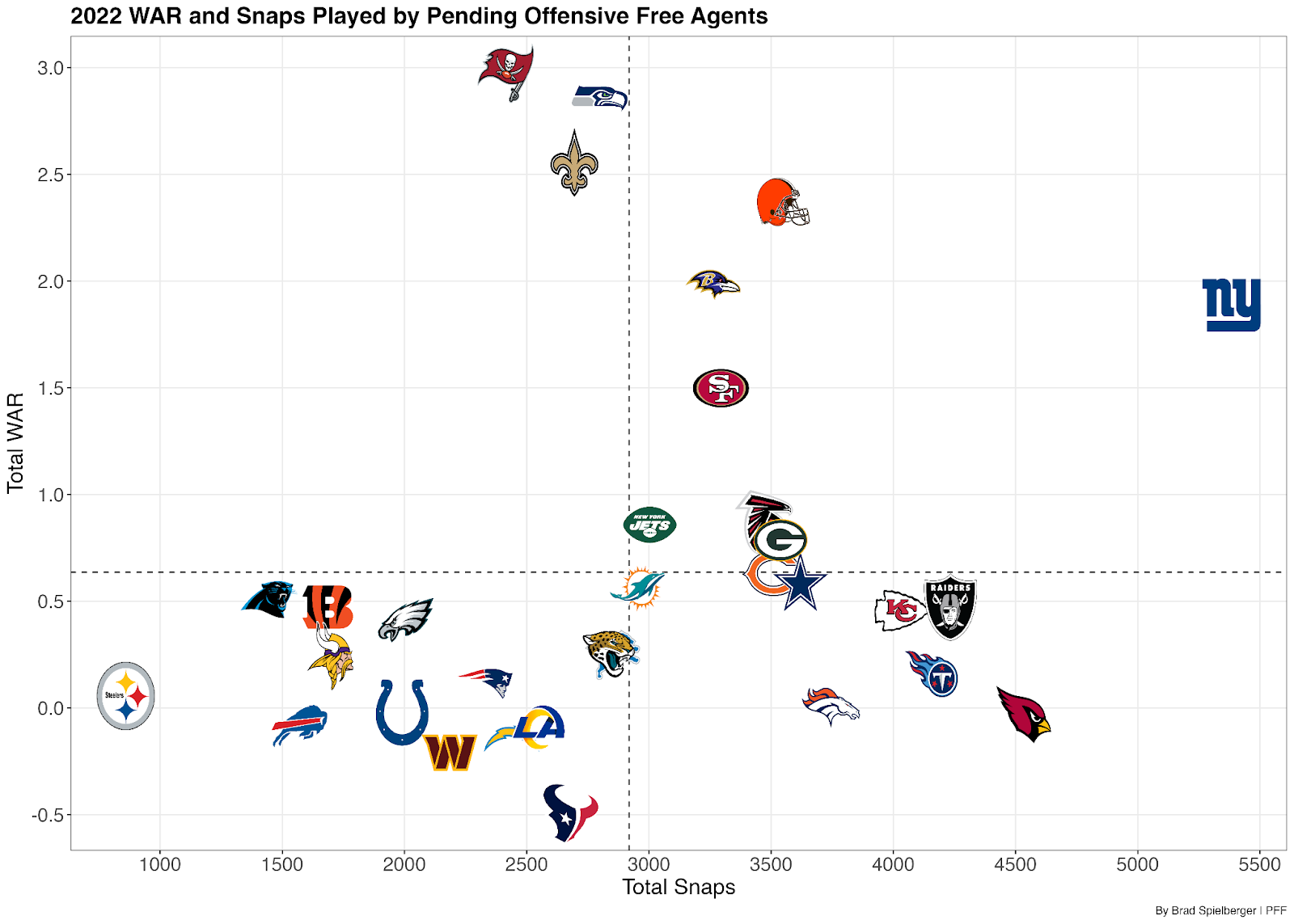 Seattle, Tampa Bay and the New Orleans Saints have all gotten fewer snaps than the league average out of offensive free agents, but obviously, the capacity for quarterbacks to earn wins is much higher than any other position. And as a result, they lead the way in total offensive WAR generated through Week 14 from pending free agents. The highest non-quarterback thus far is Cleveland Browns center Ethan Pocic, though he is currently sidelined with a knee injury and will likely be surpassed before the season's end.
The New York Giants have had almost 1,000 more snaps on offense played by pending free agents compared to the rest of the league, with wide receiver Darius Slayton a major contributor after breaking into the lineup in Week 5 (more on Slayton later). 
On the other side of the ball, the high-flying Philadelphia Eagles lead the NFL in total snaps played and total WAR generated by pending free agents, with a lengthy list of quality players —including two of our top 25 free agents and several other top free agents in their respective position groups this offseason. The Eagles are the only team to generate over a full win from pending free agents on defense, though the Buccaneers aren't far behind, making them the only team in the top five of both offensive and defensive WAR generated by pending free agents. The San Francisco 49ers rank seventh in each category, the only other team with both sides of the ball in the top 10.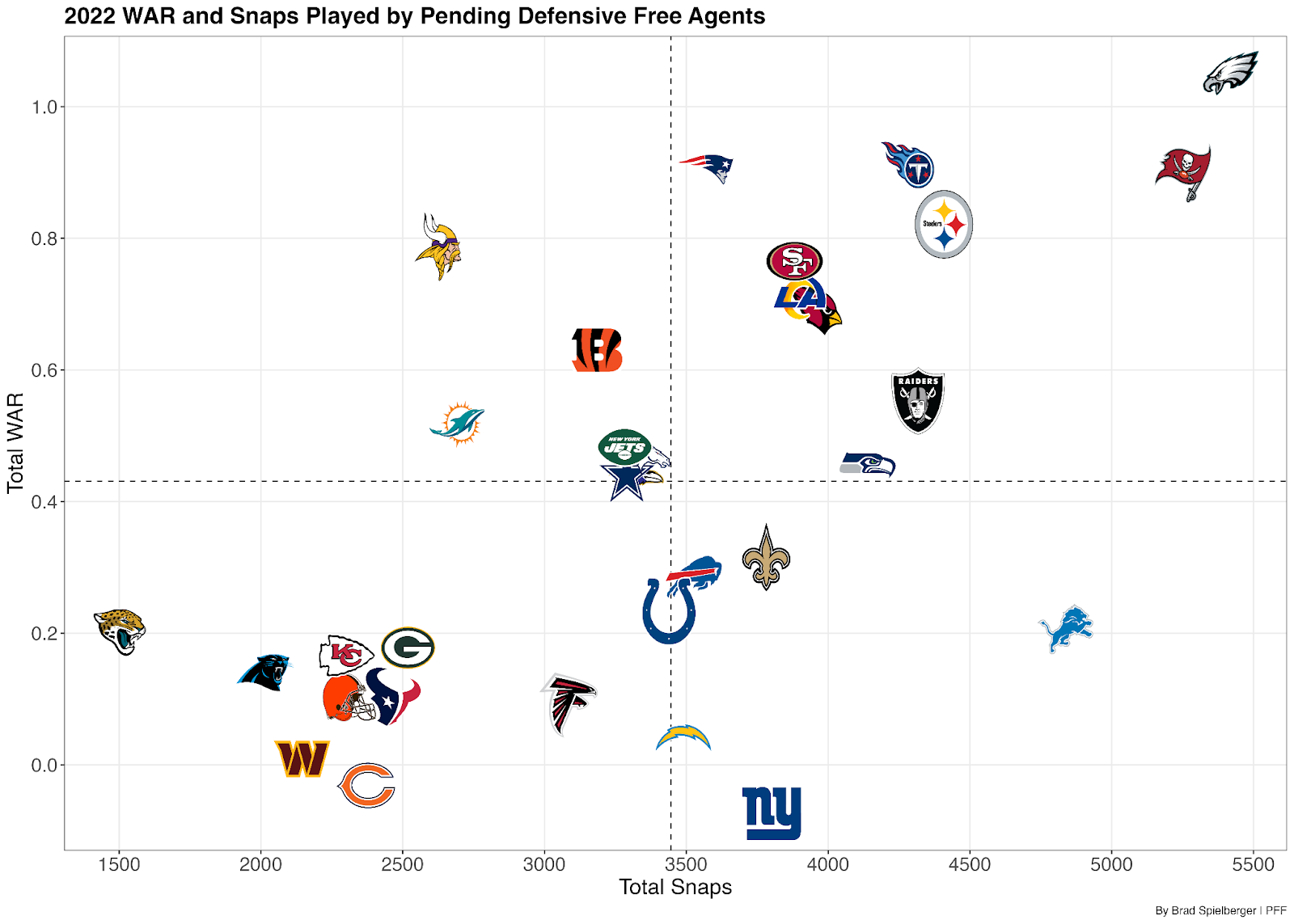 Minnesota Vikings cornerback Patrick Peterson currently leads all defensive free agents in WAR generated through Week 14, with Buccaneers cornerback Jamel Dean not far behind — though he is expected to miss some time with a toe injury. Tennessee Titans linebacker David Long narrowly missed the list below amidst his breakout 2022 season but was building on a solid foundation laid in 2021.
The Los Angeles Chargers, Washington Commanders and Houston Texans are the only teams in the bottom 10 of WAR generated by pending free agents on both sides of the ball, though they've all had fewer snaps played by pending free agents compared to the NFL average, so they really aren't relying on the group.
Without further ado, we dive into the players who have boosted their value the most in 2022. 
---
2021 WAR: 0.534
2022 WAR through Week 14: 2.664
Even after a slight rough patch over the past few weeks — including Smith earning his lowest single-game grade of the season in a loss to the Carolina Panthers in Week 14 — football fans are witnessing an unprecedented ninth-season breakout in Seattle. 
Smith's 79.2 passing grade ranks seventh on the season, his 91.5 passing grade on throws 10-plus yards downfield ranks sixth and his 75.5 grade with play action and screens removed ranks eighth. He's excelled no matter how you break down his production, with 60.2% of his passing yards coming through the air — also a top-10 mark on the season — while generating the highest completion percentage (71.5%) among quarterbacks with at least 50 pass attempts.
You don't often see a quarterback go from a journeyman backup to potentially cashing in for upwards of $30 million per year, and Smith's level of play seems more sustainable than similar recent examples like Teddy Bridgewater and Case Keenum, who were surrounded by more complete supporting casts in New Orleans and Minnesota, respectively. 
---
2021 WAR: -0.048 
2022 WAR through Week 14: 0.219
Selected with the No. 31 overall pick in the 2019 Draft — after Atlanta traded up with the Los Angeles Rams — McGary had his $13.2 million fully guaranteed fifth-year option for 2023 declined heading into the 2022 campaign. It didn't come as a surprise to see the option declined, but McGary's response has certainly turned a few heads.
McGary's 90.5 run-blocking grade is the second best among tackles, but he's also improved dramatically as a pass protector.
| | | | | |
| --- | --- | --- | --- | --- |
| Year(s) | Run-block grade | Positively graded run-block percentage | Pass-block grade | Pressure rate allowed |
| 2019-21 | 65.7 | 11.8% | 53.0 | 6.5% |
| 2022 | 90.5 | 18.9% (3rd) | 66.2 | 3.7% (11th) |
McGary was an older rookie and will be 28 in 2023, but tackles are playing later and later in recent years and he could still produce at a similar level for the duration of a four-plus-year free agent contract, in theory.
McGary's dominance as an outside zone run blocker and growth as a pass blocker should make him an intriguing prospect for many teams, though it's important for these prospective suitors to understand how McGary has benefited from Arthur Smith's run-heavy and play-action-heavy offensive scheme, with his pressure rate allowed on true pass sets at 7.4%. Atlanta has run play action on 44.8% of dropbacks, the highest rate in the NFL by almost five percentage points. 
---
2021 WAR: -0.046
2022 WAR through Week 14: 0.161
Slayton endured a circuitous journey to his great stretch over the past nine games, first having to agree to a pay cut before the 2022 season and then starting out the year seventh on the Giants' wide receiver depth chart. Injuries to several teammates and the trade of Kadarius Toney to the Kansas City Chiefs got Slayton back onto the field, where he's demonstrated great chemistry with quarterback Daniel Jones — another pending free agent who has done himself some favors with his play in 2022 in large part due to head coach Brian Daboll utilizing his rushing ability more consistently.
Since Week 5, when Slayton rejoined the starting lineup, his 75.5 receiving grade is a top-25 mark among wide receivers. His 597 receiving yards over the span ranks 15th, his 15 explosive receptions ranks 13th, his 17.6 yards per reception ranks sixth and his 6.3 yards after the catch per reception ranks ninth. Slayton can stretch the field vertically from out wide and in the slot, looking more like his rookie-year self than what we've seen the past few years.
Whatever the reason for his precipitous fall down the depth chart, it doesn't appear to translate to Sundays, with Slayton producing when called upon at just the right time. 
---
2021 WAR: 0.066
2022 WAR through Week 14: 0.159
Pratt has taken a big step forward in 2022, adding his name to the mix of top linebacker free agents in an offseason with a ton of talent hitting the open market at the position. It's possible there's a buyer's market again in 2023 with so many available options, which we saw last offseason as contracts were underwhelming for many mid-tier free agents: Dallas Cowboys linebacker Leighton Vander Esch, Philadelphia Eagles linebacker Kyzir White, New England Patriots linebacker Ja'Whaun Bentley and Cleveland Browns linebacker Anthony Walker Jr., to name a few.
Pratt is having a career year in every facet of play, with his 83.4 overall grade more than 30 points better than his previous career high — a staggering improvement. Pratt's 90.0 coverage grade leads all off-ball linebackers this season, and he's allowing an explosive reception on just 1.7% of coverage snaps to pair with just two missed tackles in coverage for the season.
Pratt has been on an absolute tear, particularly in the second half of the season. Since Week 8, he has earned a 90.0-plus grade in four out of six contests, and his 92.2 grade over the span is the top mark at the position. The former third-round pick out of N.C. State is peaking at the right time and should have a decent shot at reaching unrestricted free agency with Cincinnati perhaps earmarking money for other priorities. 
---
2021 WAR: 0.148
2022 WAR through Week 14: 0.2
Indianapolis Colts guard Quenton Nelson completely changed the landscape of the guard market with his four-year, $80 million reset just prior to kickoff in Week 1. While no player should surpass that mark for at least one offseason, the market as a whole should benefit to varying degrees from Nelson blowing through the ceiling.
This is good timing for Powers hitting the market as a quality left guard in a free agent class lacking talent at the position, with his career-high 87.1 pass-blocking grade the best mark among all guards in 2022. Powers has yet to miss an offensive snap through Week 14 and has allowed a quarterback pressure on just 1.8% of dropbacks, the second-lowest mark among guards, with zero sacks surrendered on the season. Powers holds up when just looking at true pass sets, as well -— dropbacks with play action and screens removed — with his 2.5% pressure rate allowed also second among guards.
Powers was a good player in 2021 as he stepped into a full-time role for the first time with more balanced success as a better run blocker, but playing like one of the top pass-blocking guards in the entire NFL entering free agency should boost his valuation across the league.