Much is made every year of the relative continuity among NFL rosters. The generally accepted principle is that teams returning a lot of contributors from the prior season should have better chemistry and will execute at a higher level, at least in the early going, and this is especially true along the offensive line.
A host of confounding variables make it impossible to know exactly what causes growth and decline on either side of the ball in a given season, but one thing is for certain: retaining good players is good.
With the upcoming offseason shaping up to be one of the more unique free agency periods on record — not only because of a potential drop in the salary cap but also because there will once again likely be limitations on in-person contact — roster turnover will be under a microscope. For the second straight year, teams will have less confidence during the draft process because of a lack of information. That issue is only exacerbated with a handful of first-round talents opting out of the college football season.
Constantly changing circumstances require adaptability, and clubs will have to be flexible and creative in order to find value as the margin for error is even slimmer.
Before we get to the spending, let's look at who is set to lose the most projected value in free agency based on 2019-20 production.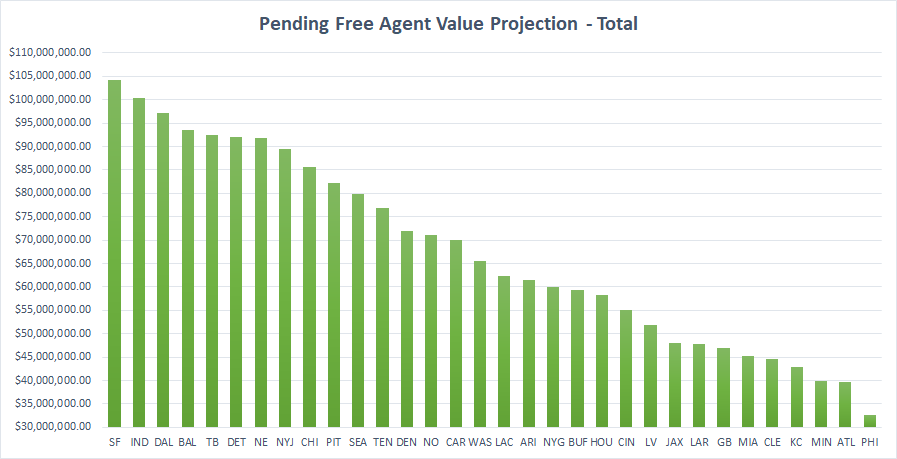 Above is the cumulative total projected average-per-year (APY) value of all pending free agents for each team. Of course, it's perfectly normal for teams to lose talented players to free agency. With some rookie depth already in place, and with the draft providing a fresh crop of talent, this is the cycle every year. Nevertheless, with uncertainty surrounding the draft process, cheap talent is less readily available.
Subscribe to PFF Edge to continue reading
Already have a subscription? Sign In