• Primed to upgrade supporting cast: The Houston Texans and Chicago Bears are entering this offseason flush with draft capital and cap space to upgrade their rosters to support their QBs.
• Upgrades may be scarce: The Buffalo Bills and Miami Dolphins both have very talented rosters but will enter the 2023 offseason without a ton of resources to further upgrade their roster.
• Continuing a trend: The New Orleans Saints, like always, enter the offseason with the least amount of effective cap space but can generate upward of $150 million if they complete max restructures on their veteran deals.
Estimated reading time: 7 minutes

---
As the NFL regular season wraps up, roughly half teams are firmly in the playoffs while others are looking ahead to free agency and the draft. This year's free agency class has some headliners at certain positions while there are also teams with a good chunk of money to spend. 
Here, we will examine which teams have the most money to spend, as well as the ways that teams with less cap space can free up money. All contract information comes from our friends at Over the Cap.
Using data from Over the Cap, we can try to quantify which teams are entering the offseason with the most offseason resources. Using every team's draft capital (using the Fitzgerald-Spielberger draft value chart), effective cap space and prorateable money, we can create an offseason composite score that evaluates every team's offseason resources without looking at each aspect individually.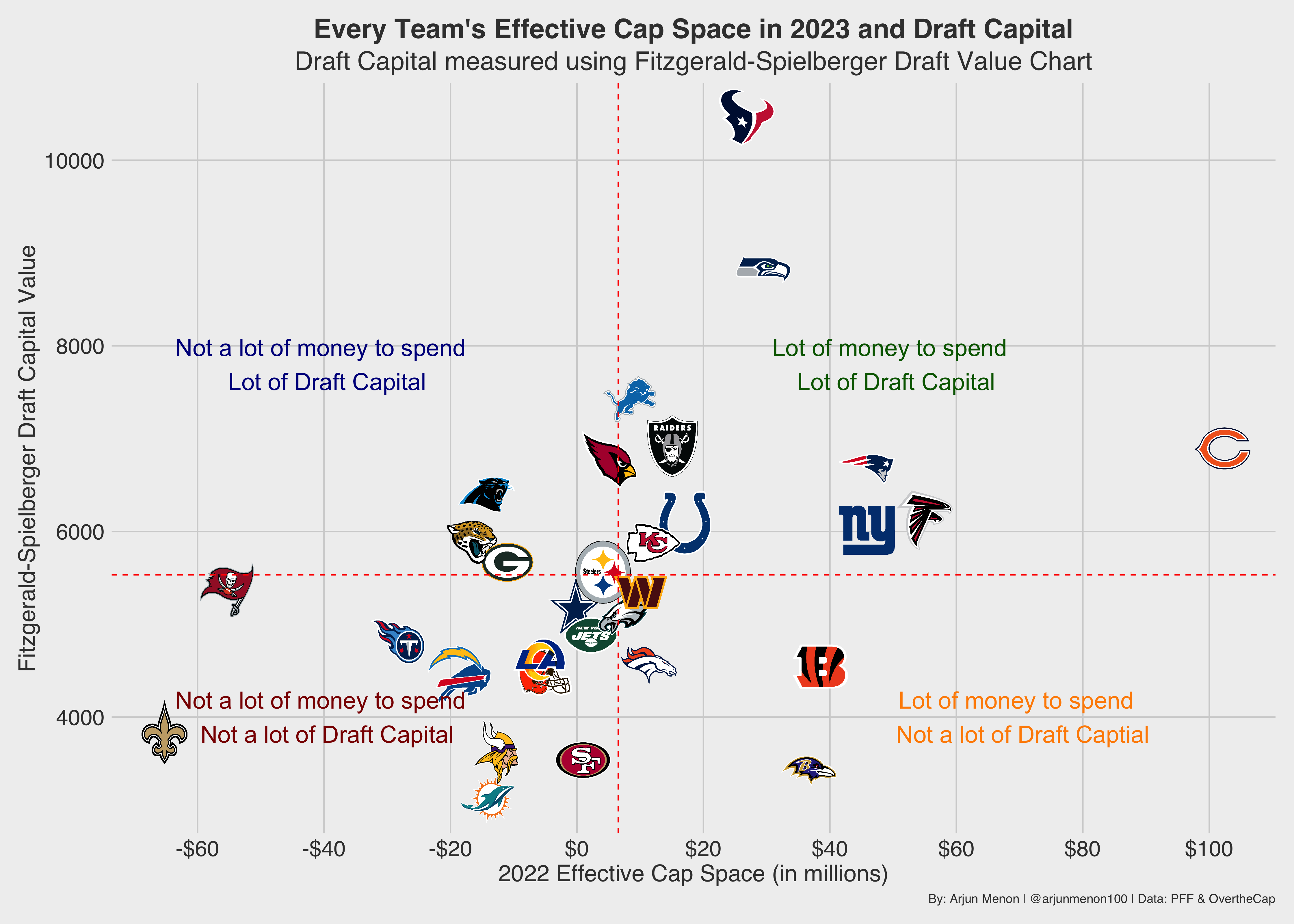 The two variables that matter the most in the offseason are draft capital and effective cap space — the latter is better at measuring cap space than regular cap space since it takes into account that a team must have 51 players on its roster. Plotting these two variables together gives us a solid idea of which teams are looking the best in each area. 
The Chicago Bears are in a good spot to spend big this offseason with the most effective cap space in the entire NFL. They can use that money to build their offense around Justin Fields by improving their offensive line and wide receiver units. However, given that the receiver market will be as barren as it's been in recent years, the Bears could sign some depth receivers in free agency before use one of their first-round picks on a top receiver in the 2023 NFL Draft.
The Miami Dolphins have gone all in on the 2022-23 season, trading for Tyreek Hill last March and Bradley Chubb during the regular season. They currently have a below-average amount of cap space and the worst draft capital in the league. It's a good thing they sneaked into the playoffs this year because it could've been a wasted season.
The New York Giants and Baltimore Ravens should be classified as cautionary tales. Both appear to be the best quadrant in the graph, meaning we should be bullish about their futures. However, neither team has their quarterback (Lamar Jackson for the Ravens and Daniel Jones for the Giants) signed to a deal in any capacity for next season. Both teams may franchise tag their quarterback in an effort to sign him to a long-term deal, but right now, this doesn't account for either being on the roster, hence why it seems that each team will have a lot of money this offseason. As a fun hypothetical, if both teams franchise-tagged their respective QBs, just shift their spot on the graph by about $32.5 million. As for the Ravens, specifically, some might look at this and worry a little about their draft capital. General manager Eric DeCosta (who was an executive under former GM Ozzie Newsome) is one of the best in the NFL at trading back to accumulate more draft picks, so don't be surprised that he'll have more draft value by the end of Day 3.
Nonetheless, effective cap space doesn't tell us the whole story on its own. Cap space can be created in a multitude of ways, which can change for every team as we approach the free agency tampering period in March.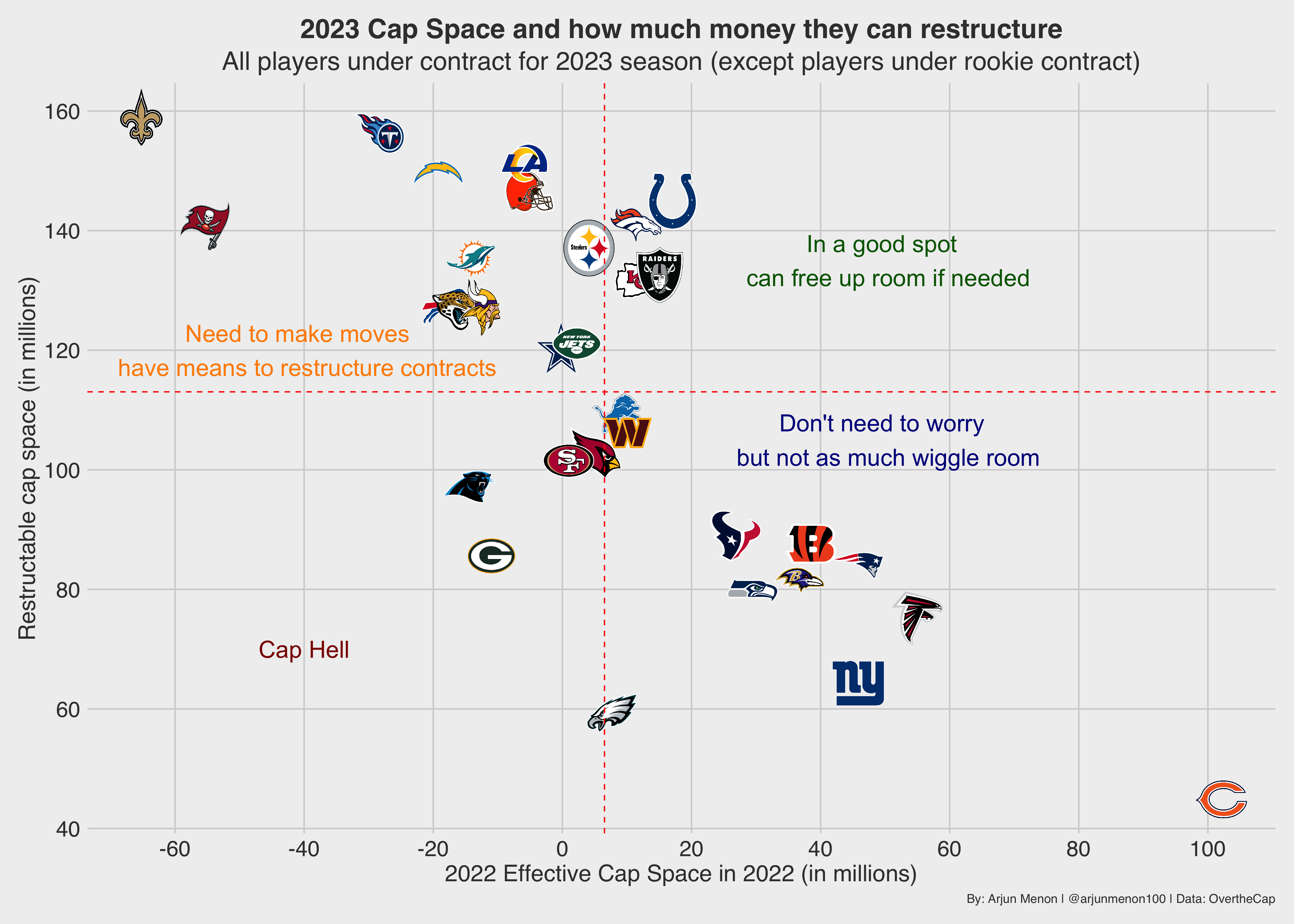 In the graph above, we can see which teams are able to free up cap space via restructures. This means any player on the roster that is not on a rookie deal for the 2023 season can restructure their contract to free up cap space. Therefore, it a better job of portraying the realities of every team's cap situation. It shows that even teams that might not cap space can free some up with no worry at all —also known as the Mickey Loomis (New Orleans Saints general manager) operation.
Restructureable cap space is how much money a team has tied into base salaries and non-guaranteed roster bonuses. They can convert up to 80% of those values into prorated salary bonuses.
The Saints have constructed contracts in a way that gives themselves escape routes, especially in the form of prorateable money. This essentially refers to the process of transforming up to 80% of a veteran player's base salary while converting roster bonus into a signing bonus. This signing bonus can be spread out over the length of a player's contract to free up cap space immediately. The Saints can create upward of $159 million simply by restructuring their existing veteran contracts on the roster. While all $159 million won't be created, cap wizard Khai Harley has had to do this ever since the Saints' legendary 2017 draft class, which led New Orleans to go all-in for three straight years.
There aren't many teams that have a lot of money to spend and can free up cap space, which illustrates how front offices like to operate. If they are big spenders and are constantly prorating money during and after the season, they probably put more money into base salaries and non-guaranteed roster bonuses. 
As shown on the graph, there is also a clear negative correlation between available and restructureable cap space. This means that teams are likely to have less restructureable cap space as they gain more cap space.
While this method does work, there is an obvious downside. Restructuring a player's contract most likely ties the team to that player for the remainder of their contract. This is due to the dead money that will likely be created once the prorated money is spread over the remaining years on the contract, making it tough for older teams to really commit to their players, given the injury risk due to the wear and tear on their bodies.
So we've looked at the three variables to see how well a team is set up for the offseason. Now, it's time to use these variables to make an offseason composite score. To make the score, we need to set different weights for each of the variables. When setting the weights, it was important to realize draft capital matters more than cap space because it allows teams to effectively save cap space. And even though prorateable money can really help a team, such as the Saints, it isn't as important as the other two variables. 
| | |
| --- | --- |
| Variable  | Weight Given |
| Draft Capital | 1.5 |
| Effective Cap Space | 1 |
| Prorateable Money | 0.25 |
With that, here is the final offseason composite score for every team, broken down by each statistic, with the overall score at the end.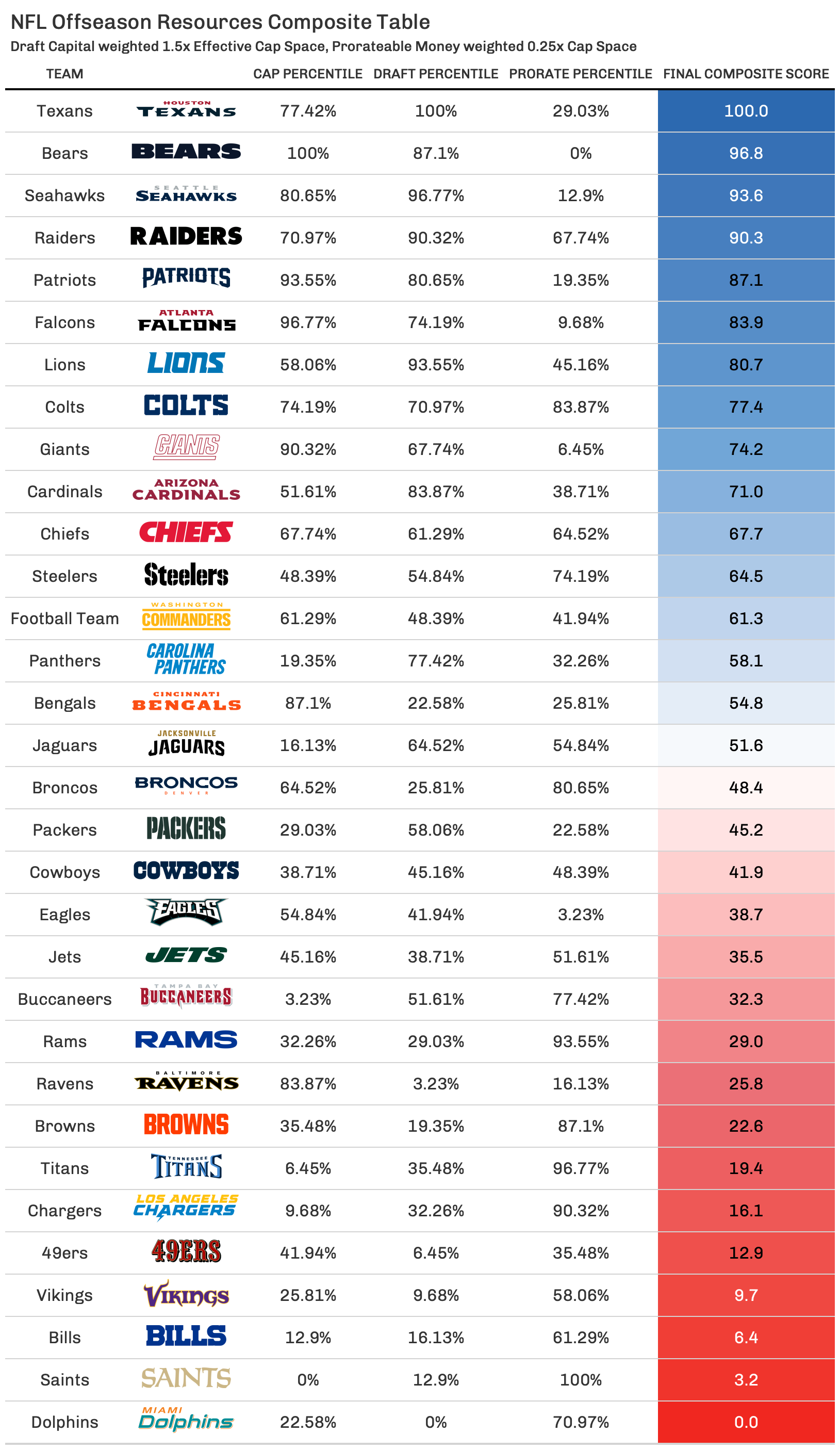 The Houston Texans and Chicago Bears are in a prime spot to give their quarterbacks (whoever it may be for the Texans) some help this offseason while teams like the Buffalo Bills, Saints and Dolphins may not have as busy of an offseason as other teams.
The Kansas City Chiefs show up 11th here. Many analysts criticized the Chiefs for the Hill trade, but it's put them being in a great spot to be competitive for years to come. With Patrick Mahomes and Andy Reid, they'll always be competitive, but getting Hill's contract off the books has opened up money, allowing them to enter this offseason with enough resources to upgrade the team wherever needed.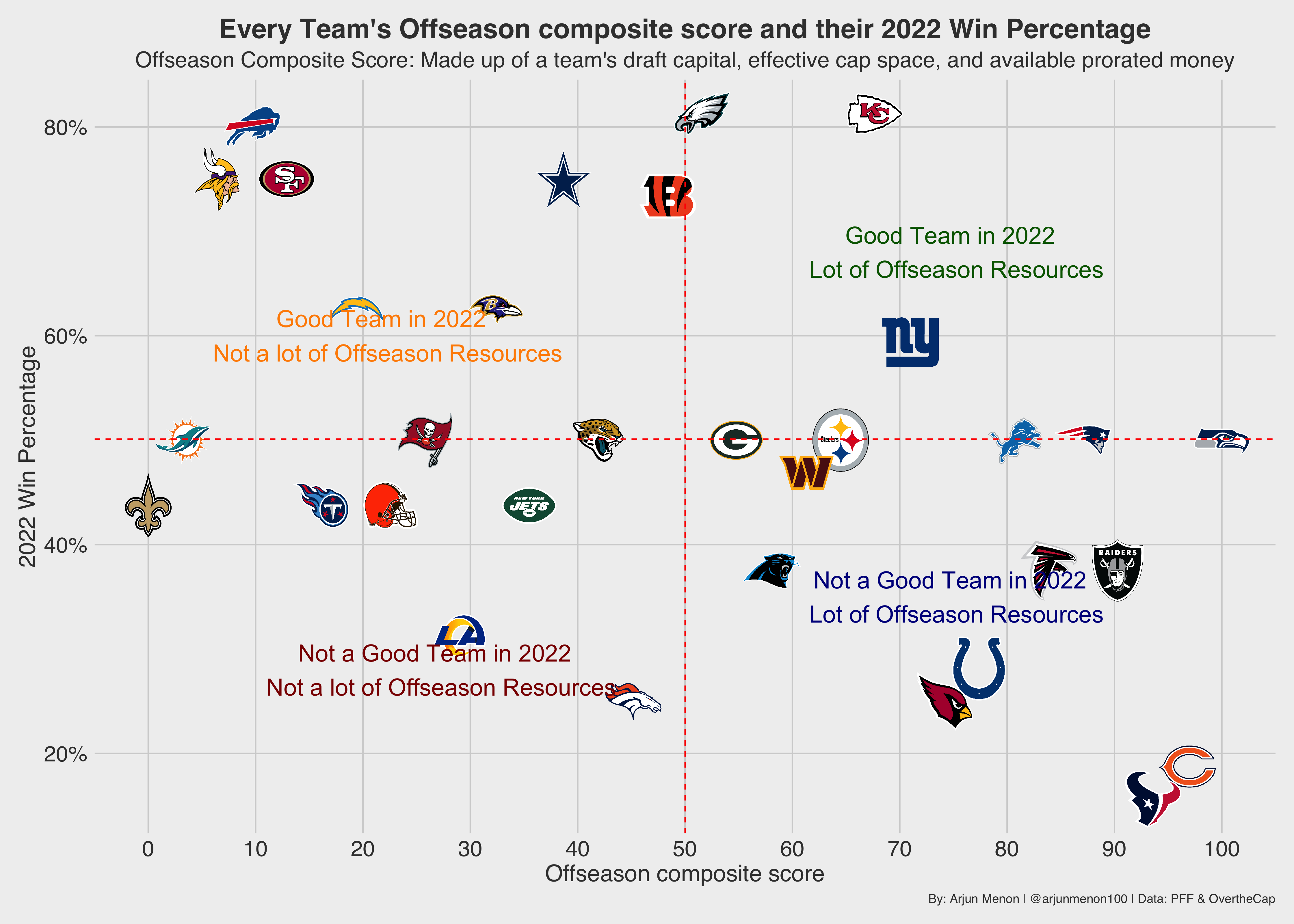 Again, Chiefs fans and their front office should be ecstatic with their spot on this graph. Teams don't often pay a quarterback top-of-the-market money and still enter the offseason with money and draft capital to use. The Giants are also in a good spot going into next year; however, with the recent reports that they're looking to bring Jones and Saquon Barkley back on multi-year deals, they may not be as flush with cash as it currently appears in 2023.
The Seattle Seahawks are also in a good spot here, and after making the playoffs with Geno Smith, there's a good chance they use their boatload of resources to build around him at QB while shoring up some weak links on both sides of the ball to become more competitive in 2023.