If not quite as valuable as their counterparts in the secondary, elite edge rushers still impact the game at a high level, and they tend to be more consistent producers from year to year than coverage defenders. The draft class brings some serious heat at the top with Chase Young, but the depth behind him isn't as strong as other positions. As for free agency, teams will have their pick of several high-end options, but they're not going to come cheap.
The Blue Chips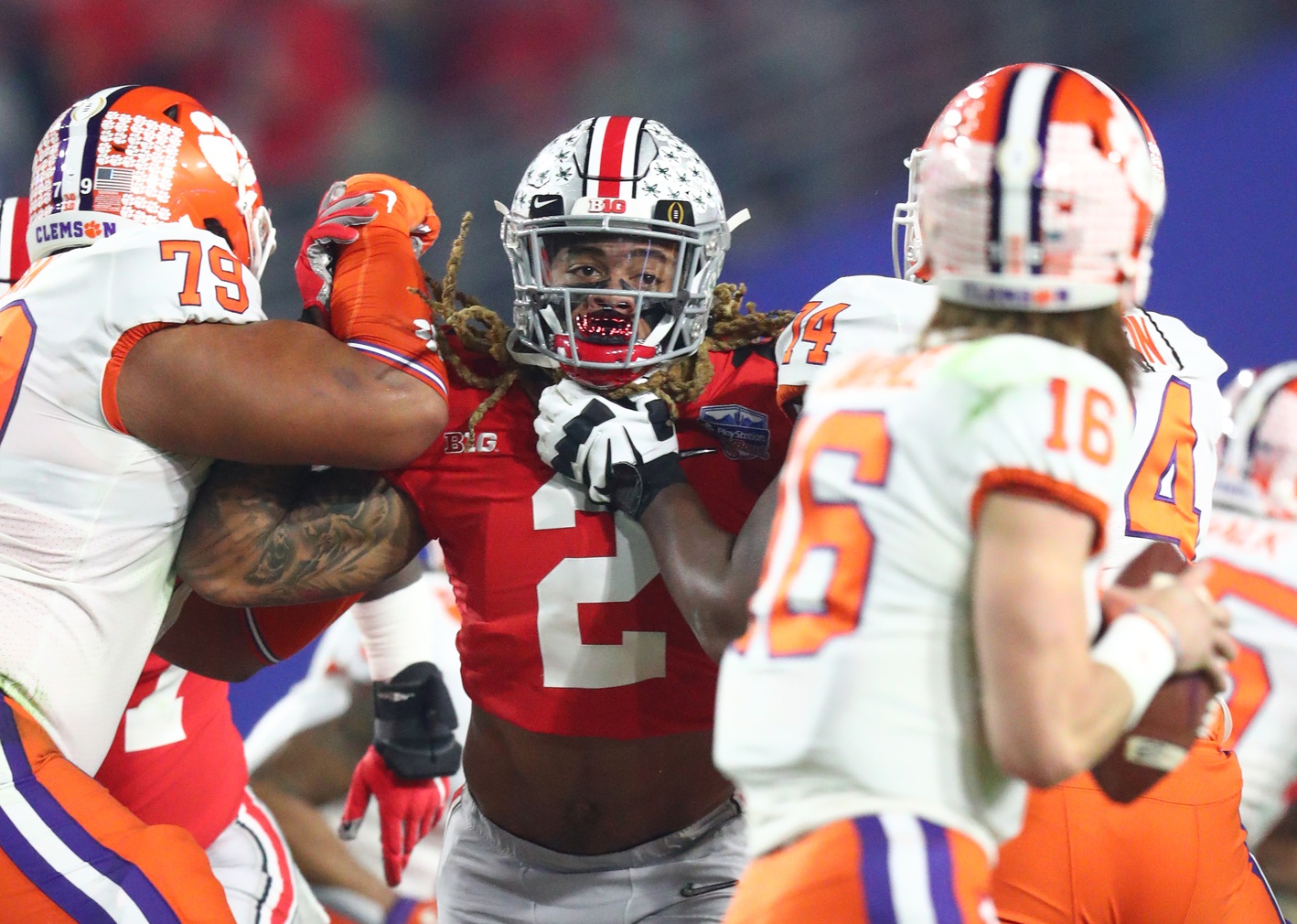 In all honesty, Young probably deserves his own tier on this list. If not the most dominant pass rusher that PFF has seen since it began charting college football in 2014, he is certainly in the conversation. He followed up his 75-pressure, 88.6 overall-grade sophomore season in 2018 with an even better performance this past year. Young won on 27.2% of his pass-rushing snaps, leading to a 96.5 pass-rushing grade that led all of college football this past season by a healthy margin. PFF data scientist Eric Eager has put a lot of work into projecting college prospects to the pros, and his model sees Young as one of the best edge prospects in recent memory. PFF lead draft analyst Mike Renner called him "the best edge prospect we've ever scouted." It's hard to see him failing at the next level.
Measuring in at the combine at 6-foot-5 and 275 pounds with 34-and-a-half inch arms, Epenesa has elite length, power and versatility at a position that will be coveted early in the draft. He doesn't sacrifice fluidity or flexibility for that size, either. He impressed with a 90.1 overall grade during the 2018 season, but that was still in a somewhat limited role — he played only 412 defensive snaps on the year. He bumped up that figure to 767 snaps in 2019, and though Epenesa gave some of that elite production back, he still provided high-level play for the Hawkeyes with an 85.5 grade. He's not the same prospect that Young is, of course, but he is still a tier above the rest of the edge defenders in the class.
Top options, but at what cost?
There are four free agent options at edge defender who sit above the rest this season, and all four can make an immediate impact on a defense. The issue is that all four are expected to earn elite contracts, and they aren't players like Von Miller, Khalil Mack or J.J. Watt who you can rely on for elite play off the edge year in and year out. When looking at their level of play in relation to the other options available to teams, they all fall under this "blue chip" category, but teams need to be cognizant that they will likely have to overpay for these players' services if they're to land them this offseason.
There is no other player available this offseason — bar maybe Chase Young — who can provide the sort of physical presence that Clowney does. He has consistently been one of the league's best run-stoppers off the edge, and he has improved his pass-rushing to the point that he is a plus-player in that area of the game, as well. Clowney has pass-rushing grades of 75.0 or higher in each of the past two seasons — the first two campaigns of his career where he accomplished that feat. He may not have ever become the dominant, consistently elite presence that the league was expecting after he was selected first overall in the 2014 NFL Draft, but Clowney is coming off two consecutive seasons as a top-20 graded edge defender in the NFL. Those guys don't grow on trees.
More than anyone else in this upper tier of edge defenders, Ngakoue is a pass-rushing specialist. He has three straight seasons with pass-rushing grades higher than 75.0 and a three-year pass-rushing grade of 88.6 that ranks 11th among qualifying edge defenders. There's little doubt that whichever team adds him is getting one of the better pass-rushers in the league at just 25 years old heading into next season. On the other hand, he provides little resistance in the run game. His run-defense grades in four years as a starter are 29.5, 55.3, 60.0 and 51.6. Pass-rushing is the more valuable aspect of his job, though, so teams just have to realize that is the trade-off they're making when signing him.
Barrett was one of those guys in his time with the Denver Broncos who consistently produced in a limited role. He had four straight seasons with grades between 74.0 and 84.0 in Denver, but his snap count maxed out at 664 in 2017 while he featured in a rotation of talented pass-rushers. The Tampa Bay Buccaneers gave him his first opportunity as a full-time starter last season, and Barrett continued to play at a high level in that larger role. He wasn't the best pass rusher in the NFL as his league-leading sack total might indicate, but Barrett's 82.0 pass-rushing grade was a top-10 mark among edge defenders. He provides one of the best combinations of run defense and pass rushing at the position.
Armstead's overall grade jumped from 74.8 in 2018 to 89.6 in 2019. Any time there's that sort of jump in a contract year, there's also concern about the repeatability of such production after the player is signed to a long-term contract. Per PFF wins above replacement, Armstead was still a top-20 edge defender in 2018, though, so it wasn't as if he went from incapable to top-tier.
After several underwhelming seasons to start his career, Armstead has started to realize some of the potential that got him drafted in the first round back in 2015, and he really turned things as a pass rusher in the second half of this past season. The risk that teams take is that he doesn't replicate what he put on the field in 2019, but if he can, Armstead is one of the best options on the market.
The Mid-Tier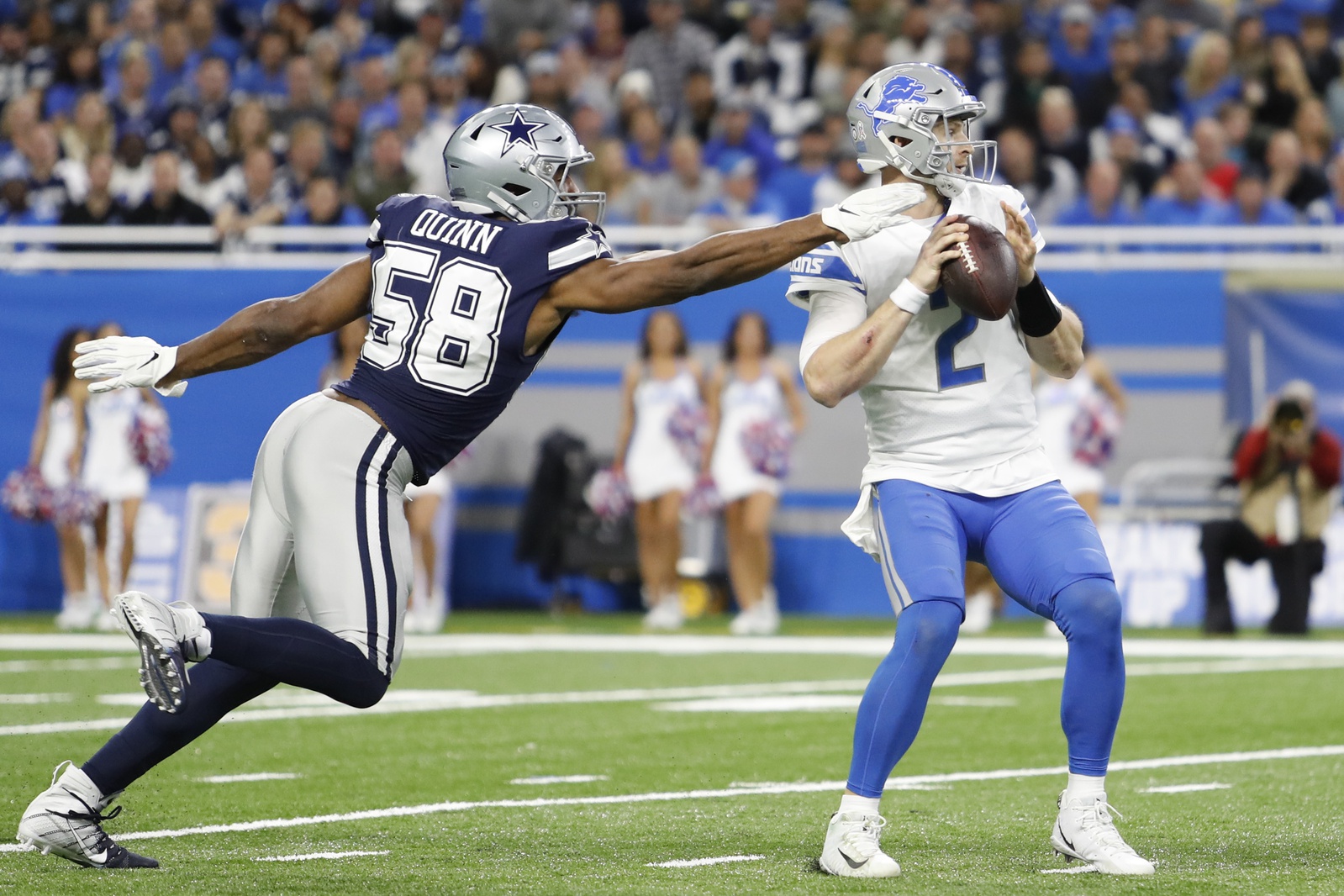 Quinn had one of the best pass-rushing seasons of the PFF era back in 2013 with the St. Louis Rams. He recorded 91 pressures and a 93.4 pass-rushing grade, completely dominating nearly every matchup that he came across. There were several strong seasons following that, but then Quinn's career hit a lull. Last season was a revival of sorts as a pass rusher. His 57 pressures were the most he has recorded since that 2013 season, and his 78.3 pass-rushing grade was his highest since 2015. For teams looking at a mid-range edge rusher who won't go for as big of a contract as the four guys listed above, Quinn makes a lot of sense.
Van Noy is an interesting case. After spending most of his career as an off-ball linebacker/edge hybrid, Van Noy played almost exclusively at edge for the New England Patriots last season. The result was an 84.2 overall grade, by far the best mark of his career. His 60 pressures (regular season and postseason) were also a career-high. A one-year sample at strictly edge isn't a whole lot to base on, and projecting players on new teams after stints with the Patriots (hello, Jamie Collins) isn't exactly a clean task. Still, Van Noy seems worth a shot at a step below the more expensive options on the market.
Uche is by no means a traditional edge prospect. He had the freedom to move around the formation at Michigan, which meant that a decent portion of his pass-rushing came as a blitzer against interior offensive linemen. The evaluation becomes even more complex when you recognize just how little playing time that Uche got as a pass-rusher over his career at Michigan. He did show the ability to succeed against tackles as well, though, and Jedrick Wills said at the combine that Uche was his toughest opponent in college. With a 91.4 pass-rushing grade in 2019, Uche is intriguing enough for a team to be willing to bet on him.
Anae's 158 pressures over his last three college seasons are the most of any player in this year's edge draft class. He has been ultra-productive in his tenure with the Utes, consistently getting after the quarterback with some of the best pass-rushing technique that you'll see at the college level. The concern with Anae is that he is going to have limitations athletically, but his hand usage and pass-rushing repertoire give him a good chance to be a contributor early on in his NFL career. With Anae likely coming off the board later than some of the top options, teams will be able to target him on Day 2 to add some depth at edge.
The Buyer Bewares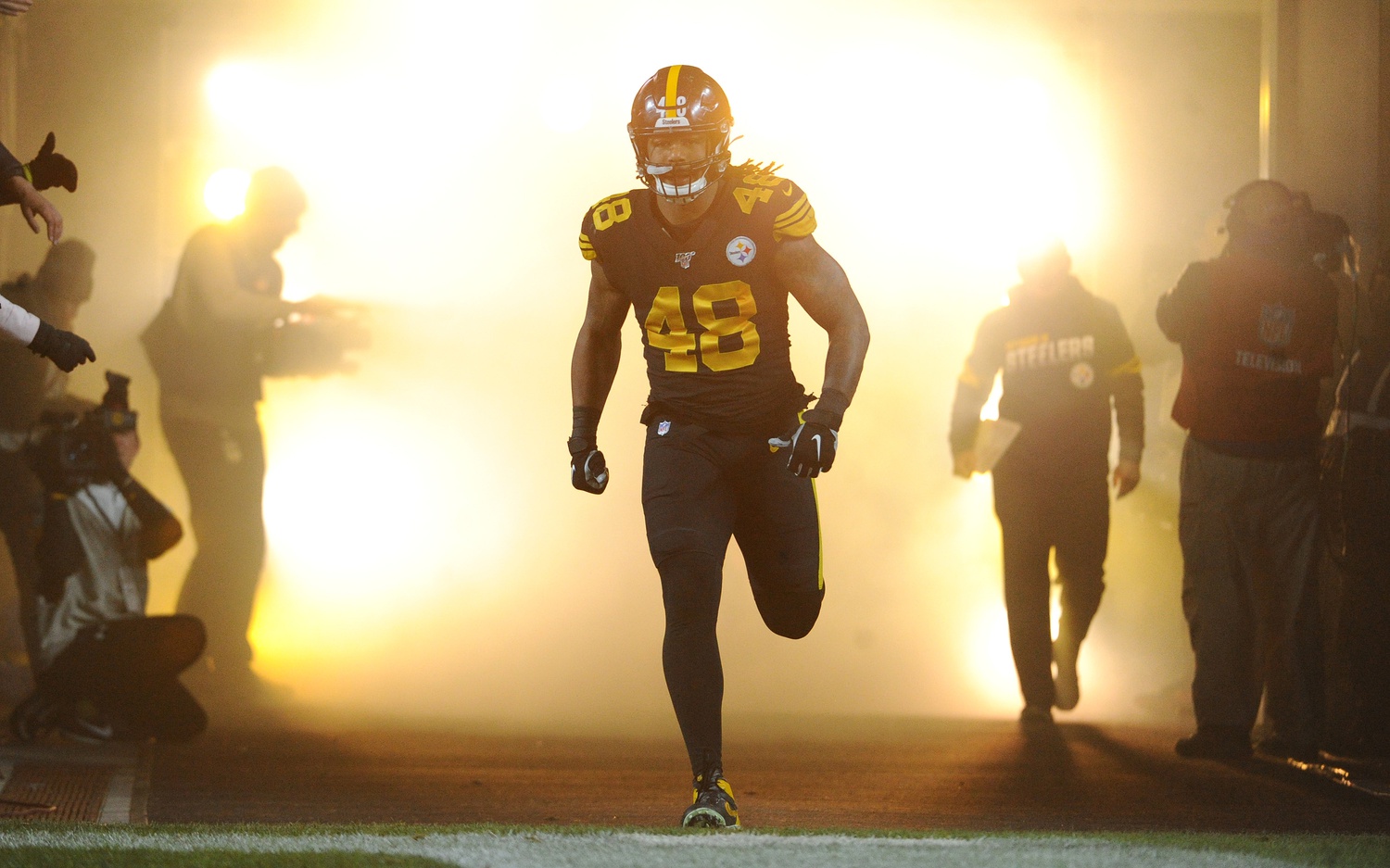 Prior to last season, the thought that Dupree could command a contract in the range of $15 million per year didn't seem all that feasible. In four seasons from 2015 to 2018, Dupree never had a single-season grade better than 62.6. That all changed last year, however, as the fifth-year edge defender finally started to produce the splash plays that quickly changed the narrative surrounding him. After never grading above 65.0 as a run-defender or a pass-rusher in his first four seasons in the NFL, Dupree graded above 75.0 in both areas in 2019. It was easily his best season as a professional, but taking that one year and giving Dupree a long-term, high-dollar contract would be a definite risk. If the Pittsburgh Steelers hope to retain him, it looks like that is what they'll have to do, barring a franchise tag.
Fowler's projected contract on the PFF free agent rankings page — courtesy of Over the Cap — of four years for $50 million with $35 million guaranteed is simply not the kind of the deal that his on-field production should be commanding. Last season was the best of Fowler's career, but he still maxed out at just a 72.1 overall grade and a 73.4 pass-rushing grade. And his 13.2% pass-rush win rate ranked 50th at the position. His high first-round draft pedigree and his age with solid production last season is an intriguing combination for teams. That aside, he hasn't shown the type of elite performances to justify the type of money that he will likely earn this offseason.
If you're into using only sack numbers to evaluate pass rushers, Golden looks like a strong option this offseason. After all, he is coming off a double-digit sack season and is still on the right side of 30 years old. Golden's underlying pass-rushing numbers don't match up with that sack total, however. His 63.0 pass-rushing grade ranked just 66th at the edge defender position last season. His best year as a professional came back in 2016, but even then, he topped out at just a 74.3 overall grade. When you consider that his 2017 and 2018 seasons went poorly in limited action as well, the public perception of Golden seems to be higher than it should be.
At PFF, we're going to value production on the football field over raw athletic potential more than most — and that is part of the reason Chaisson comes in as just the fifth-highest ranked edge defender and 45th overall on our Big Board. He has reps in which he wins against some of the top tackles in the country, such as Georgia's Andrew Thomas, but he never really dominated as a player of his caliber should given how much of a physical freak he is. His highest pass-rushing grade in a single game this past season was 77.9 against Utah State. The tools are there for him to dominate, but he hasn't shown the kind of production on the field that would warrant a selection in the upper half of the first round.
In the first season of his career at Alabama with 100 or more pass-rushing snaps, Lewis recorded an 85.8 pass-rushing grade this past year. His 48 pressures on 242 pass-rushing snaps resulted in a strong 19.8% pressure rate. The problem with Lewis, though, is that he has a limited sample, and he fell off toward the tail end of last season in several games against better competition (LSU and Auburn). He has the traits to be a successful NFL pass-rusher, but at this point, we don't feel that he has done enough to warrant some of the hype that he has generated. PFF's lead draft analyst Mike Renner lists him as a third-round projection in the latest edition of the draft guide.
The Undervalued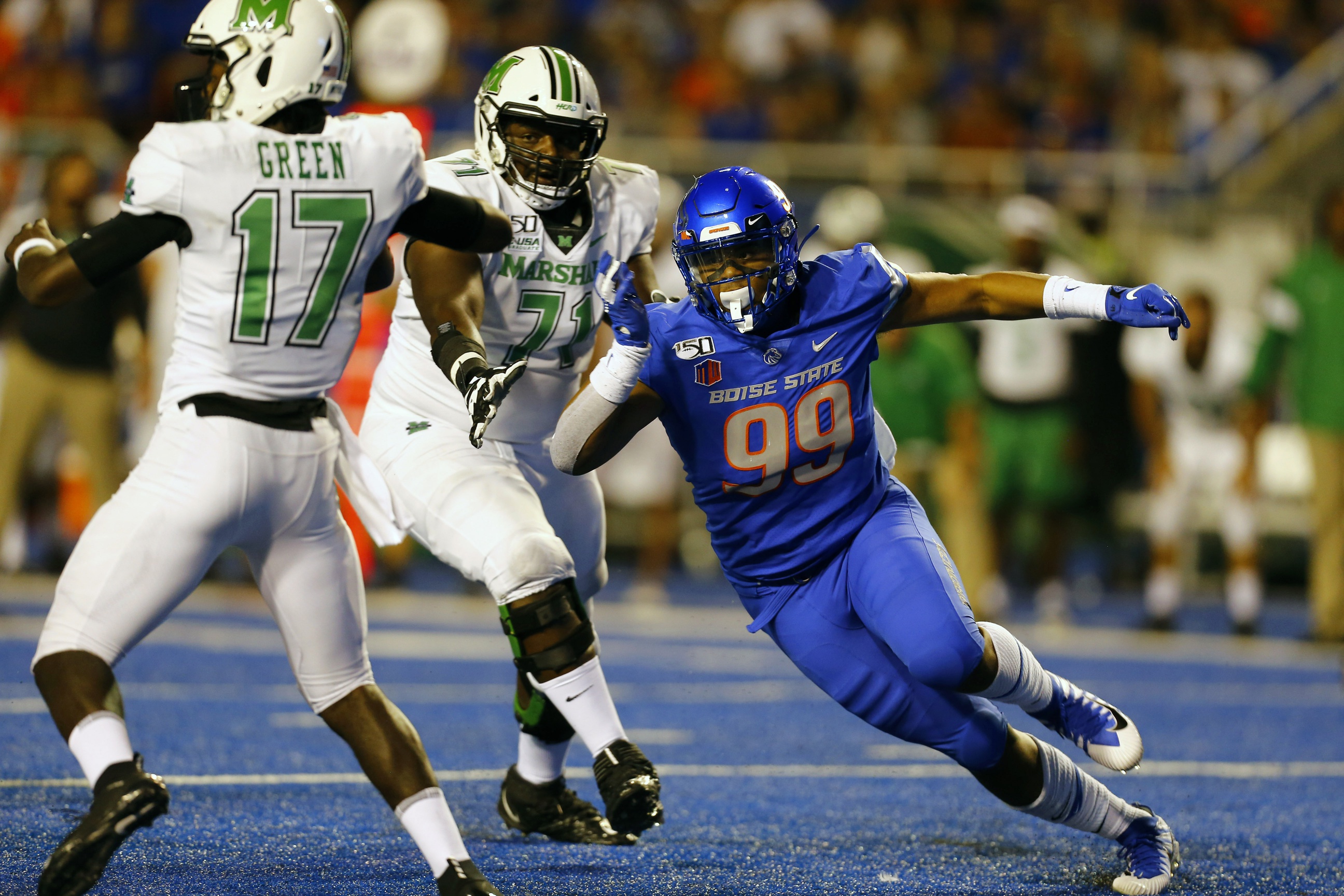 Weaver comes in at third on the PFF Big Board at the edge defender position, right behind Young and Epenesa. He may not have the athleticism that you want at the position, but all the guy has done at Boise State is produce. He has two consecutive seasons with 90.0-plus pass-rushing grades and two consecutive seasons with pass-rush win rates higher than 20%, topping out at 31.1% in 2018. At some point, you have to recognize that kind of elite production — regardless of the athletic profile.
Okwara has two straight seasons of high-level tape on his resume after notching pass-rushing grades of 87.5 and 90.4 in 2018 and 2019, respectively. He also boasted pass-rush win rates of 20% or higher in both of those seasons. Okwara is a bit undersized, which might lead to him being used as more of a designated pass-rusher, but he has shown the athleticism and the ability to win consistently in that role. Coming in at 23rd overall on the PFF Big Board, we value him more than the consensus heading into the draft. He could end up providing some value to a team based on where he ends up falling.
Taylor had a strong finish to his 2019 season at Tennessee, and he finished the year with the highest pass-rushing grade of any edge defender (84.9) against the SEC last season. He used the bull-rush with success, and he can use that threat to set up some of his other moves. Measuring in at 6-foot-3 and 267 pounds, Taylor has the sort of length and athleticism that give him some versatility at the next level as well. He's not as high as the sixth edge defender in the class on most big boards, but that's where he finds himself on ours because of that improvement we saw from him as a senior.
Lawson's career got off to a rough start as a first-round pick for the Buffalo Bills, but over the past two seasons, he has picked things up in an increasing role. The highest overall grade of his career came in 2018 at 76.5 overall, headlined by an 81.1 run-defense grade. Though his run-defense fell off last season, it was the best year of his career as a pass-rusher. Lawson's 38 pressures were 15 more than he had in any previous season. There isn't a proven track record of success in a full-time starter role with Lawson, but at just 25 years old, he is a solid option who has some upside without breaking the bank.
Curry has been discussed a couple of times this offseason as a value option at edge for teams in the market, but it's worth repeating this number again. Among all edge defenders with 200 or more pass-rushing snaps last season, Curry ranked tied for fifth in pressure rate with T.J. Watt at 16.8%. He's not much more than a rotational pass rusher, but he's good in that role. Outside of a down 2018 season, he's been pretty consistent over the course of his career as well. For teams looking for a cheap veteran pass rusher, Curry is one of the best options on the market.